Creamy Lemon Chicken is one of those easy recipes that comes together quickly. It is great for a weeknight dinner.
Chicken cutlets that are pounded thin cook in just a few minutes. The simple, creamy lemon sauce is full of flavor and comes together fast.  With both lemon juice and zest in the recipe, you can really taste the lemon. It is shown here being served with Lemon Asparagus Pasta. If you are a fan of lemon, you will like this combination.
Lemon really brightens anything and is especially good with chicken. If you would like to try some other easy recipes that combine them check out Lemon Chicken Milanese, Lemon Chicken Rice Soup, Lemon Chicken, Lemon Yogurt Kabobs and Lemon Chicken Soup. You might also like Creamy Chicken Piccata Pasta.
If you wan to try another flavorful, simple chicken recipe check out Chicken Dijonnaise. You might also like Chicken Tomato Cream Sauce.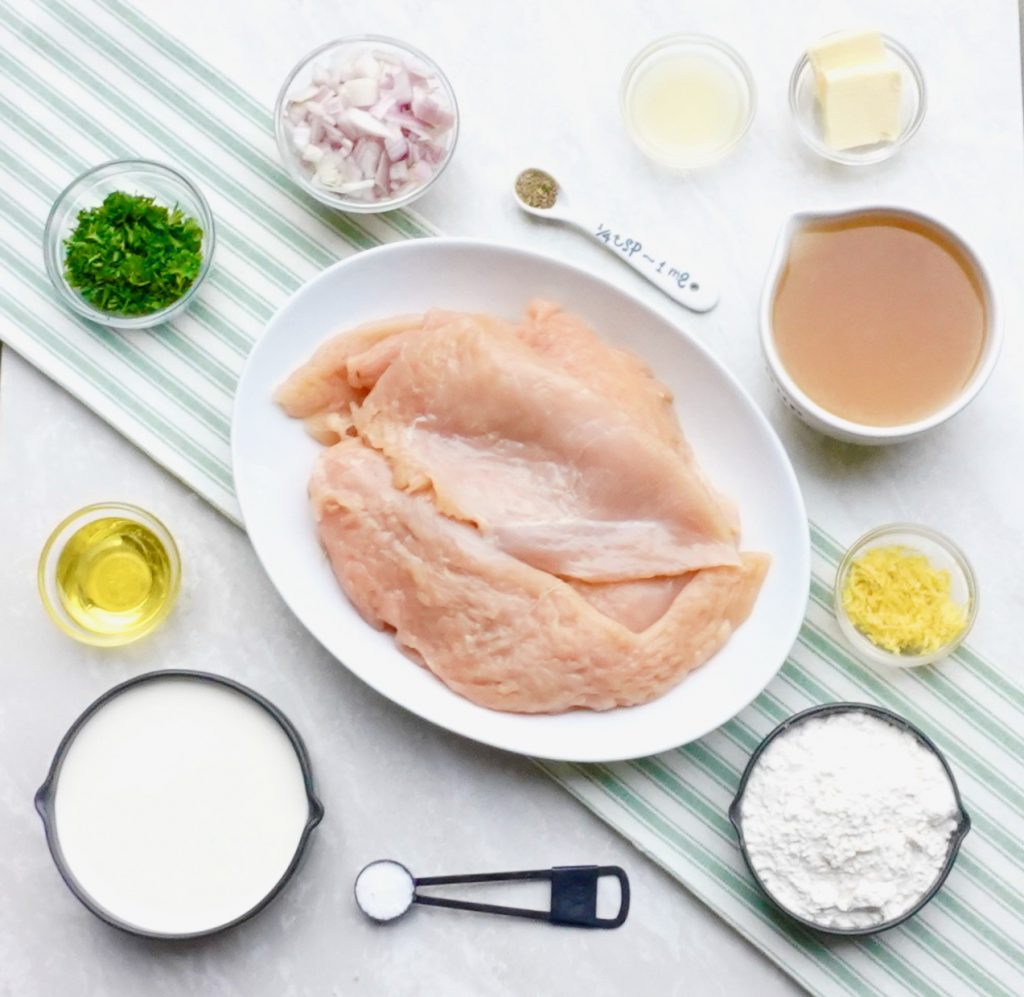 Creamy Lemon Chicken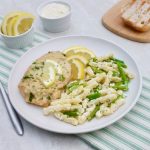 Print This
Ingredients
1.5 pounds boneless chicken breast, sliced into cutlets and pounded thin

½ cup all purpose flour

½ teaspoon kosher salt

¼ teaspoon black pepper

2 tablespoons olive oil

1 tablespoon butter

1 large shallot, diced

1 cup chicken broth

1 cup heavy cream

1 tablespoon lemon juice

1 teaspoon lemon zest

2 tablespoons fresh parsley, chopped

¼ cup grated parmesan cheese
Instructions
To make cutlets, cut the boneless chicken breast into slices that are ½ thick. Lay them on a board, cover them with plastic and pound them until they have flattened out to ¼ inch thick slices.
Place the flour, salt and pepper in a shallow dish and combine well.
 Dip the chicken cutlets into the flour mixture, coating both sides.
Place the olive oil and butter into a large skillet and heat over medium heat.
When it starts to bubble add the chicken cutlets to the skillet.
Cook the cutlets 4 minutes on the first side. Turn them over and cook for an additional 2 minutes. Remove the cutlets to a plate.
Add the shallots to the pan and cook, stirring occasionally for 1 minute.
Add the chicken broth, heavy cream, lemon juice,  and lemon zest.
Raise the heat to high to bring the mixture to a boil. Lower the heat to the low setting and simmer for 3 minutes. 
Stir in the parsley and parmesan cheese. 
Add the cutlets to the pan and cook until heated through, about 3 minutes.