Are you looking for a delicious and easy weeknight dinner that will make everyone's taste buds dance with delight? Look no further than this Creamy Chicken Piccata Pasta recipe. This one-skillet wonder is a perfect pasta dish for busy weeknights when you want a comforting and satisfying meal without spending hours in the kitchen. With its tender pasta, chicken, and tangy lemon cream sauce, this dish is sure to become a family favorite.If you are a Chicken Piccata fan, you will love this easy recipe that takes so little time!
If you want to try a a classic Italian dish, made with chicken cutlets that are cooked to a golden brown and simmered in a creamy lemon sauce, check out Chicken Piccata.
If you want to try some other chicken and pasta recipes, check out Chipotle Chicken, Tomato Chicken Bowtie Pasta, and Chicken Milano.
Creamy Chicken Piccata Pasta is a fantastic go-to meal for any night of the week. The tangy lemon cream sauce perfectly complements the tender pasta and chicken, creating a mouthwatering combination that is sure to please. With just one skillet and minimal prep, you'll have a delicious dinner on the table in no time. Give it a try, and let us know how much you love it in the comments below!
SOME THINGS TO KNOW:
SPECIAL EQUIPMENT NEEDED:
Large pot to cook pasta
Large skillet
SUBSTITUTIONS:
Ziti pasta: You can replace ziti with other types of pasta, such as penne pasta, rigatoni, or fusilli. Any medium-sized sturdy pasta shape that holds sauce well will work.
Boneless chicken breast: If you prefer a different type of protein, you can use cooked and shredded boneless skinless chicken thighs or turkey. For a vegetarian option, substitute the chicken with cooked chickpeas or sautéed mushrooms.
Butter: To make the recipe dairy-free, replace the butter with olive oil, coconut oil, or a dairy-free butter alternative.
Chicken broth: You can substitute chicken broth with vegetable broth for a vegetarian version or use turkey broth for a slightly different flavor.
Heavy cream: For a lighter sauce, use half-and-half or whole milk instead of heavy cream. For a dairy-free option, try using full-fat coconut milk or a dairy-free cream alternative like almond, soy, or oat milk.
Parmesan cheese: If you're looking for a vegetarian alternative, choose a vegetarian parmesan-style cheese. For a dairy-free option, use nutritional yeast or a dairy-free cheese alternative that melts well.
Capers: If you don't have capers, you can use chopped green olives to add a tangy flavor to the dish.
Fresh parsley: If you don't have fresh parsley, you can substitute it with fresh basil, cilantro, or chives for a slightly different flavor.If using dried herbs, remember to adjust the amount accordingly. 1 teaspoon of a dried herb for each tablespoon of a fresh herb.
Remember that when making substitutions, the overall taste and texture of the dish may be altered. However, these changes can also lead to new and exciting flavor combinations. Enjoy experimenting with the recipe!
WHAT TO DO WITH THE LEFTOVERS:
Refrigerate: Store the leftovers in an airtight container in the refrigerator for up to 3-4 days. To reheat, you can either use a microwave or warm it in a saucepan over low heat, stirring occasionally. You may need to add a little chicken broth, milk, or water to loosen up the sauce and prevent it from becoming too thick as it reheats.
Freezing: You can freeze the leftovers in airtight containers or freezer bags for up to 2-3 months. Be sure to let the dish cool completely before transferring it to the freezer. To reheat, first thaw the frozen pasta in the refrigerator overnight. Then, reheat it in a saucepan over low heat or in a microwave, adding a bit of liquid (e.g., chicken broth, milk, or water) if needed to thin the sauce.
Make a Creamy Chicken Piccata Casserole. Transfer the leftover pasta into a casserole dish, and sprinkle it with some grated cheese such as mozzarella or provolone. Bake it in a preheated oven at 350°F for 20-25 minutes, or until heated through and the cheese is melted and bubbly.
Remember, when reheating leftovers, always ensure they are heated through to an internal temperature of 165°F to ensure food safety. You can insert a meat thermometer into the center of the casserole to check the temperature.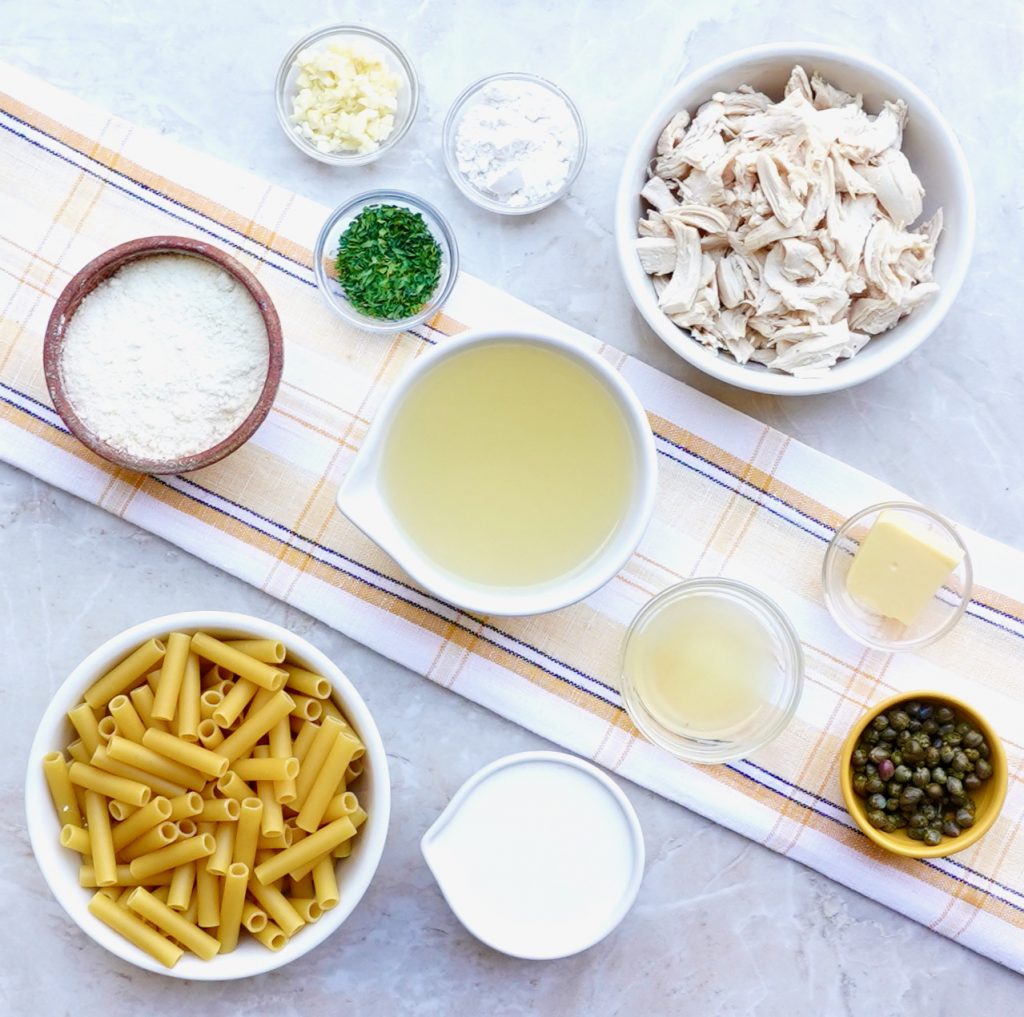 Creamy Chicken Piccata Casserole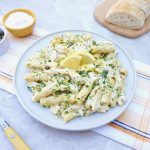 Print This
Ingredients
8 ounces ziti pasta

2 cups cooked and shredded boneless, skinless chicken breast

1 ½ tablespoons of butter

2 garlic cloves, minced

2 cups chicken broth or chicken stock

2 tablespoons lemon juice

2 tablespoons all purpose flour

¼ cup reserved pasta water

½ cup heavy cream

¾ cup parmesan cheese, divided

2 tablespoons capers

1 tablespoon fresh parsley chopped, or 2 teaspoons dried parsley

Optional garnish: lemon zest or lemon slices
Instructions
SET BY STEP GUIDE TO MAKING CREAMY CHICKEN PICCATA PASTA
1.COOK THE ZITI PASTA
Heat a large pot of water over medium- high heat until it comes to a boil. Add a teaspoon of salt to the water. Stir the pasta often so it does not stick to the bottom of the pan.
Cook the ziti pasta according to package instructions until al dente. Reserve ¼ cup of the pasta cooking water before you drain the pasta.  Drain the pasta and set the cooked pasta aside.
2. PREPARE THE LEMON CREAM SAUCE
While the pasta is cooking, melt butter in a large skillet over medium heat. Add the minced garlic and cook for 1-2 minutes, or until fragrant, being careful not to burn the garlic.
Add the chicken broth and lemon juice to the skillet. Let it heat over medium low heat until it starts to simmer.
In a small bowl, whisk together the all-purpose flour and reserved pasta water until smooth.
Gradually whisk the flour mixture into the broth mixture in the skillet. Keep whisking constantly to prevent lumps.
Bring the sauce to a boil, then reduce the heat to low and let it simmer for 3-5 minutes, or until slightly thickened.
3. ADD HEAVY CREAM AND PARMESAN CHEESE
Stir in the heavy cream and cook for an additional 2-3 minutes, or until the sauce reaches your desired consistency.
Add in ½ cup of the parmesan cheese and stir until it is melted and well incorporated. Taste the sauce and adjust seasoning with salt and pepper as needed.
4. COMBINE PASTA, CHICKEN,CAPERS AND SAUCE
Add the cooked ziti pasta, shredded  cooked chicken and capers to the skillet. Toss well to ensure that the pasta and chicken are evenly coated with the sauce.
Cook for another 2-3 minutes to heat through, then remove from the heat.
5. GARNISH AND SERVE
Garnish with the remaining ¼ cup of parmesan cheese and chopped parsley.
Serve immediately in a large bowl with some bread and a green salad , and enjoy your Creamy Chicken Piccata Pasta!