Frittatas are one of the most versatile recipes. You could eat them for any meal of the day and you can vary the ingredients to switch them up.  Zucchini Herb Frittata is a good combination for the summer months when gardens are overflowing with zucchini!
A frittata is an Italian egg based dish that is similar to a crustless Quiche. It is filled with meats, cheeses and vegetables. It is a great way to feed a group or make for your weekly meal prep so you have a quick breakfast on busy weekday mornings.
Zucchini Herb Frittata is a vegetarian frittata with zucchini, onion, fresh herbs and parmesan cheese. You can easily swap out the herbs for what you have on hand.
If you like vegetable frittatas check out Mushroom Asparagus Frittata, Tater Tot Frittata Casserole, Potato Cheddar Frittata, and Vegetable Frittata .
If you prefer the addition of some meat you your frittata, check out Mini Frittatas, Chorizo Frittata, and Mexican Sheet Pan Frittata.
For more ways to cook with seasonal squash, check out 15 Simple Summer Squash Recipes.
SOME THINGS TO KNOW:FAQ'S
INGREDIENT TIPS:
​Read The Best Way to Pick a Great Zucchini so you start with the best ingredients.
Pat the sliced zucchini with a paper towel to absorb the excess liquid. If you prefer to use grated zucchini in the recipe, place it between paper towels and squeeze the excess moisture out.
SPECIAL EQUIPMENT NEEDED:
9 inch pie plate or large nonstick oven-safe skillet.
​Large mixing bowl.
Whisk
SUBSTITUTIONS:
Yellow Summer Squash can be used in place of the zucchini.
You can replace the yellow onion with green onions or red onion.
The parmesan cheese can be substituted with Asiago Cheese or Romano Cheese. Feta Cheese would also be a good addition.
Crème Fraîche can be substituted for the sour cream.
The olive oil can be replaced with canola oil or vegetable oil.
If you do not have fresh parsley or chives, substitute with fresh herbs that you have on hand or 2 teaspoons each of dried parsley and dried chives.
HOW TO STORE LEFTOVER ZUCCHINI HERB FRITTATA:
You can keep the zucchini frittata, covered with plastic wrap in the pie plate for up to 5 days in the refrigerator. Let the frittata cool to room temperature before you cover it.
You can freeze the frittata for 2-3 months. To freeze the entire frittata in the pie plate, cover it with freezer wrap. You can also freeze individually wrapper portions in an airtight freezer bag or container.
HOW TO REHEAT ZUCCHINI HERB FRITTATA:
You can reheat the entire frittata in a pre-heated 350 degree oven covered with aluminum foil. Heat for 20 minutes or until heated through.
You can easily reheat individual portions in the microwave, covered on a microwave safe plate. Heat at 1-2 minute intervals until heated through.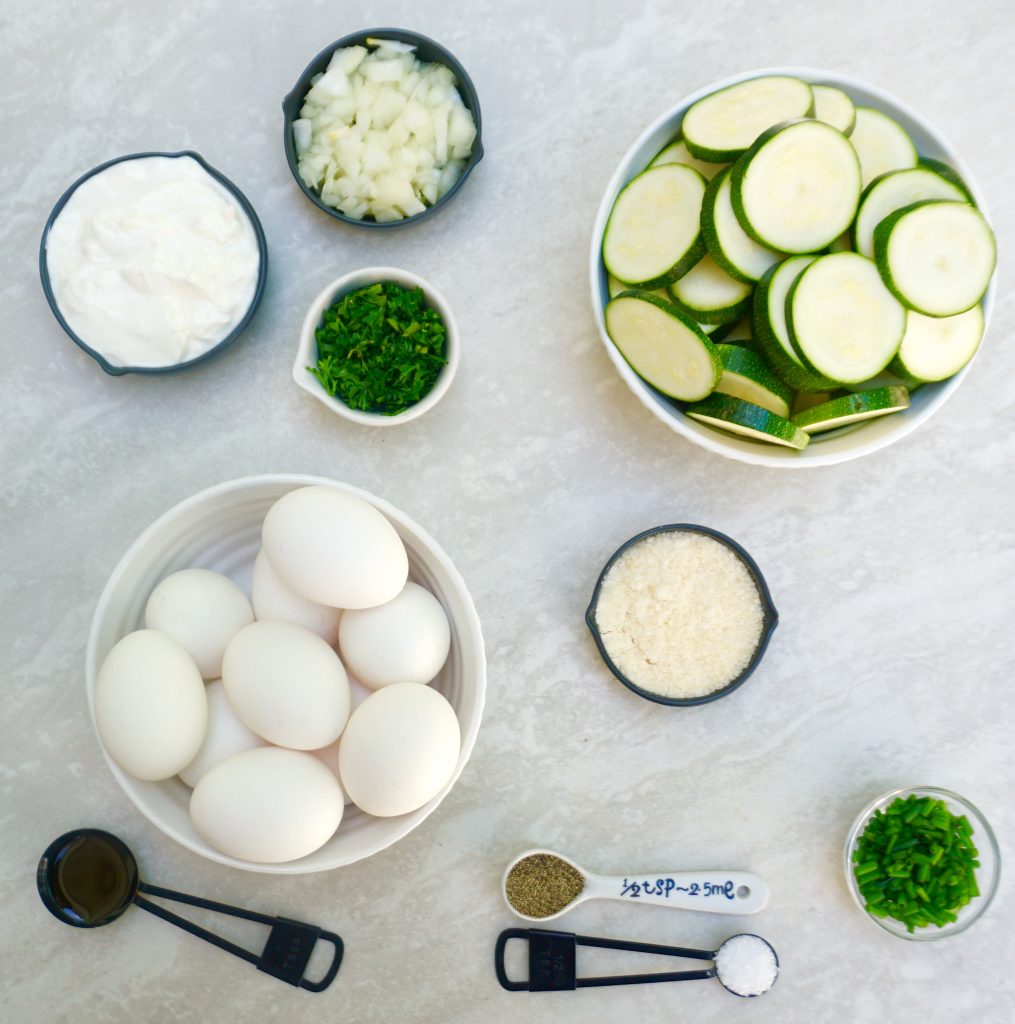 Zucchini Herb Frittata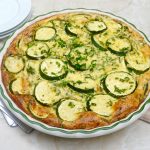 Print This
Ingredients
1 tablespoon olive oil

2 medium zucchini, sliced thin

1 small yellow onion, diced

10 large eggs

½ cup sour cream

¼ cup parmesan cheese

¼ cup fresh chives, chopped

¼ cup fresh parsley, chopped

½ teaspoon kosher salt

½ teaspoon black pepper
Instructions
Preheat your oven to 350 degrees
Heat the olive oil in a large skillet over medium-low heat. Add the zucchini and onion and cook, stirring occasionally until they begin to soften. This should take about 3-4 minutes. Do not let them brown.
In a large bowl, whisk eggs. Add the sour cream, parmesan cheese, chives, parsley, salt and pepper. Whisk together well.
Fold in the zucchini mixture with the onions.
Pour the egg mixture into a 9 inch pie plate which has been sprayed with cooking spray or greased with vegetable shortening.
Bake for 30 minutes until the top is completely set and golden brown.