Holiday Spritz Cookies are simple butter cookies that are made using a cookie press. This will allow you to make a variety of shapes and sizes just by changing the discs on the press. The cookies look professional and you can make large quantities of them relatively fast. You can buy presses for as little as $10- $12 dollars many places so check online for your best option.
The cookie dough contains butter, eggs, sugar, flour, vanilla and a pinch of salt. It does not need to be refrigerated before using.
You can make your your cookies plain or sprinkle them with sprinkles, sugars or nonpareils for some added color. You can also add chocolate chips or color the dough.
Holiday Spritz Cookies are sturdy cookies that can last for 2-3 weeks in a tin. They actually taste better with time. They can also be frozen in an airtight freezer container for 2-3 months.
Have some fun decorating these cookies. Cookie Cutter Cookies and Gingerbread Cookies are two other holiday favorites that you can use your imagination decorating.
Happy Holidays!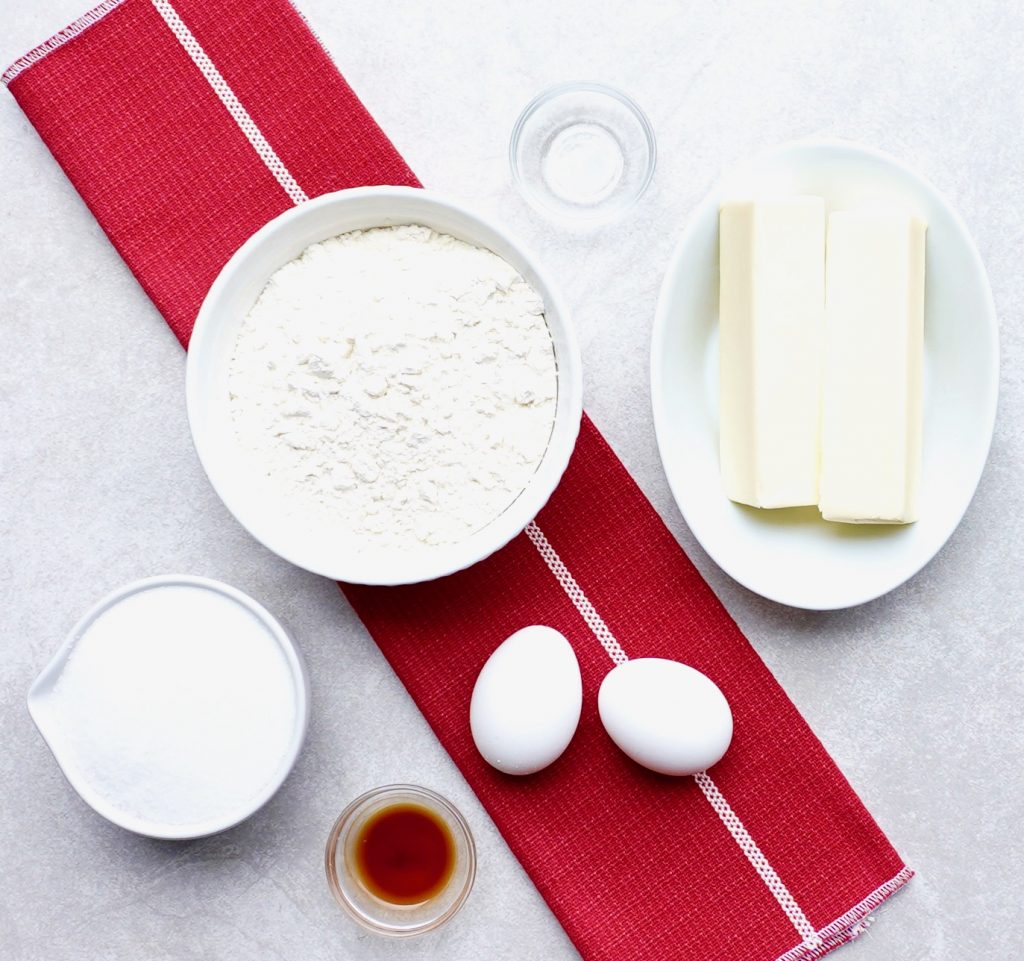 Holiday Spritz Cookies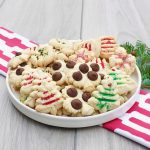 Print This
Ingredients
2 sticks butter, at room temperature

1 cup granulated sugar

2 large eggs

1 teaspoon vanilla extract

3 cups all purpose flour

pinch of salt
Instructions
Preheat your oven to 350 degrees
These cookies are baked on un greased cookie sheets. There is plenty of butter in them so they will not stick.
Using an electric mixer, cream the butter until it is fluffy.
Add the sugar and mix together well.
Add the eggs, one at a time. Beat well after each addition.
Add the vanilla extract.
Add the flour, one cup at a time, and thoroughly mix it in before adding the next one.
Add the salt and mix it in.
Add the disc you want to the cookie press and fill the tube with dough. Follow the directions of your cookie press to press your cookies onto the baking sheet. One tube of dough will create about one baking sheet of cookies.
These cookies do not spread at all during baking so you can place them 1 inch apart on the sheets.
If you are adding chocolate chips, colored sugars, sprinkles or nonpareils to decorate the cookies do this before you put them into the oven. Try to shake any extra sugars or sprinkles off the baking sheet before it goes into the oven.
Bake for 10-12 minutes until the edges of the cookies just begin to turn brown. Turn the cookie sheet halfway through to ensure even baking.
Remove the cookies from the oven and let them cool on the baking sheets for 2 minutes.
Use a metal spatula to remove them to a wire rack to cool completely.
If you use chocolate chips on the cookies, keep them on the wire rack for 12 hours before you put them into a cookie tin or container. The chips need to become completely hardened of they will smear.