Sausage and  Peppers is a classic Italian street food. Links of Italian sausage are browned and served with assorted bell peppers and onions. You can use sweet sausage, spicy sausage or a combination of both.  They are best served on an Italian sandwich roll or bread.
This is comfort food at its best. If you choose to serve them on their own, this is a low carb, gluten free meal. 
Sausage and Peppers cooks in about 20 minutes, making it a great option for an easy weeknight dinner. It would also be fun to serve for a game day party. 
If you like Italian sausage, check out the recipe for Tomato Sausage Sauce and Creamy Mushroom Sausage Rigatoni.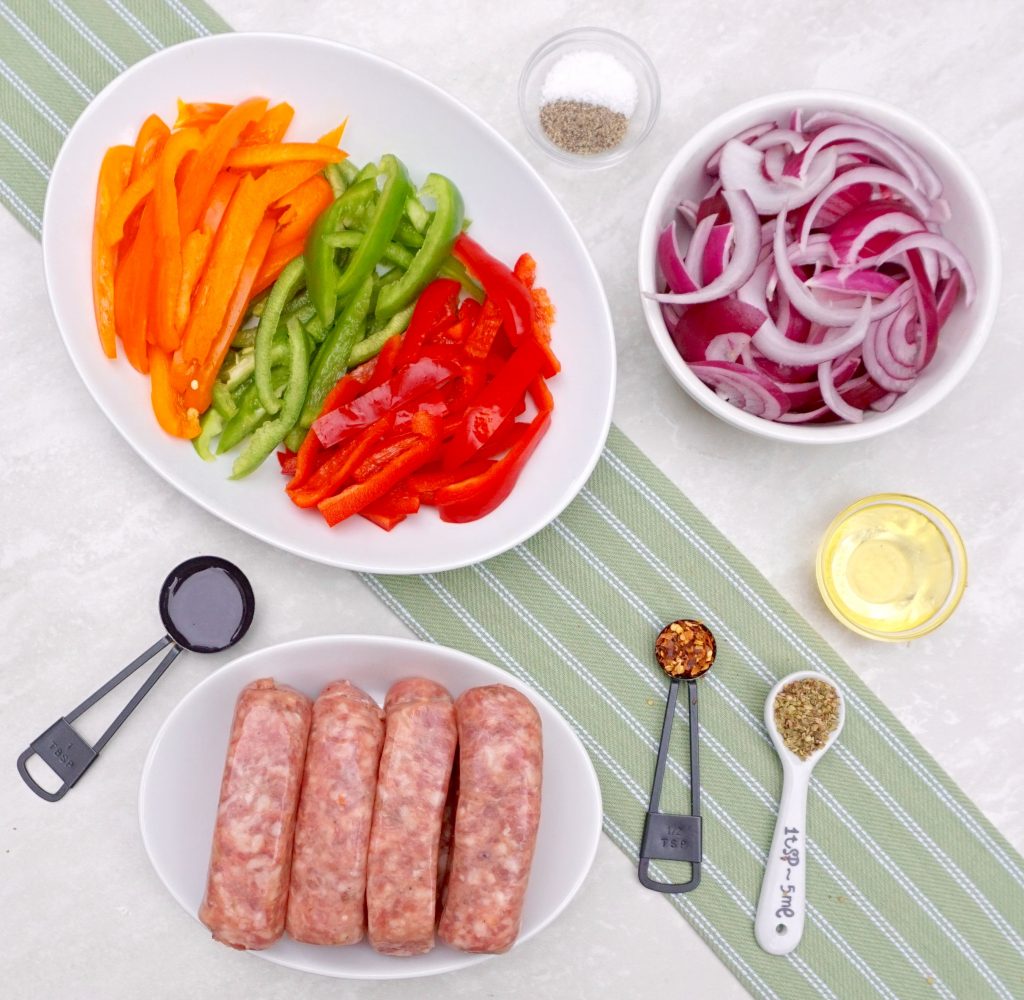 Sausage and Peppers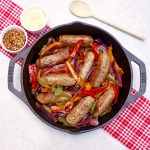 Print This
Ingredients
3 tablespoons olive oil, divided

8 links Italian sausage (2 pounds)

1 green bell pepper, cut into ½ inch strips

1 red bell pepper, cut into ½ inch strips

1 yellow bell pepper, cut into ½ inch strips

1 large red onion, sliced

1 teaspoon dried oregano

½ teaspoon crushed red pepper

1 tablespoon red wine vinegar

Salt and pepper to taste
Instructions
In a large skillet, heat the olive oil over medium low heat. Add the sausage and cook, turning them often until they are browned on all sides and no longer pink in the middle. This will take about 10 minutes. Remove the sausage to a plate.
Add the remaining olive oil to the pan. Add the green, red and yellow bell peppers. Add the onion. Cook stirring frequently until they are softened and lightly browned. This will take around 5 minutes.
Add the oregano, crushed red pepper and red wine vinegar to the pan. Cook for an additional 2 minutes.
Add the sausage back into the skillet and stir in with the peppers and onions. Heat through for 2 – 3 minutes.