Healthy food can be amazing and this Thai Peanut Chicken Wrap is a great way to prove it! Lean chicken, lots of crunchy veggies and a complex sauce are rolled up into a tortilla for a flavorful, crunchy wrap. The fresh ingredients really shine through here!
This could be your weekly meal prep for healthy lunches or be a great recipe for entertaining. It is a fun and casual meal that you can make interactive. Just put everything out and let your guests assemble their own wraps with whatever combination of add ons they like.
The peanut sauce is delicious spread over the shredded boneless chicken breast. The addition of the fresh vegetables finishes it off nicely. The crunch of the carrots, the coolness of the cucumber and the slightly sharp taste of the green onions make the wrap interesting and fresh.
Thai Peanut Chicken Wrap requires a bit of time and effort to make the sauce but it is well worth it. The slow simmering of all of the components creates a rich foundation for this flavorful wrap.
If you are a fan of Asian seasonings check out Asian Salmon Salad, Asian Salmon, Korean Beef,  Asian Slaw, and Chicken Ramen.
SOME THINGS TO KNOW:FAQ'S
IMPORTANT RECIPE TIP:
Remove the sauce from the heat and let it cool for 10 minutes before you add the the peanut butter to it. This is very important!!! The sauce needs to cool a bit before you add the peanut butter or it will separate.
SPECIAL EQUIPMENT NEEDED:
Medium saucepan
Baking sheet
SUBSTITUTIONS:
You can use any kind of tortilla that is available at your grocery store for this wrap. Do look for a large burrito size tortilla. You could also make this low carb by substituting lettuce leaves like butter lettuce to use as the wrap. You could also spoon the chicken filling into lettuce cups.
You can substitute the shredded boneless chicken breast with cooked ground chicken, cooked ground turkey, pre-cooked chicken, cooked chicken tenders or leftover rotisserie chicken.
The vegetable oil can be substituted with canola oil or olive oil.
If you do not have red wine vinegar, substitute with white vinegar or apple cider vinegar.
You could substitute the granulated sugar with light brown sugar.
If you prefer chunky peanut butter to creamy peanut butter, use that in the sauce.
ADDITIONS:
If you want to add some extra toppings to your Thai chicken wraps, thinly sliced red bell pepper, chopped crunchy peanuts, bean sprouts, finely chopped red cabbage or bok choy would all make great additions.
HOW TO STORE LEFTOVER THAI PEANUT CHICKEN WRAP:
You can store your leftovers with all the components packaged separately in airtight containers in the refrigerator for 2-3 days.
You can freeze the leftover peanut sauce, tortillas and cooked chicken separately in airtight freezer containers for 2-3 months.
Defrost the tortillas at room temperature. Defrost the peanut sauce and chicken in the refrigerator.
HOW TO REHEAT YOUR LEFTOVER THAI PEANUT CHICKEN WRAP:
Place the peanut sauce into a small saucepan and heat it over medium low heat, stirring occasionally until it begins to bubble.
Place the chicken ,wrapped in foil into a preheated 250 degree oven until heated through. The time will depend on the amount of chicken you are reheating.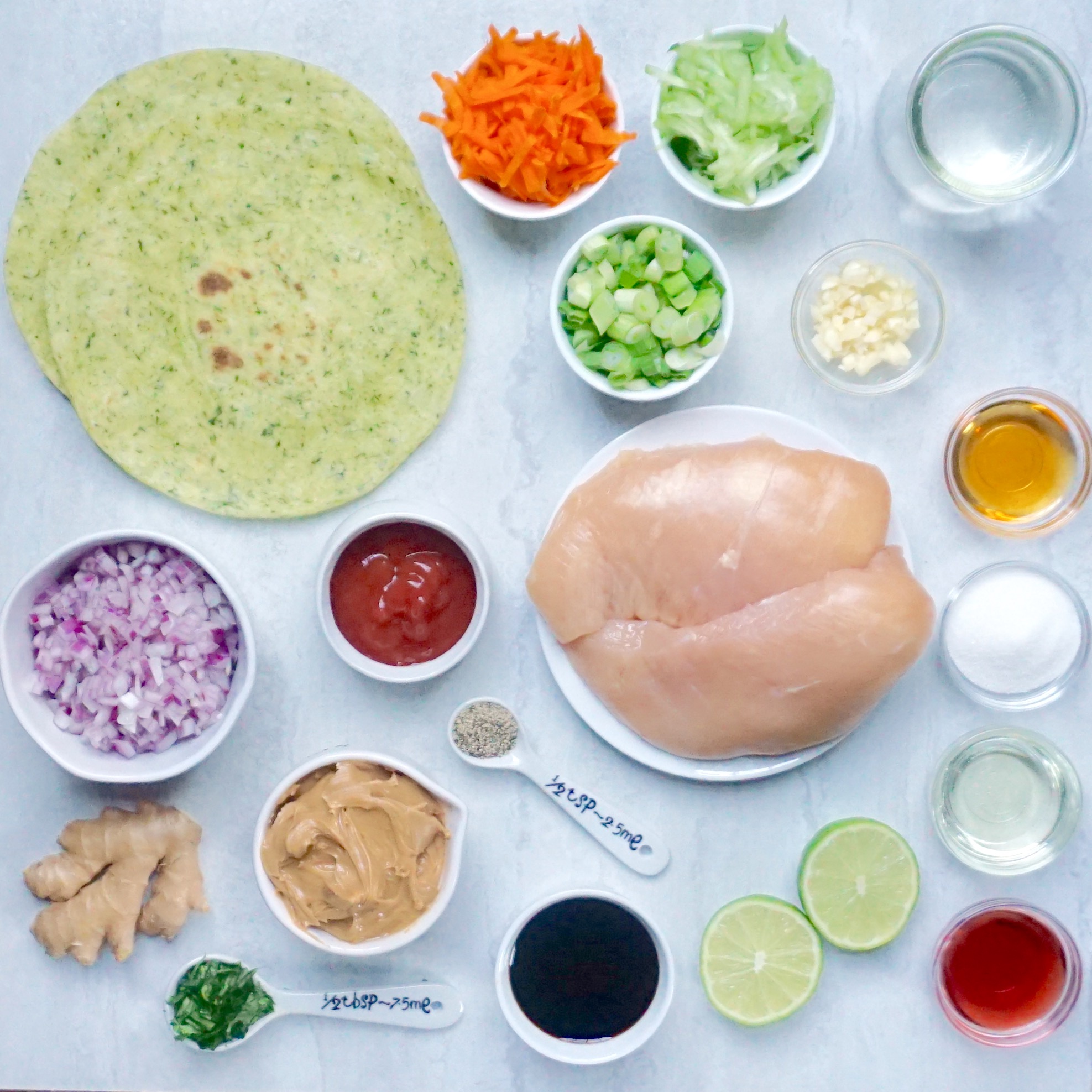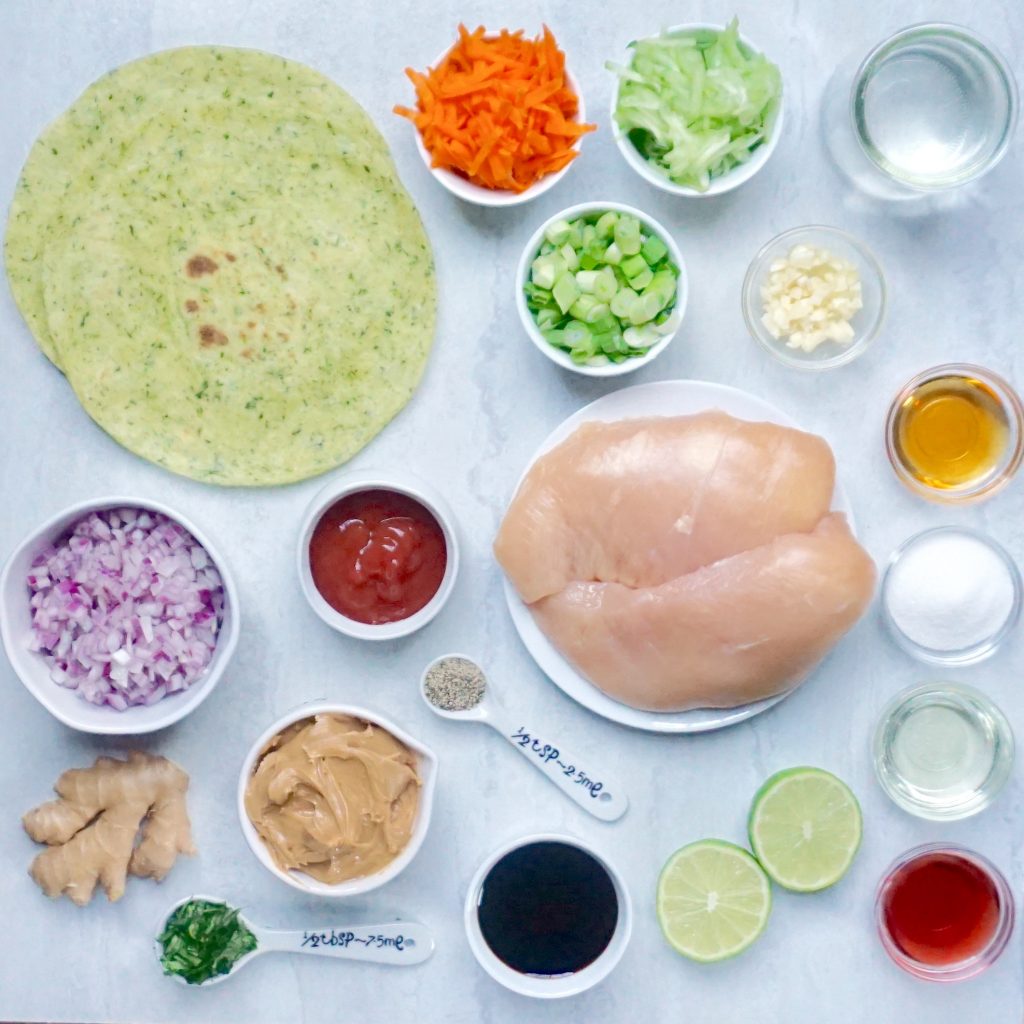 Thai Peanut Chicken Wrap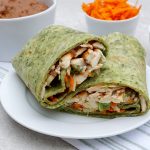 Print This
Ingredients
SAUCE:
⅛ cup vegetable oil (2 tablespoons)
1 tablespoon sesame oil
¾ cup red onions, minced
2 tablespoons garlic, minced
2 teaspoons fresh ginger root, minced
1 ½ teaspoons red wine vinegar
1 ½ teaspoons granulated sugar
⅓ cup ketchup
½ cup hot water
⅓ cup soy sauce
2 teaspoons fresh cilantro, chopped
1 tablespoon freshly squeezed lime juice
½ teaspoon black pepper
½ cup creamy peanut butter
WRAP:
1 to 2 packages burrito size flour tortillas
1½ pounds boneless skinless chicken breast
olive oil
salt and pepper
1½ cups grated carrots, julienne cut or grated
1 ½ cups grated cucumber *see note
1½ cups green onions, sliced
Instructions
Preheat your oven to 400 degrees
Brush the boneless chicken breast with olive oil. Sprinkle with salt and pepper. Place the chicken on a  baking sheet pan. Bake for about 25 minutes until the chicken is no longer pink inside.
For the sauce:
In a medium saucepan, heat the vegetable oil and sesame oil over medium low heat.
Stir in the red onion, garlic and ginger. Sauté until the onions become translucent, about 2-3 minutes.
Add the red wine vinegar and sugar and cook for 3 minutes.
Add the ketchup, hot water, and soy sauce. Simmer on low heat for 10 minutes.
Add the cilantro, lime juice and black pepper. Simmer for 5 minutes longer.
Remove the sauce from the heat and let it cool for 10 minutes. This is very important!!! The sauce needs to cool a bit before you add the peanut butter or it will separate.
Once the sauce has cooled a bit, stir in the peanut butter until well blended.
*Squeeze the excess moisture from the grated cucumber by placing it on a paper towel.
This sauce can be kept for several days in the refrigerator.
Notes
The chicken for the wrap can be served warm, cold or at room temperature. The Thai Peanut sauce is best at room temperature.