Roasted Butternut Brussel Sprout Salad is a flavorful, hearty winter salad. Cubes of butternut squash and brussel sprouts are roasted to a golden brown then combined with a light, fresh lemon and honey dressing, fresh parsley leaves, shallots and pomegranate seeds. The result is a delicious side dish that will go well with your winter meals.
You have two options for serving this salad. You can add the parsley, dressing and pomegranate seeds to the squash and brussel sprouts straight from the oven to create a little contrast with warm and cool. You can also let the vegetables cool to room temperature then mix in with the other ingredients and serve.
Butternut squash is a great addition to a salad or soup. It also makes a wonderful sauce. Check out Butternut Squash Quinoa Salad, Baked Butternut Pasta, Gnocchi with Butternut Squash Béchamel Sauce and Butternut Apple Bisque for some other ways to use it.  Roasted Butternut Squash is also a good side dish.
If you are a fan of brussels sprouts, check out Roasted Brussels Sprouts and Sweet Potatoes.
If you are looking for another festive holiday side dish, check out Red Pepper Green Beans.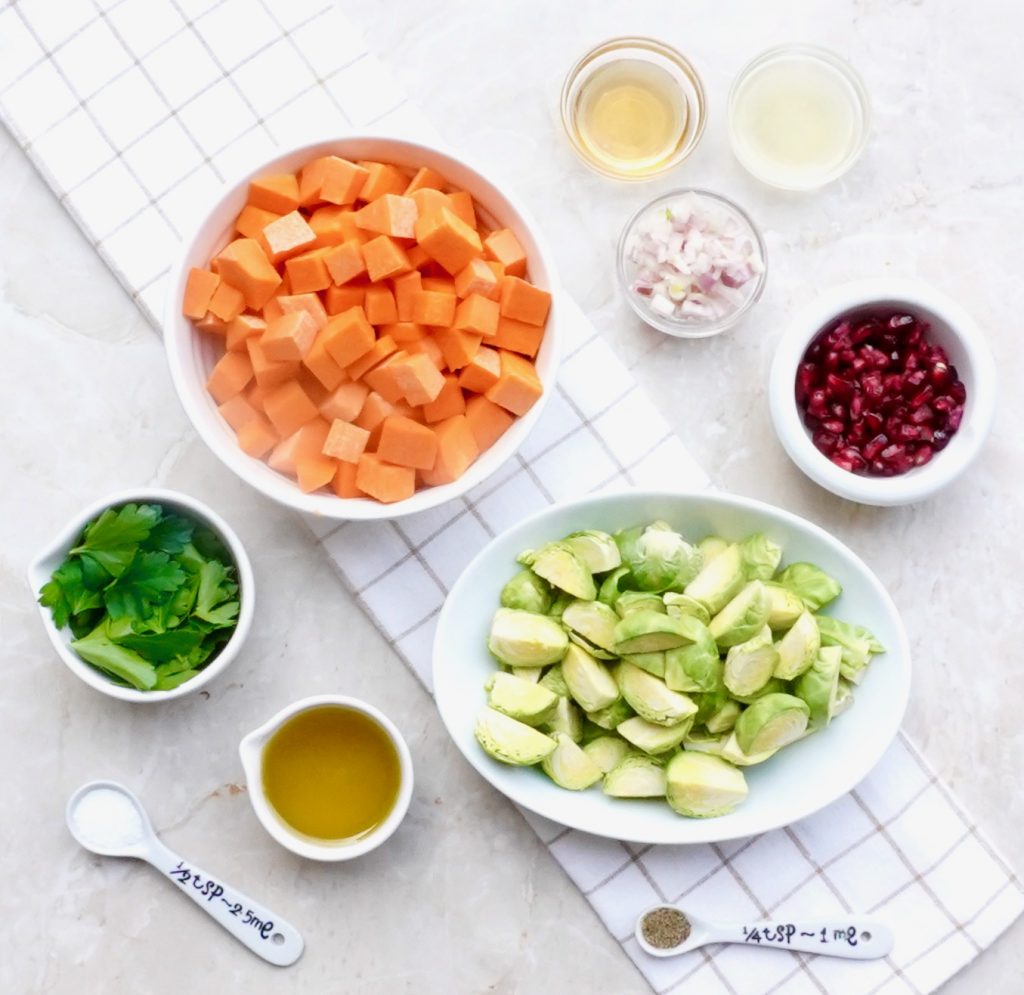 Roasted Butternut Brussel Sprout Salad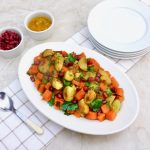 Print This
Ingredients
¼ cup olive oil, divided

4 cups butternut squash, cut into ½ inch cubes (1½ pounds)

2 cups Brussel sprouts, peeled and cut in half

½ teaspoon kosher salt

¼ teaspoon black pepper

1 tablespoon fresh lemon juice

1 tablespoon honey

1 small shallot, minced

½ cup fresh Italian parsley leaves

½ cup pomegranate seeds
Instructions
Preheat the oven to 425 degrees
Place the butternut squash and Brussel sprouts on a large baking sheet. Pour 2 tablespoons of the olive oil over them and stir to combine.
Spread them out so they are in a single layer. Sprinkle them evenly with the kosher salt and pepper.
Let them roast between 15 and 20 minutes, stirring them once halfway through. You want them to be slightly tender but not too soft.
In a small bowl combine the remaining 2 tablespoons olive oil with the lemon juice and honey. Whisk them together. Add the shallots and stir to combine.
Place the butternut squash and Brussel sprouts into a large bowl. Pour the dressing over them. Stir in the parsley leaves and pomegranate seeds. Combine well.
You can do this with the squash and Brussel sprouts warm from the oven if you want a warm dish or let them cool before combining them with the other ingredients.