Roasted Butternut Squash is a simple side dish and the the best way to enjoy this great fall vegetable this time of year. Roasting the whole squash in the shell is a simple way to cook it to bring out the natural sweetness and depth of flavor. There is no need to peel it ahead of time which is a good thing .If you have ever tried to peel one before you know that is not an easy thing to do!
Roasting has another benefit because this cooking method. really intensifies the flavor of the squash. So pull out a baking sheet, slice your squash in half, put it into the oven, and enjoy the ease of scooping the Roasted Butternut Squash from the shell for mashing. This healthy fall side dish would make a good addition to your holiday table for Thanksgiving dinner.
If you want to try another roasted butternut squash recipe, check out Roasted Butternut Brussel Sprout Salad, Butternut Apple Bisque, Baked Butternut Pasta, and Butternut Squash Quinoa Salad. They are all great recipes to make in the fall and winter. If you like a creamy butternut squash soup check out Butternut Squash Carrot Soup.
SOME THINGS TO KNOW: FAQ'S 
INGREDIENT TIPS:
Choose a squash with a firm, unblemished skin. The skin should be matte rather than shiny. Read 5 Quick Tips for Choosing Winter Squash so you will know what to look for at the grocery stores.
 Use extra virgin olive oil for the best flavor. It adds a rich, fruity note to the squash.
Use freshly ground black pepper instead of pre-ground. Freshly ground pepper is more aromatic and can make a notable difference in flavor.
SPECIAL EQUIPMENT NEEDED:
Sharp Chef's Knife: A good, sharp knife will make the process of cutting the butternut squash in half safer and more efficient.
Cutting Board: Should be large enough to handle the large squash.
Large Mixing Bowl: This is needed to mash the squash.
Baking Sheet or Roasting Pan: A large baking sheet or sheet pan will allow the butternut squash even roasting.
Spatula or Tongs: These tools will be helpful when turning the butternut squash cubes during roasting to ensure even browning.
Silicone Baking Mat or Parchment Paper: These can be placed on the baking sheet to prevent sticking and make cleanup easier.
SUBSTITUTIONS:
If you're looking for alternatives to brown sugar maple syrup or honey can be used.
Acorn squash, delicata squash, or kabocha squash can work as suitable substitutes for butternut squash. Sweet potatoes will work well too.
Avocado oil, coconut oil, grapeseed oil, or even sunflower oil can be used instead of olive oil.
Sea salt, kosher salt, or pink Himalayan salt can be used interchangeably.
HOW TO STORE ROASTED BUTTERNUT SQUASH:
The squash can be refrigerated 3-5 days. Before storing, allow the roasted butternut squash to cool to room temperature. Place the roasted butternut squash in an airtight container or a resealable plastic bag, removing as much air as possible.
The squash can be frozen for 3-5 months. Allow the roasted butternut squash to cool to room temperature. Place the squash into an airtight freezer bag or container.
HOW TO REHEAT ROASTED BUTTERNUT SQUASH:
To reheat the squash in the oven, preheat your oven to 350°F (175°C). Place the squash into a baking dish and heat for 15-20 minutes cooking time or until heated through.
The reheat the squash in the microwave oven, place the butternut squash in a microwave-safe dish, cover with a microwave-safe lid or plastic wrap (leave a small vent), and heat on medium power in 1-minute intervals, stirring in between, until warmed through.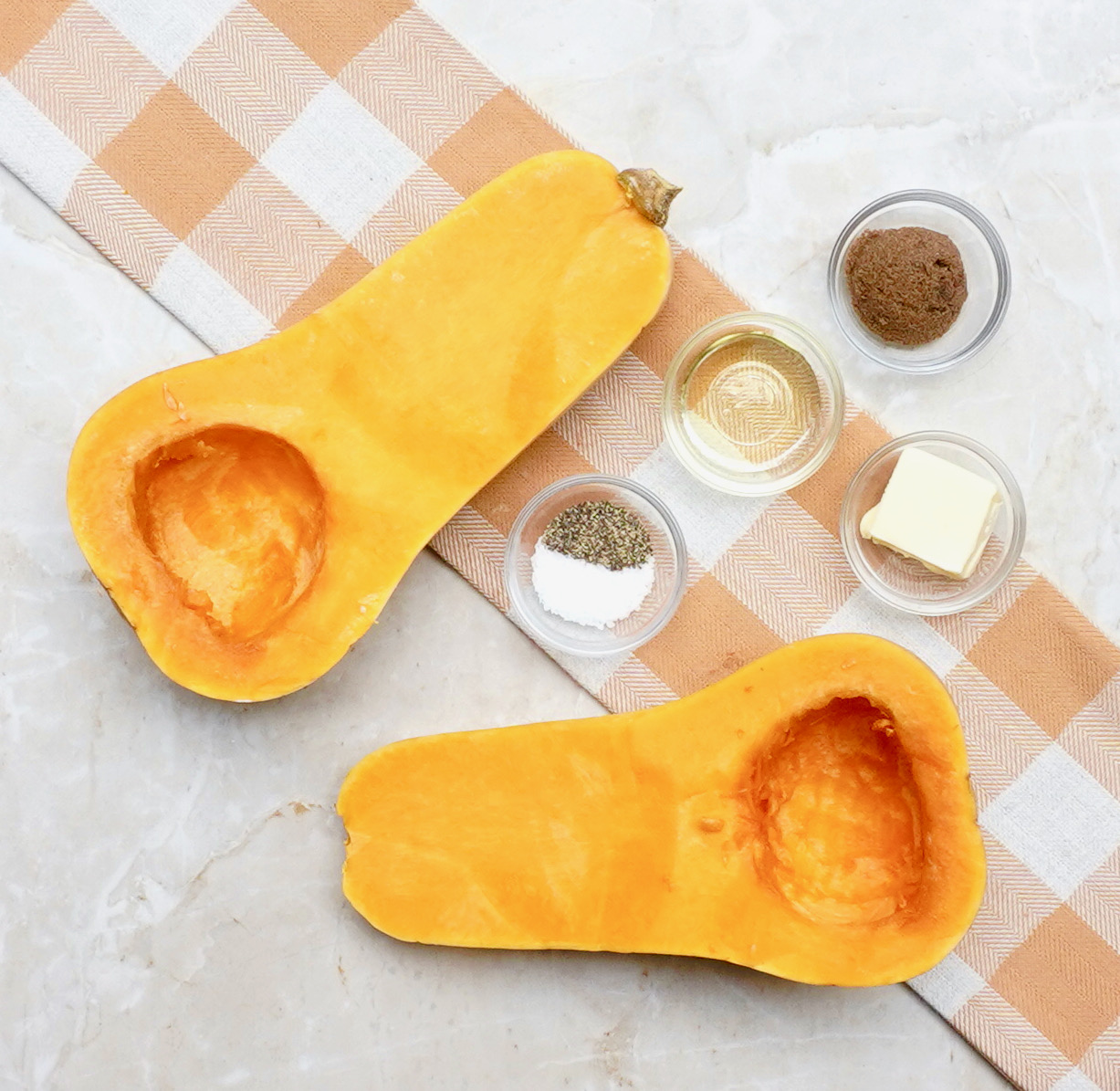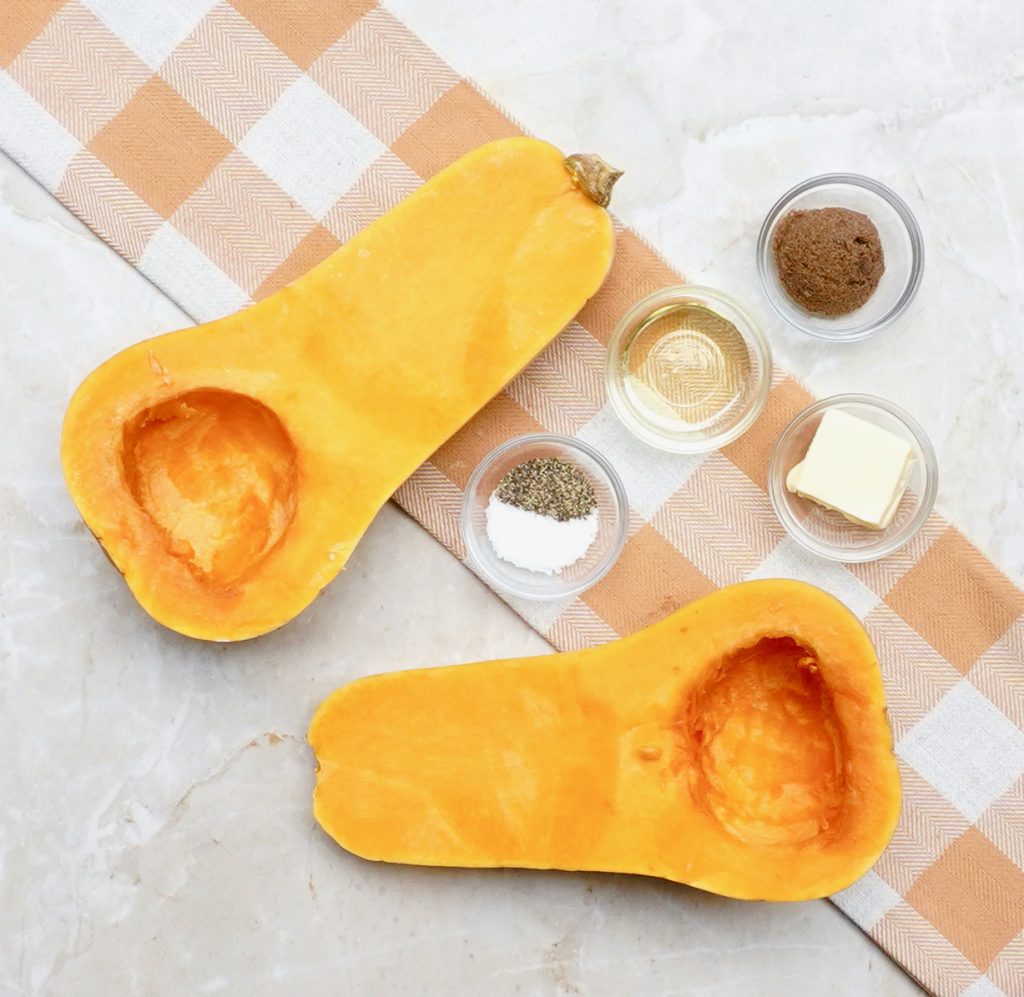 Place the squash on to a foil lined baking sheet. Brush the squash with olive oil and sprinkle it with salt and pepper. Roast until tender.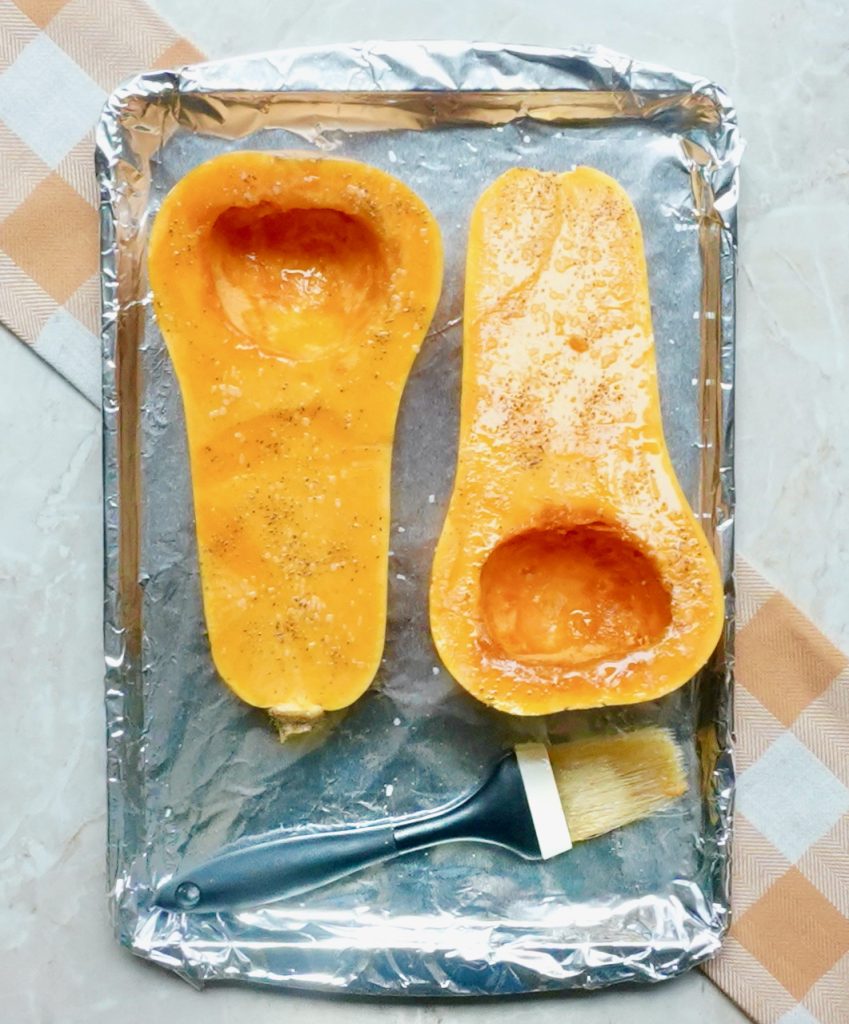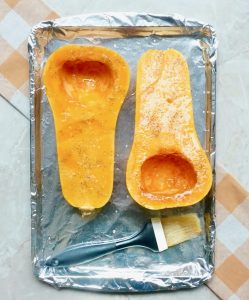 Scoop the roasted squash from the shell and place it into a large bowl with the butter, brown sugar, salt and pepper.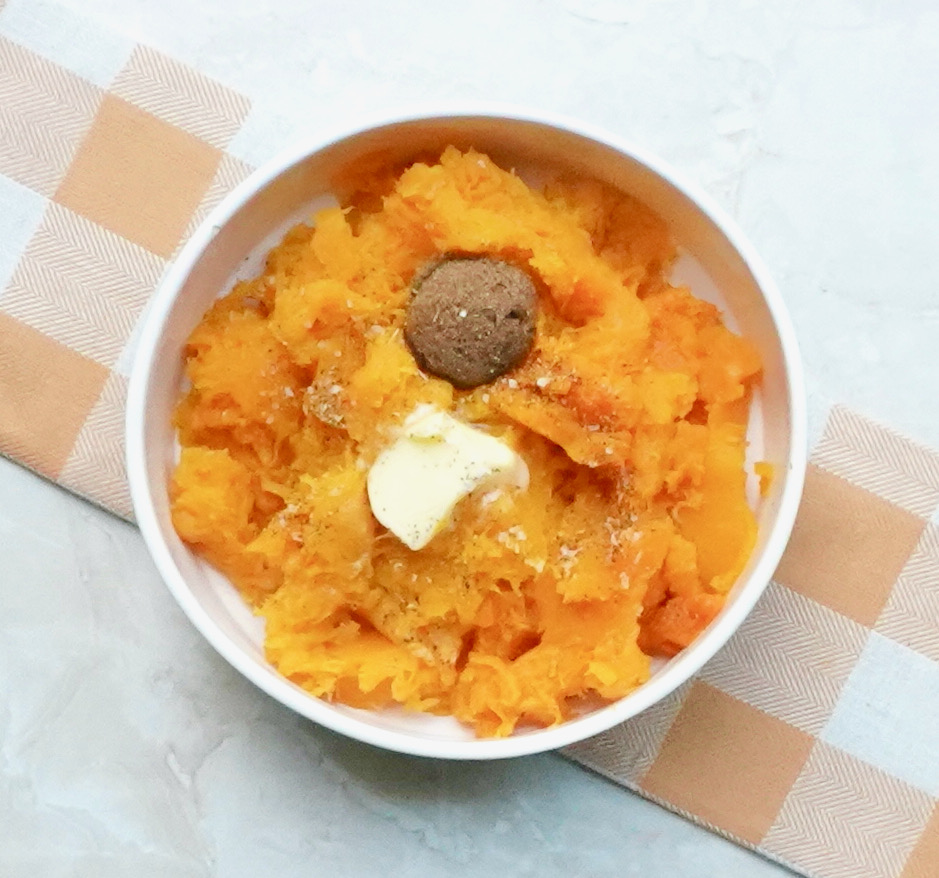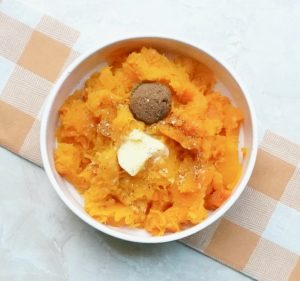 Use a whisk or electric hand held mixer to mash the squash and combine the ingredients.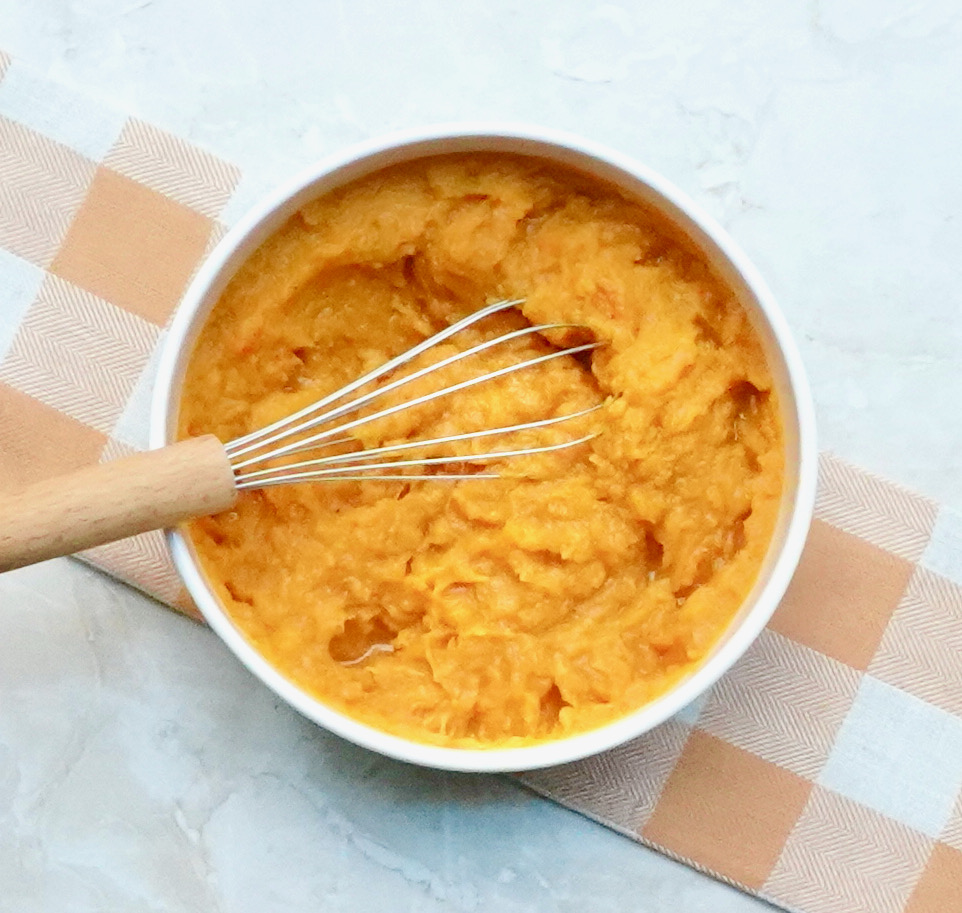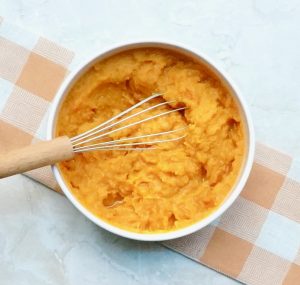 Roasted Butternut Squash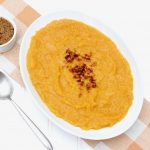 Print This
Ingredients
1 large Butternut squash, 3-4 pounds
1 teaspoon olive oil
¼ teaspoon salt
¼ teaspoon black pepper
1 tablespoon butter
1 tablespoon brown sugar
Instructions
Preheat your oven to 400 degrees.
Cut the butternut squash in half lengthwise. Remove the seeds. Place the squash halves on a foil lined baking sheet, with the cut side up in a single layer. Brush with olive oil. Roast  butternut for 25- 30 minutes or until fork tender and golden brown.
Remove from the oven and use a large spoon to remove the squash out of the shells into a mixing bowl. Add the salt, pepper, butter and brown sugar to the bowl. Beat with an electric mixer on high speed until smooth.