Cranberry Orange Sauce is a flavorful, sweet sauce that is the perfect Thanksgiving side dish for your holiday table. It goes so well with roast turkey. Making homemade cranberry sauce is very simple to do and it tastes so fresh and delicious.
Fresh cranberries make a tart and flavorful cranberry sauce. This easy to make recipe is a nice upgrade on the typical canned stuff for both Thanksgiving dinner and Christmas dinner as well. It would also make a good addition to special meals during the holiday season.
With just a few ingredients and a minimal amount of time, you will have sauce that is brightened with orange and a touch of ginger.It is both tangy and sweet at the same time. Leftover cranberry sauce would make a nice addition to baked brie and it can add some extra flavor to your leftover turkey sandwiches.
Fresh cranberries are also good  to bake with for your holiday meals. This Cranberry Orange Walnut Bread is perfect for your Thanksgiving bread basket and Cranberry Orange Ricotta Cake would make a great dessert with sweet and tart flavors.
Check out 16 Festive Cranberry Recipes to Brighten Up Your Holiday Meals for other ways to use cranberries this holiday season.
SOME THINGS TO KNOW:FAQ'S
INGREDIENT TIPS:
The type of fresh orange juice that you use can impact the flavor of the sauce. Navel oranges are a popular choice for their sweetness and lack of seeds. For more complex orange flavors consider using a combination of sweet and tart oranges, like Valencia and blood oranges. Read 10 Types of Oranges for Juicing, Snacking and Everything in Between.
Using fresh cranberries is ideal for this recipe as they provide the best flavor and texture.  If they are not in season, frozen cranberries are a great alternative. There's no need to thaw them before using them.
A bag of fresh cranberries freezes well so pick up some extra while they are in season at the grocery stores.
SPECIAL EQUIPMENT NEEDED:
Medium Saucepan: A medium-sized saucepan is needed for cooking the cranberries and combining the ingredients. It should be large enough to accommodate the cranberries and liquid without overflowing as the cranberries begin to pop and cook down.
Wooden Spoon or Spatula: A wooden spoon or a heat-resistant rubber spatula is ideal for stirring the ingredients together. These tools are gentle on your cookware and effective for mixing.
Citrus Juicer : To extract the juice from the orange efficiently and with minimal effort, a citrus juicer is very handy. If you do not have one, you can also squeeze the orange juice by hand.
Zester or Microplane Grater: For adding the orange zest, a zester or a microplane grater is the best choice. These tools allow you to finely grate the orange peel without getting the bitter white pith.
SUBSTITUTIONS:
If you prefer a natural sweetener, you can use honey or maple syrup in place of sugar. Keep in mind that these might slightly alter the flavor and texture of the sauce.
If fresh cranberries are not available, frozen cranberries can be used without needing to thaw them first.  Dried cranberries are not recommended as a substitute in this recipe due to their texture and sugar content.
If you don't have fresh oranges, you can use pre-packed orange juice.
If you don't have ground ginger, you can use fresh ginger. Grate  two teaspoons of fresh ginger to replace the ground ginger in the recipe. Cinnamon sticks or nutmeg can also be used in place of the ground ginger for warm spices.
Cranberry juice can be a good alternative to water.
HOW TO STORE CRANBERRY ORANGE SAUCE:
Cranberry orange sauce can typically be kept refrigerated for up to 10 to 14 days. Allow the sauce to cool to room temperature after cooking. Hot or warm sauce should not be placed directly in the refrigerator as it can raise the internal temperature of your fridge. Once cooled, transfer the sauce to an airtight container. Store the container in the refrigerator.
HOW TO FREEZE CRANBERRY ORANGE SAUCE:
Make sure the sauce is completely cool before freezing.Use a freezer-safe container or a heavy-duty freezer bag. Leave a little headspace at the top of the container or bag, as the sauce will expand slightly when frozen. Cranberry  sauce freezes well and can be stored in the freezer for up to 2-3 months.You might want to make a double batch and freeze it for later.
To thaw, transfer the cranberry sauce from the freezer to the refrigerator and let it thaw overnight. After thawing, the sauce might be a bit watery. If so, you can heat it up in a saucepan over low heat to evaporate the excess liquid and restore its original consistency.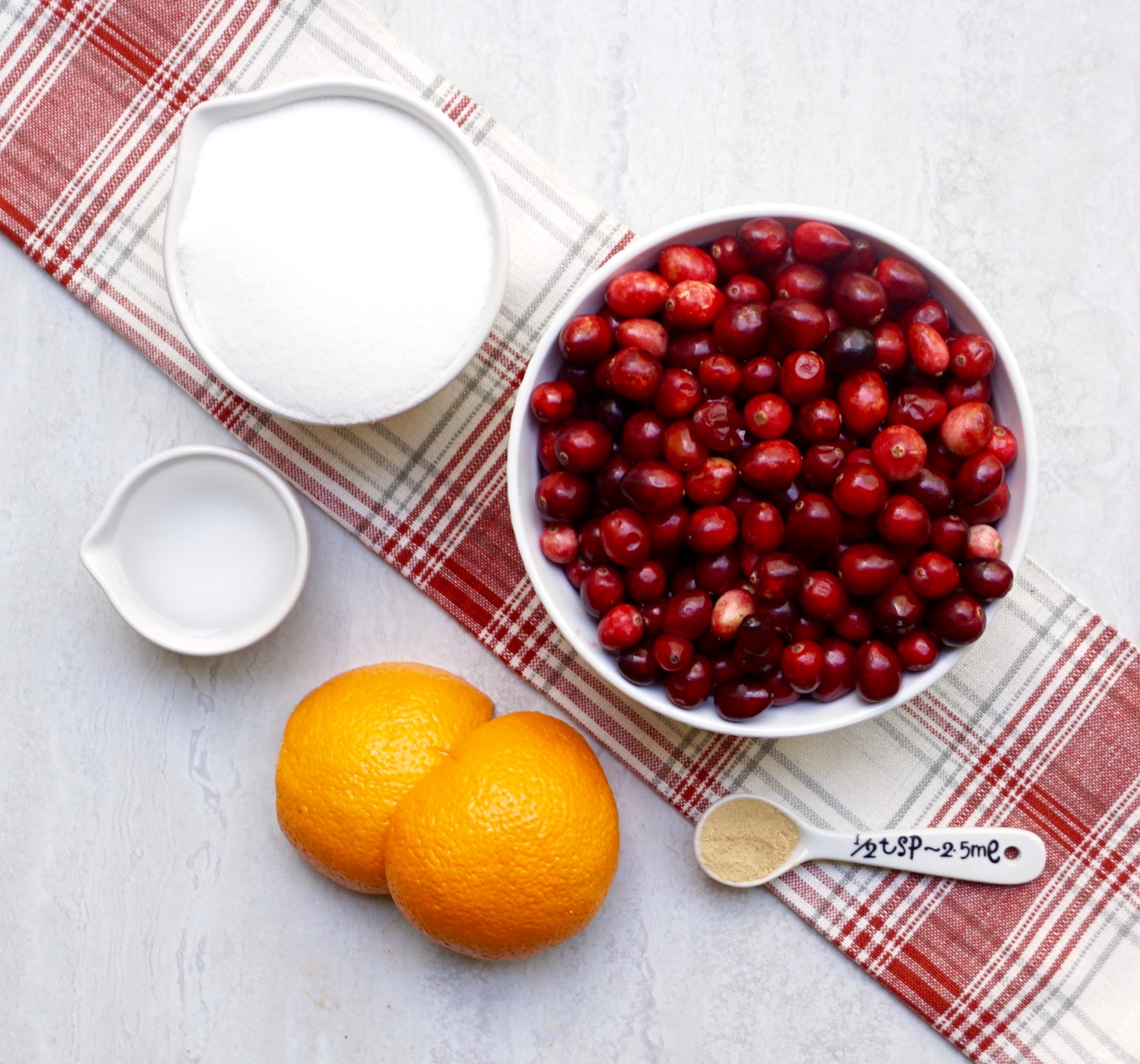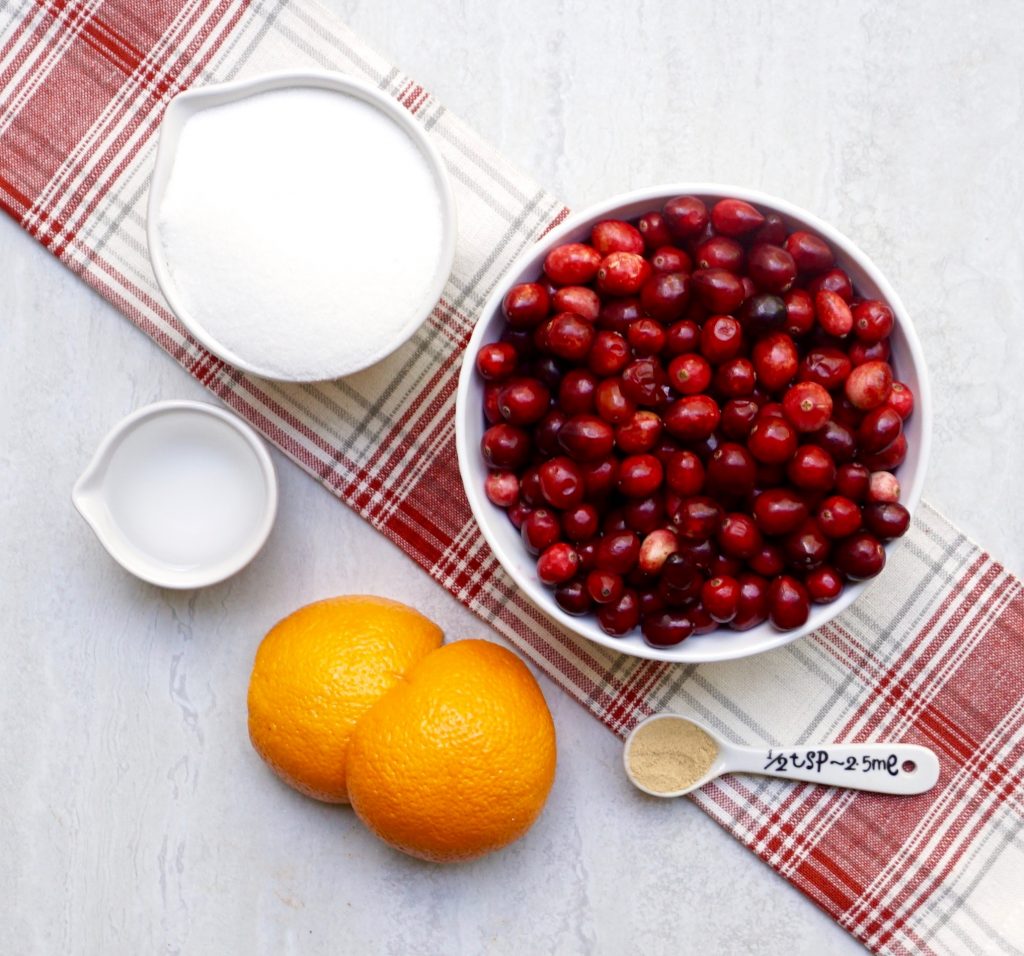 Cranberry Orange Sauce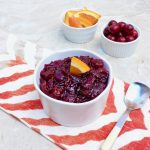 Print This
Ingredients
¼ cup cold water

1 cup of sugar (granulated or light brown sugar)

Juice of 1 orange

12 ounces fresh cranberries

1 tablespoon fresh orange zest

½ teaspoon ground ginger
Instructions
Pour the ¼ cup water, sugar and orange juice into a medium sized saucepan over medium heat. Combine sugar in well.
Cook until the sugar starts to dissolve.
Add the cranberries, orange zest and ginger to the pan. Raise the heat to the high heat setting and bring the mixture to a boil.
Once it boils, turn the heat down to the low setting and simmer the cranberries, uncovered until they begin to pop and the mixture starts to thicken slightly. This will take between 10-15 minutes.
Remove from the heat. The cranberry sauce will thicken as it cools.
Place the cranberry orange sauce into a pretty serving bowl and serve with your Thanksgiving turkey.