Pumpkin Martini is a perfect fall cocktail. It is smooth, creamy and delicious. It is all the best things of the pumpkin fall season in a cocktail. It has everything that you love about a pumpkin spice latte that you can serve in martini glasses! Fall cocktail hour at its best.
Pumpkin Martini is really like a pumpkin milkshake with a kick that includes a sweet pumpkin spice sugar on the rim of your glass.You can easily create this with a few simple ingredients. It is great to serve for your Halloween party,Thanksgiving dinners or after dinner drink this time of year when we love all things pumpkin.
If you cannot find pumpkin spice you can easily make it yourself by combine just a few different spices.If you love a creamy vodka martini like this pumpkin cocktail check out Tiramisu Martini Dessert Cocktail and Chocolate Martini.
If you would like to try another cocktail with all the fall flavors check out Holiday Sangria. It is a perfect cocktail to serve during the holiday season when serving a group as is made in a large batch. Another delicious cocktail to make for the holidays is Christmas Margarita with a festive colored sugar coating on the rim of the glass.
If you want a dessert to make this pumpkin season try Pumpkin Rum Bread Pudding. This dessert is made with dark rum and has all the flavors of fall.
SOME THINGS TO KNOW:FAQ'S
INGREDIENT TIPS:
Choose a high-quality vodka for a smoother and more enjoyable martini. A neutral-flavored vodka works best to let the pumpkin and spice flavors shine.
Use pure pumpkin puree without any added sweeteners or spices. Canned pumpkin puree is a convenient option. If you have the time, you can even make your own by roasting and pureeing fresh pumpkin.
SPECIAL EQUIPMENT NEEDED:
A cocktail shaker is needed for mixing and chilling the martini ingredients. If you don't have one, you can use a mason jar with a tight-fitting lid.
You'll want martini glasses to serve your Pumpkin Martini.
SUBSTITUTIONS:
 You can substitute the granulated sugar with brown sugar or coconut sugar for a richer taste.
If you cannot find pumpkin spice at your grocery store: make your own using a blend of cinnamon, nutmeg, cloves, and ginger, or simply use cinnamon if in a pinch.
For a sweeter, richer taste, use vanilla vodka or spiced rum to replace the plain vodka.
Canned sweet potato puree or butternut squash puree can be used if pumpkin purée isn't available.
The half and half can be substituted with whole milk or a combination of heavy cream and milk. For a dairy-free version, you can use almond milk, coconut cream or coconut milk.
Agave nectar, honey, or brown sugar syrup can serve as replacements for the maple syrup.
If you don't have vanilla extract, you can use a vanilla bean (scrape out the seeds) or a touch of vanilla bean paste. You could also use almond extract can be used for a different flavor note, though use it sparingly as its flavor is stronger.
HOW TO STORE PUMPKIN MARTINI:
Always store a mixed drink like a pumpkin martini in the refrigerator if you plan to consume it within a few days.Pour the martini into an airtight container or a glass bottle with a tight-sealing cap. This will prevent any contaminants from getting into the martini and will also prevent the alcohol from evaporating.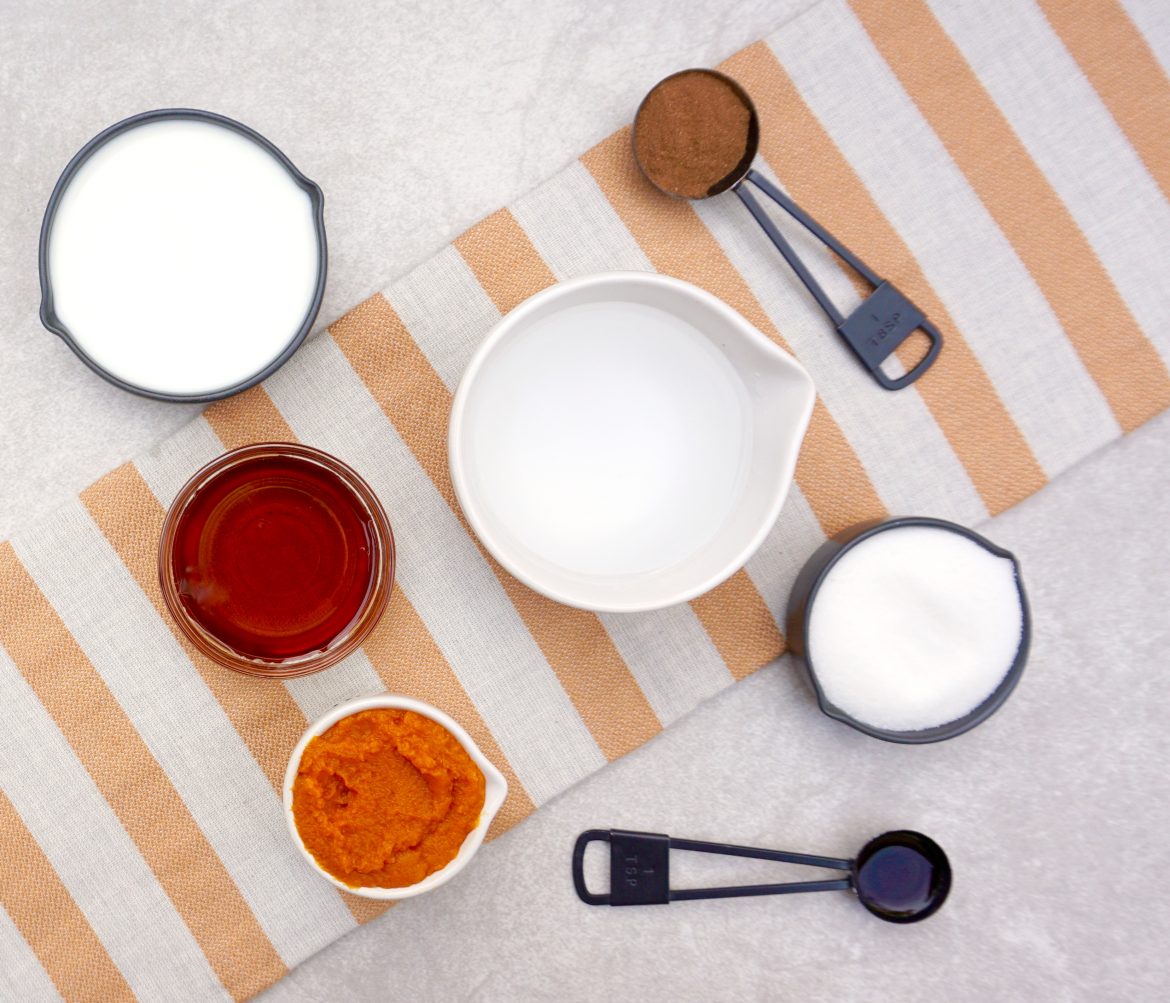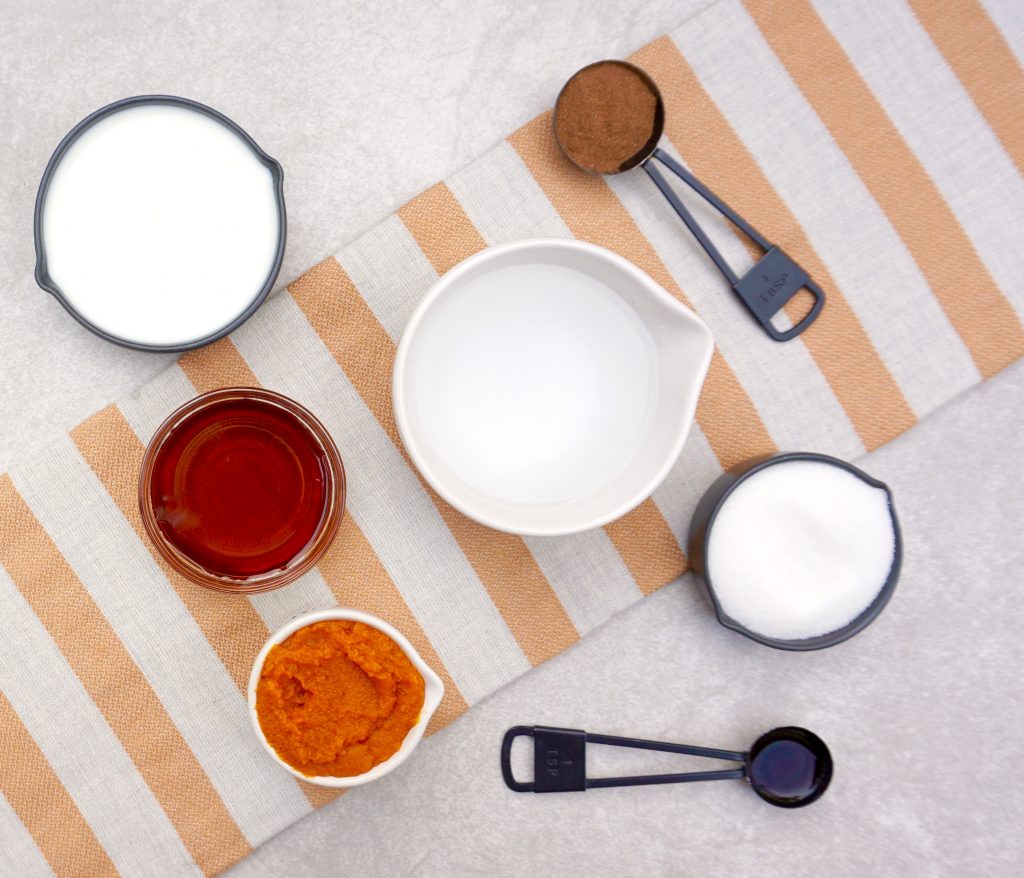 Pumpkin Martini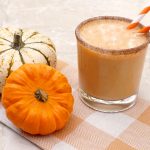 Print This
Ingredients
¼ cup granulated sugar

1 tablespoon pumpkin spice

¾ cup vodka

¼ cup pumpkin puree

½ cup half and half

¼ cup maple syrup

1 teaspoon vanilla extract
Instructions
On a small plate, mix the sugar with the pumpkin spice. Combine well. Wet the glass rim and press the cocktail glass upside down into the sugar mixture,making sure the entire rim is coated.
In a large cocktail shaker, add the vodka, pumpkin, half and half, maple syrup and vanilla extract. Shake well to combine.
Pour into the sugar rimmed chilled martini glass.
Get creative with garnishes! A cinnamon stick, a dash of ground cinnamon, a drizzle of caramel sauce, or a sprinkle of crushed graham crackers can add extra flair to your Pumpkin Martini.