Summer is here, and with it, comes an abundance of fresh, flavorful berries to be enjoyed. One of my absolute favorites has to be raspberries. Their sweet-tart flavor profile makes them perfect for a variety of dishes. Raspberry Turnovers is a recipe that transforms this versatile berry into the star of a classic pastry .
Now, homemade raspberry turnovers might seem like a daunting task, but trust me, they're easier than you think. By using store-bought puff pastry, half the work is already done for you. This leaves you with the simple task of creating a filling that is bursting with raspberry goodness.
This raspberry filling, made from fresh raspberries, sugar, and cornstarch for thickness, is a perfect balance of sweetness and acidity. It adds a burst of vibrant flavor that contrasts nicely with the light, flaky pastry. These turnovers are then finished with a dusting of sanding sugar, adding a touch of elegance and an extra hint of sweetness.
Turnovers are perfect for any time of the day. They can be a quick breakfast, a sweet mid-afternoon snack, or a sophisticated dessert to round off a summer dinner party served warm with a scoop of ice cream. And the best part? They're handheld and portable, so you can even pack these hand pies up for a picnic!
If you want to make some other easy recipes using frozen puff pastry, check out Strawberry Shortcake Bites, Asparagus Quiche Cups, and Blueberry Pot Pie.
SOME THINGS TO KNOW:FAQ'S
INGREDIENT INFORMATION:
Puff pastry is a light and flaky pastry that is a laminated dough. Laminating is not a simple process. Cold butter is rolled and rerolled between layers of dough to create many layers of dough. Chilling is required between each rolling so it is a very time consuming process. When this is baked, the liquid in the butter and the dough evaporates which causes the layers of dough to puff and create flaky pastry. Luckily, there are great frozen versions, so take that shortcut and the recipe will be easy. Read  What is Puff Pastry and How Do You Use It to learn more.

 

Sanding sugar is a sparkly large crystal white sugar that is used for decorating. It is good for baking as it does not dissolve in heat.
SPECIAL EQUIPMENT NEEDED:
Baking sheet
Rolling pin
Pastry Brush
Sharp Knife, pastry cutter or pizza cutter
Medium saucepan
Wire cooking rack
Parchment paper
SUBSTITUTIONS:
You can easily change the berries in this recipe. Strawberries, blueberries, and blackberries would all make good substitutes.
If you do not have whole milk, you could use half and half or heavy cream.
The granulated sugar could be replaced with light brown sugar.
ADDITIONS:
If you want to add the drizzle of glaze over the tops of the turnovers, make ½ of a batch of Cookie Glaze. You might also like the cream cheese glaze from the Strawberry Rhubarb Bar recipe which is made with cream cheese, powdered sugar and milk.
HOW TO STORE AND DEFROST RASPBERRY TURNOVERS:
You can store the turnovers covered with plastic wrap or in an airtight container for 2-3 days.
You can freeze the turnovers in an airtight freezer container or bag for 2-3 months. First, place them into the freezer on a baking sheet that is lined with parchment or wax paper. Once they are frozen, place them into an airtight freezer bag or container and return them to the freezer.
Defrost the turnovers on a wire rack at room temperature.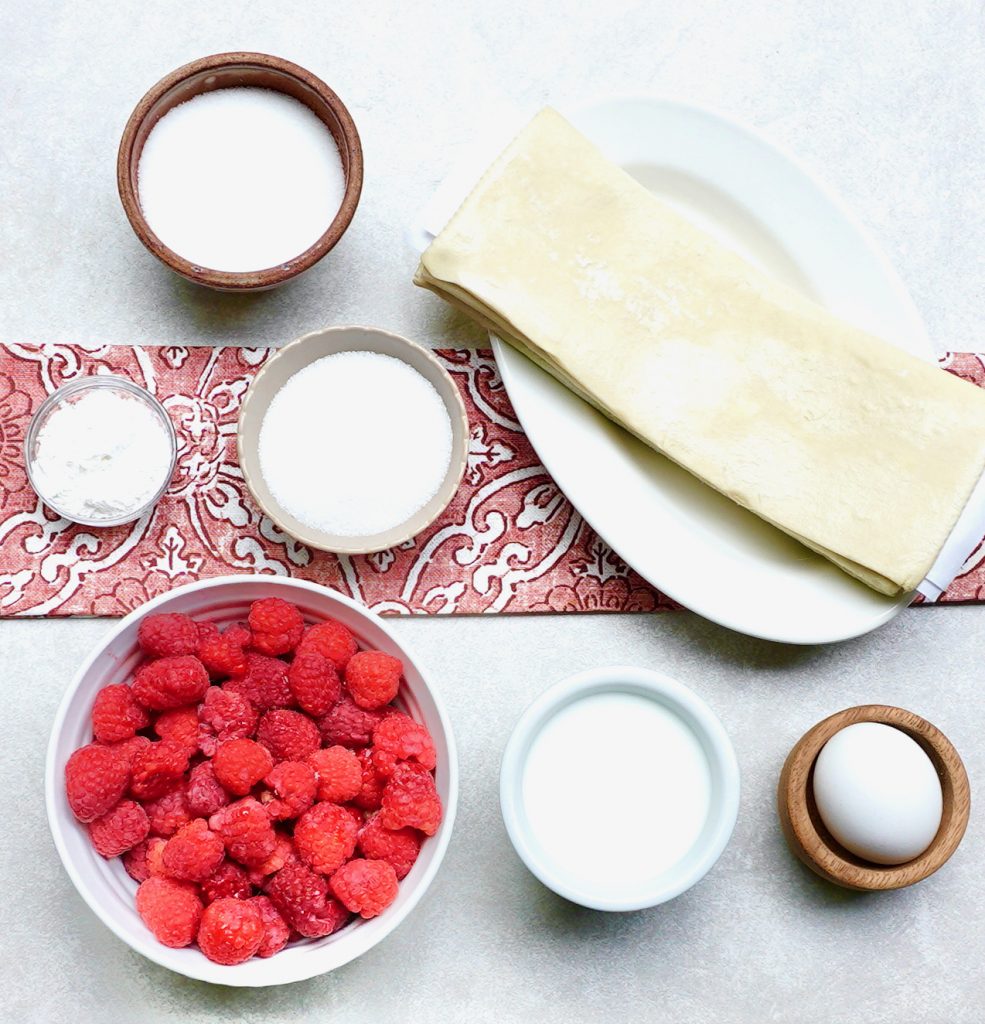 Here are the steps to make Raspberry Turnovers.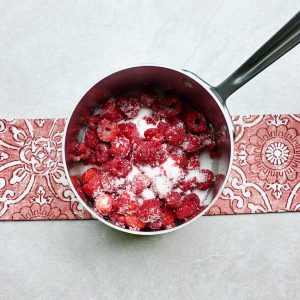 Combine the raspberries in a small saucepan with the granulated sugar. Simmer until the raspberries are cooked down.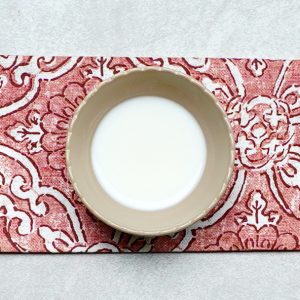 Dissolve the cornstarch in a tablespoon of water. before adding it to the raspberries in the pan. This is an important step.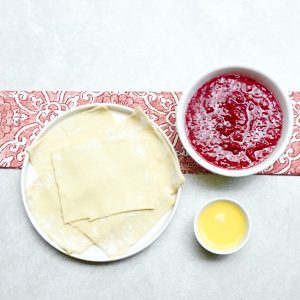 Once the raspberries have cooked down, the dissolved cornstarch is added to thicken it into raspberry jam. Cut the puff pastry into 4 inch squares.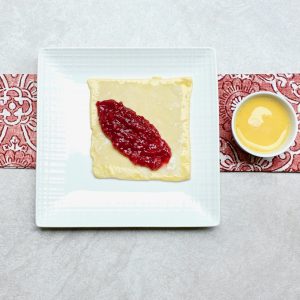 Place a rounded tablespoon of the raspberry jam towards the center of the square. Brush the beaten egg along the edges of the puff pastry square. It will help the edges stick together.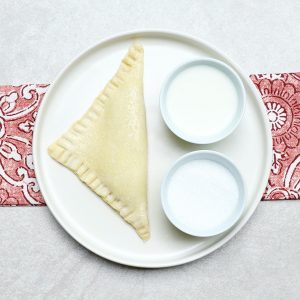 Fold the right corner of the square over to meet the left corner. Press down on the edges with a fork to seal the turnover tightly. Brush the top of the turnover lightly with milk and sprinkle the sanding sugar over the top of the turnover.
Raspberry Turnovers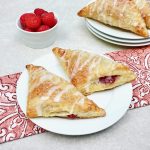 Print This
Ingredients
2½ cups fresh raspberries

½ cup granulated sugar

2 tablespoons cornstarch

1 tablespoon water

17.3 ounce package frozen puff pastry dough, defrosted

1 egg beaten

¼ cup whole milk

¼ cup sanding sugar
Instructions
RASPBERRY FILLING
Combine the raspberries and the granulated sugar in a medium saucepan.
Cook over medium heat, stirring often until the mixture bubbles and is thick and glossy (about 5-10 minutes).
Dissolve the cornstarch in a tablespoon of cold water. Make sure that is is completely dissolved.
Add the cornstarch to the berries in the saucepan. Stir it constantly for 1-2 minutes until the mixture thickens. It should look like raspberry preserves.
Remove from heat and let cool completely.
TURNOVERS:
Preheat your oven to 400°F (200°C) Line a baking sheet with parchment paper.
Beat the egg with a teaspoon of water in a small bowl to create an egg wash.
Unfold the thawed sheet of puff pastry onto a lightly floured work surface.
Use a rolling pin to roll out any cracks in the dough. Slightly roll the dough into a 12″x12″ square. You may need to lightly sprinkle some flour over the top of the dough to be able to roll it without sticking.
Cut each sheet into 3-4″ rows and 3 -4″columns to end up with 9-4″  equal squares per sheet.
With two sheets of puff pastry(1 package x 2 sheets per package), you should have 18 squares in total.
Spoon about 1 rounded tablespoon of the raspberry filling into the center of each square.
Brush the edges of the pastry square with the beaten egg. This will bind the edges together.
Fold each square in half diagonally to form a triangle.
Press the edges together to seal, and crimp with a fork all around the edges to ensure that they stay together.
Brush the tops of the turnovers with the milk, which will help them turn golden brown in the oven.
Sprinkle to top of the turnover with some sanding sugar.
Cut a small slit in the top of each turnover to allow steam to escape during baking.
Place turnovers onto the prepared baking sheet, and bake for 15-20 minutes or until puffed and golden brown.
Remove from the oven and let cool slightly. Place them onto a wire rack to cool completely to room temperature.
If you like, make some Cookie Glaze and drizzle it over the tops of the turnovers.
Enjoy your homemade raspberry turnovers!