Mushroom Bisque is a stepped up version of cream of mushroom soup. It is smooth and rich with an earthy flavor. There is a small amount of cream but not enough to obscure the flavor of the mushrooms.
This is very simple to make and does not take a lot of time. The mushrooms are sauteed with the onions and garlic briefly then simmered in sherry and vegetable broth with fresh thyme. Cream is stirred in at the end and the mixture is pureed to a smooth velvety texture.
This is a rich soup but not heavy. If you like a smooth vegetarian soup like this you should also check out Turnip Crispy Kale Soup, Butternut Apple Bisque, and Roasted Tomato Soup.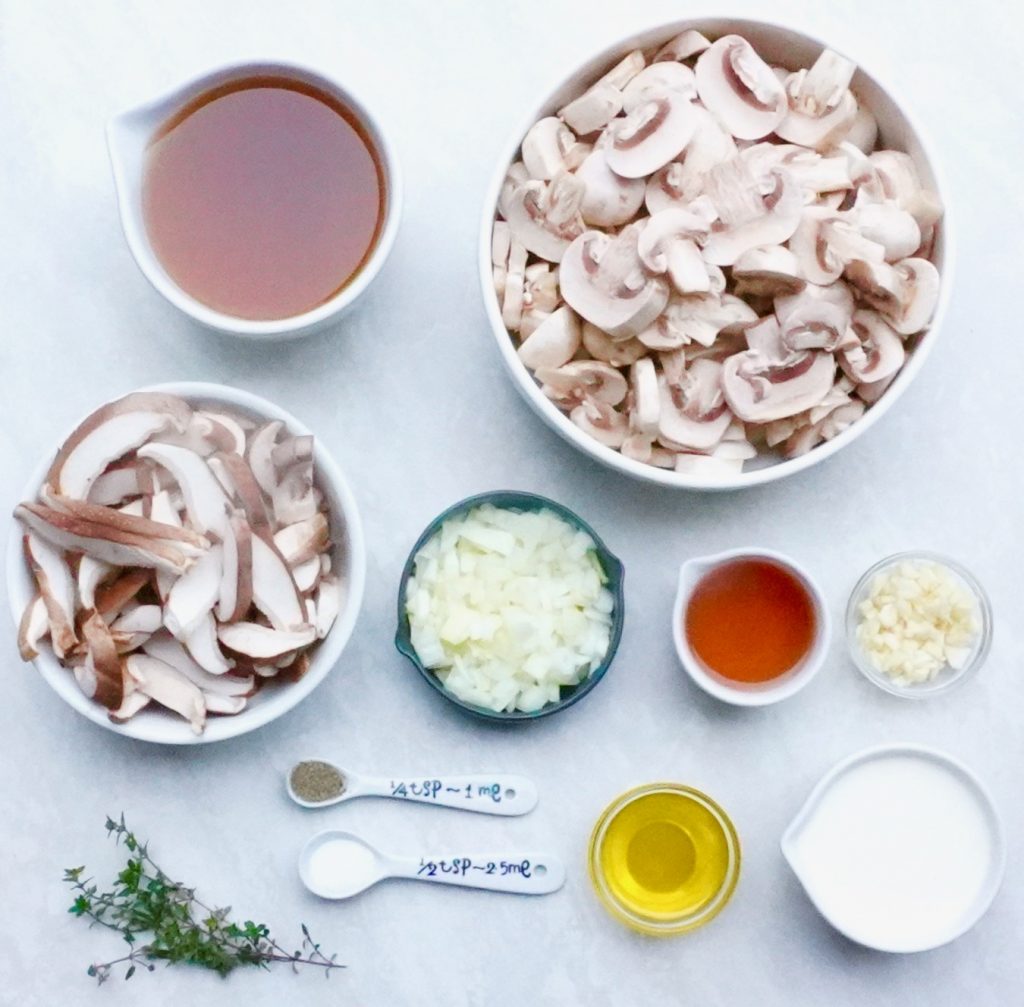 Mushroom Bisque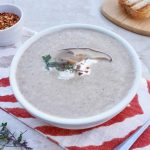 Print This
Ingredients
2 tablespoons olive oil

1 pound white mushrooms, cleaned and sliced

½ pound shiitake mushrooms, cleaned and sliced

½ teaspoon kosher salt

¼ teaspoon black pepper

½ cup yellow onions, chopped (1 small onion)

2 garlic cloves, minced

½ cup sherry wine

4 cups vegetable broth

4 sprigs fresh thyme, tied together *see note

½ cup heavy cream
Instructions
Add the olive oil to a large stock pot and heat it over medium low heat.
Add both the white and shiitake mushrooms to the pot and cook, stirring occasionally for 5 minutes. You will see them begin to release their liquid.
Add the onions and garlic to the pot and cook for an additional 3 minutes stirring occasionally. There may still be some of the mushroom liquid in the pot and that is ok.
Add the sherry to the pot and let it simmer for 2 minutes. It will be mostly evaporated at this point.
Add the vegetable broth and thyme sprigs to the pot. Raise the temperature to high until the mixture comes to a boil.
Once it boils, cover the pot and turn the temperature to the low setting. Let it simmer, covered for 10 minutes.
Turn the heat off and stir in the cream.
Let the bisque sit for 10-15 minutes before pouring it into the blender. It will be safer to process if the mixture is not hot.  Process the mixture on liquefy until it is totally smooth.
Return the bisque to the pot and heat on medium low until it is at your preferred serving temperature. Taste the bisque and add more salt and pepper to taste.
Notes
The fresh thyme sprigs will be easier to remove from the pot if they have been tied together with kitchen twine.