If you are looking for a rich, creamy, and flavorful Mushroom Bisque to make, you are going to like this recipe! It is made with a blend of white and shiitake mushrooms, and enhanced with sherry wine and fresh thyme. Perfect for a hearty meal.
Mushroom Bisque is a stepped up version of cream of mushroom soup. It is smooth and rich with an earthy flavor. There is a small amount of cream but not enough to obscure the flavor of the mushrooms. Instead of using thickeners like corn starch or all purpose flour, the soup is pureed so it is thick without them.
This is very simple to make and does not take a lot of time. The mushrooms are sauteed with the onions and garlic briefly then simmered in sherry and vegetable broth with fresh thyme. Cream is stirred in at the end and the mixture is pureed to a smooth velvety texture.
This is a rich soup but not heavy. If you like a smooth vegetarian soup like this you should also check out Turnip Crispy Kale Soup, Butternut Apple Bisque,  Roasted Tomato Soup and Butternut Squash Carrot Soup. If you would like to try another creamy mushroom soup recipe check out Creamy Mushroom Rice Soup. It is another one of those hearty comforting soups perfect for mushroom lovers.
SOME THINGS TO KNOW: FAQ"S
INGREDIENT TIPS:
Always choose fresh mushrooms that are firm to the touch and free from slimy spots. Rather than washing mushrooms (which can make them soggy), use a damp paper towel or a soft brush to gently remove any dirt. Read How to Select, Store and Clean Fresh Mushrooms.
Opt for a good quality drinking sherry rather than "cooking sherry," which can contain added salts and preservatives.
Keep fresh thyme in the refrigerator wrapped in a slightly damp paper towel and placed inside a plastic bag.
SPECIAL EQUIPMENT NEEDED:
Large, Heavy-Bottomed Pot or Dutch Oven:
This ensures even heating and prevents the ingredients from scorching. A heavy pot retains heat well and allows the bisque to simmer gently.
Immersion (Stick) Blender:
This tool allows you to blend the bisque directly in the pot, creating a smooth and creamy texture. If you don't have an immersion blender, a standard countertop blender can be used, but you'll need to blend the bisque in small batches and let it cool slightly before blending.
Kitchen Twine:
Useful for tying the sprigs of thyme together, making it easier to remove them from the bisque after simmering.
Wooden Spoon or Silicone Spatula:
Essential for stirring and ensuring ingredients don't stick to the bottom of the pot.
Ladle:
For serving the bisque in a mess-free manner.
SUBSTITUTIONS:
The olive oil can be substituted with butter for a richer flavor or other neutral oils like canola oil, vegetable oil, or grapeseed oil.
 The White mushrooms and Shiitake mushrooms can be swapped out with a different mixture of fresh mushrooms. Cremini mushrooms, Portobello mushrooms,Baby Bella mushrooms,  Chanterelle, or Porcini mushrooms are different types of mushrooms  that can be used as alternatives including dried mushrooms and wild mushrooms.
If you do not have Sherry wine white wine, Marsala, Madeira, or Vermouth can be good alternatives.
Vegetable Broth or vegetable stock can be substituted with chicken broth or beef broth if you are not strictly vegetarian.
Fresh thyme can be substituted with dried thyme at one-third the quantity of fresh.  You could also use other fresh herbs like rosemary or oregano.
Half-and-half can be a lighter alternative to heavy cream. Sour cream or crème fraîche would also be good substitutions.
Garlic powder can be an alternative, but fresh is always best. ⅛ teaspoon of garlic powder can replace one clove of garlic.
White onions, red onions, or shallots can be used if yellow onions are unavailable.
HOW TO STORE MUSHROOM BISQUE:
Before storing, allow the bisque to cool to room temperature. Once cooled, transfer the bisque to an airtight container and store it in the refrigerator for 3-4 days.
You can also freeze the mushroom bisque for 2-3 months. Allow the bisque to fully cool before freezing to maintain the soup's texture and prevent freezer burn. Pour the cooled bisque into freezer-safe bags or airtight freezer containers. If using bags, lay them flat in the freezer to save space.
For the best results, thaw the bisque in the refrigerator overnight before reheating.
HOW TO REHEAT MUSHROOM BISQUE:
Pour the bisque into a large saucepan and reheat on the stovetop  over medium heat, stirring occasionally until heated through.
If reheating individual portions in the microwave, transfer the bisque to a microwave-safe bowl, cover with a microwave-safe lid or plastic wrap (leaving a small vent), and reheat in short intervals, stirring in between to ensure even reheating.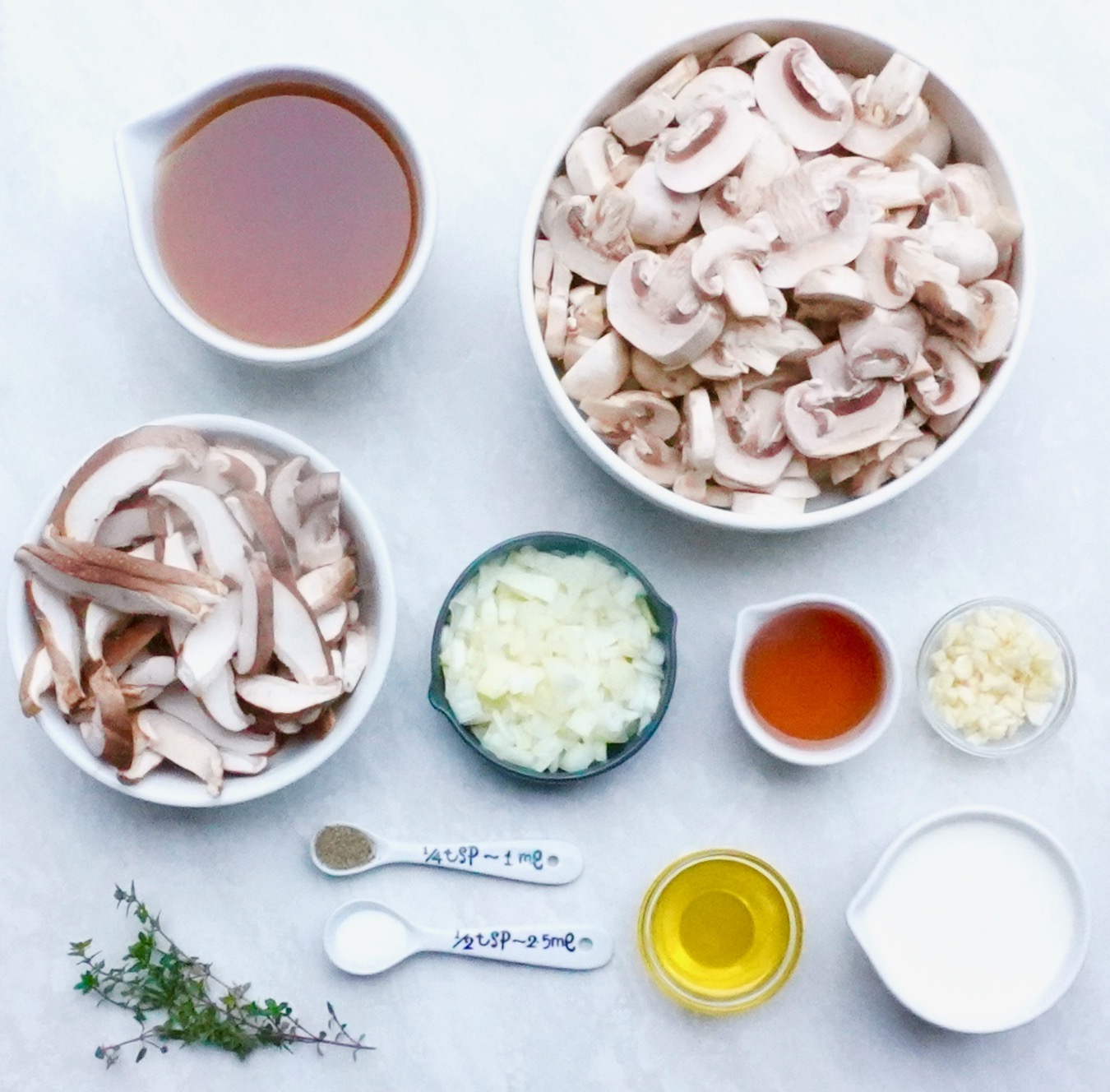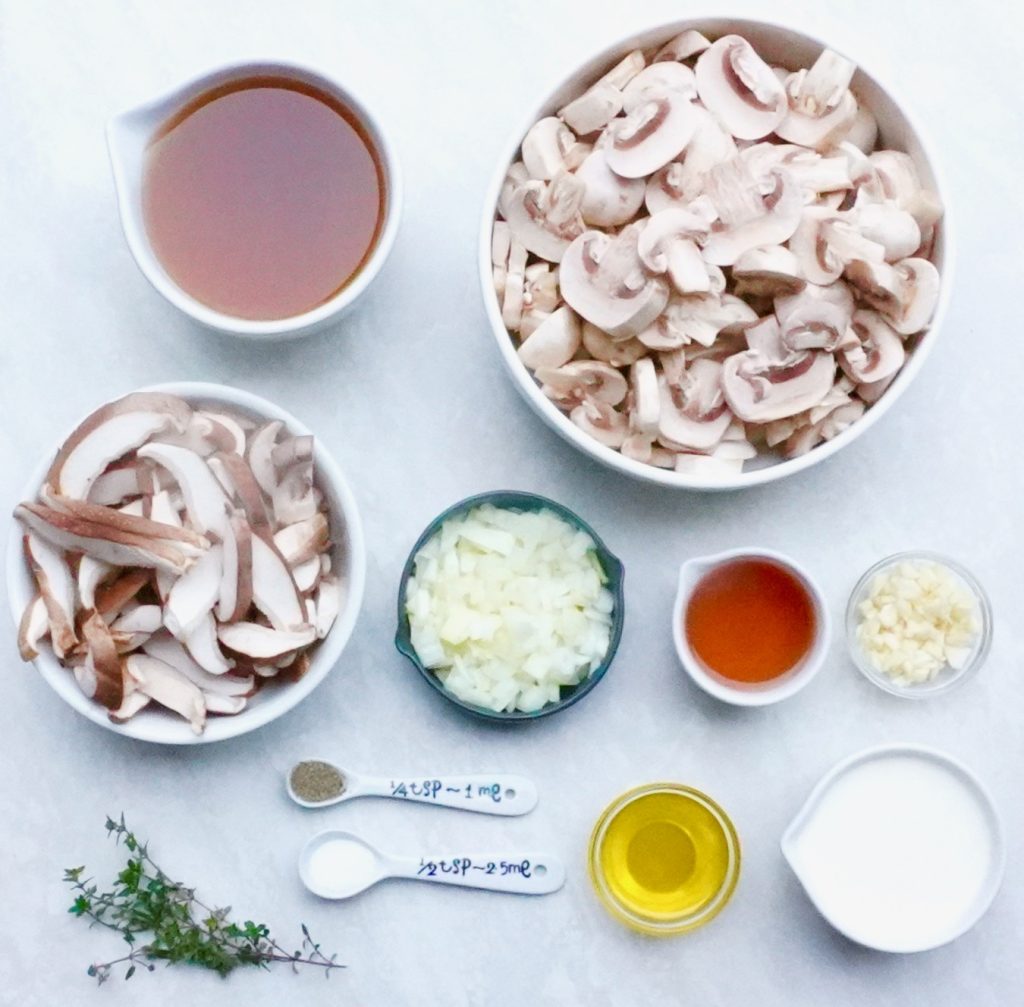 Mushroom Bisque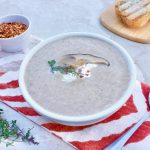 Print This
Ingredients
2 tablespoons olive oil

1 pound white button mushrooms, cleaned and sliced

½ pound shiitake mushrooms, cleaned and sliced

½ teaspoon kosher salt

¼ teaspoon black pepper

½ cup yellow onions, chopped (1 small onion)

2 garlic cloves, minced

½ cup sherry wine

4 cups vegetable broth

4 sprigs fresh thyme, tied together *see note

½ cup heavy cream
Instructions
Add the olive oil to a large stock pot and heat it over medium low heat.
Add both the white and shiitake sliced mushrooms to the pot and cook, stirring occasionally for 5 minutes. You will see them begin to release their liquid. Season the mushrooms with the salt and pepper.
Add the onions and garlic to the pot and cook for an additional 3 minutes stirring occasionally. There may still be some of the mushroom liquid in the pot and that is ok.
Add the sherry to the pot and let it simmer for 2 minutes. It will be mostly evaporated at this point.
Add the vegetable broth and thyme sprigs to the pot. Raise the temperature to high until the mixture comes to a boil.
Once it boils, cover the pot and turn the temperature to the low setting. Let it simmer, covered for 10 minutes.
Turn the heat off and stir in the cream.
If you are using an immersion blender you can puree the hot soup in the pot.
If you are using a countertop blender, let the bisque sit for 10-15 minutes before pouring it into the blender. It will be safer to process if the mixture is not hot.  Process the mixture on liquefy until it is totally smooth.
Return the bisque to the pot and heat on medium low heat until it is at your preferred serving temperature. Taste the bisque and add more salt and fresh ground pepper to taste.Garnish the soup with a sprig of thyme.
Notes
The fresh thyme sprigs will be easier to remove from the pot if they have been tied together with kitchen twine.