Tomato Corn Orecchiette is a simple pasta dish that highlights two popular summer vegetables. It has a light sauce that is made by combining reserved pasta water with parmesan cheese. In the time that it takes to cook the pasta you will have the vegetables ready. This is an easy and fast pasta dish.
The corn, tomatoes and fresh basil are the standouts in this dish. They provide lots of great flavor and freshness.
Orecchiette is a small dome shaped pasta. If you cannot find it at your store you can substitute orzo, fusilli or gemelli. 
If you would like to try some other pasta recipes using peak summer vegetables check out Summer Squash Basil Pasta, Roasted Eggplant Ziti, Farmers Market Orzo, Roasted Cherry Tomato Penne, and Caprese Fusilli  with Burrata.
You might also like Burst Tomato Corn Polenta.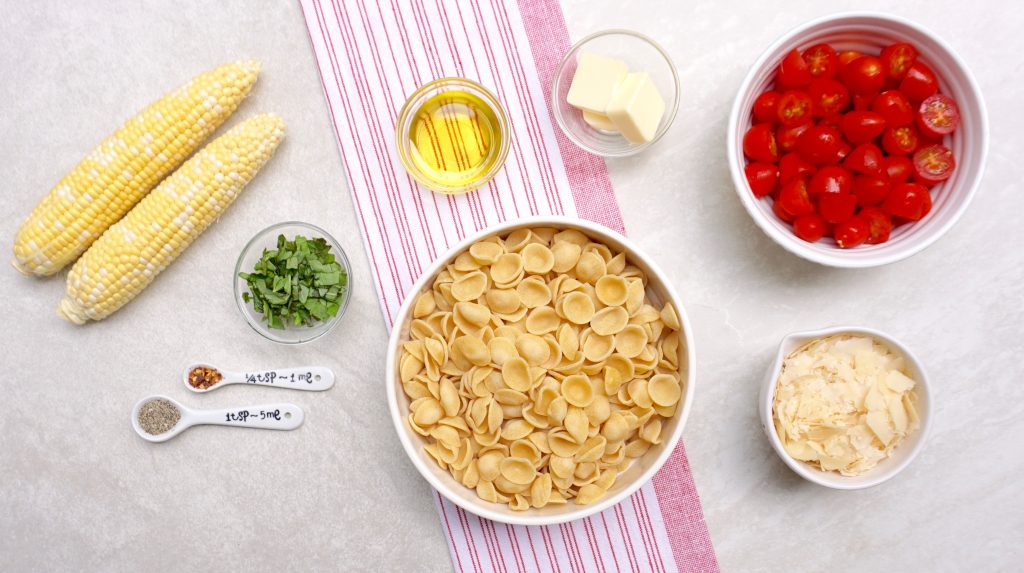 Tomato Corn Orecchiette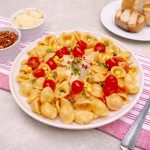 Print This
Ingredients
1 pound orecchiette pasta

2 tablespoons olive oil

3 tablespoons butter, divided

2 ear corn, kernels removed

2 cups grape tomatoes, cut in half

1 clove garlic, minced

1 teaspoon black pepper

1 cup fresh grated parmesan cheese

2 tablespoons fresh basil, chopped

¼ teaspoon red pepper flakes

1 cup reserved pasta cooking water
Instructions
Heat a large pot of water to boiling. Add the orecchiette and cook according to the package directions for the tenderness that you prefer.
While the pasta is cooking heat the oil in a large skillet over medium low heat. Add the corn and tomatoes and cook for about 2- 3 minutes until they become tender.
Add 1 tablespoon of the butter, garlic and black pepper to the skillet. Cook for an additional 1 minute.
Reserve 1 cup of the pasta cooking water and drain the pasta. Return it to the pot.
Add the vegetable mixture to the pot with the pasta. Turn on the heat to medium low.
 Add ½ cup of the pasta cooking water and the other 2 tablespoons of butter to the pot. 
Stir in the parmesan cheese, basil and red pepper flakes. 
You can add more pasta water if needed to create the sauce.
 Heat through and serve.