Tomato Corn Orecchiette is a simple pasta dish that highlights two popular summer vegetables. It has a light sauce that is made by combining reserved pasta water with parmesan cheese. In the time that it takes to cook the pasta you will have the vegetables ready. This is an easy and fast pasta dish that makes a great weeknight dinner.
The sweet corn, tomatoes and fresh basil are the standouts in this dish. They provide lots of great flavor and freshness. Tomato Corn Orecchiette is a delicious way to enjoy seasonal produce.
If you would like to try some other pasta dishes using peak summer vegetables check out Summer Squash Basil Pasta, Roasted Eggplant Ziti, Farmers Market Orzo, Roasted Cherry Tomato Penne, and Caprese Fusilli  with Burrata.
You might also like Burst Tomato Corn Polenta which is a smooth and creamy dish topped with burst cherry tomatoes.
SOME THINGS TO KNOW:FAQ'S
INGREDIENT TIPS:
SPECIAL EQUIPEMENT NEEDED:
Large sauté pan or skillet
Large pasta pot
SUBSTITUTIONS:
Orecchiette is a small dome shaped pasta. If you cannot find it at your store you can substitute orzo, fusilli or gemelli.
​Either grape tomatoes or cherry tomatoes can be used in the recipe.
If fresh corn is not available, frozen ears of corn that have been defrosted can be substituted. Use a sharp knife to scape the kernels from the corn cobs.
You can substitute canola oil or vegetable oil if you do not have olive oil.
The best substitutes for Parmesan cheese and Romano cheese or Asiago cheese.
HOW TO STORE LEFTOVER TOMATO CORN ORECCHIETTE:
Let the pasta cool to room temperature and place it into the refrigerator in an airtight container for 2-3 days.
You can freeze the leftover pasta for up to 3 months in an airtight freezer bag or container.
HOW TO REHEAT LEFTOVER TOMATO CORN ORECCHIETTE:
You can reheat the leftovers covered in the microwave in a  microwave safe dish. Cook at 1-2 minute intervals, stirring in between until heated through.
You can also reheat the pasta in a medium saucepan on the stove over medium heat. Stir the pasta occasionally adding a bit of reserved pasta water if needed, until heated through.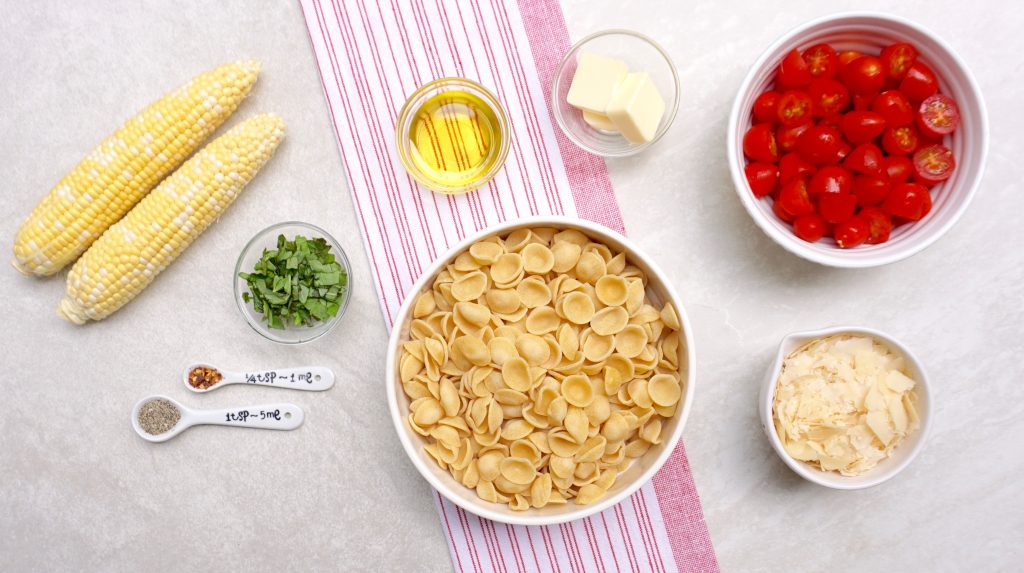 Tomato Corn Orecchiette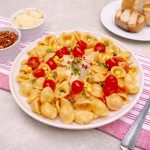 Print This
Ingredients
1 pound orecchiette pasta

2 tablespoons extra-virgin olive oil

3 tablespoons butter, divided

2 ears of corn, fresh corn kernels removed

2 cups cherry tomatoes, cut in half

2 cloves of garlic, minced

1 teaspoon black pepper

1 cup fresh grated parmesan cheese

2 tablespoons fresh basil leaves, chopped

¼ teaspoon red pepper flakes

1 cup reserved pasta cooking water
Instructions
Heat a large pot of cold water with a good pinch of salt to a rolling boil over medium-high heat.
Add the pasta and cook orecchiette according to the package directions for al dente.
While the pasta is cooking heat the oil in a large pan over medium low heat. Add the corn and tomatoes and cook for about 2-3 minutes until they become tender.
Add 1 tablespoon of the butter, garlic and black pepper to the skillet. Cook for an additional 1 minute.
Reserve 1 cup of the pasta cooking water and drain the pasta. Return it to the pot.
Add the vegetable mixture to the pot with the pasta. Turn on the heat to medium low.
Add ½ cup of the pasta cooking water and the other 2 tablespoons of butter to the pot.
Stir in the parmesan cheese, basil and red pepper flakes.
You can add more pasta water if needed to create the sauce.
Taste the pasta and add a bit of kosher salt to taste.
Heat through and serve in a large serving bowl. Garnish with extra basil leaves.