When vegetables are at their peak of summer freshness, there is very little you need to do to them. Simply prepared as in this Green Bean Succotash, they are delicious.
A traditional succotash calls for lima beans or shell beans. Green beans are from the same family but they are whole pods. Shell beans are seeds inside of large pods. Green beans work nicely and give the dish a bit of a different twist.
You will need to allow for a bit of prep time to make this recipe. There is some chopping involved to prepare the vegetables.It does cook fairly fast so overall it will come together in under 30 minutes.
Green Bean Succotash makes a nice side dish for your summer cookouts. If you are looking for other summer side dishes check out Aioli Grilled Vegetables and Zucchini Corn Fritters.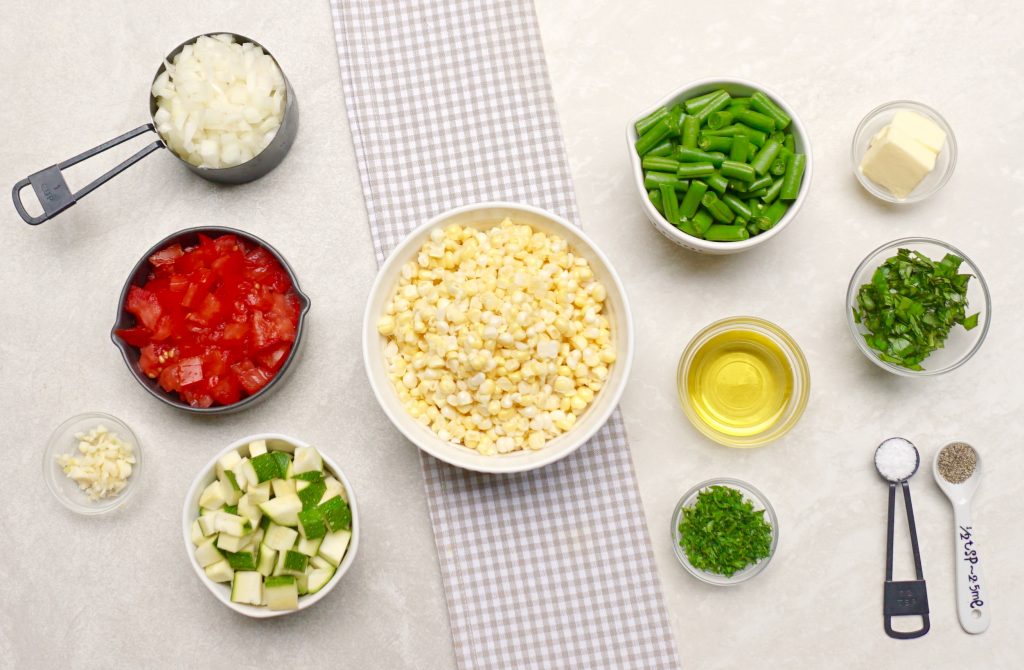 Green Bean Succotash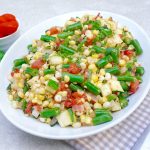 Print This
Ingredients
2 tablespoons olive oil

1 small red onion, diced

2 garlic cloves minced

1 cup green beans, cut into ½ inch pieces

4 cups fresh corn kernels, 6 ear corn

1 small zucchini, diced into ½ cubes

1 large tomato, seeded and diced into ½ inch cubes

2 tablespoons butter

3 tablespoons fresh basil, chopped

1 tablespoon fresh parsley, chopped

½ teaspoon kosher salt

½ teaspoon black pepper
Instructions
In a large skillet, heat the olive oil over medium low heat.
Add the onions and cook for 2 minutes until they begin to soften. Add the garlic and cook for an additional minute.
Add the green beans and corn and cook for 2-3 minutes until the beans just begin to soften.
Add the zucchini and tomatoes and cook for an additional 2-3 minutes until the zucchini becomes slightly soft.
Stir in the butter, basil, parsley, salt and pepper. Stir until the mixture is well combine and the butter is melted.
Notes
If you do not have fresh basil and parsley you can substitute them for dried. Use 1 teaspoon of the dried herbs to replace 1 tablespoon of the fresh herbs.