Aioli Grilled Vegetables belong at your summer cookouts. Simply place the vegetables on the grill when you are cooking and serve them with Aioli sauce on the side. You could serve them as appetizers, a side dish or as the main event of a vegetable-focused meal.
Aioli is a good addition to the grilled vegetables. It's intense creamy texture is a a cool contrast and it is very flavorful.
 Aioli Grilled Vegetables are easy to prep ahead. Once you have cut them, keep them in an airtight container in the refrigerator. The Aioli can be prepared a day in advance and also  stay covered in the refrigerator.
This colorful dish will be a delicious, easy addition to your summer meals. They would be a great side dish for Chimichurri Shrimp Skewers, Honey Teriyaki Chicken Kabobs, or Lemon Chicken Chimichurri Kabobs. They are all lean meat healthy grilling options.
Check out the Lime Aioli recipe for another option to serve with the grilled vegetables.
SOME THINGS TO KNOW: FAQ'S 
WHAT IS AIOLI?
Aioli is a Mediterranean sauce that is made with mayonnaise, olive oil, lemon juice and garlic. It is a creamy , smooth paste with a lot of flavor,  which makes it a nice accompaniment for the vegetables. You just might want to put this garlic-infused mayonnaise on everything!
HOW TO PREPARE THE VEGETABLES FOR THE GRILL:
Corn: Remove the husk and silk from the cob. Cut the cob into 2-inch wedges or 4-inch pieces if you want them larger.
Bell pepper: Cut in half and remove the seeds. Cut them into 1½ inch long strips.
Zucchini and yellow squash:Remove the stem but leave the skin on. Slice them into rounds 1 inch thick.
Baby Bella Mushrooms: Wipe the mushrooms gently with a wet cloth, to remove any dirt. Slice the mushrooms 1½ inches thick.
SUBSTITUTIONS:
If you do not have a red bell pepper, you can substitute green, yellow or orange bell peppers.
You could replace the Baby Bella mushrooms with Cremini mushrooms or button mushrooms.
If you do not have fresh ears of corn, you can use frozen ears of corn that have been defrosted.
Canola oil or vegetable oil can be substituted for the olive oil.
Zucchini and yellow squash can be used interchangeably. You could also swap one or both of them out for eggplant or Delicata squash.
HOW TO STORE THE LEFTOVER AIOLI GRILLED VEGETABLES:
Place any leftover vegetables into the refrigerator in an airtight container for 3-5 days.
Freezing the leftover vegetables is not recommended as it will change the texture of them.
Store the leftover aioli in an airtight container in the refrigerator for 2-3 days.
HOW TO REHEAT THE LEFTOVER GRILLED VEGETABLES:
You can reheat the vegetables in the oven. Pre heat oven to 400 degrees. Place vegetables on a sheet pan in a single layer that you have sprayed with some cooking spray or lined with parchment paper.It should only take about 5 minutes to heat them through.
You can also heat them on the stove top in a skillet over medium heat. Add a tablespoon of oil to the skillet. Once it is heated, add the vegetables. Let them cook, stirring often about 3-4 minutes until they are heated through.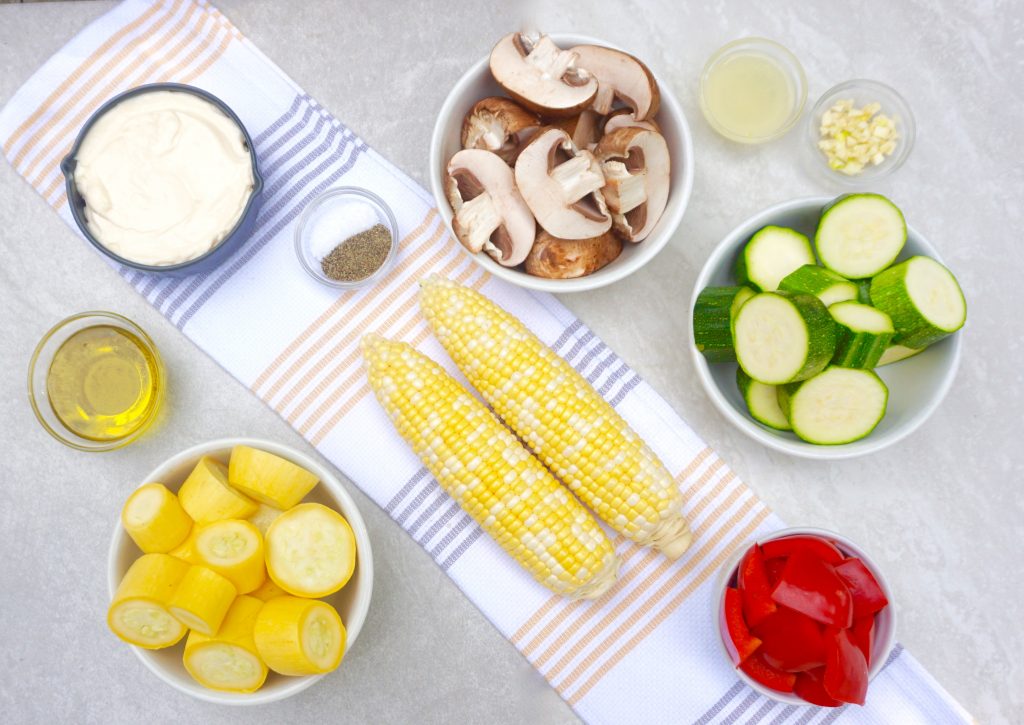 Aioli Grilled Vegetables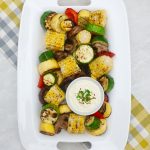 Print This
Ingredients
VEGETABLES:

½ pound Portobello or Baby Bella mushrooms, sliced 1 ½ inches thick

1 medium zucchini squash, sliced 1 inch thick

1 medium yellow summer squash, sliced 1 inch thick

2 ear corn, cut into 2 inch pieces

1 red bell pepper, cut into 1 ½ pieces

2 tablespoons olive oil

½ teaspoon salt

½ teaspoon black pepper

AIOLI:

1 cup mayonnaise

3 tablespoons olive oil

2 tablespoons fresh lemon juice

1 -2 garlic cloves, minced.
Instructions
VEGETABLES:
Place the cut vegetables into a large bowl. Add the tablespoons of the oil, salt and pepper. Stir well so that the vegetables are all coated with the oil mixture. This will prevent the vegetables from sticking to the grill.
If you prefer another option, place the vegetables onto a large tray. Lightly brush both sides of the vegetables with olive oil. Sprinkle the vegetables with salt and pepper.
Make sure that you have clean grill grates to place the vegetables onto.
Place the vegetables onto your gas or charcoal grill in a single layer and cook for 3- 4 minutes on the first side so that you will achieve some nice grill marks.
You could also thread the vegetables onto bamboo skewers to cook. If you chose to do it this way, make sure that you have soaked the skewers in cold water for at least 30 minutes. This will help to keep the wood from burning on the grill.
Turn the vegetables over to the other side and cook for an additional 3-4 minutes  or until they become tender.
Remove the vegetables from the grill to a large serving platter. Drizzle a light, steady stream of olive oil over the grilled vegetables and lightly sprinkle them with a pinch of salt and black pepper. This should only be an additional couple of teaspoons of oil.
Serve the vegetables with the aioli sauce.
AIOLI:
In a small bowl, combine the mayonnaise, olive oil, lemon juice, and garlic. Whisk together until it is thoroughly combined and creamy.
Taste and add salt and pepper as needed to taste.