Chimichurri Shrimp Skewers are perfect for summer grilling. They are healthy, easy to make and full of flavor.
Chimichurri sauce is an uncooked sauce that was originally created in Argentina. It is used in cooking and also as a condiment.
This version is made with fresh parsley, cilantro, shallots, garlic, olive oil, and red wine vinegar. The result is a bright and flavorful sauce that is great with meats and chicken as well. The sauce comes together quickly in a blender or food processor and the shrimp cook in minutes. It is one of those recipes that with very little effort you will get great results.
Chimichurri Shrimp Skewers are marinated in some of the sauce to give them great flavor. The remaining sauce can be served on the side with the cooked skewers.

If you do not have a grill, don't worry! The skewers can easily be roasted in the oven. I have given directions for both grilling and oven roasting.
Orzo Salad would make a good side dish to go along with the shrimp. It is a light pasta salad that is full of veggies.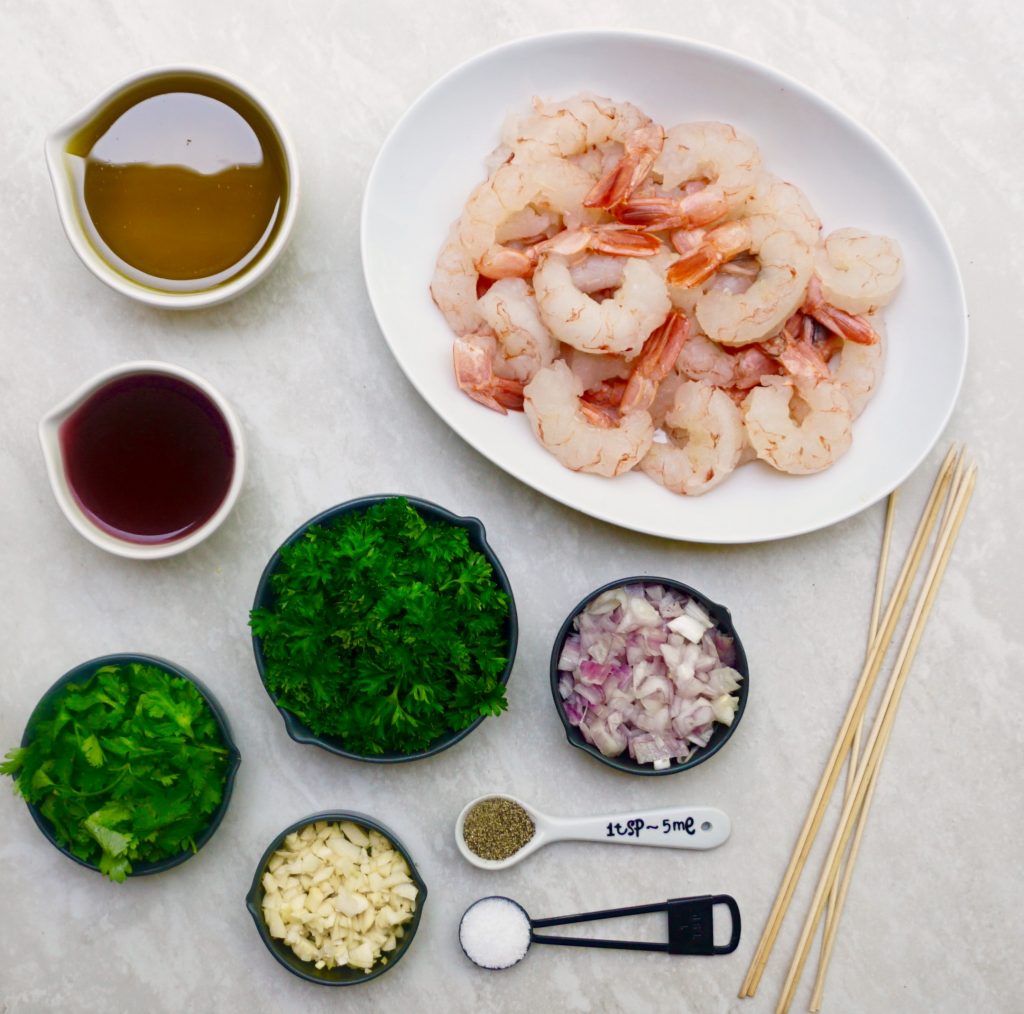 Chimichurri Shrimp Skewers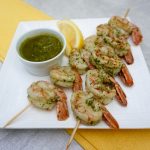 Print This
Ingredients
1 pound large shrimp, peeled and deveined

1 cup fresh parsley

½ cup fresh cilantro

1 cup olive oil

½ cup red wine vinegar

4 garlic cloves, minced

1 large shallot, minced

1 teaspoon kosher salt

1 teaspoon black pepper

Wooden skewers
Instructions
Add the parsley, cilantro, olive oil, red wine vinegar, garlic, shallots, salt and pepper either into the bowl of a food processor or a blender. Process until the mixture is smooth.
Remove ½ cup of the mixture to marinade the shrimp. In a bowl, mix the sauce and shrimp together and cover with plastic wrap. Place into the refrigerator and marinade for 1-2 hours.
Soak the wooden skewers in water for an hour so they will not burn on the grill.
Remove the shrimp from the bowl and thread 4-5 shrimp on each skewer.
Grill for 2 minutes on each side until they are pink and opaque. 
Serve with the remaining Chimichurri Sauce on the side.
TO OVEN ROAST:
*You do not have to have a grill to make these. If you want to roast them in your oven, assemble the skewers and follow the directions below.
Position a rack in the upper third of the oven and preheat to 400°F. Line a large baking sheet with parchment paper.
Arrange the skewers in a single layer on the prepared baking sheet. Roast the shrimp until just opaque throughout, 8 to 10 minutes.