Lemon Chicken Chimichurri Kabobs are great for summer grilling. Boneless chicken thighs stay moist while grilling and the kebobs have a lot of flavor from the marinade made with Greek yogurt, lemon juice, lemon zest, garlic and seasonings.
The kabobs are served with Chimichurri sauce. It is made with the fresh herbs and garlic. It is a very flavorful addition!
If you like to grill on skewers, you might also like Honey Teriyaki Chicken Kabobs and Chimichurri Shrimp Skewersand Grilled Chicken Skewers.
SOME THINGS TO KNOW:
The amount of time that you marinade the chicken really matters. If you want to get the most flavor, plan ahead and marinade the chicken at least overnight or up to two days in advance.
If you prefer boneless chicken breast, you can easily substitute it.
Lemon Chicken Chimichurri Kabobs would be great served with Lemon Parsley Brown Rice and Squash Fritters.
You can keep both the leftover chicken and Chimichurri sauce covered in the refrigerator for 2-3 days.
Make sure to follow the directions for soaking your wooden skewers before using them!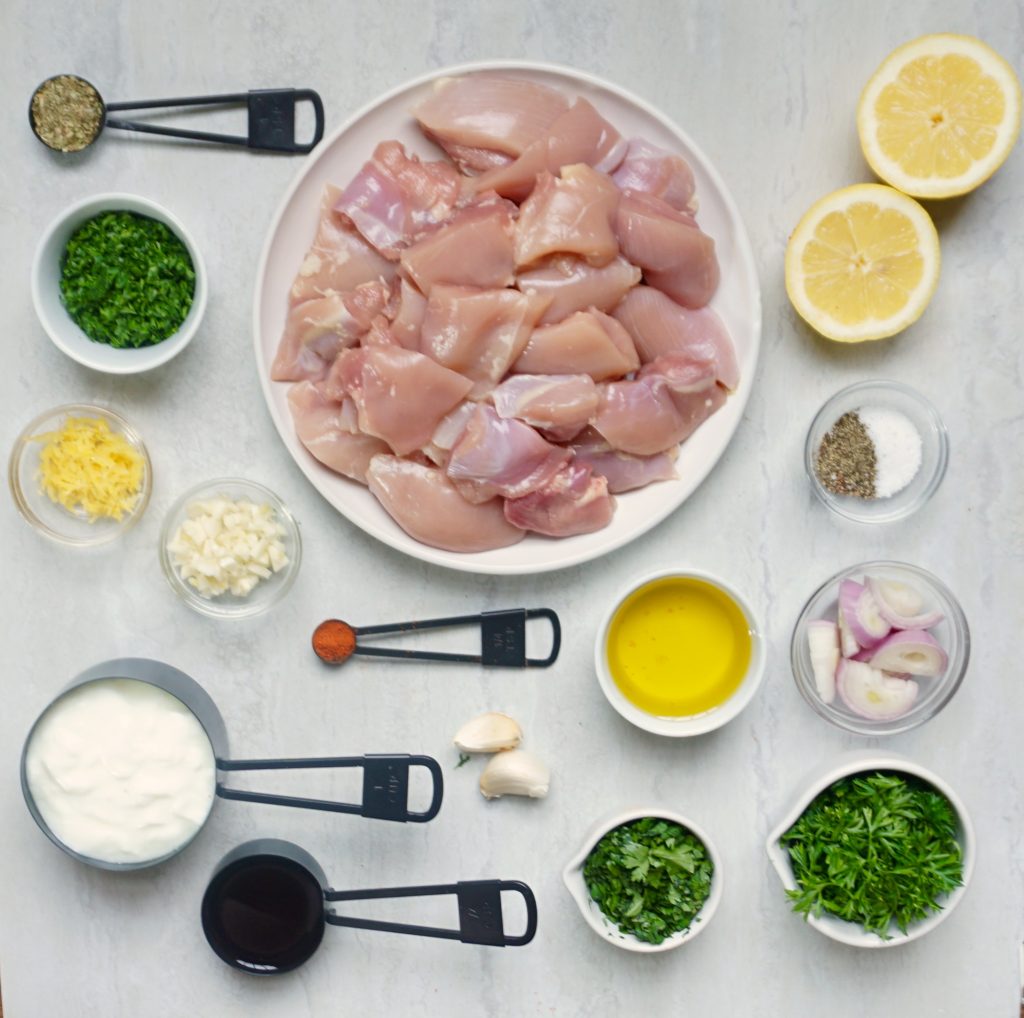 Lemon Chicken Chimichurri Kabobs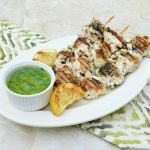 Print This
Ingredients
CHICKEN:

2 pounds boneless chicken thighs, cut into 2 inch chunks

1 cup plain Greek yogurt

3 cloves garlic, minced

2 tablespoons fresh parsley, chopped

¼ cup lemon juice

1 tablespoon lemon zest

¼ teaspoon cayenne pepper

1 teaspoon dried oregano

1 teaspoon kosher salt

½ teaspoon black pepper

CHIMICHURRI SAUCE:

½ cup fresh parsley

¼ cup fresh cilantro

½ cup olive oil

¼ cup red wine vinegar

2 garlic cloves, minced

1 small shallot, minced

½ teaspoon kosher salt

½ teaspoon black pepper
Instructions
In a medium size bowl, mix together the Greek yogurt, garlic, parsley, lemon juice, lemon zest, cayenne pepper, oregano, salt and pepper. Mix well.
Pour this mixture into a 9 x 13 inch baking pan. Add the chicken cubes and stir so that all off the cubes are completely covered in the yogurt marinade. Cover the pan with plastic wrap and refrigerate for at least 24 hours.
For the Chimichurri Sauce, combine the parsley, cilantro, olive oil, red wine vinegar, garlic, shallot, salt and pepper in either a small food processor or blender. Pulse the mixture until it is smooth.
About an hour before you are ready to assemble the kebabs for grilling, place your bamboo skewers in a pan of water and let them soak. This will help prevent them from burning during the grilling process.
Place 5-6 chunks of chicken on each skewer, making sure that the skewer is in the center of the kabob.
Place on your prepared grill and cook for 10-15 minutes, turning the kabobs occasionally until they are browned and cooked through.