Lemon Parsley Brown Rice is a healthy, easy side dish that would be a great recipe to serve with chicken, fish and meats. The rices gets lots of flavor by cooking in vegetable broth instead of water and some extra brightness at the end by adding parsley, lemon zest and lemon juice. This lemon rice recipe made, with a few simple ingredients will be a nice change from plain rice and a great way to add a burst of fresh flavor to your meal.
Brown rice is a whole grain rice. It is considered to be healthier than white rice which has had the bran and germ removed. They are considered to be the most nutritious part of the rice. Brown rice has vitamins, antioxidants, and fiber. Check out Brown Rice Health Benefits, Nutritional Facts to learn more about it.
Brown rice requires a longer cooking time than white rice so be prepared to cook it for 45 minutes.
If you would like to try some other brown rice recipes, the next time check out Asparagus Fried Brown Rice , Chicken Brown Rice Soup, and Brown Rice Veggie Cakes.
SOME THINGS TO KNOW: (ANSWERS TO FREQUENTLY ASKED QUESTIONS)
SPECIAL EQUIPMENT NEEDED:
Medium Saucepan with a lid
SUBSTITUTIONS:
You can use an equal amount of white rice in this recipe if you chose to, You will however have to adjust the vegetable broth to only 3 cups and cut your cooking time in half. Make sure that you chose a long grain rice. Long grain rice will cook up light and fluffy whereas a short grain rice tends to clump together when it is cooked.
If you do not need the recipe to be vegan, you can substitute a flavorful broth like chicken broth or chicken stock for the vegetable broth.
If you do not have fresh parsley, you can used 2 teaspoons of dried parsley flakes.
You can replace the shallot with red onion, yellow onion, white onion or even green onions.
If you like a lot of garlic, increase the garlic cloves to two.You can also substitute a teaspoon of garlic powder for the fresh garlic.
SOME MAIN DISHES TO SERVE WITH LEMON PARSLEY BROWN RICE:
HOW TO STORE THE LEFTOVERS:
You can store any leftover rice in the refrigerator in an airtight container for up to 5 days.
You can also freeze the leftover rice in an airtight freezer container for 2-3 months.
HOW TO REHEAT THE RICE:
You can reheat the Lemon Parsley Brown Rice in a microwave oven covered. The exact time will depend on the amount of rice you are reheating. It should only take a couple of minutes.
You can also reheat the rice in a covered saucepan on the stove top over low heat. Make sure to add 1 tablespoon of water or vegetable broth for each cup rice that you are reheating. This should take under 5 minutes depending on the quantity of rice that you are reheating.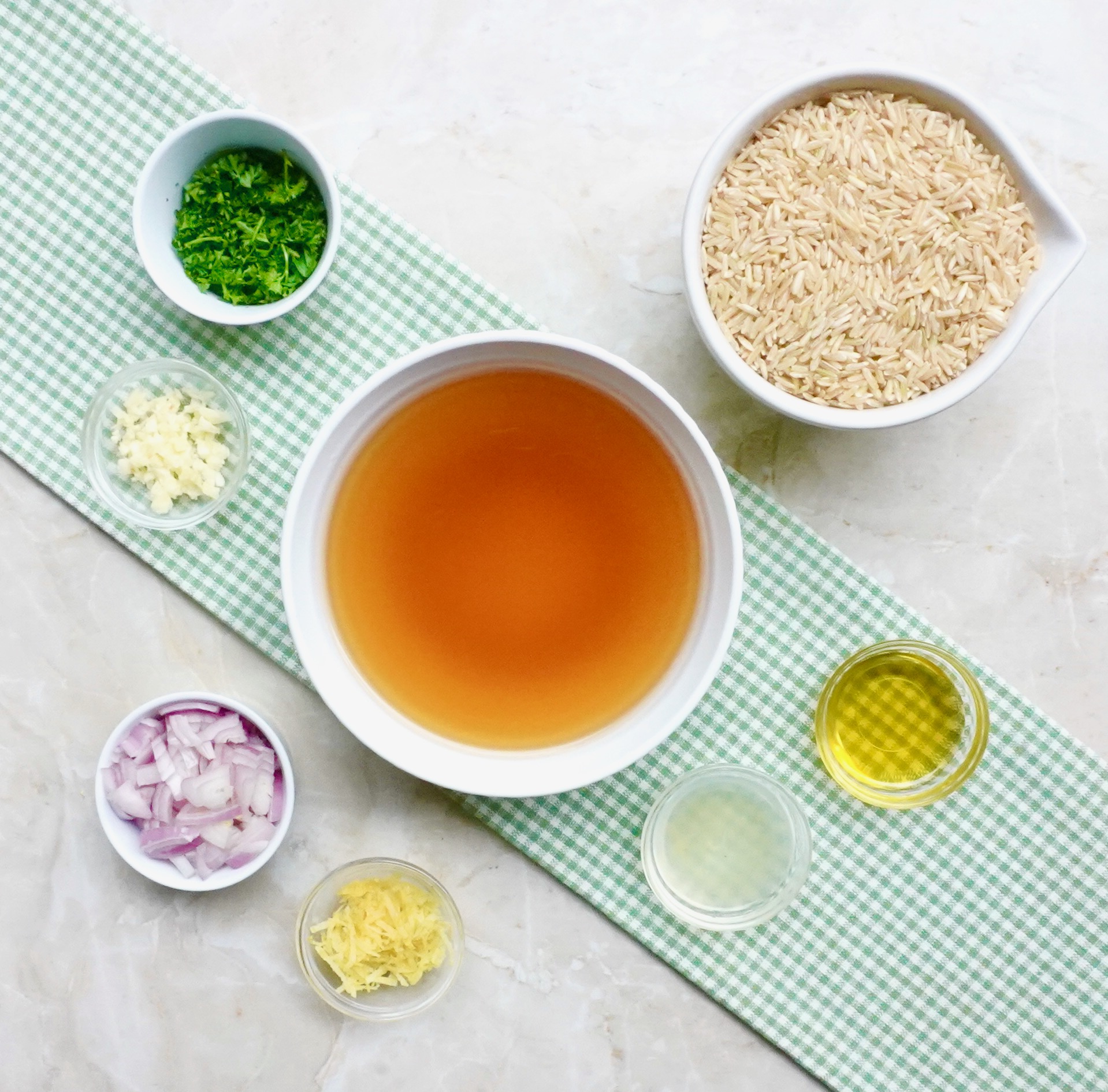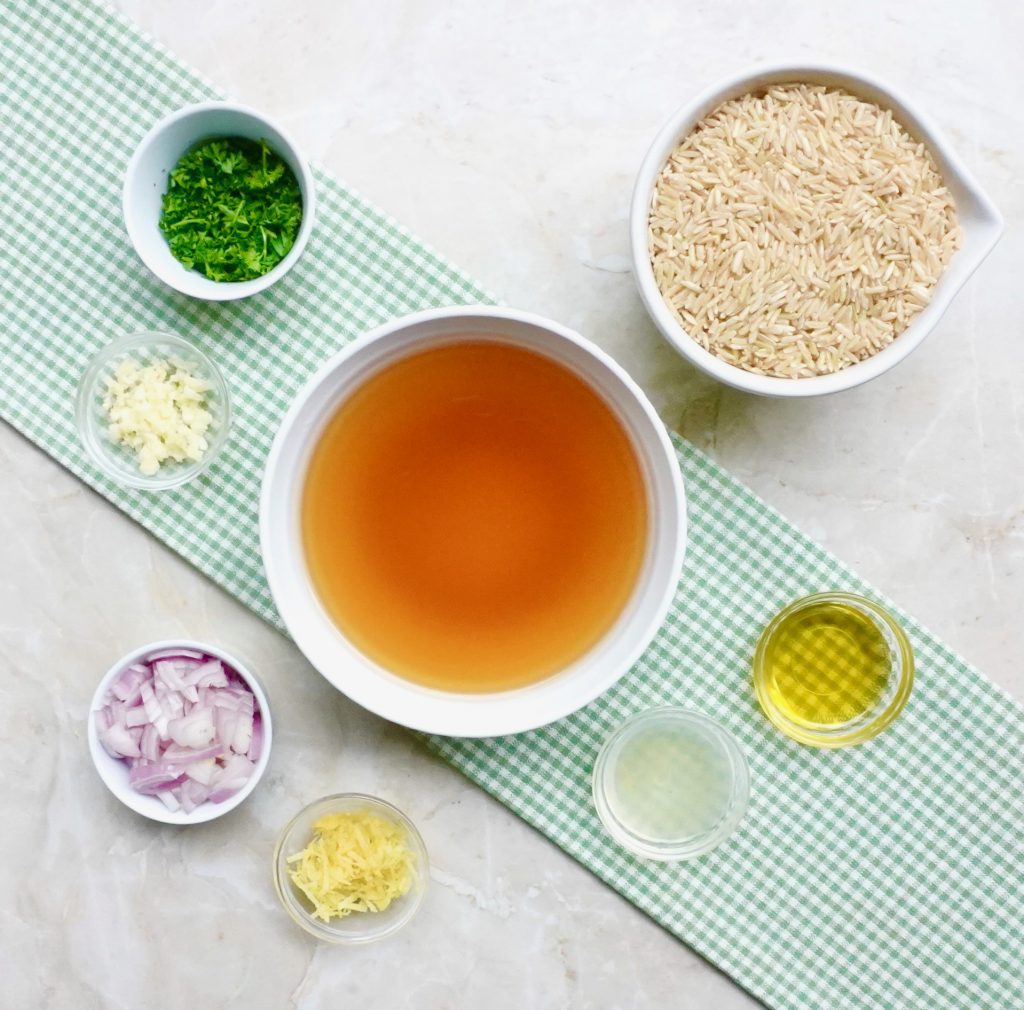 Lemon Parsley Brown Rice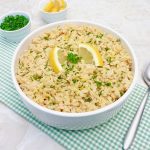 Print This
Ingredients
1 tablespoon olive oil

1 small shallot, chopped

1 clove fresh garlic, minced

1 ½ cups brown rice

3 ¾ cups vegetable broth

2 tablespoons fresh parsley, chopped

2 tablespoons lemon zest

1 tablespoon fresh lemon juice
Instructions
Add the oil to a medium saucepan and heat over medium heat.
Add the shallots and the garlic. Cook for 2 minutes until they begin to soften.
Add the rice, and vegetable broth. Stir to combine.
Over medium-high heat, bring the mixture to a boil.
Turn the burner to the low heat setting  and cover the pan with the lid.
Cook over low heat for 45 minutes. Resist taking the cover off as it disturbs the cooking process.
Check and make sure that the rice is no longer crunchy. If it is add a ¼ cup of broth, cover the pan and let the rice cook for a few more minutes.
Turn off the heat.
Let the rice mixture sit covered for 10 minutes.
Fluff rice with a fork.
Stir in the parsley, lemon zest and lemon juice. Garnish with lemon slices. Serve warm.