Acorn Squash Bread is a delicious quick bread that is perfect for the fall season. It can be mixed together in one bowl and does not require a mixer. This is similar in spices to a pumpkin bread except a roasted acorn squash mixture replaces the pumpkin puree. It would be a great addition to your Thanksgiving table. It has the right amount of sweetness and warm spices.
Quick breads do not require yeast. They are made with either baking powder or baking soda and do not require any rising time. They are flavorful breads that have some of the same characteristics of cake. A fresh loaf out of the oven is so good with a little butter.
If you would like to try some other seasonal quick breads that would be good for the holidays, check out Date Nut Bread, Pumpkin Bread, and Cranberry Orange Walnut Bread.
If you are a fan of acorn squash check out Twice Baked Acorn Squash.
SOME THINGS TO KNOW: FAQ'S
INGREDIENT TIPS:
You will need a 3 pound acorn squash to yield 2 cups of cooked pureed squash for this recipe. It is simple to make your own puree by placing into the bowl of a food processor or mashing it by hand.
You can roast the acorn squash seeds just like pumpkin seeds to create a fun snack.You could follow this Roasted Pumpkin Seeds recipe to make them.
If there are not enough of you to eat an entire loaf that is baked in a 9″ x 5″ pan you can bake this recipe in two smaller 8″ x 4″ pans and freeze one for later.
SPECIAL EQUIPMENT NEEDED:
9″ x 5: loaf pan
Large bowl
Whisk
SUBSTITUTIONS:
If you prefer to use some whole wheat flour in the recipe swap out 50% of the all purpose floor. That is about as much as you should add so the bread does not become too dense.
If you prefer butternut squash, you could easily turn this into a butternut squash bread recipe by replacing the acorn squash with your own butternut squash puree.
Substitute the canola oil with the same amount of vegetable oil, sunflower oil, or melted coconut oil.
In addition to either granulated sugar or light brown sugar you could use the same amount of coconut sugar or dark brown sugar.
The cinnamon, nutmeg and cloves can be substituted with allspice or pumpkin pie spice. Use 3 teaspoons of pumpkin pie spice to equal 1 teaspoon of each of the 3 spices.
Baking soda & baking powder can replace each other if you are out of one of them but you may need to adjust the quantity. Usually, you need about 3 times more baking powder to replace baking soda.
HOW TO STORE ACORN SQUASH BREAD:
This bread will stay moist if it is kept, tightly wrapped at room temperature for 2-3 days. Allow the bread to cool completely on a wire rack before wrapping it to avoid condensation and sogginess. If your kitchen tends to be warm, you might consider refrigerating the bread to extend its shelf life.
You can freeze Acorn Squash Bread for 2-3 months. Ensure the bread is fully cooled before proceeding to freeze it. Make sure that it is tightly wrapped in freezer paper or placed into a freezer bag or container.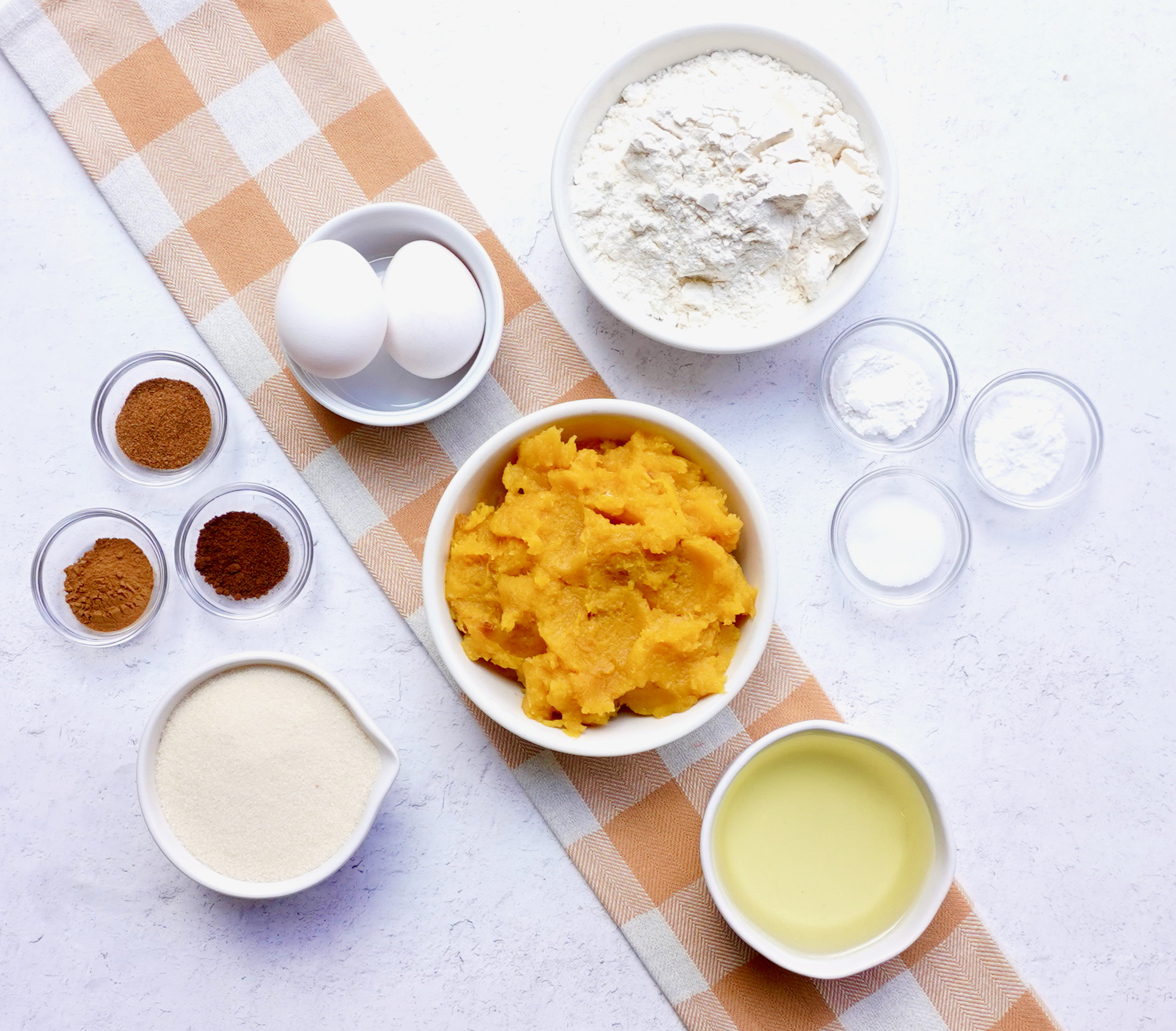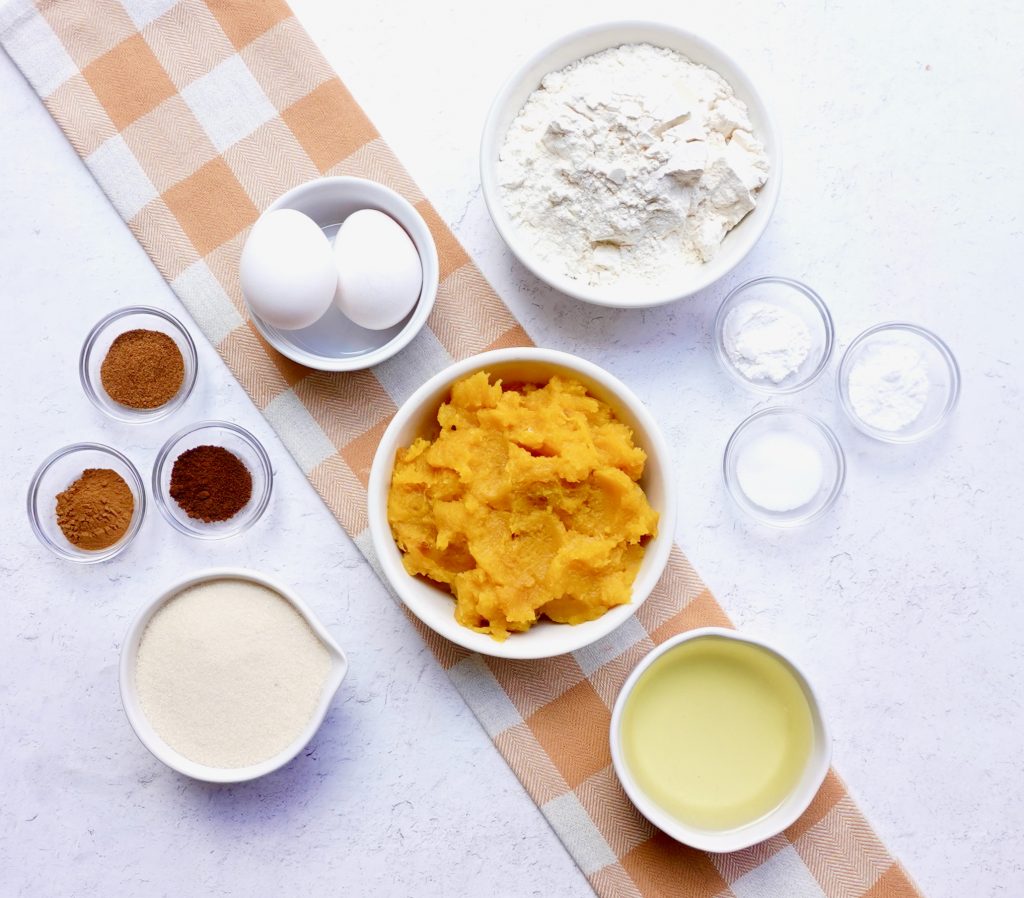 Acorn Squash Bread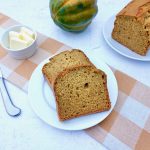 Print This
Ingredients
2 large eggs

¾ cup canola oil

1 cup granulated sugar or light brown sugar

2 cups roasted acorn squash puree

2 cups all purpose flour

1 teaspoon baking soda

1 teaspoon baking powder

½ teaspoon salt

1 teaspoon cinnamon

1 teaspoon ground nutmeg

1 teaspoon ground cloves
Instructions
HOW TO ROAST THE ACORN SQUASH:
Preheat your oven temperature to 400 degrees.
Line a baking sheet with aluminum foil or parchment paper and lightly brush some olive oil over the surface.
Cut your acorn squash in half the long way. You can remove the seeds now or after you roast the squash.
Place the squash halves cut side down onto the baking sheet.
Roast the squash for 45 to 50 minutes. Insert a sharp knife into the squash to see if it is done. You should feel no resistance if it is ready. If it still feels firm, keep roasting it and checking it every few minutes until it is done.
Let the squash cool slightly. Scoop out the seeds and strings. Scoop out the flesh of the squash to either a large bowl or food processor to create the pureed squash. If you are not using the food processor you can puree the squash with an electric mixer or by hand using a whisk. Make sure that you have a smooth puree.
HOW TO MAKE THE BREAD:
Preheat your oven to 350 degrees.
Place your oven rack into the center of the oven.
Grease and flour a 9×5 inch loaf pan or two 8″ x 4″ loaf pans.
In a large bowl, whisk the eggs. Add the canola oil, sugar and acorn squash puree. Combine well.
Add the 2 cups of the flour, baking soda, baking powder, salt, cinnamon, nutmeg and cloves. Whisk to make sure that the wet ingredients and dry ingredients are thoroughly combined.
Pour the batter into the prepared loaf pans. Bake for 50- 55 minutes until the top is completely dry and browned if you are using a 9″ x 5″ pan or 40 minutes if you are using two 8″ x 4″ pans.
Remove the pans from the oven and and let them cool for 5 minutes. Remove the bread from the pans and place them onto wire racks until they cool to room temperature. At this point you can slice the cooled bread. They are best as a 1-inch thick slice.