Baking easy cakes with seasonal ingredients is always a good choice. Strawberry Rhubarb Cake is a one bowl, no mixer required cake that is so delicious. This super moist cake is made with yogurt which is a great addition. This is a great way to serve a group dessert.
This simple cake combines two great early summer ingredients that you can find at your local farmers markets. Tart rhubarb and sweet strawberries are a perfect combination. This just might be your new favorite seasonal cake recipe if you are a rhubarb fan!
A simple glaze finishes the cake but if you want to skip that step, simply sift some powdered sugar over the top and it will be so pretty.
If you like easy, moist strawberry cakes, check out Strawberry Ricotta Cake and Strawberry Olive Oil Cake.
Rhubarb season is short so make these Strawberry Rhubarb Bars while you can. If you are a fan of Strawberry Rhubarb Pie, you will really enjoy these bars.
If you would like to try a similar type loaf blueberry coffee cake, the next time check out Blueberry Peach Ricotta Cake. It is another moist cake with a good combination of summer fruit and berries.
Check out 20 Simple Summer Strawberry Recipes for some other strawberry desserts.
SOME THINGS TO KNOW: FAQ'S 
SPECIAL EQUIPMENT NEEDED:
9″ x 5″ loaf pan
large mixing bowl, separate bowl for the glaze
wire whisk, or electric mixer
wire cooling rack
HOW TO GREASE AND FLOUR THE LOAF PAN:
A prepared cake pan is one of the most important steps of making this cake. You want to make sure that your cake comes easily out of the pan! If you have never done this before, check out, How to Grease and Flour Baking Pans.
SUBSTITUTIONS:
You can replace the granulated sugar with cane sugar of light brown sugar.
If you do not have plain yogurt, you can use an equal amount of  Greek yogurt, sour cream or ricotta cheese.
If you do not have canola oil, you can use vegetable oil or a light olive oil.
You can substitute whole wheat flour for the all purpose flour in equal proportions.
HOW TO STORE STRAWBERRY RHUBARB CAKE:
You can keep any leftover cake wrapped in plastic wrap or in an airtight container at room temperature for 2-3  days.
You can freeze Strawberry Rhubarb Cake for 2-3 months. Make sure that it is either tightly wrapped in freezer wrap or placed into an airtight freezer container.
To defrost the cake, remove the wrapping and place the cake onto a wire cooling rack.Once it is at room temperature, cover it until serving.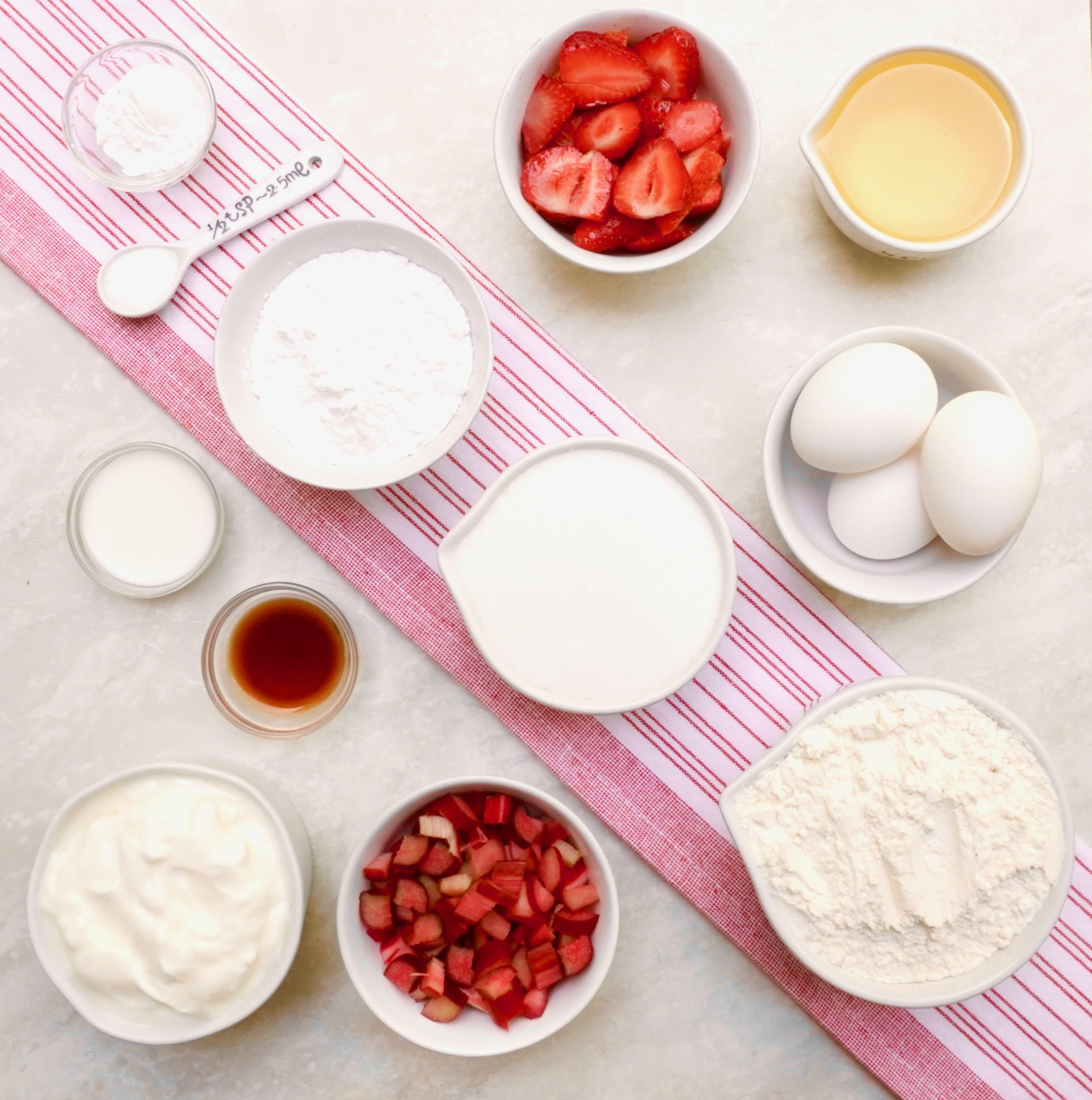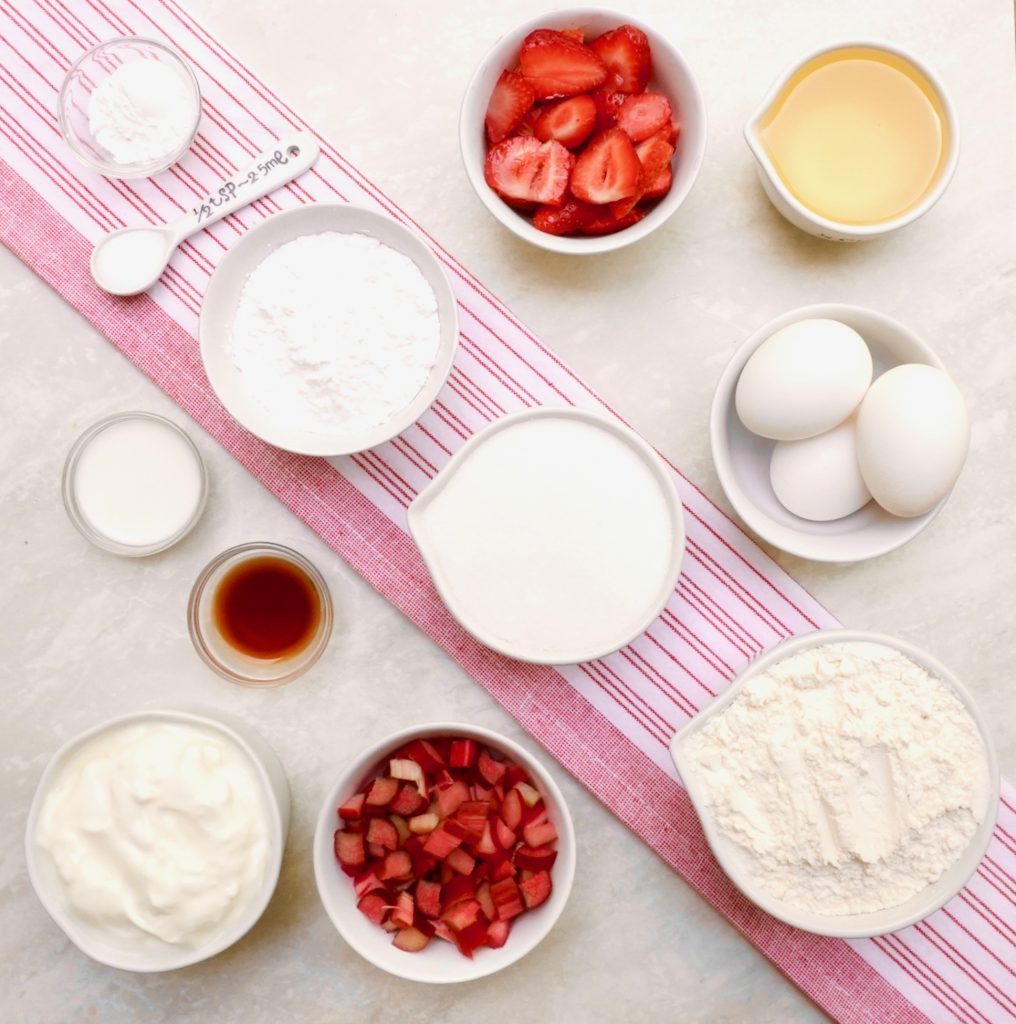 Strawberry Rhubarb Cake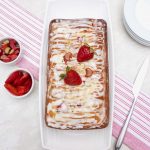 Print This
Ingredients
CAKE:

3 large eggs

½ cup canola oil

1 teaspoon vanilla extract

1¼ cup whole milk plain yogurt

1 cup granulated sugar

1 ½ cups all purpose flour

2 teaspoons baking powder

½ teaspoon iodized salt

3⁄4 cup fresh rhubarb cut into ½ inch cubes

3⁄4 cup fresh strawberries, sliced

.

GLAZE:

1 cup powdered sugar

1 teaspoon vanilla extract

2 tablespoons milk
Instructions
CAKE:
Preheat the oven to 350 degrees. Place your oven rack in the middle position of the oven.
Grease and flour a  9" x 5 "  loaf pan.
In a large bowl, place the eggs, canola oil , vanilla extract and yogurt. Whisk together thoroughly using a hand whisk. You can also use an electric hand mixer at low speed. You could also mix this in a bowl of a stand mixer with a paddle attachment.
Add the cup sugar, flour, baking  powder and salt to the wet ingredients. Whisk the dry ingredients in until the flour mixture is  totally combined.
Stir in the rhubarb and strawberries. Make sure they are evenly distributed throughout the batter.
Pour the cake batter into the prepared pan and bake for approximately 50 minutes. Make sure that the top of the cake is firm and lightly browned.  Place a cake tester or toothpick into the center of the cake to make sure that it comes out dry.
Let the cake cool in the pan for several minutes then remove it from the pan to a wire rack. Cool thoroughly to room temperature before glazing the cake.
GLAZE:
In a medium bowl, combine the confectioner's sugar, vanilla extract and milk. If the mixture is too thick to pour easily, add 1 teaspoon of milk at a time until it is fluid.
Spoon the glaze over the top of the cake using a back and forth motion.