Avocado Bruschetta is a flavorful way to eat avocados. The ingredients that usually top toasted bread in a traditional bruschetta, pair well with ripened avocado. The result is a healthy, vegetarian dish.
Avocados are actually a fruit. They have a high fat content and are commonly used as a meat substitute. They are also low carb so they work well with many of the the low carb diets.  This could be served as an appetizer or even a light lunch.
Avocado Bruschetta has a simple tomato topping made with onions, balsamic vinegar,  and olive oil. It takes only a few minutes to prepare and is refreshing on a warm summer day.
Avocados make a wonderful creamy topping as well. Avocado Crema can be used as a dip, or a topping for tacos in place of sour cream.
If you are a fan of avocado you you should check out Avocado Salad, Savory Spinach Avocado Oatmeal, Creamy Avocado Dip, Jammy Egg Avocado Toast, Avocado Eggs, and Shrimp Corn and Avocado Salad.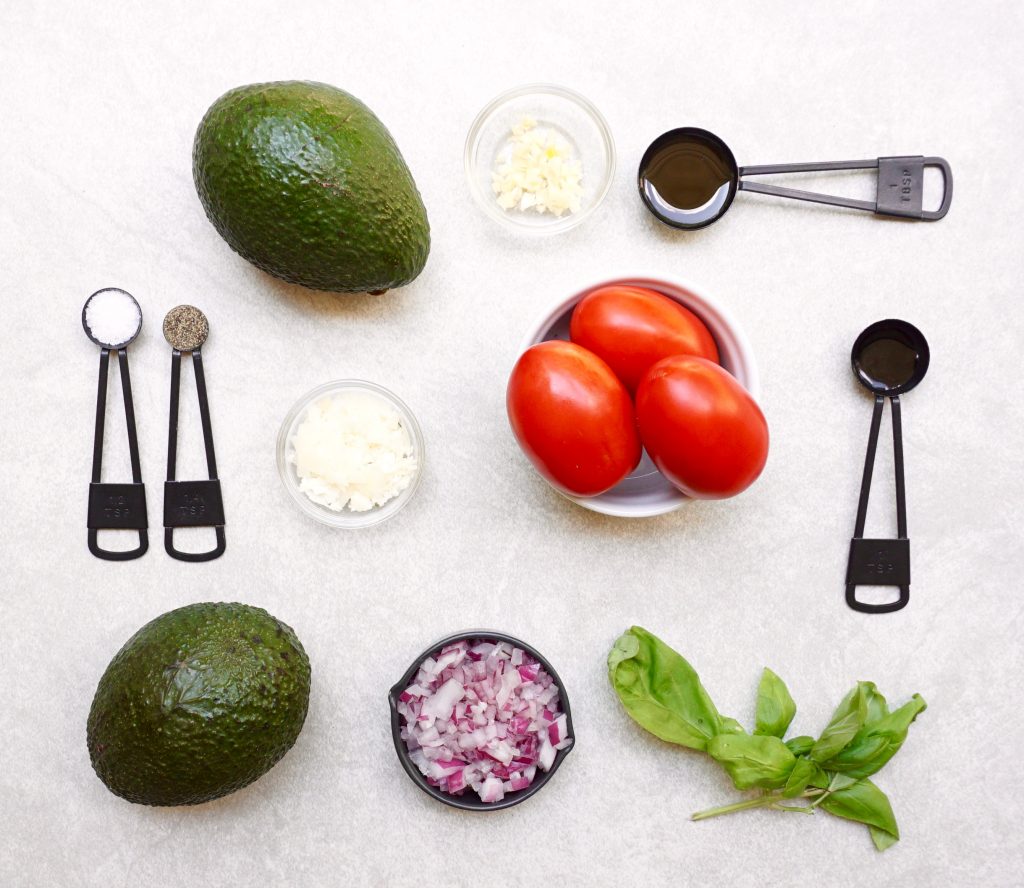 Avocado Bruschetta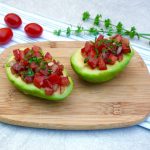 Print This
Ingredients
2 ripe avocados, halved, peeled and pit removed

3 small ripe plum tomatoes, seeded and diced

¼ cup red onion, diced

1 garlic clove, minced

1 tablespoon olive oil

1 tablespoon balsamic vinegar

6 basil leaves, chopped

½ teaspoon kosher salt

¼ teaspoon black pepper
Instructions
In a medium bowl combine the plum tomatoes, red onion, garlic, olive oil, balsamic vinegar, and basil.  Add the salt and pepper to taste.
Hollow out a small amount of avocado from each half to create a well a bit larger than the hole where the pit was removed. Spoon in ¼ of the tomato mixture into each of the four avocado halves, mounding the mixture on the top.
Serve at once.
Notes
Avocados will start to turn brown shortly after being exposed to air. If you want to prepare these very shortly ahead of time, squeeze some fresh lemon juice over the avocado halves before you fill them. Once filled, cover them with plastic wrap.