Avocado Salad makes a great side dish for your summer cookouts. It would go well with just about anything that you are grilling and will only be better as the summer progresses and the corn and tomatoes are at their peak. If you are looking for some other summer salads for your cookouts, check out 30 Simple Summer Cookout Side Dishes.
This simple salad has a light dressing with a nice contrast of sweet and savory. It is fresh, healthy and delicious.
If you are an avocado fan, check out Savory Spinach Avocado Oatmeal, Creamy Avocado Dip, Jammy Egg Avocado Toast, Avocado Bruschetta, Avocado Eggs, Shrimp Corn and Avocado Salad, and Avocado Crema. 
SOME THINGS TO KNOW:
Avocados turn brown when they are exposed to the air. An enzyme in the flesh reacts with the oxygen and causes them to turn an ugly brown color.
Adding lemon juice to the avocado when you cube it will help to keep them from turning brown. The citric acid in the juice slows the process.
This salad can be partially prepped ahead of time. You can get all the vegetables ready with the exception of the avocado and make the dressing. Keep them covered in the refrigerator until you are ready to serve. Cut the avocado and coat it with the lemon juice before adding it to the other ingredients at the time that you are ready to serve it.
You can try to keep any leftovers for a day in a covered container in the refrigerator. The avocado will eventually turn brown.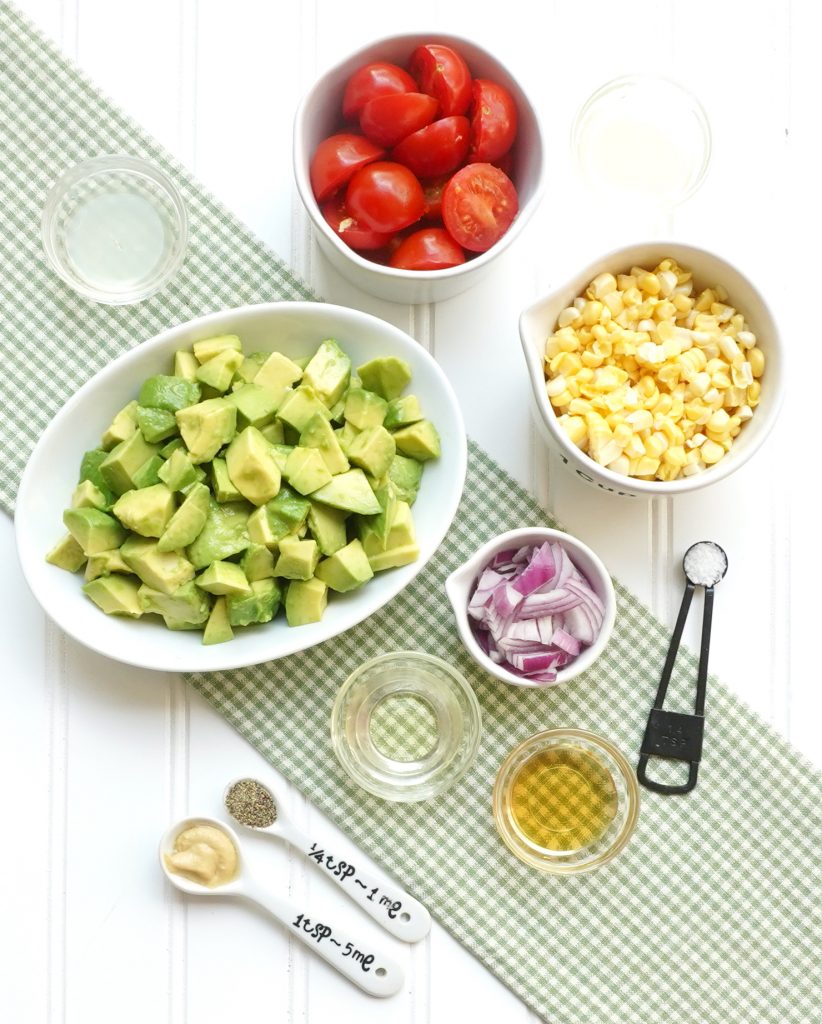 Avocado Salad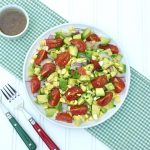 Print This
Ingredients
SALAD:

3 ripe avocados cut into cubes

2 tablespoons lemon juice

1 cup cherry tomatoes, halved

½ cup fresh corn (1 cob)

¼ cup red onion, sliced thin

.

DRESSING:

3 tablespoon canola oil

1 tablespoon lime juice

¼ teaspoon kosher salt

¼ teaspoon black pepper

1 teaspoon dijon mustard

2 teaspoons honey
Instructions
SALAD:
Place the avocado into a large bowl. Add the lemon juice and stir to make sure all of the avocado is coated. This will prevent it from turning brown.
Add the tomatoes, corn and onion to the bowl. Stir to combine.
DRESSING:
Pour the canola oil into a small bowl.
Add the lime juice, salt, pepper, dijon mustard and honey. Whisk everything together well.
Pour the dressing over the avocado mixture and stir to combine.
Serve at once.