Tater Tots are simply grated potatoes that are shaped into a cylinder and fried. They make a great base for this Tater Tot Frittata Casserole. This vegetarian casserole is a hearty breakfast or brunch simply made with just a few ingredients.
This cheesy breakfast casserole starts with lining the bottom of a baking pan with the tater tots. Eggs are mixed with milk, cheese and fresh salsa. Fresh salsa can be found in the produce section of your grocery store. It has tomato, red onions, green pepper, cucumber, red pepper, chili peppers, and cilantro. It adds a lot of flavor to this casserole and you won't need to stand and chop anything.
A casserole like Tater Tot Frittata Casserole is great easy recipe for breakfast but can really be eaten for any meal of the day. If you like the combination of potatoes with eggs check out Potato Cheddar Frittata.
If you are a fan of a frittata with a Mexican twist, check out Mexican Sheet Pan Frittata. If you would like to try another hearty casserole to make for a weekend breakfast check out Bacon Egg and Cheese Casserole. If you are looking for a make-ahead breakfast casserole that you bake the next morning check out Overnight Apple Cinnamon French Toast.
SOME THINGS TO KNOW:FAQ'S
INGREDIENT TIPS:
Fresh, homemade Tomato Salsa can also be good in this dish.
For a crunchier base, try pre-baking the tater tots for about 10 minutes before adding them with the  egg mixture. This will ensure they remain crispy tots even after the casserole is baked.
SPECIAL EQUIPMENT NEEDED:
Medium-sized Baking Dish: An 8×8 or 9×9 inch square baking dish is ideal. You can use a similar-sized rectangular or oval dish. Make sure the dish is oven-safe.
Mixing Bowl: You will need a medium-sized bowl for whisking the eggs and mixing in other ingredients.
Whisk: Essential for blending the eggs, milk, and seasonings together smoothly.
Spatula or Wooden Spoon: These are used for folding in the salsa and cheese into the egg mixture, and later for serving the casserole.
SUBSTITUTIONS:
If you don't have tater tots on hand, frozen or fresh hash browns can work as a good base.
For a richer texture use half-and-half or heavy cream in place of the whole milk. Almond, soy, oat, or coconut milk can serve as dairy-free alternatives.
Pico de Gallo is another fresh substitute for the salsa with chunky tomato, onion, and cilantro pieces.
Sharp Cheddar cheese, Mozzarella or Monterrey Jack cheese, Pepper Jack cheese  or a mixture of these cheeses can used instead of Mexican cheese blend.
If you don't have cooking spray, lightly grease the dish with melted butter or your favorite oil using a pastry brush or paper towels. Lining the baking dish with parchment paper can also prevent sticking and makes for easy cleanup.
If you want to make a lower cholesterol dish, use egg whites. Typically, two egg whites can replace one whole egg.
HOW TO STORE TATER TOT FRITTATA CASSEROLE:
Stored properly, the casserole should last 3-4 days in the refrigerator. Before storing, let the casserole come to room temperature to avoid condensation, which can make it soggy. Transfer the cooled casserole to an airtight container, or simply cover the baking dish tightly with plastic wrap or aluminum foil.
The casserole can be frozen for 2-3 months. Make sure that the casserole is completely cooled before freezing it. Wrap the entire dish in plastic wrap. Follow this with a layer of aluminum foil. This double layer helps prevent freezer burn.
For best results, thaw the frozen casserole in the refrigerator overnight.
HOW TO REHEAT TATER TOT FRITTATA CASSEROLE:
To reheat the casserole in the oven, preheat the oven to 350°F (175°C). Remove any plastic wrap and replace with foil. Reheat the casserole for about 15-20 minutes or until warmed through.
To reheat the casserole in the microwave, place a portion onto a microwave-safe dish. Cover the top and microwave on medium power, checking every minute, until heated through.
You could also reheat small pieces in an air fryer. Heat at 350 degrees for 2-3 minutes or until heated through.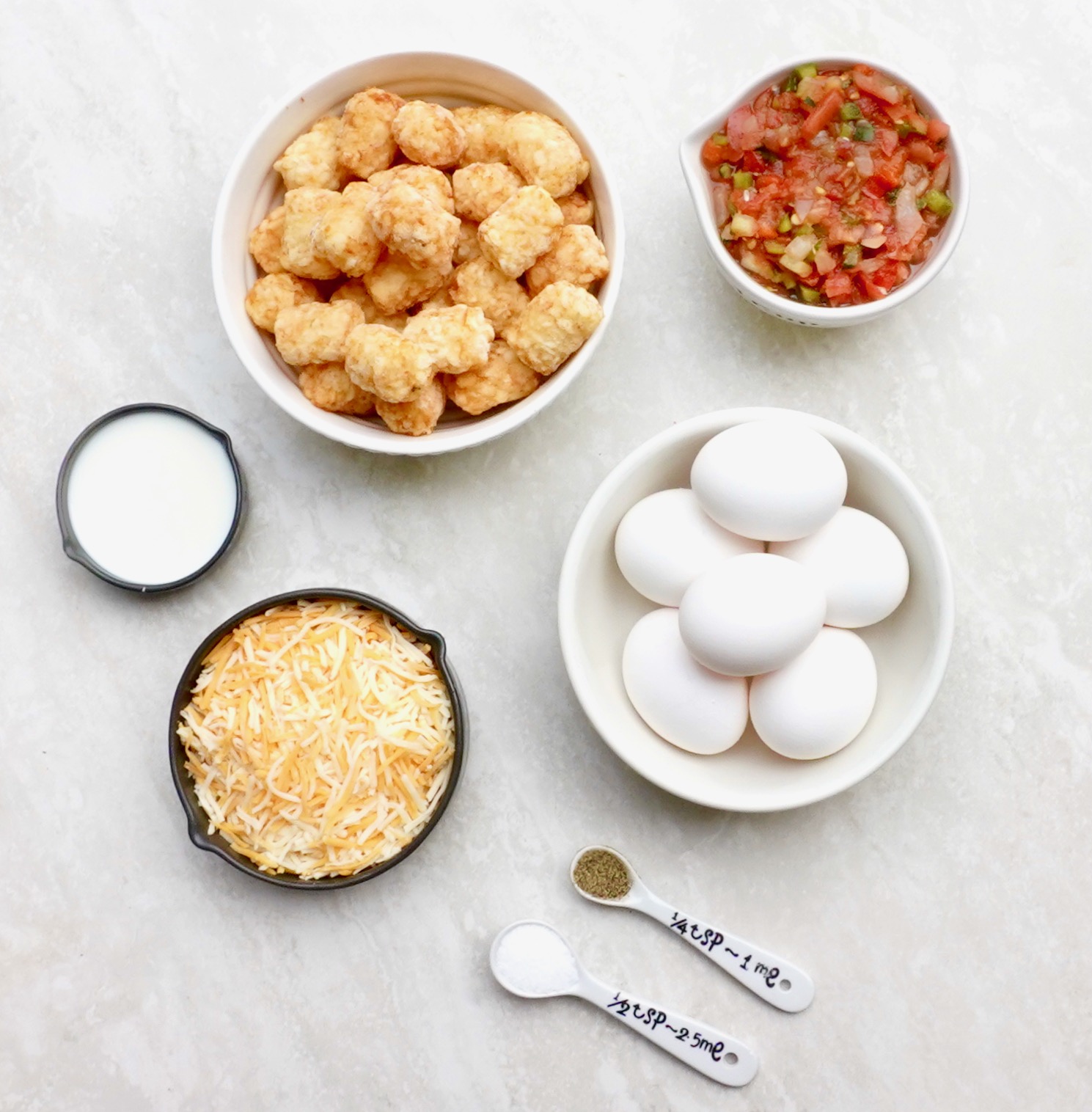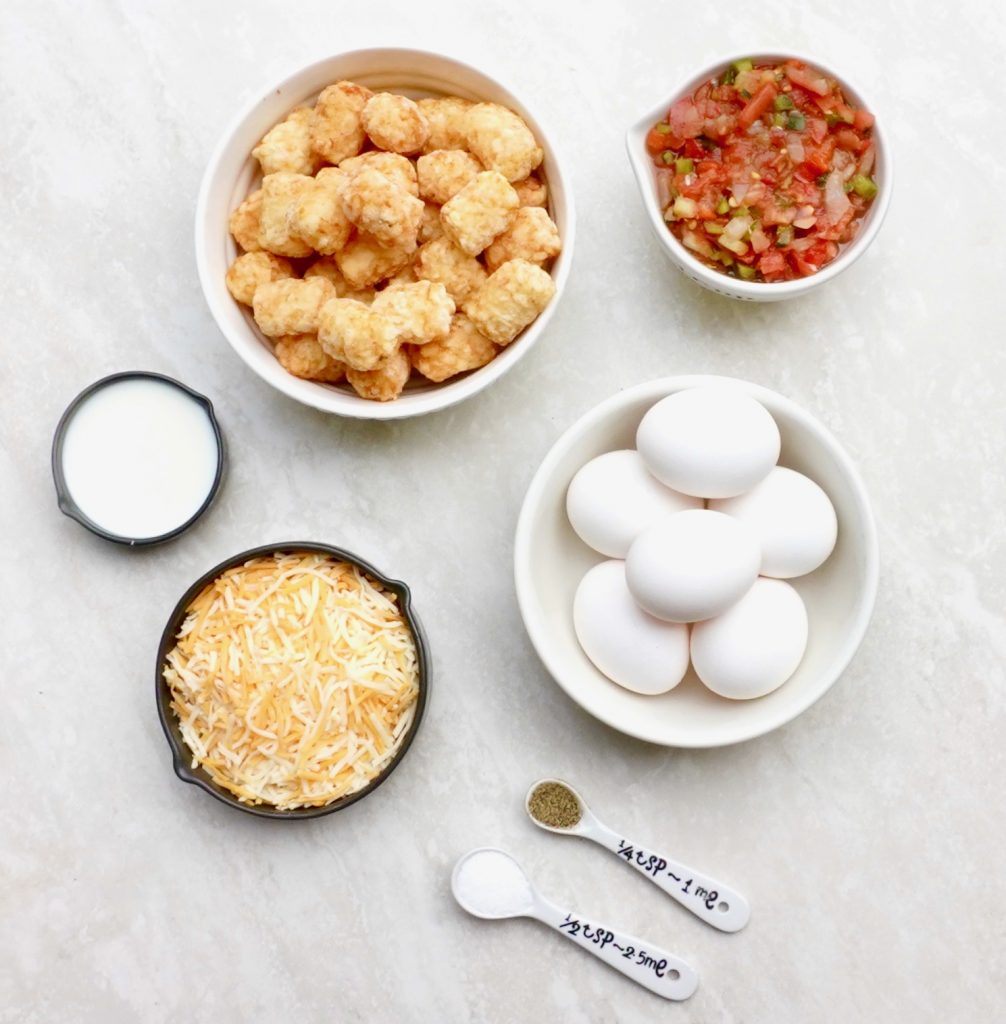 Tater Tot Frittata Casserole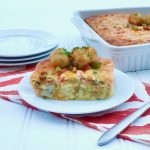 Print This
Ingredients
48 frozen tater tots, (3 cups)

6 large eggs

¼ cup whole milk

½ teaspoon kosher salt

¼ teaspoon black pepper

1 cup fresh salsa

1 cup shredded Mexican cheese blend, divided

cooking spray
Instructions
Pre-heat your oven to 350 degrees. Move your rack to the middle of the oven.
Spray a 9″ x 9″ baking pan with cooking spray.
Place the tater tots into the bottom of the dish in rows in a single layer. A 9″ x 9″ pan will take 6 rows across with 8 tater tots in each row.
Beat the eggs in a large bowl with the milk, salt and pepper.
Stir in the fresh salsa and a ½ cup of cheese.
Pour the egg mixture evenly over the layer of tater tots.
Sprinkle the other ½ cup cheese evenly over the top of the frittata.
Bake for 35-40 minutes until the top is firm and golden brown.
Serve the tater tot casserole with sour cream, green onions, and hot sauce.