If you are looking for a flavorful and healthy way to prepare chicken, this Baja Chicken recipe is for you. The chicken is marinated in citrus juice and a few other simple ingredients that give it lots of great flavor.
This simple, delicious recipe is sure to become a family favorite. There is more than one way that you can serve it. You could slice the chicken and roll it with the topping inside of a tortilla to make Baja chicken tacos. You could serve it whole over rice, or slice it and create rice bowls. Black Bean Mexican Rice would be a great side dish option and so would Mexican Street Corn Pasta Salad.
If you are looking for a fun dessert to finish the meal try Chocoflan or Mexican Chocolate Pudding Cake.
SOME THINGS TO KNOW:
You need to plan ahead when making this recipe as you need to allow time to marinate the chicken. It will be the most flavorful if you can let it sit for 24 hours. Try to allow at least 8 hours minimum.
Baja style food is a type of Mexican food that comes from the area of Baja California. This is actually located in Mexico and borders the US state of California. It is located on the coastline and has a Mediterranean climate. The style of cooking in this region includes lots of fresh vegetables.
Jalapeno peppers are spicy peppers that carry most of their heat in ribs and seeds. If you are not familiar with using them check out How to cut a Jalapeno to desired heat for tips on how to do it.
If you do not have plum tomatoes, use any ripe red tomato that you have seeded and chopped.
1 teaspoon of dried cilantro can be substituted for the fresh cilantro.
It is important to make sure that you cook the chicken to an internal temperature of 160 degrees. A meat thermometer is a good investment!
Any leftover chicken and topping can be kept in the refrigerator for 2-3 days. Make sure that it is covered with plastic wrap to keep it fresh. This would make a great healthy lunch.
The leftover chicken can be frozen for 2-3 months in an airtight freezer container. Since the topping is made with fresh, uncooked vegetables, it will not freeze well. The consistency will change.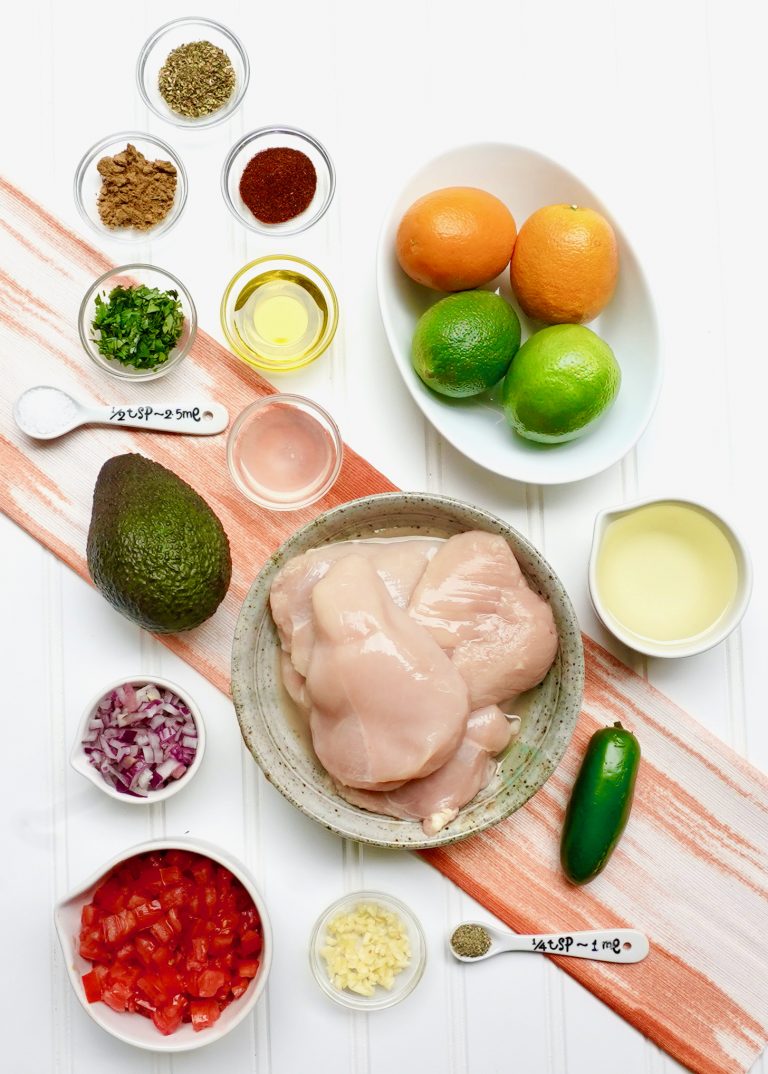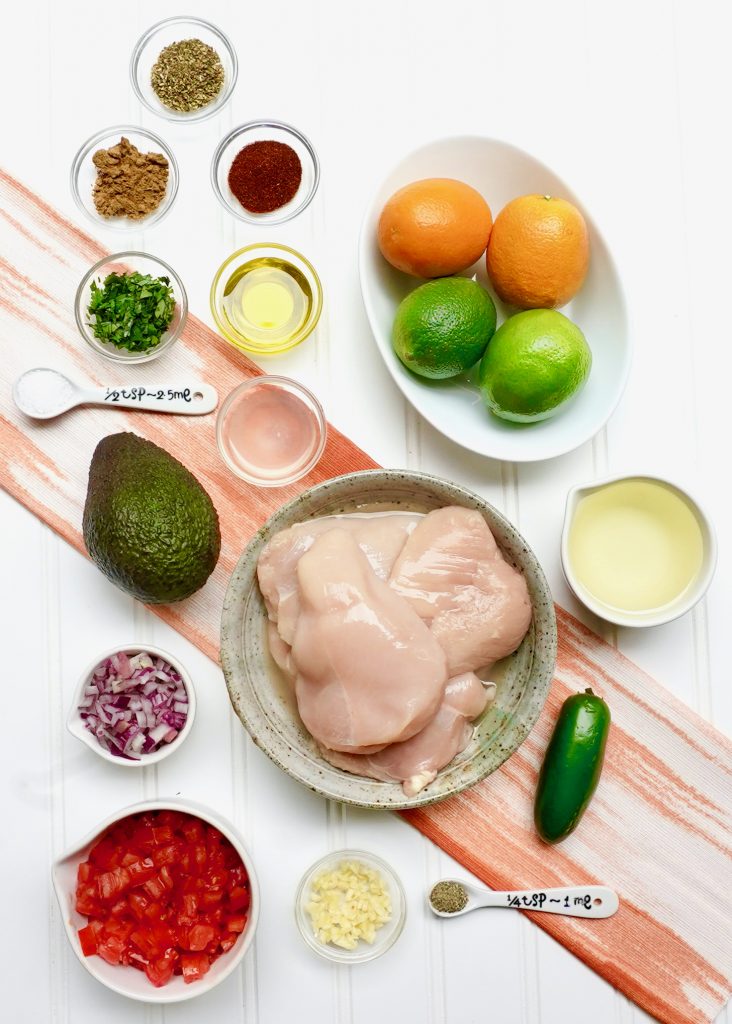 Baja Chicken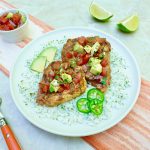 Print This
Ingredients
CHICKEN:

4 boneless chicken breasts (4-6 ounces, 1 inch thick

½ cup canola oil

2 large limes, juiced

1 orange, juiced

1 jalapeno pepper, seeds removed, minced

2 garlic cloves, minced

1 teaspoon chili powder

1 teaspoon cumin

1 teaspoon dried oregano

½ teaspoon kosher salt

¼ teaspoon black pepper

2 tablespoons olive oil

TOPPING:

1 cup plum tomatoes, seeded and chopped

¼ cup red onion, minced

1 tablespoon fresh cilantro, chopped

2 tablespoons fresh lime juice

OPTIONAL GARNISH:

1 avocado, cut into chunks

lime wedges

chopped cilantro
Instructions
CHICKEN:
In a medium bowl, add the canola oil, lime juice, orange juice, jalapeno pepper, garlic, chili powder, cumin, oregano, salt and pepper. Combine well.
You can place the chicken breasts into the bowl to marinate, making sure that they are covered with the mixture or you can pour the marinade into a zip top bag and place the chicken into the bag. The zip top bag will allow for a more even distribution.
If you are using a bowl, tightly cover bowl and place it into the refrigerator. If you are using a zip top bag, make sure that the top is well sealed and place it into the refrigerator.
Let the chicken marinade for at least 8 hours but ideally for 24 hours for the most flavor. The chicken should be turned over in the bowl a few times during the marinating process.
If you are using the zip top bag, turn it over a few times during the marinating process as well to make sure the chicken marinates evenly.
When you are ready to cook the chicken, preheat a large nonstick skillet over medium heat.
Add the olive oil and let it heat for 30 seconds.
Add the chicken breasts to the hot skillet and cook for 5-6 minutes on each side. You want the sides of each chicken breast to be lightly browned and you want the internal temperature of the chicken to be 160 degrees.
If you prefer to grill chicken outside, place the chicken breasts onto a hot grill and cook for about 3 minutes on each side. Grills differ so focus on getting to the internal temperature of 160 degrees.
TOPPING:
In a small bowl, combine the tomatoes, red onion, cilantro and lime juice. Combine well.
Divide the topping evenly over the cooked chicken breasts.
Add additional toppings of avocado and cilantro if you are using them.Serve the lime wedges on the side.