Zucchini Tomato Sauce is a great way to enjoy the summer fresh tomatoes and zucchini. This simple tomato sauce recipe creates a chunky sauce to enjoy over pasta. Tomatoes have a natural sweetness that make this homemade tomato sauce delicious.
This is a healthy dinner that is perfect for busy weeknights. In the time that it takes you to boil water and cook the pasta, this fresh zucchini tomato sauce will be ready.
If you would like to try another zucchini dish, check out Zucchini Corn Sauté . If you would like to try some other tomato pasta dishes that have the great flavor of summer tomatoes check out One Pot Tomato Basil Penne , Roasted Cherry Tomato Penne, and Fresh Tomato Basil Sauce.
If you are looking for a wine to pair with this, check out The Best Wines to Serve with Pasta.
SOME THINGS TO KNOW:
SUBSTITUTIONS:
If you do not have fresh garlic, you can substitute 1 teaspoon of garlic powder.
While this sauce is best with fresh summer tomatoes, you can make it any time of year by using canned tomatoes. Add a 28 ounce can of diced tomatoes instead of the fresh tomato.
You could also make this sauce with cherry tomatoes. Just make sure that you have 4 cups.
You can use any type of pasta to serve this over. Pictured are medium shell pasta. Fusilli pasta, penne and ziti would work very well with this sauce. Spaghetti or linguini would also work if you prefer the long strands of pasta.
If there are other fresh herbs that you prefer over basil, simply add them!  Fresh oregano and fresh parsley would be great. If you do not have fresh basil, you could add a teaspoon of dried basil or Italian seasoning.
If you want your sauce to be a bit thicker and heavier, add a tablespoon of tomato paste.
INGREDIENT TIP:
This recipe does not call for you to peel the fresh tomatoes. If you would prefer to do that check out How to Peel Tomatoes to find out the quickest way.
HOW TO STORE LEFTOVERS:
You can keep any leftover pasta and  Zucchini Tomato Sauce in the refrigerator, tightly covered in an airtight container for 3-5 days.
If you want to make this sauce ahead of time and freeze it for later use, place it into an airtight freezer bag or container. It will keep in the freezer for 2-3 months. Defrost the sauce in the refrigerator.
HOW TO REHEAT:
You can reheat any leftover sauce in a saucepan on the stove over medium low heat.
If you are trying to reheat the sauce and pasta combined, you can do that one the stove as well over medium low heat or you could place individual servings lightly covered into the microwave for 1-2 minutes until it is heated through.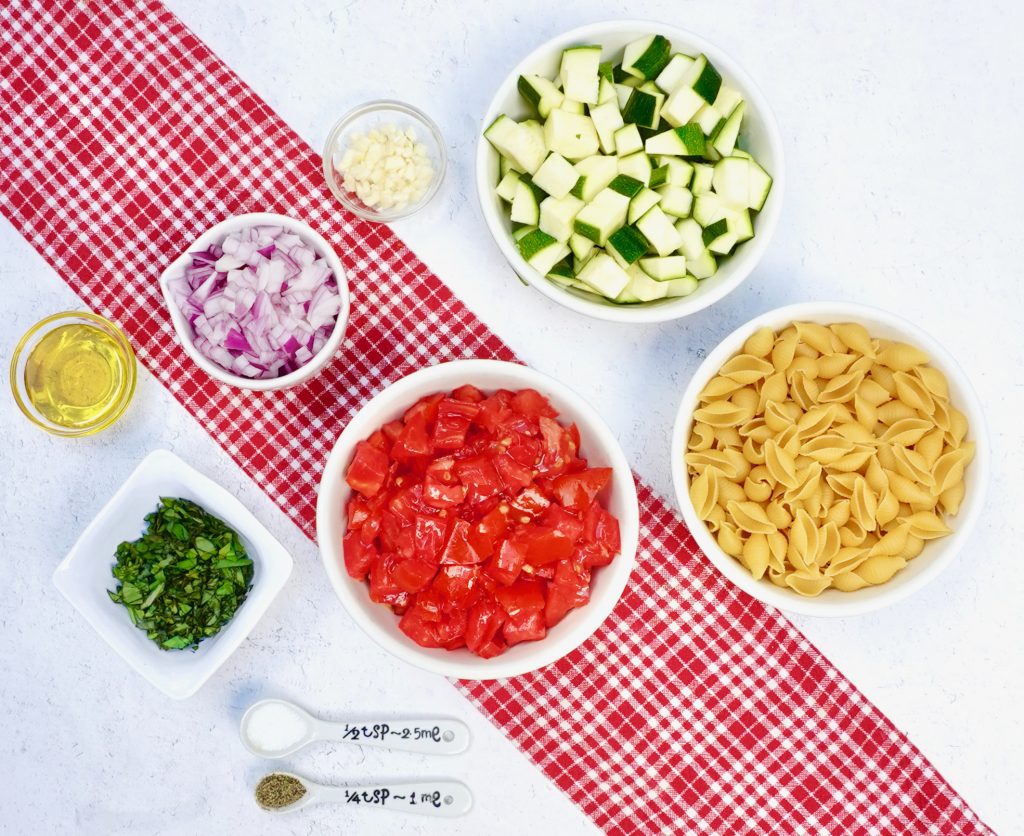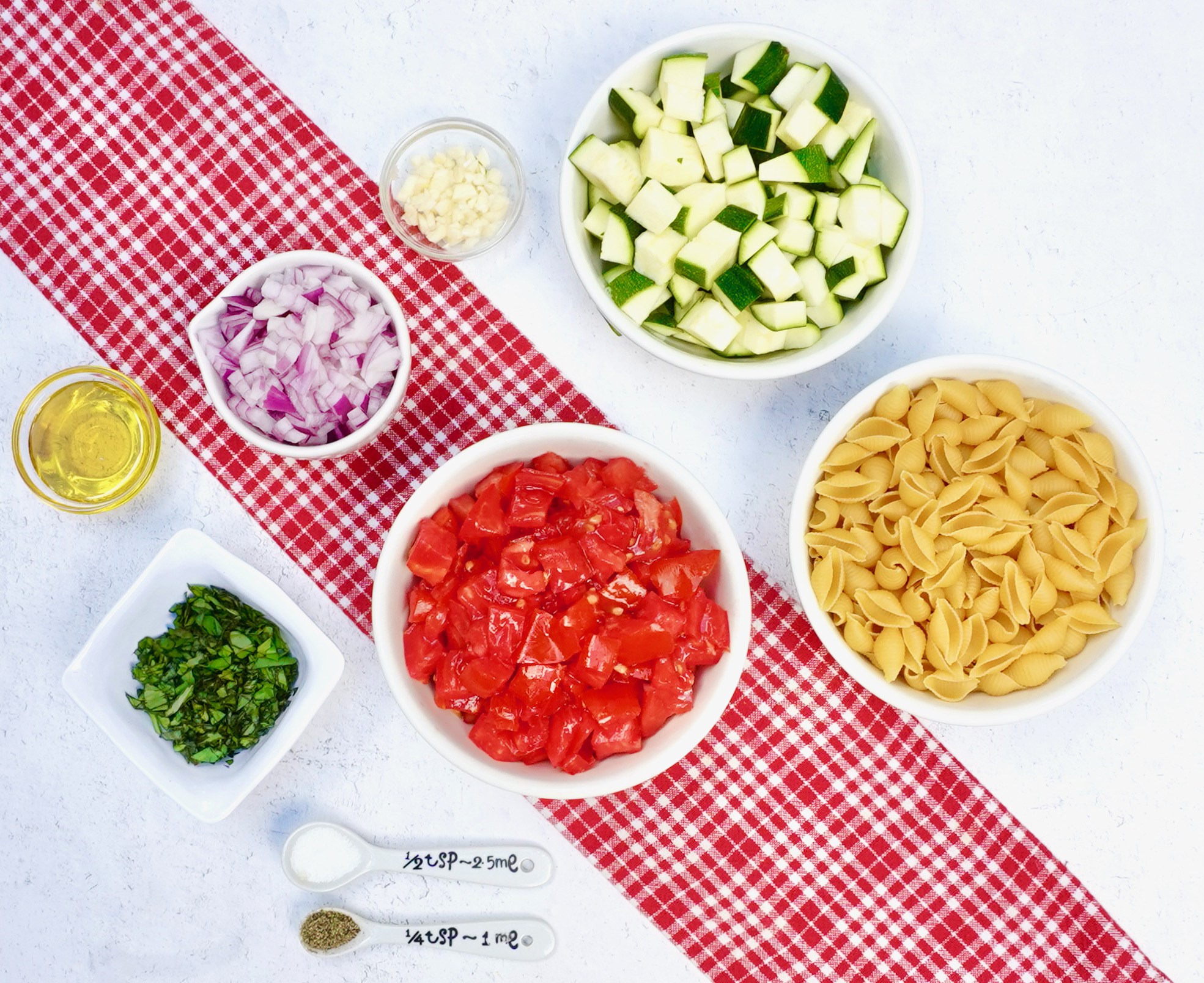 Zucchini Tomato Sauce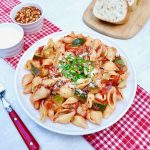 Print This
Ingredients
2 tablespoons olive oil

2 cups fresh zucchini, cut into small cubes (1 medium zucchini)

½ cup onion, chopped (red or yellow onion)

2 garlic cloves, minced

4 cups fresh tomatoes, diced small ( 4 large tomatoes)

½ teaspoon kosher salt

¼ teaspoon black pepper

2 tablespoons fresh basil, chopped

8 ounces dry pasta (any variety)

1 teaspoon sugar (optional)

* ½ cup reserved pasta water

For serving:

Crushed red pepper flakes

Parmesan cheese
Instructions
Add the olive oil to a large skillet over medium low heat. Let it heat for 30 seconds.
Add the zucchini, onion and garlic to the skillet. Let them cook, stirring occasionally for 2 minutes until they just begin to soften.
Add the tomatoes, salt and pepper to the skillet. Bring the mixture to a boil over medium-high heat. Once it comes to a boil continue to simmer over low heat for an additional 20 minutes, uncovered. Stir it occasionally. The tomatoes will eventually break down and the sauce will begin to thicken.
While you are simmering the sauce, bring a large saucepan or pot of water to a boil. You will want to cook the pasta in salted water so add 1 teaspoon salt to the pot.
Add the pasta to the boiling water and cook according to the directions on the package for al dente pasta. This will be slightly firm to the bite.
When the pasta is finished, reserve ½ cup of the pasta water to add into the sauce to finish it. Drain the pasta.
When the sauce has finished simmering, stir in the fresh basil and the reserved water. Stir them in well and let the mixture cook for an additional minute.
Taste sauce and add more salt and pepper to taste. If the sauce tastes at all acidic, add a teaspoon of sugar to cut the acidity.
Return the pasta to the pot. Pour the sauce over the pasta and combine well.