What do you do with your leftover Thanksgiving turkey?  If you have a lot of it you might be trying to come up creative ways to use it so it doesn't taste like a leftover. Turkey Tetrazzini  Ziti is an easy baked pasta dish.  that is a great way to use it. 
This recipe is made with turkey and mushrooms that are cooked in a flavorful creamy sauce with wine. The sauce is combined with cooked pasta and placed into a baking pan with cheese and bread crumbs. You can prepare this in advance and bake it when you are ready to serve it.
Check out Turkey Gnocchi Soup and Turkey Wild Rice Soup for some other ways to use up that extra turkey!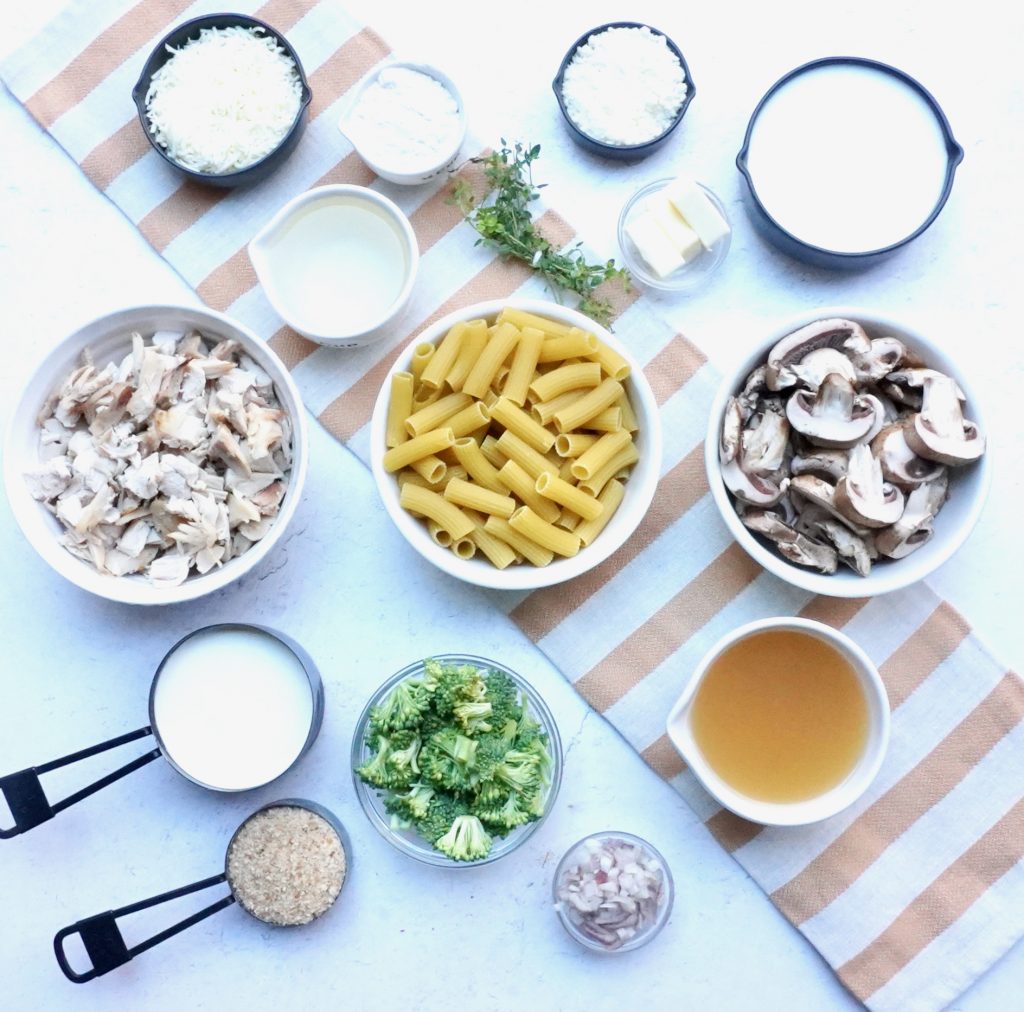 Turkey Tetrazzini Ziti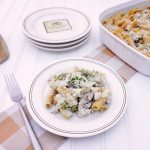 Print This
Ingredients
8 ounces ziti pasta

3 tablespoons butter, divided

1 small shallot, chopped

8 ounces Baby Bella mushrooms, sliced

1 teaspoon fresh thyme (1/2 teaspoon dried)

½ cup white wine

¼ cup all purpose flour

1 cup whole milk

1 cup chicken broth

1 cup heavy cream

1 cup broccoli florettes

4 cups cooked turkey, cut into small cubes

½ cup asiago cheese, shredded

¼ cup Romano cheese divided

½ cup Italian bread crumbs
Instructions
Heat a large pot of water over high heat. Bring it to a boil. 
Add the ziti and cook it according to the directions on the package for the tenderness that you want.
Drain and return to the pot.
Heat 2 tablespoons of the butter in a large skillet over medium low heat.
 Add the mushrooms, shallots and thyme. Cook until the mushrooms have released all of their liquid. This should take 3-4 minutes.
Add the wine to the skillet and let it simmer until it is completely absorbed.
Remove the mushrooms to a plate.
Add the remaining tablespoon of butter to the skillet over medium low heat.
 Once the butter has melted, add the flour and combine well.
Slowly add the broth and milk, whisking constantly until it starts to thicken and bubble.
Once it is thick, stir in the heavy cream, broccoli, turkey ,Asiago cheese and 2 tablespoons of the Romano cheese. Heat through.
Pour the mixture over the pasta in the pot to combine.
Spoon the mixture into a 9" x 13" baking pan. 
Combine the remaining Romano cheese with the breadcrumbs.
Bake for 40 minutes until heated through.