There's something special about starting the day with the perfect fluffy waffles. Crispy on the outside and soft on the inside they are the best breakfast food. Lemon Ricotta Waffles elevate the experience with the addition of creamy ricotta cheese and the zesty flavor of lemon.
Lemon Ricotta Waffles are perfect to serve for breakfast or brunch. The addition of ricotta cheese makes them fluffier and adding fresh lemon juice and zest to the batter really brightens the waffles and adds nice flavor. Waffles are very easy to make with some simple pantry ingredients. There is really no need to use a boxed waffle mix.
There seems to be an ongoing debate as to which is better, pancakes or waffles. I love them both, but there are a couple advantages to making waffles. Waffles are actually easier to cook. The waffle maker is doing all the work and in just a few minutes you have a perfectly shaped waffle without and flipping or turning. Waffles also hold the butter and syrup better in all the tiny squares.
If you are planning on a special brunch Lemon Ricotta Waffles would be a great addition. Red Velvet Waffles, Pumpkin Waffles, and Gingerbread Waffles are some other  waffle recipes you might want to try.
If you are a pancake person, check out Blackberry Pancakes, Bananas Foster Pancakes, Strawberry Whole Grain Pancakes, Red Velvet Pancakes, Pumpkin Oatmeal Pancakes, Caramel Apple Pancakes, Blueberry Cinnamon Pancakes, Gingerbread Pancakes and Strawberry Banana Pancakes.
​SOME THINGS TO KNOW:FAQ'S
INGREDIENT TIPS:
​Ricotta cheese is easy to make at home with just a few simple ingredients.
Make sure that your baking powder is fresh. Old or expired baking powder can lead to flat waffles. Test its effectiveness by dropping a bit into hot water. It should fizz immediately.
Bring your eggs are to room temperature before using them as this can make for a smoother batter and better incorporation of ingredients.
SPECIAL EQUIPMENT NEEDED:
Waffle Iron (or Waffle Maker):This is essential for making waffles. They come in various shapes and sizes, from classic size to a Belgian waffle maker. Choose one that suits your preference for waffle thickness and shape. You could go for a square waffle iron or a round iron. Some waffle irons have heat settings. Read How to Pick the Best Waffle Maker.
Mixing Bowls: Two mixing bowls are needed. One for combining the dry ingredients and one to combine the wet ingredients.
Whisk: To mix the wet ingredients smoothly and to beat the eggs properly.
Ladle or Cup: For pouring the batter onto the waffle iron evenly.
Microplane or Fine Grater: Needed for zesting the lemon without getting the bitter white pith.
Juicer (Handheld or Electric): To extract juice from the lemon. While it's possible to juice a lemon without a dedicated juicer, using one can make the task easier.
SUBSTITUTIONS:
The all-purpose flour can be replaced  with whole wheat flour for a denser texture and nuttier flavor. This substitution can be done one-for-one, but keep in mind that the waffles might turn out less fluffy.
Almond milk, soy milk, oat milk, or coconut milk can be used as a one-for-one substitute for whole milk. You could also use half and half or buttermilk.
Cottage cheese that has been drained and blended until smooth can serve as a ricotta substitute.
Light brown sugar can replace the white sugar.
HOW TO STORE LEMON RICOTTA WAFFLES:
The waffles can last in the fridge for up to 3-4 days. Store them in an airtight container with parchment paper between the layers to prevent them from sticking together.
The waffles can be stored in the freezer for up to 2-3 months. Always let your waffles cool completely before freezing. Lay the cooled waffles on a baking sheet in a single layer not touching. Place the baking sheet into the freezer for about an hour or until the waffles are firm. Transfer the pre-frozen waffles into an airtight container or heavy-duty freezer bag. Place parchment or wax paper between waffles if stacking them to prevent the waffles from sticking together.
Defrost the waffles on a wire rack at room temperature.
HOW TO REJEAT LEMON RICOTTA WAFFLES:
The toaster is one of the best methods of reheating to retain the crispiness of the waffle. Simply pop frozen or refrigerated waffles into the toaster and toast until heated through. Be attentive to avoid over browning.
To reheat the waffles in the oven, preheat the oven to 350°F (175°C). Place the waffles onto a baking sheet in a single layer. Heat for about 10 minutes or until they're hot and crispy. If the waffles are frozen, it might take a little longer.
While the microwave is the quickest method, it might make the waffles a bit soft or soggy. If you are in a hurry, microwave the waffle on a microwave-safe plate for about 1 minute or until heated through.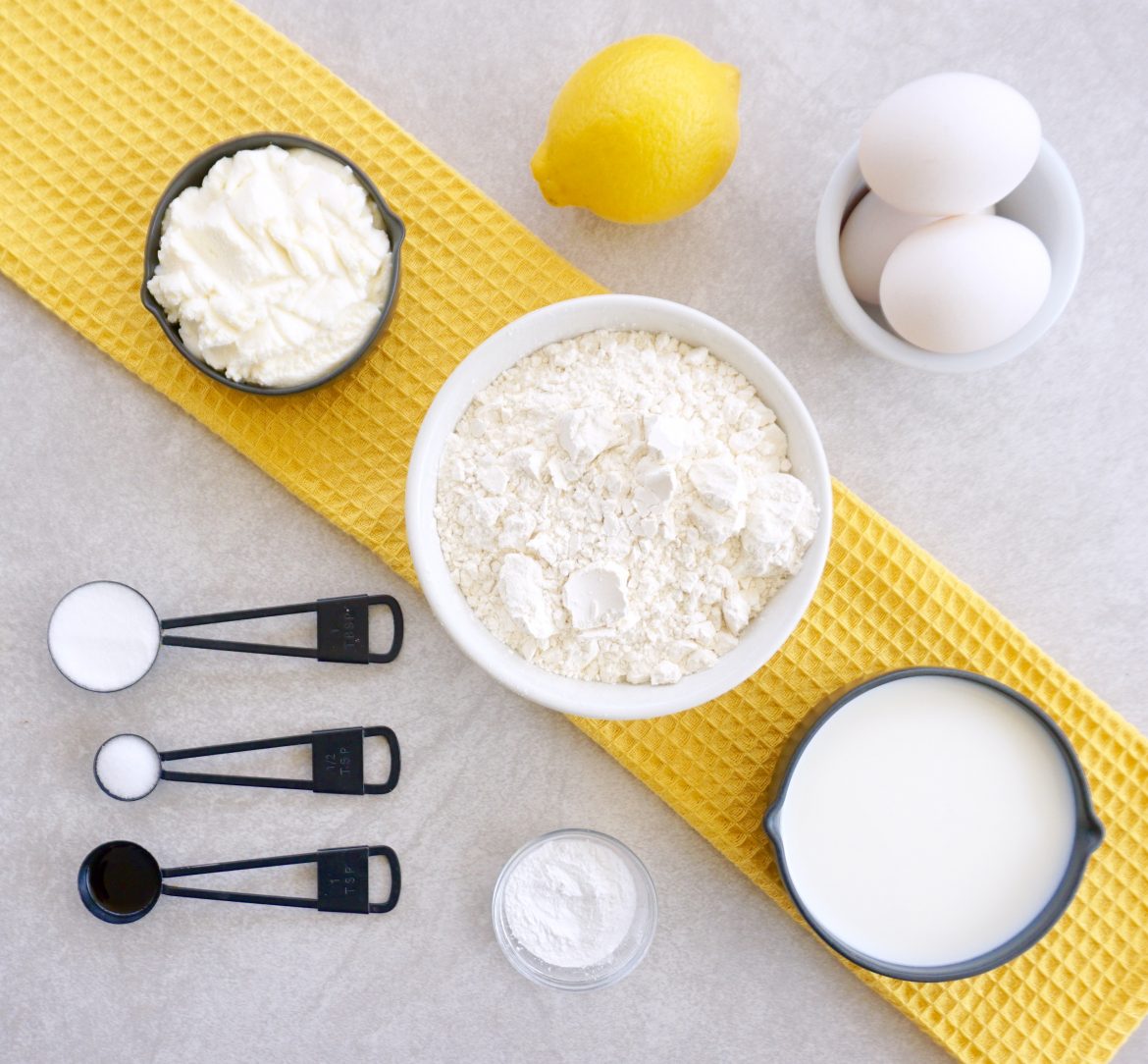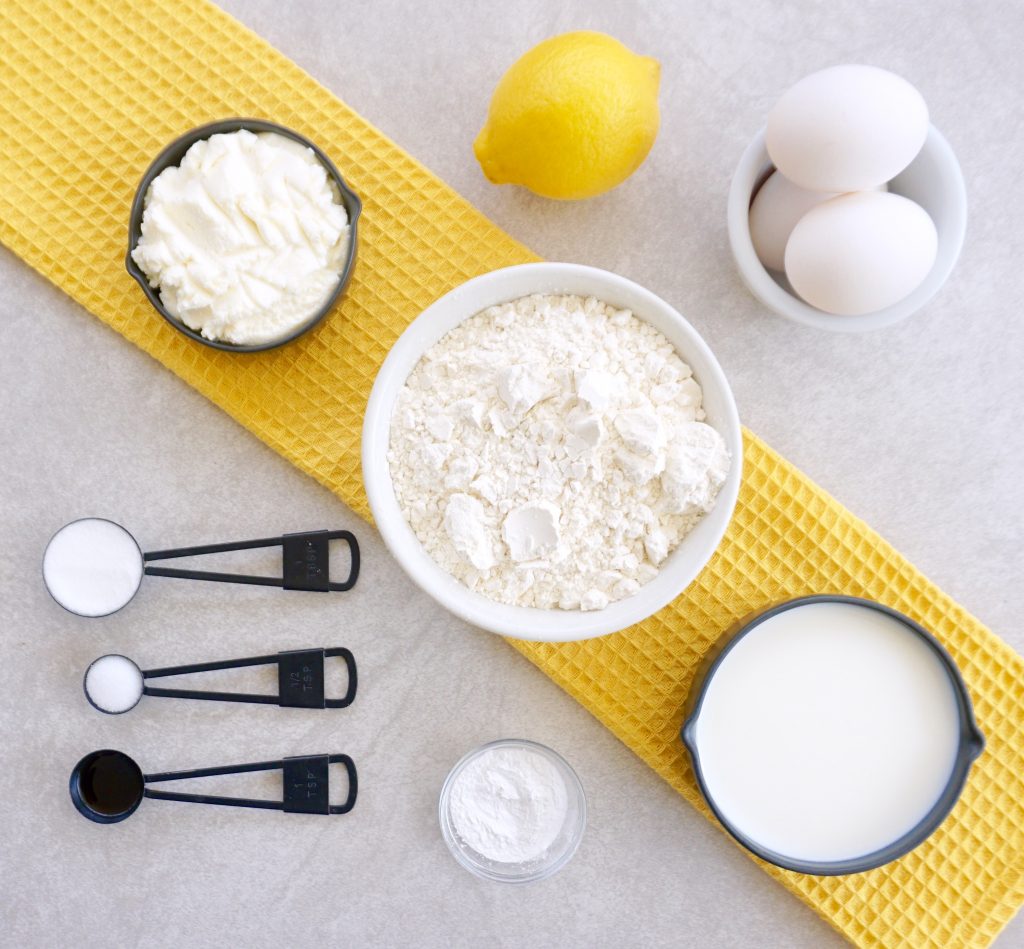 Lemon Ricotta Waffles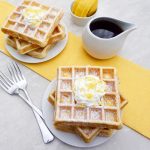 Print This
Ingredients
1 ¾ cups all purpose flour

2 teaspoons baking powder

½ teaspoon salt

1 tablespoon granulated sugar

3 large eggs

1 cup milk (whole or 2%)

½ cup ricotta cheese

1 teaspoon pure vanilla extract

2 tablespoons lemon juice

1 tablespoon lemon zest

vegetable-oil spray
Instructions
In a large bowl, combine flour, baking powder, salt, and sugar. Make sure the flour mixture is stirred together well.
In a small bowl or medium bowl beat the eggs making sure that the egg yolks and egg whites are totally combined. Add the milk, ricotta, vanilla and lemon juice. Combine the ricotta mixture well.
Add the wet ingredients to the dry ingredients and combine well. Stir in the lemon zest. You can do this using a whisk or an electric mixer.
Heat your waffle maker and spray both the top and bottom with nonstick cooking spray.
Fill the preheated waffle iron with waffle batter and cook until the waffles are golden brown and crisp, about 3-4 minutes.
Serve with maple syrup, unsalted butter and whipped cream. You could also sprinkle powdered sugar on top of the waffles.
Notes
The number of waffles that each batch of batter will make depends on the size of your waffle iron.