Figs are an elusive fruit that grow on trees. They are not readily available so if you see them at your market buy them! A ripe fig is delicious and sweet. They are great for dessert but they are perfect with a soft cheese as an appetizer. There is very little involved in making this Honey Roasted Fig Burrata recipe.
Burrata is mozzarella cheese that has been infused with cream. When you cut into it you will find a wonderful creamy center. It is very mild and works well with sweet as well as savory. It pairs perfectly with the honey roasted figs in this recipe.
Fruits and cheese are a  great combination. Check out Honey Ricotta Grilled Peaches for another option.
Burrata is also great in Burrata Bruschetta, Heirloom Tomato Burrata Salad, and Caprese Fusilli with Burrata.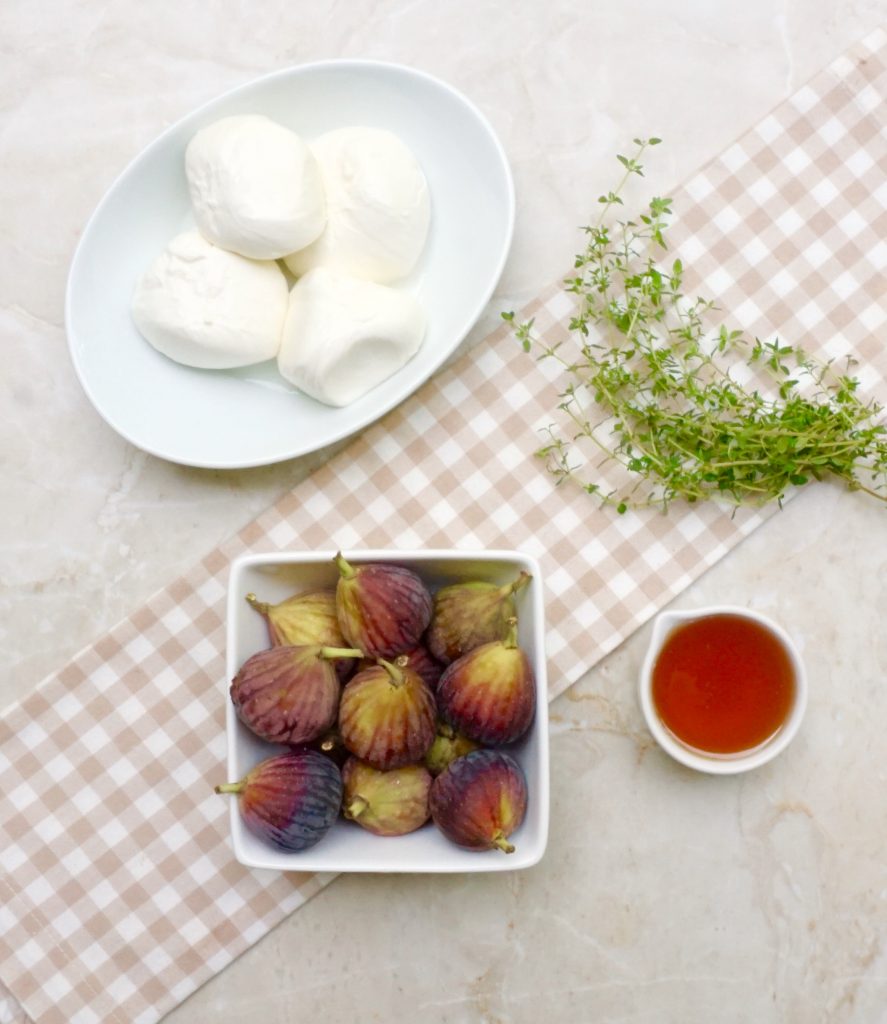 Honey Roasted Figs Burrata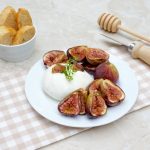 Print This
Ingredients
12 fresh figs, stemmed and cut in half

¼ cup honey

4 sprigs fresh thyme

8 ounces burrata cheese balls
Instructions
Preheat your oven to 375 degrees
Line a baking sheet with foil for easy clean up.
Rinse, stem and cut the figs in half.
Place them on the baking sheet, cut side up.
Drizzle the honey evenly over the figs.
Place the thyme sprigs between the figs evenly.
Roast for 15 minutes. The honey will have browned and the figs will be tender but still firm enough to pick up.
Assemble on a plate with the burrata. Make sure that you drizzle the honey from the baking sheet on both the figs and the burrata.
Garnish with another fresh sprig of thyme and serve with either crackers or toasted baguette slices.