Strawberry Panna Cotta is one of the best desserts to make during strawberry season. This is a popular Italian dessert that is cream based and thickened with gelatin. It is a custard like, delicate dessert that has strawberry puree added. With just a few simple ingredients you can put this no bake dessert together fairly quickly and have a fresh strawberry flavor. You need to plan ahead though as it needs to set in the refrigerator for a few hours.
This Strawberry Panna Cotta recipe is a perfect make-ahead  dessert. You can put it together a day ahead of time and either serve it in the dish it was poured into  or invert it onto a plate. Fresh whipped cream and strawberries make a pretty garnish. It is a perfect dessert to make after a heavy meal as it is nice and light. It looks like a fancy dessert but it is a very easy recipe to make!
If you want to try some other strawberry desserts, check out Strawberry Shortcake Bites, Strawberry Rhubarb Cake, Strawberry Blondies, Strawberry Rhubarb Bars, and Strawberry Ricotta Cake. You might also like  20 Simple Summer Strawberry Recipes.
If you would like to try some other Panna Cotta dessert recipes, check out Blood Orange Panna Cotta,Lemon Panna Cotta, and Pumpkin Panna Cotta.
You might also like Strawberry Flan.
SOME THINGS TO KNOW:
SPECIAL EQUIPMENT NEEDED:
6 custard cups, ramekins, dessert cups or serving glasses.
Fine mesh sieve
Hand mixer, emulsion blender, blender or food processor.
A NOTE ABOUT GELATIN:
Make sure that you check the date on your gelatin powder package and do use it after the expiration date. It may not gel beyond that date. You also need to store powdered gelatin in a cool dry place. Humidity will affect how it gels as well.
HOW TO STORE FRESH STRAWBERRIES:
SUBSTITUTIONS:
If you do not have fresh berries, you can use unsweetened frozen strawberries. They will need to be defrosted ahead of time. Pat them with a paper towel to remove any excess water once they are defrosted.
If you do not have heavy cream, whipping cream or even light cream can be used in the recipe.
If you do not have vanilla extract, the closest in taste will be the seeds of a vanilla bean.  The seeds from one pod will be enough to replace 1 tablespoon of vanilla extract. Use only ⅓ of the seeds in a whole vanilla pod to replace the 1 teaspoon of vanilla extract in this recipe.
STORAGE:
You can keep any leftover Strawberry Panna Cotta in the refrigerator covered with plastic wrap or in an airtight container.
The uncooked heavy cream and milk  in this Panna Cotta recipe will not freeze well. The texture will deteriorate. It is not recommended.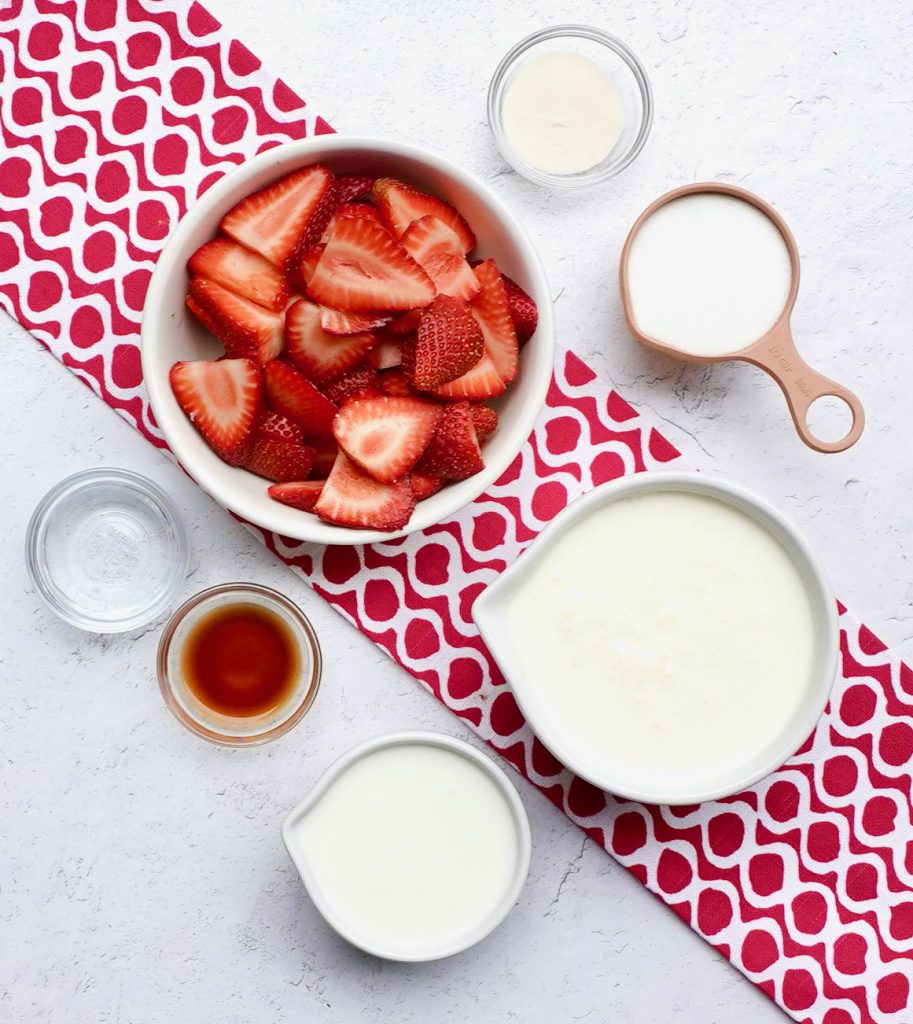 Strawberry Panna Cotta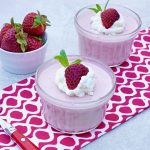 Print This
Ingredients
16 ounces fresh strawberries, stems removed and sliced

⅓ cup sugar (granulated)

1 and ½ teaspoons powdered gelatin

1 and ½ tablespoons cold water

½ cup whole milk

1 and ½ cups heavy cream

1 teaspoon vanilla extract

OPTIONAL:

whipped cream

fresh strawberries for garnish
Instructions
Combine the strawberries and sugar in a small or medium saucepan and heat them over medium heat. Stir and press down on the strawberries with a fork break them down.
Simmer for 10 minutes until the strawberries are juicy and slightly thickened.
If you have a hand held electric mixer or emulsion blender, blend the strawberries right in the saucepan until they are smooth. If you do not have a hand held device, let the strawberries cool to room temperature and puree them in a blender or food processor.
Strain the strawberry mixture back into the pan through a fine sieve to ensure they are smooth.
Place the water into a small bowl and sprinkle gelatin over it. Stir and let the mixture sit for a couple minutes until the gelatin dissolves and thickens.
Heat the pureed strawberries in the saucepan over low heat to a simmer. Add the gelatin mixture and stir until it has completely dissolved into the strawberries.
Remove the strawberries from the heat and whisk in the heavy cream, milk and vanilla. Combine the cream mixture well.
Divide the Panna Cotta mixture evenly between six four ounce ramekins or small bowls. Place them into the refrigerator.
The panna cotta sets fairly quickly but allow for at least 4 hours.
Notes
If you would like to serve this dessert inverted upside down on a plate, the easiest way to do it is to follow these steps. Very lightly oil the ramekins before pouring in your Panna Cotta mixture. When you are ready to serve it, fill a large bowl full of hot water. Dip the bottom only of each ramekin into the water and hold it there for 30 seconds. Run a knife between the Panna Cotta and the ramekin to help it release. Invert the ramekin onto a plate and lift.