Pumpkin Panna Cotta is creamy, full of pumpkin and it has all of the pumpkin spice. Need I say more? It is an Italian dessert made with sweetened cream that is thickened with gelatin. It can be served in a cup or bowl or it can be turned over and released from the cup and served on a plate. It is an elegant dessert that is very easy to make.
Pumpkin Panna Cotta is a perfect make-ahead dessert that must be made in advance. It requires setting in the refrigerator for several hours before serving. This would make a light alternative to pumpkin pie at Thanksgiving.
If you like this pumpkin panna cotta recipe check out Pumpkin Gingerbread Trifle.,Pumpkin Creme Brûlée, and Pumpkin Martini. They are all creamy dessert recipes with a fall twist and pumpkin flavor that would be good  desserts for a dinner party or Thanksgiving dinner.
SOME THINGS TO KNOW:FAQ'S
INGREDIENT TIPS:
Use unflavored gelatin for this recipe to avoid altering the dessert's intended taste.
Always allow the gelatin to bloom (or soak) properly. This ensures a smooth texture without any graininess.
Opt for full-fat milk and heavy cream to get the richest, creamiest texture.
When heating milk and cream, avoid boiling. High temperatures can break down the gelatin, affecting the setting process.
For the freshest taste, consider making homemade pumpkin puree from roasted pumpkins.
SPECIAL EQUIPMENT NEEDED:
Ramekins, custard cups, small glasses or Panna Cotta molds. If you plan to unmold the panna cotta onto plates for serving, you'll need molds.Traditional panna cotta molds are slightly tapered for easy release, but any small bowls or ramekins will work as serving dishes.
Small Bowl for blooming the gelatin.
Medium saucepan and small saucepan
Whisk
SUBSTITUTIONS:
Almond milk, soy milk, or coconut milk can replace the whole milk for those who are lactose intolerant or looking for a dairy-free option.
The heavy cream can be substituted with coconut cream. It is a dairy-free alternative. It gives a rich texture similar to heavy cream. You can also use heavy whipping cream.
 If you're out of pumpkin or just want to try a different flavor try sweet potato puree or butternut squash puree.
Pumpkin pie spice contains a mix of ground cinnamon, ginger, and nutmeg and can be a quick replacement.
You can replace the vanilla extract with vanilla bean paste or scraped seeds from a vanilla pod.
The granulated sugar can be replaced with light brown sugar.
HOW TO STORE PUMPKIN PANNA COTTA:
Once you've poured the panna cotta mixture into your chosen molds, cover them with plastic wrap or a lid to prevent any odors from the fridge affecting the flavor. They should be refrigerated for at least 4 hours or until set, but they can remain in the refrigerator for up to 3-4 days. They can also be stored in an airtight container.
Pumpkin Panna Cotta is best enjoyed fresh. The texture will change if it is frozen. Freezing is not recommended.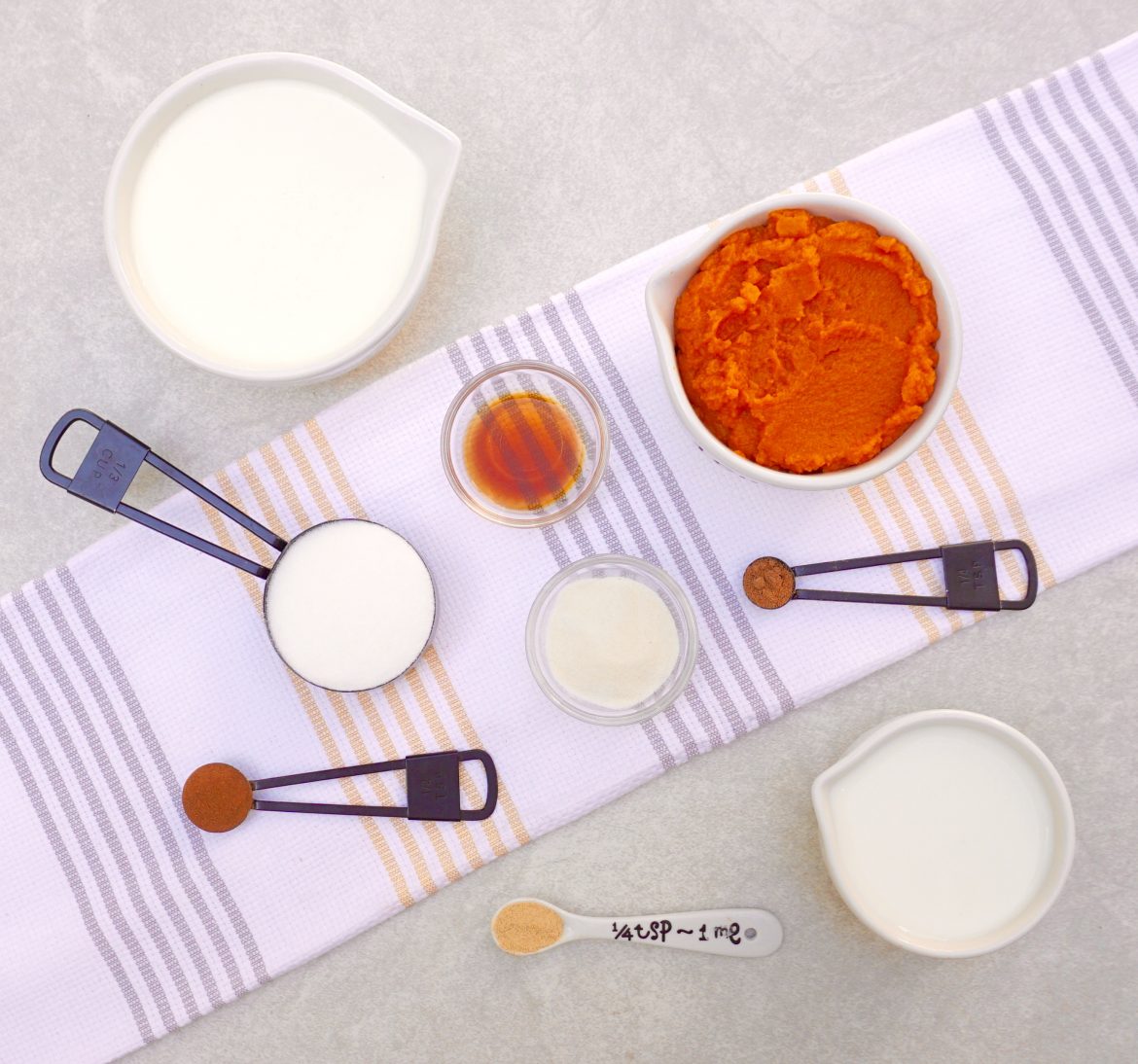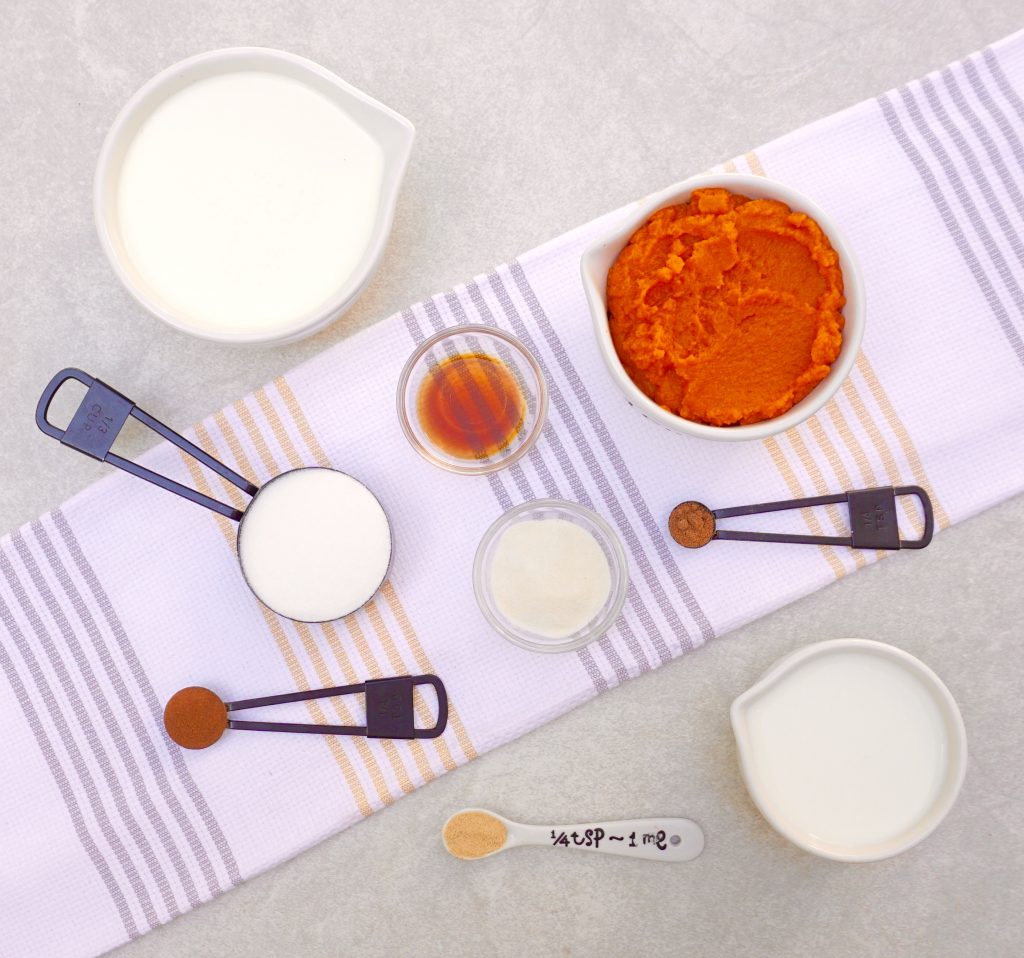 Pumpkin Panna Cotta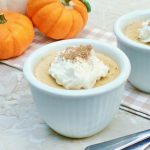 Print This
Ingredients
1 ½ teaspoons gelatin

1 ½ tablespoons cold water

½ cup cold whole milk

1 ½ cups heavy cream

1 cup pumpkin puree

1/3 cup sugar

½ teaspoon ground cinnamon

¼ teaspoon ground ginger

¼ teaspoon nutmeg

1 teaspoon vanilla extract
Instructions
In a small bowl, combine the gelatin powder with the cold water. Mix them together well and let the gelatin mixture sit for 5 minutes. You should end up with a jelly type glob that is almost solid. If this does not happen, you need to check your gelatin and make sure the date is valid. The bloomed gelatin is the key to creating this recipe.
In a medium saucepan, bring the milk and cream to a simmer over medium heat. Add the gelatin to the pan and whisk it until it dissolves. Remove the pan from the heat.
In a small sauce pan, combine the pumpkin, sugar, cinnamon, ginger and nutmeg over medium low heat. Stir until the sugar dissolves. Remove from the heat and add in the vanilla extract.
Whisk the pumpkin mixture into the milk and cream mixture. Combine well.
Spray 6 ramekins or custard cup with nonstick cooking spray. Add ¾ cup of the mixture to each one.
Chill at least 4 hours before serving.
Top with some fresh whipped cream and a touch of cinnamon sugar. You could also drizzle a bit of maple syrup or homemade caramel sauce.
Notes
I use Knox Original Gelatine. It comes in a box with 4 packets.