This Zucchini Corn Quinoa Salad utilizes two of summer's favorite farmers market vegetables.
This recipe is super easy to make! Simply cook the quinoa, sauté the zucchini, corn and shallot and mix them together. Last add the basil and dressing and you have a great side dish for your summer grilling or a light perfect summery meal all by itself.
Zucchini Corn Quinoa Salad has a dressing that is both slightly sweet and a bit tangy with the freshness of the lemon.  It has a nice bright flavor that I think really enhances the fresh vegetables salad. You can make this ahead of time. It is a great recipe for meal prep as it will taste better the next day when the flavors have had time to blend.
If like the perfect combination of  delicious sweet corn and garden zucchini together check out Zucchini Corn Sauté and Zucchini Corn Fritters. If you would like a light zucchini fritter recipe combination with yellow summer squash, check out Squash Fritters.
Check out 15 Simple Summer Squash Recipes for more ways to cook with seasonal squash.
SOME THINGS TO KNOW: FAQ'S 
INGREDIENT TIPS:
Quinoa is a whole grain that has many health benefits. It has fiber, protein and many nutrients. Read What is Quinoa? to learn more about it.
Zucchini holds a lot of excess moisture. Place the diced zucchini on a paper towel or clean dish towel and squeeze any moisture out of the zucchini before cooking it.
SPECIAL EQUIPMENT NEEDED:
Large skillet
Medium saucepan with a lid
SUBSTITUTIONS:
You can substitute red onion for the shallots. You could also use yellow or green onions.
If you cannot find rainbow quinoa, red quinoa or white quinoa can be substituted.
If you do not have fresh basil you can use fresh cilantro or other fresh herbs that you have on hand. You could also use 2 teaspoons of dried basil.
If you do not have vegetable broth, cook the quinoa in 2 cups water.
HOW TO STORE LEFTOVER ZUCCHINI CORN QUINOA SALAD:
You can store the zucchini quinoa salad in an airtight container in the refrigerator for 3-5 days.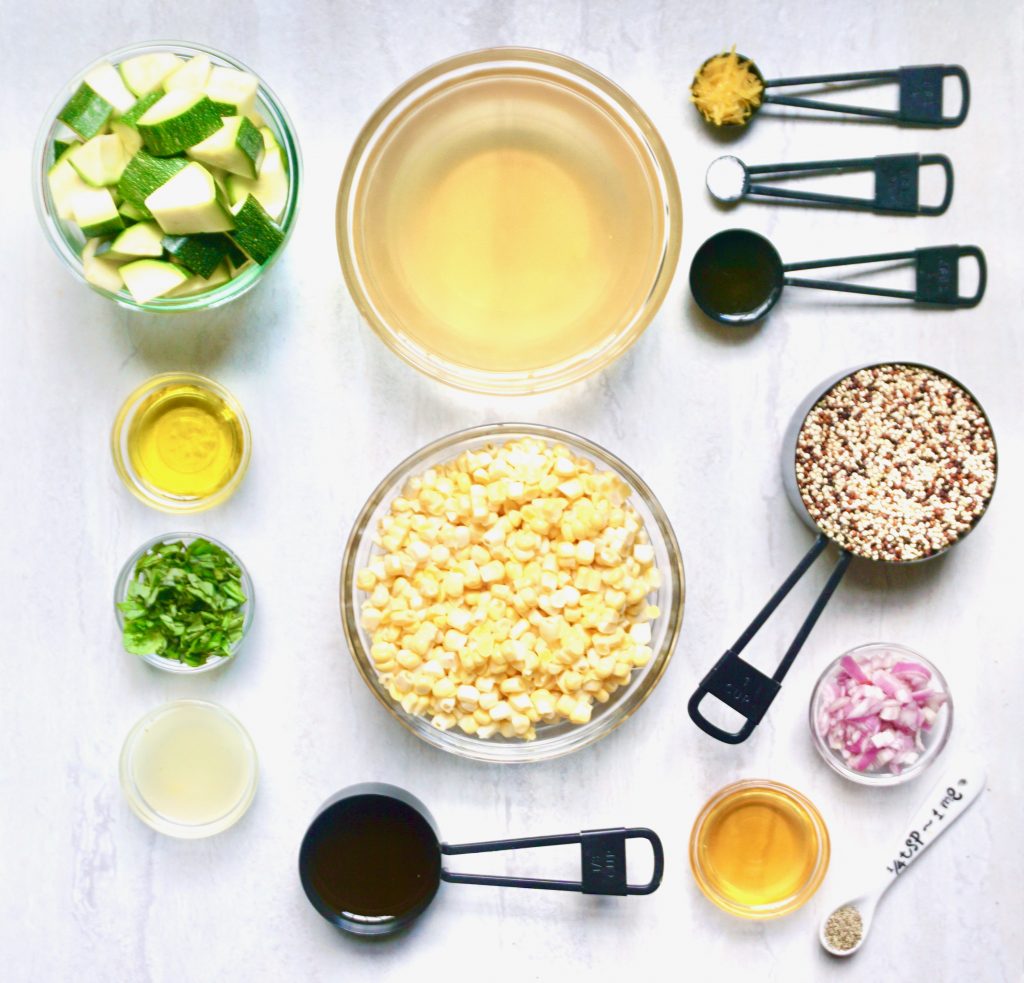 Zucchini Corn Quinoa Salad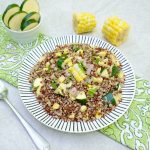 Print This
Ingredients
1 cup rainbow quinoa

2 cups vegetable broth

2 cups fresh corn kernels, 2 ears

2 cups zucchini, diced, one large zucchini or two medium zucchini

2 tablespoons fresh basil, chopped fine

1 small shallot, diced

2 tablespoon olive oil

DRESSING:

1/3 cup olive oil

2 tablespoons fresh lemon juice

1 tablespoon cider vinegar

2 tablespoons honey

1 teaspoon lemon zest

¼ teaspoon salt (kosher)

¼ teaspoon black pepper
Instructions
Heat the 2 tablespoon of olive oil in a large skillet over medium heat. Add the zucchini, corn and shallot. Cook until the zucchini and corn are just slightly soft, 5 to 6 minutes.
In a medium saucepan or a lidded skillet,  bring the vegetable broth and quinoa to a boil over medium-high heat. Once it comes to a boil, reduce the heat to low and cover the pan.
Let the quinoa simmer for 15-20 minutes until all of the broth has been absorbed.
Combine the cooked quinoa with the cooked vegetables.
In a small bowl combine the olive oil, lemon juice, cider vinegar, honey, lemon zest, salt and pepper.
Pour the dressing over the quinoa mixture. Serve chilled or at room temperature. You could also top it with some feta cheese, goat cheese or cotija cheese.