If you are looking for a fun variation on the classic chicken salad to bring to your next summer party then Tzatziki Chicken Salad is just what you need in your life. It has the perfect coolness to offset the summer heat and more flavor then you expect from a chicken salad. The Greek yogurt makes it creamy without being heavy. The cucumber and fresh dill bring a brightness along with their flavor.
I like to serve this over a green salad that is lightly dressed with olive oil and lemon juice. The entire combination comes together to form the perfect healthy summer meal!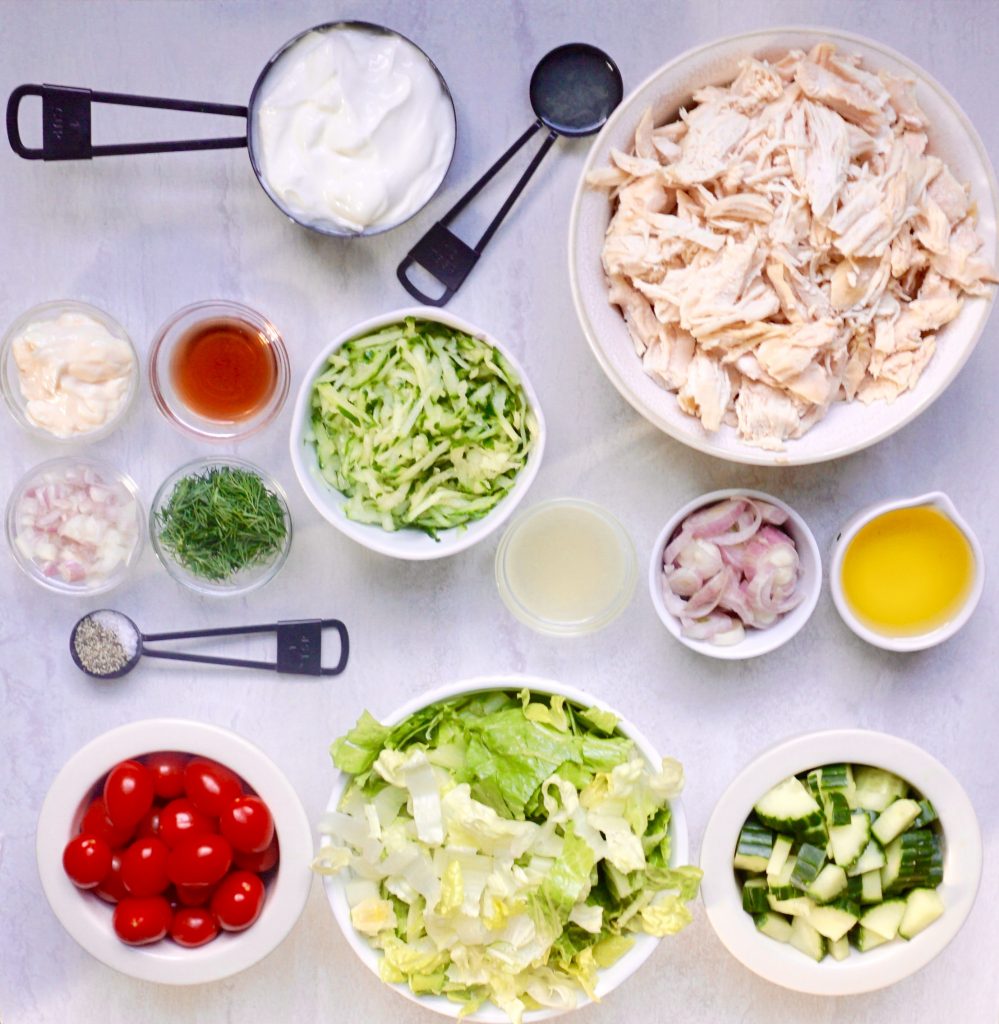 Tzatziki Chicken Salad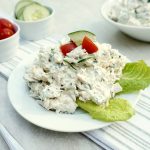 Print This
Ingredients
TZATZIKI CHICKEN SALAD
2 pounds boneless chicken breast
½ English cucumber grated
¾ cup plain Greek yogurt
2 tablespoons mayonnaise
1 tablespoon lemon juice
1 teaspoon red wine vinegar
2 tablespoons fresh dill, chopped
½ teaspoon kosher salt
½ teaspoon black pepper
SALAD:
4 cups romaine lettuce
1 cup English cucumber, sliced
1 cup cherry tomatoes
¼ cup shallots, sliced
¼ cup olive oil
2 tablespoons lemon juice
Salt and pepper to taste
Instructions
To cook the chicken breasts. Pre heat your oven to 400 degrees. Brush the chicken breast on both sides
with olive oil. Sprinkle with salt and pepper and place on a baking sheet.
Bake the chicken for 20 minutes, until cooked through.You are looking for an internal temperature of 160-170.
Let the chicken rest for 5- 10 minutes. 
Shred the chicken with a fork and place in a large bowl. Add the grated cucumber, Greek yogurt, mayonnaise, lemon juice, red wine vinegar, dill, salt and pepper. Combine well.
For the green salad:
In a large bowl, combine the lettuce, cucumber, cherry tomatoes, shallots and shallots. Mix.
Combine the olive oil and lemon juice. Add a pinch of salt and pepper if desired. Mix well.
To serve,  place the green salad mixture on a large serving plate or on individual plates. Top with the chicken salad.