Chinese Chicken Salad is a flavorful salad with an Asian inspired dressing. Sesame, ginger, and peanut are the main ingredients and they create a dressing that is perfect with the shredded chicken and vegetables.
This is a hero dish. The dish that people ask for over and over and over. It is just that good. In case you are not familiar with this amazing Ina Garten recipe and somehow missed this. Here is is, my adaptation of her recipe.
This is a great recipe to prepare for a party. Chinese Chicken Salad is colorful and delicious and actually gets better as it sits for a while.
If you are a fan of chicken salads, check out Cilantro Chicken Salad and Tzatziki Chicken Salad.
Chinese Chicken Salad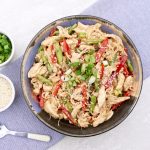 Print This
Ingredients
SALAD:

8 Boneless chicken breasts

Olive oil

Kosher salt

Fresh ground black pepper

1 lb of asparagus, ends removed, cut into thirds diagonally

2 red bell peppers, cored and seeded

4 scallions (white and green parts sliced diagonally)

2 tablespoons of white sesame seeds

DRESSING:

2 cups of vegetable oil

1/2 cup of apple cider vinegar

2/3 cup soy sauce

6 tablespoons of dark sesame oil

10 tablespoons of honey

4 garlic cloves

2 teaspoons of peeled, grated, fresh ginger

1 cup of smooth peanut butter

salt to taste

1 teaspoon of freshly ground black pepper
Instructions
Place the chicken breasts on a sheet pan and rub with oil, salt and pepper. Bake at 350 degrees, check at 25 minutes.
Set aside until cool enough to handle, then shred the chicken into large, bite sized pieces.
Blanche or steam the asparagus for about three minutes until crisp and tender. Plunge into ice water to stop the cooking, drain.
Slice peppers into strips about the size of the asparagus.
Combine the chicken, peppers and asparagus into a large bowl.
Whisk together all ingredients for the dressing. Toss with the salad. Sprinkle the green onions and sesame seeds over the top of the salad.
Notes
If you are making ahead, reserve some dressing and redress when ready to serve as the chicken will absorb the dressing