Corned Beef  Cabbage Dinner is a major part of many families St. Patrick's Day celebration, but it is a great dinner to make any day of the year. This is simple one pot meal is a delicious dinner that requires very little hands on time. You will need to to have 3 hours of cooking time though to get the best corned beef that is fork tender. This is an easy recipe with a slow cooking process.
Corned beef cooked right is flavorful and delicious. It is most commonly served with green cabbage, potatoes and carrots. It is comfort food at its best.
This a great slow cooker meal as well. If you prefer to do it this way, follow the recipe below but double the cooking time and make sure you set your crock pot.to the high setting to cook this.
If you would like to try another simple cabbage recipe, check out Colcannon.
For some additional St Patrick's day dinner recipes, check out Guinness Beef Stew, and Bangers and Mash.
SOME THINGS TO KNOW:
DIFFERENT CUTS OF CORNED BEEF:
Point cut corned beef is a thick cut of beef that has a good amount of  marbling and fat. While it is the most tender and flavorful cut, this juicy corned beef will shrink the most during cooking. This is the cut of corned beef that will fall apart when cooked and can be easily shredded. The recipe gives instructions for the extra amount of meat needed for this cut.
Flat cut corned beef is the cut you want to purchase to get the perfect slices with very little fat. It will have a fairly consistent thickness. It is usually slightly more expensive than the point cut.
CORNED BEEF SEASONING PACKET:
Most corned beef that you purchase will include a small  seasoning packet. If your corned beef does not not, you can make this on your own. Combine a crushed bay leaf, 1 teaspoon whole peppercorns, and  1 teaspoon mustard seeds.
WHAT TO SERVE WITH CORNED BEEF CABBAGE DINNER:
Rye bread is a must! You can either serve it on the side with butter or make a sandwich.
Whole grain mustard, brown mustard or a spicy mustard like Colmans mustard.
Butter for the potatoes, carrots and cabbage.
Kosher salt and black pepper to season the vegetables to your personal preference.
SHOPPERS TIP:
Corned Beef is deeply discounted in pricing the week before St. Patrick"s Day in grocery stores. If you love it and have some freezer space, this is the best time to buy a few extra to cook later.
LEFTOVERS:
Corned Beef Hash is an old New England way to eat the leftovers of your corned beef and cabbage dinner. Simply cut the leftover corned beef and vegetables into cubes. Melt 2 tablespoons of butter in a large skillet and add the corned beef and vegetables. Cook them over medium low heat until they are golden brown.
STORAGE:
You can keep any leftovers in an airtight container in the refrigerator for 2-3 days.
You can freeze any leftover corned beef in an airtight freezer container for 2-3 months. I would not recommend freezing the vegetables.
If you need a way to use your leftover corned beef, check out Rueben Melt Dip.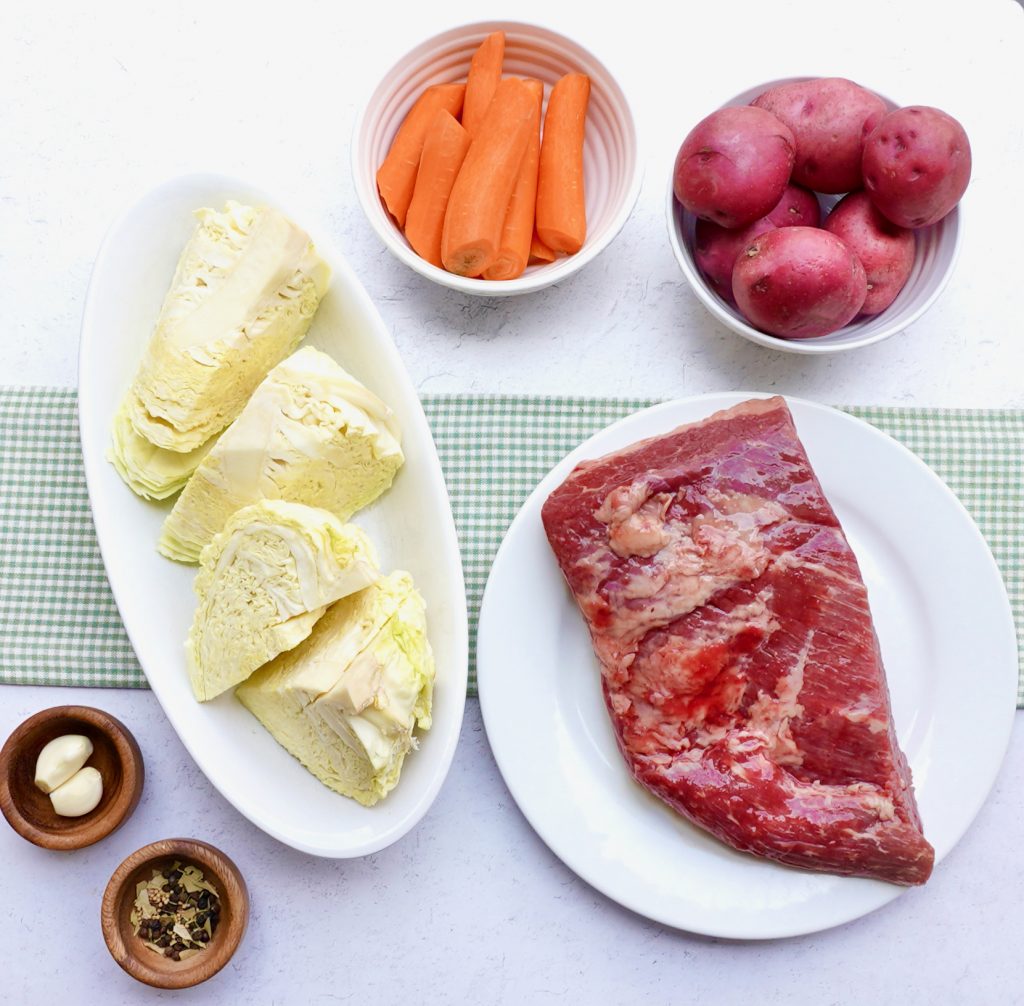 Corned Beef Cabbage Dinner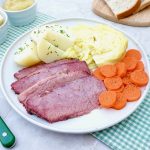 Print This
Ingredients
3 pound corned beef brisket (flat cut) or 3.5 pound (point cut)

2 cloves garlic, peeled but kept whole

1 spice packet

8 small red potatoes, peeled

4 medium carrots, peeled and cut in half

1 medium head of cabbage,(green)cut into quarters
Instructions
Fill a large pot with cold water ¾ of the way to the top.
Add the corned beef, garlic cloves and the spice packet that comes with the corned beef. (if your corned beef did not come with the seasonings packet, look at substitutions section to make your own)
Turn your burner to high heat to bring the water to a boil. Once it boils, turn the burner to low heat, cover the pot and let it simmer for 2.5 hours cooking process. Occasionally check it on it and turn it over with the fat layer cooking equally on the top and bottom.
Test the tenderness of the corned beef by inserting a sharp knife into the center. If you do not feel any resistance and you have tender meat, you can add the potatoes and carrots to the pot. You may need to raise the heat on the burner to the high setting again with this addition. Once it comes back to a boil, cover the pot and lower the heat back to the low setting.
Let the potatoes and carrots cook for 15 minutes. Add the cabbage to the pot and cook for an additional 15 minutes.
Make sure you test the tenderness of the vegetables by inserting a fork into the center.
Turn the burner off.
Remove the corned beef to a cutting board and let it sit for 5 minutes.
Slice the corned beef against the grain into thin slices.
Drain the vegetables.
Place the corned beef, potatoes, carrots and cabbage onto a large serving plate.