Guinness Beef Stew is an Irish stew that is made with Guinness Stout. It is a beer that is a very dark brown and full of flavor. This is a classic Irish pub meal and perfect to serve at a St. Patrick's Day gathering.
This is a simple recipe but not a quick one. Stew beef needs to be slow cooked in order to be tender and this stew will need 2 hours of simmering time to achieve that. The result is a flavorful, fork tender stew which is worth the effort. 
There are many other things made with Guinness as an ingredient besides the Guinness Beef Stew. Dubliner Cheese Dip has Guinness as a main ingredient as well as Chocolate Guinness Cake. They are all fun recipes to celebrate St Patrick's Day.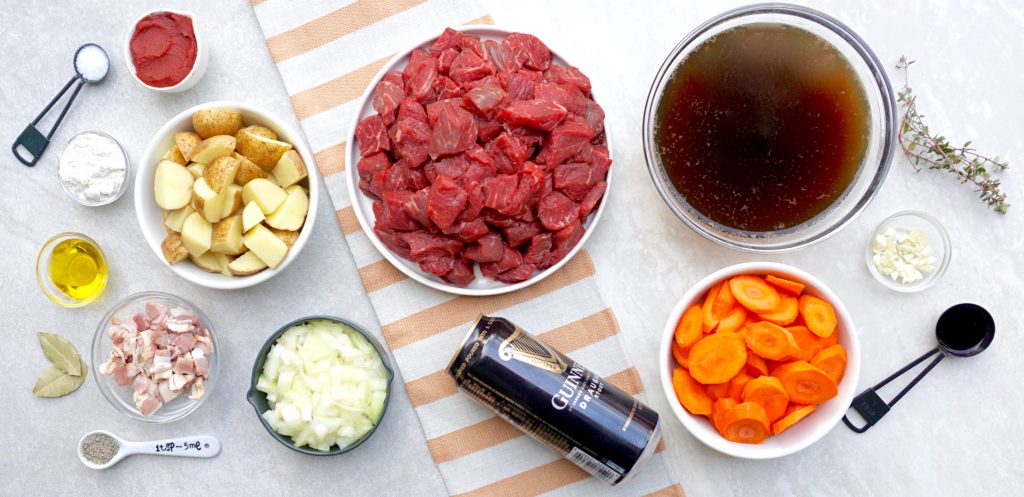 Guinness Beef Stew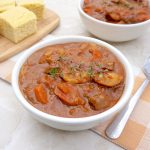 Print This
Ingredients
3 slices bacon, chopped fine

2 tablespoons olive oil

2 pounds beef stew meat (chuck)

½ teaspoon kosher salt

½ teaspoon black pepper

1 cup chopped onion (one large)

3 cloves garlic, minced

2 tablespoons all purpose flour

14.9 ounce can Guinness Stout

4 cups beef broth

¼ cup tomato paste

2 bay leaves

4 sprigs fresh thyme

1 tablespoon Worcestershire sauce

2 cups yukon gold potatoes, cut into bit sized pieces

4 large carrots, peeled and sliced into bite sized pieces
Instructions
Cook the bacon in a large stock pot over medium low heat until it is crispy. Remove the bacon from the pan. Turn off heat.
Cut the stew beef into 1 inch cubes. Sprinkle with the kosher salt and black pepper.
Add the olive oil to the pan with the remaining bacon fat over medium low heat. Add the beef cubes and cook until browned on all sides, stirring often.  You may need to do this in two batches. If that is the case, remove the first batch to a plate while you cook the second batch. Add a bit more olive oil if needed.
Add the onion and garlic to the pot with the beef and cook for 2 minutes until they begin to soften.
Add the flour to the pot and combine well with the beef and onions. 
Pour the Guinness into the pot and then the beef broth. Add the tomato paste, bay leaves, thyme, and Worcestershire sauce. Add the bacon back to the pan.
Raise the heat to high until the mixture comes to a boil. Reduce the heat to medium low and cover the pot. Simmer for 1 hour, stirring occasionally.
Add the potatoes and carrots to the pot. Raise the heat to high until the mixture comes to a boil. Reduce the heat to medium low, and cover the pot. Simmer for an additional hour, stirring occasionally. 
Check to make sure that your vegetables are cooked through and the beef is fork tender.