Pumpkin Creme Cookie Sandwiches are made by placing a pumpkin flavored cream cheese frosting filling between two soft molasses cookies to create wonderful fall cookies.
The pumpkin molasses sandwich cookies are made with the warm fall spices. They are chewy and flavorful. They would be great on their own but the magic really happens when you fill them with the cream cheese filling! These cookies are great for the time of year.They would make a perfect fall treat for Halloween and Thanksgiving.
It is a bit of a project to make these Pumpkin Creme Cookie Sandwiches but it is well worth the time. You can make them ahead and freeze them to enjoy at your fall gatherings.
Check out these other fall pumpkin recipes for sweets. Pumpkin Creme Brûlée,  Pumpkin Martini,  Pumpkin Panna Cotta, Pumpkin Olive Oil Cake, and Pumpkin Gingerbread Trifle.
If you like pumpkin for breakfast you should try Pumpkin Bread, Pumpkin French Toast, and Pumpkin Crumble Muffins.
Pumpkin Rolls would be a good for your  Thanksgiving dinner.
SOME THINGS TO KNOW:FAQ'S
INGREDIENT TIPS: 
If you want to make your own Pumpkin Butter for this recipe, check out this link.
SPECIAL EQUIPMENT NEEDED:
Baking sheets/cookie sheet
Stand mixer or electric hand mixer
Large bowl
Parchment paper
Wire rack
SUBSTITUTIONS:
The butter can be substituted with margarine or a dairy-free butter substitute.
Pumpkin pie spice can replace the ginger, cinnamon and allspice.
Dark corn syrup or honey can be used as substitutes for molasses.
All-purpose flour can be substituted with unbleached or whole wheat flour.
Try a dairy-free cream cheese alternative for a vegan or lactose-free option.
​ Margarine or dairy-free butter substitutes are suitable replacements for the butter.
Pumpkin puree mixed with a bit of sugar and pumpkin spice can be a good alternative to the pumpkin butter.
HOW TO STORE PUMPKIN CREME COOKIE SANDWICHES:
You can store the pumpkin creme cookie sandwiches in the refrigerator for up to a week. Place the cookie sandwiches in an airtight container, separating layers with parchment paper to prevent sticking.
You can also freeze the sandwiches for up to 3 months.Individually wrap each sandwich in plastic wrap, ensuring they are sealed well. Place the wrapped sandwiches in an airtight container or a resealable plastic freezer bag.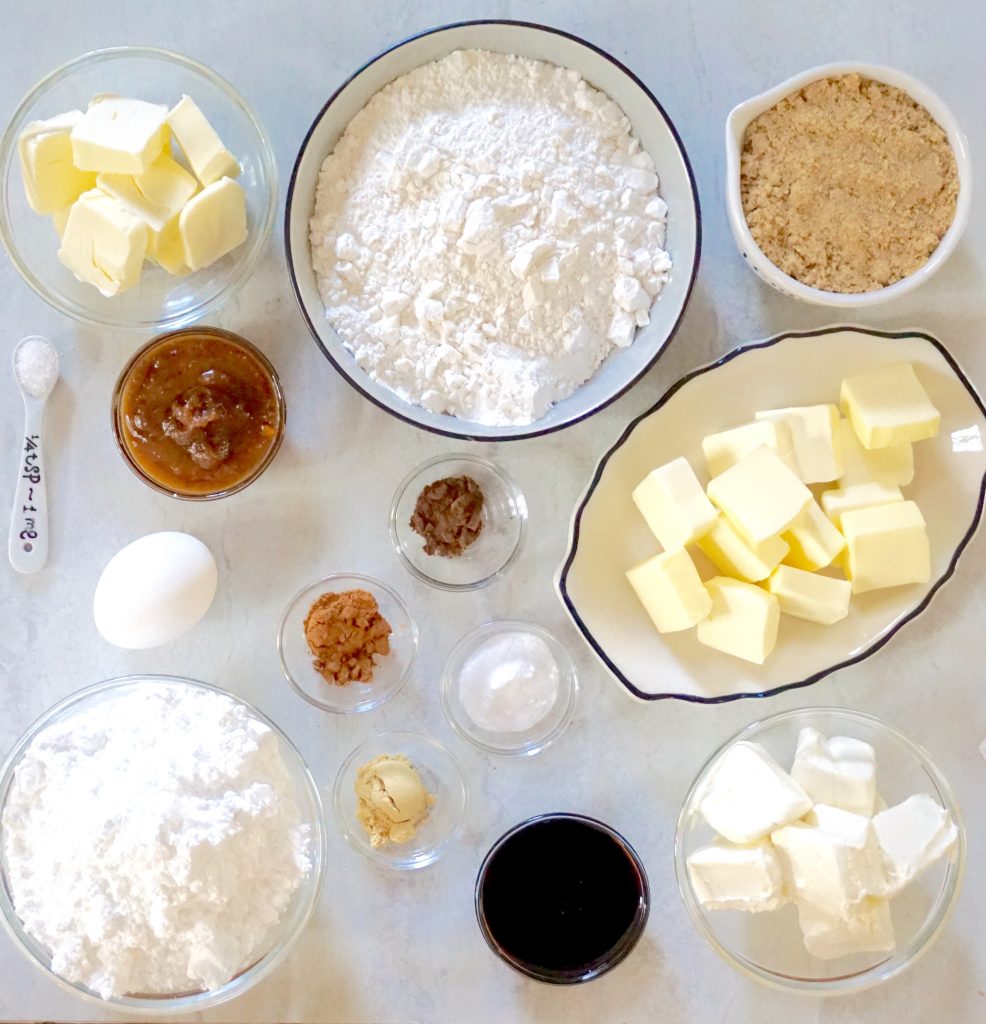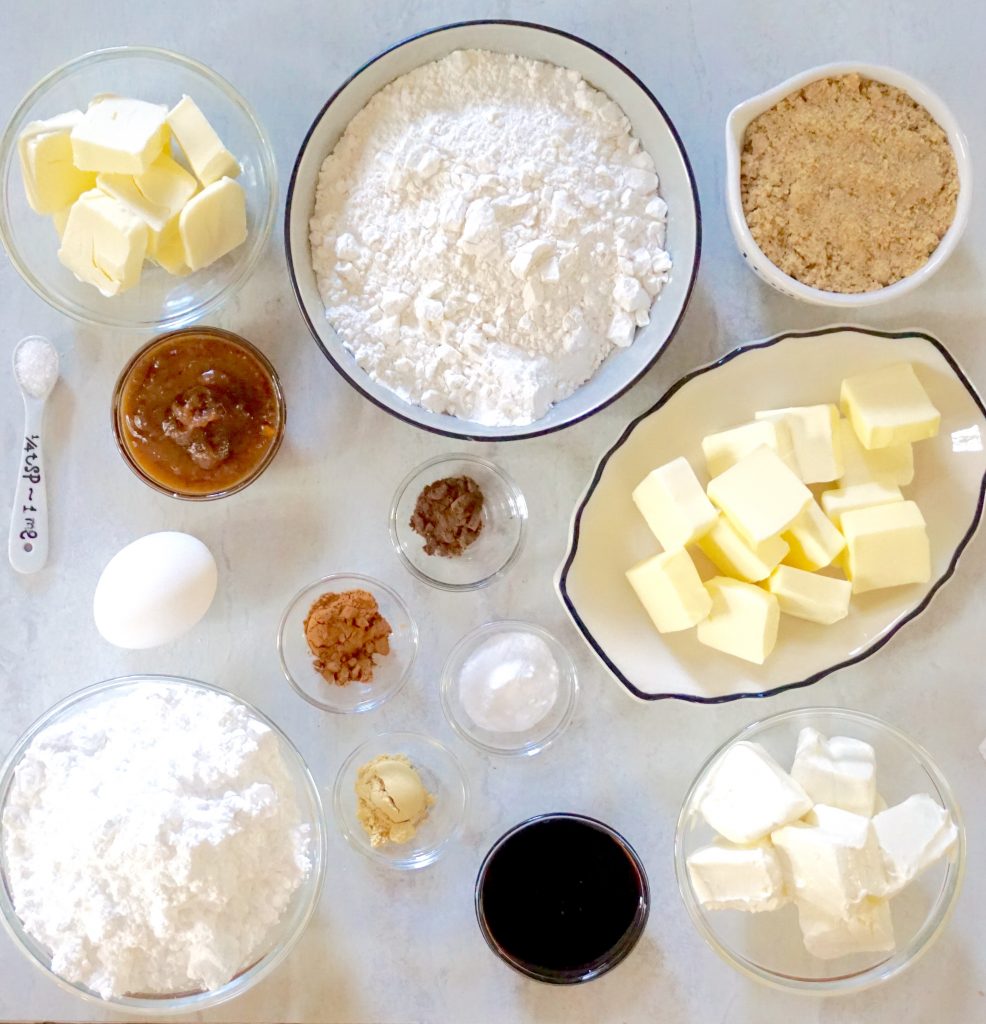 Pumpkin Creme Sandwich Cookies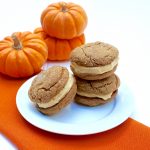 Print This
Ingredients
GINGER MOLASSES COOKIES:

12 tablespoons unsalted butter, room temperature

1 cup firmly packed light brown sugar

1 egg

1/3 cup light molasses

2 cups all purpose flour

1 and 1/2 teaspoons baking soda

1/4 teaspoon salt

1 teaspoon ground ginger

1 teaspoon ground cinnamon

1/2 teaspoon ground allspice

Optional: sugar to sprinkle on half the cookies, for the tops

PUMPKIN CREME FILLING:

8 ounce cream cheese, room temperature

8 tablespoons unsalted butter, room temperature

1/3 cup pumpkin butter

2 cups confectionary sugar
Instructions
COOKIES:
Pre heat oven to 350 degrees.
Line two baking sheets with parchment paper.
In a large mixing bowl, with an electric mixer, or in a stand mixer with the paddle attachment, beat the softened  butter and brown sugar until creamy on medium speed. Add the egg and molasses and beat until smooth.
In another bowl, stir together the flour, baking soda, salt, ginger, cinnamon, and allspice. Mix the dry ingredients well.
Reduce the mixer speed to low and add the flour mixture to the butter mixture of wet ingredients. Beat until blended, scraping down the sides of the bowl.
Drop level tablespoons of the cookie dough onto the lined cookie sheets. If you want to have sugar on the tops of the cookies, sprinkle on the tops of one half of your cookies.
Bake until the cookies are browned and firm to the touch, about 10 minutes.
Let the baked cookies cool on the baking sheet for 5 minutes then transfer them to a wire cooling rack to cool completely.
​PUMPKIN CREME:
Beat the cream cheese in a bowl with an electric mixer on low speed until smooth and fluffy.
Add the butter and beat 2 to 3 minutes until fluffy.
Add the pumpkin butter and confectionary sugar. Beat until  the mixture is smooth with no visible lumps of sugar, about 1 minute.
To assemble, place half of the cooled cookies bottom side up. Spread the frosting evenly on the cookies. Top with the remaining cookies,(sugared tops) bottom side down. Let set at room temperature before serving.
Notes
I store these cookies in the refrigerator as they contain cream cheese.