Penne with Vodka Sauce is one of my oldest recipes and one that I make often.  I just love the simplicity of this dish. It's a super easy and flavorful recipe for a quick weeknight meal or a casual weekend get together.
Penne with Vodka  Sauce is an easy recipe to add to. You could sauté some strips of  boneless chicken breast in olive oil and add them to the sauce. Or you could cook some Italian sausage, crumble it and add it to the sauce for some protein. If you like a little heat, you could  spice it up with a pinch of red pepper flakes. This recipe easily lends itself to additions!
If you like easy vegetarian pasta dishes check out Mushroom Bolognese ,  Roasted Eggplant Ziti and Lentil Bolognese.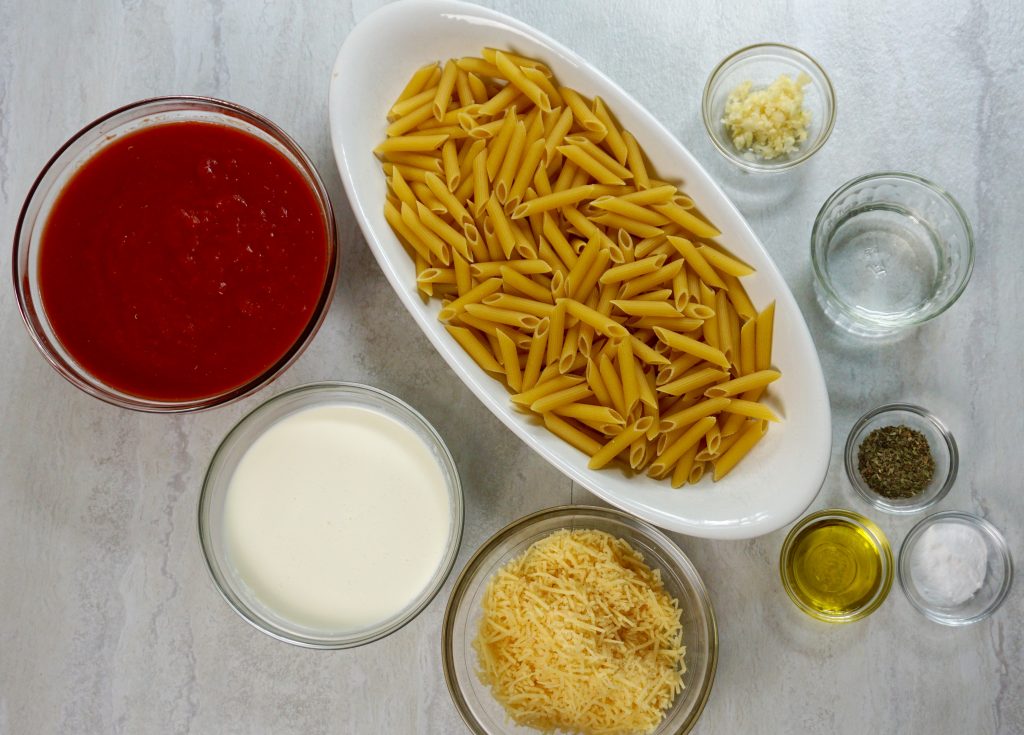 Penne with Vodka Sauce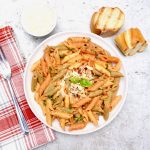 Print This
Ingredients
1 pound Penne pasta

1- 28 ounce can crushed tomatoes

3 cloves garlic, finely chopped

1 tablespoon olive oil

1 teaspoon baking soda

1 teaspoon dried basil

2 shots vodka

1 and 1/2 cups heavy cream

1 cup grated parmesan cheese
Instructions
In a large saucepan, heat the olive oil and add the chopped garlic. Cook for 2 minutes on medium low heat. Do not let the garlic brown. Add the crushed tomatoes, baking soda and basil. You will get a little bubbling effect from the baking soda. Stir this in well. Bring to a boil and reduce heat to low.
Simmer on low heat, uncovered for 20 minutes, stirring occasionally. Add the vodka and simmer for an additional 15 minutes, stirring occasionally.
Add the cream and parmesan and simmer another 5 minutes.
While the sauce is cooking and almost ready, bring a large pot of water to a boil. Add the penne and cook according to the directions on the box for the degree of tenderness you prefer.
Notes
The baking soda cuts down the acidity of the tomatoes.