Discover your new go-to weekend breakfast with this delicious and satisfying Bacon Egg and Cheese Casserole recipe that your whole family will love! Packed with savory bacon, fluffy eggs, hash brown potatoes and cheddar cheese, this easy-to-make dish is perfect for the entire family. Fresh green onions and dried parsley flakes add a pop of color and flavor to this comforting breakfast bacon egg casserole. This casserole could easily be eaten any time of day. It is a hearty meal.
This Bacon Egg and Cheese Casserole recipe is not only a crowd-pleasing breakfast option, but it's also great for brunch gatherings or a make-ahead meal that you can reheat the next day for busy mornings. Simply reheat individual portions in the microwave, and you're good to go! Enjoy this delectable breakfast casserole with a side of fresh fruit for a complete and balanced meal. Your family will be asking for seconds!
If you would like to try another easy breakfast casserole recipe, check out Brunch Eggs. If you are a fan of tater tots you might also like Tater Tot Frittata Casserole which is another simple egg casserole recipe.
Potato Cheddar Frittata, Mexican Sheet Pan Frittata and Spinach Mushroom Quiche are some other simple to make, breakfast bake, egg based options for breakfast or brunch. You can also make them as part of your weekly meal prep and serve them as a quick breakfast during the week with some fruit salad and a cup of coffee.
If you want to try an overnight breakfast casserole check out Sausage Strata.
SOME THINGS TO KNOW:
SPECIAL EQUIPMENT NEEDED: 
8″ X 8″ Baking casserole dish
SUBSTITUTIONS:
You can use an egg substitute in this recipe.
You can substitute the bacon with prosciutto or pancetta. You could also use a vegan bacon.
If you do not have cheddar cheese, you could substitute Colby, Monterey Jack or a Mexican cheese blend.
If you do not have whole milk you can substitute 2% milk, half and half or heavy cream.
The green onions can be substituted with red onions, yellow onions or sweet onions.
HOW TO STORE LEFTOVERS:
You can store any leftover Bacon Egg & Cheese Casserole in the refrigerator in an airtight container or wrapped in plastic wrap for 2-3 days.
You can freeze it in an airtight freezer container for 2-3 months. Defrost it overnight in the refrigerator.
REHEATING:
If you are reheating an individual portion. Lightly cover it and place it into the microwave for 1-2 minutes until it is heated through.
If you are planning to make this ahead and reheat it the next morning, cover it with foil and place it into a preheated 325 degree oven for 25 -30 minutes until it is heated through.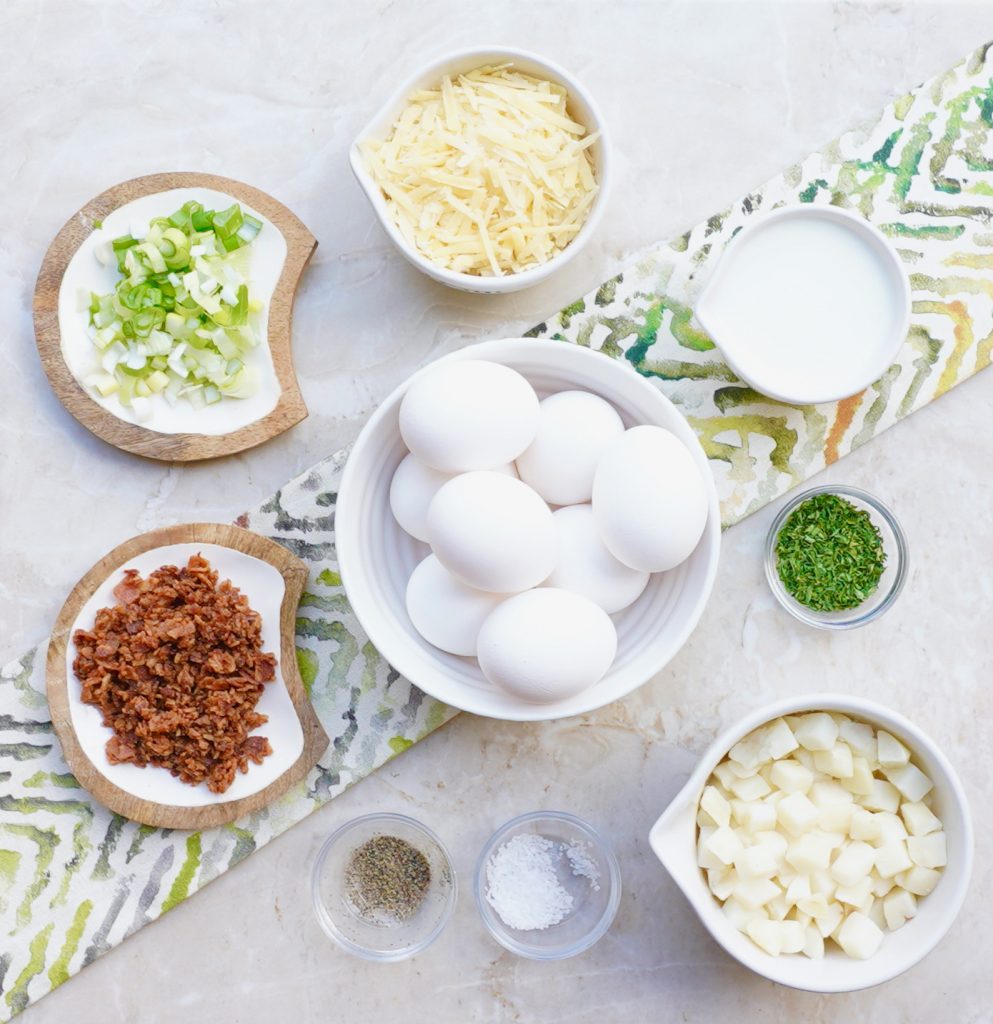 Bacon Egg and Cheese Casserole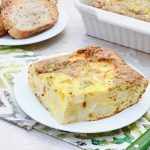 Print This
Ingredients
10 large eggs

1 cup whole milk

½ teaspoon salt

½ teaspoon black pepper

5 slices cooked bacon, cooked and finely chopped

1½ cup frozen hash brown cubed potatoes, defrosted

½ cup green onions, chopped

1 cup shredded cheddar cheese (can be either sharp cheddar cheese or medium cheddar cheese)

1 teaspoon dried parsley flakes
Instructions
Preheat oven to 350°F (175°C) and grease a 8 x 8-inch baking dish or spray it with cooking spray.
Cook bacon in a large skillet over medium heat for 8-10 minutes, turning it over halfway through, until you have golden  brown and crispy bacon.  Place the cooked bacon onto paper towels to drain. Cool and finely chop.
In a large bowl, beat eggs, whole milk, salt, and black pepper until fully combined and slightly frothy.
Stir in the bacon, potatoes, green onions, shredded cheese and parsley flakes. Combine well.
Pour egg mixture into the prepared baking dish. Spread it out so that potatoes are evenly distributed throughout the pan.
Bake the casserole in the preheated oven for 40-45 minutes, or until the eggs are set and the top is golden brown.
Remove the casserole from the oven and let it cool for a few minutes before slicing into squares and serving.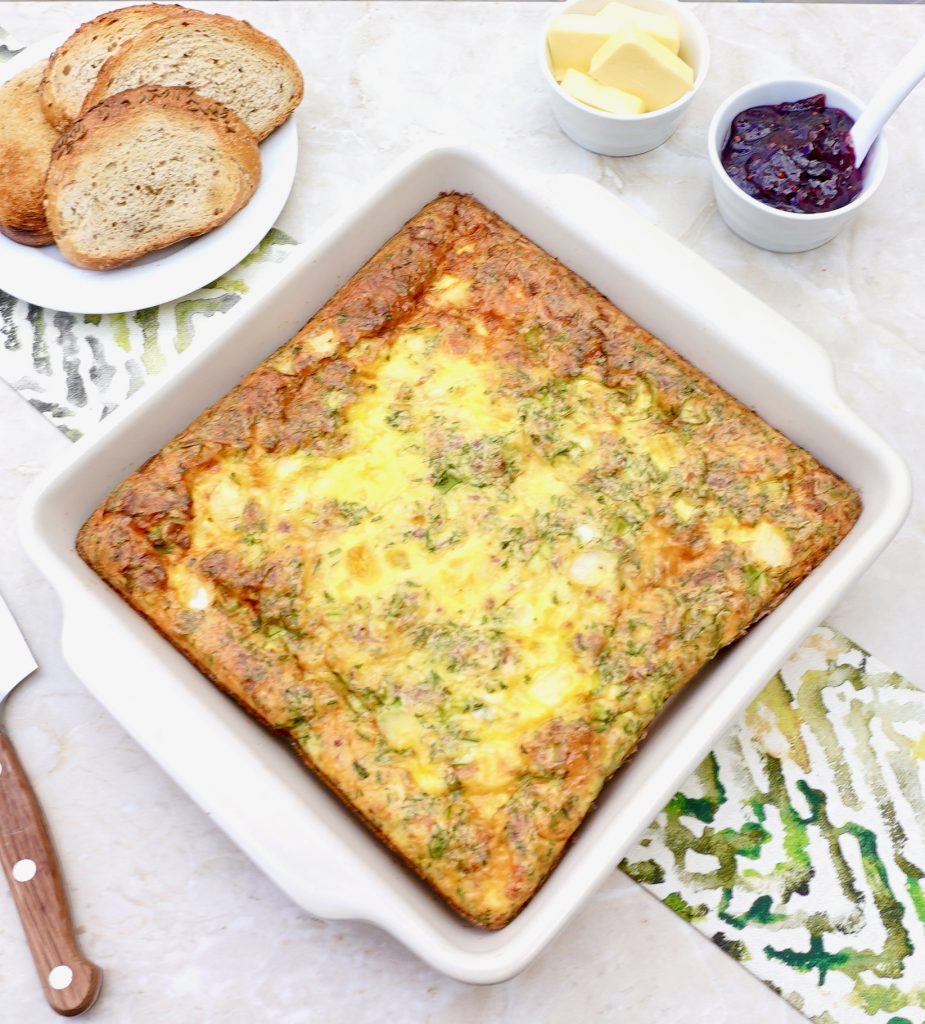 Bacon Egg and Cheese Casserole is a simple way to feed a group.