Potato Cheddar Frittata is for those fans of eggs with breakfast potatoes in the morning. This easy to make frittata combines the two and adds some cheese to make it even better!
This frittata is baked which is a pretty foolproof method. Everything is added to a pie plate and put into the oven. 30 minutes later you have a meal that will feed eight.
The addition of potatoes and cheese makes this Potato Cheddar Frittata very hearty. It could easily be eaten for any meal of the day.
The best thing about frittatas is their versatility. If you do not have red potatoes, use whatever you have. The same goes for the cheese, dairy and herbs. Use any fresh or dried herbs that you like. Use any kind of milk you have on hand or half and half, cream or sour cream.
If you are a frittata fan, check out Zucchini Herb Frittata, Vegetable Frittata, Mushroom Asparagus Frittata, Chorizo Frittata, and Mini Frittatas.
If you like an egg and potato combination, check out Bacon Egg and Cheese Casserole.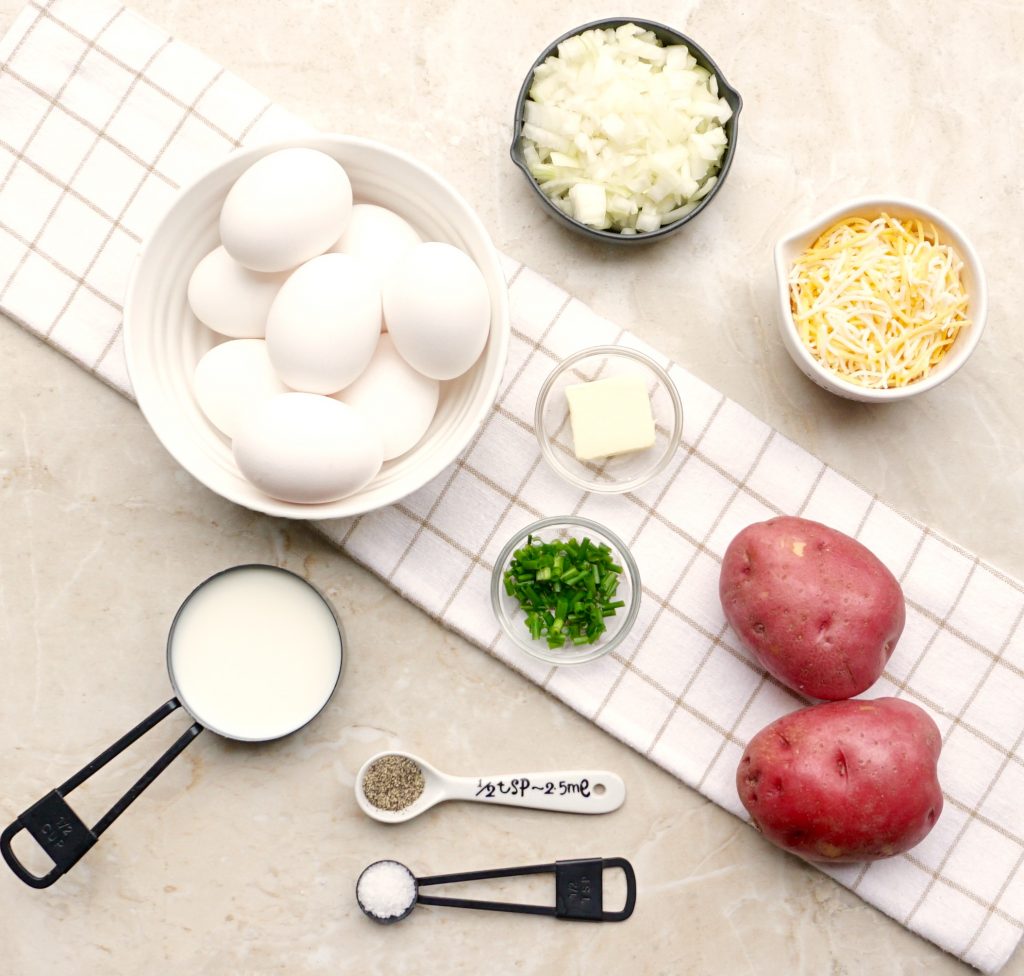 Potato Cheddar Frittata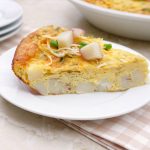 Print This
Ingredients
2 medium red potatoes, cut into ½ inch cubes

1 tablespoon butter

½ cup yellow onion, diced

8 large eggs

½ cup milk

½ teaspoon kosher salt

½ teaspoon black pepper

½ cup shredded cheddar or cheddar jack cheese

1 tablespoon fresh chives ( 1 teaspoon dried)

Cooking spray for pan
Instructions
Preheat the oven to 350 degrees.
Bring a saucepan of water to boiling over high heat. Add the potatoes and cook for 8 minutes or until they are just slightly softened.
Add the butter to a skillet and melt over medium low heat. Add the onions and cook for 2 minutes until they begin to soften. Do not let them brown.
Beat the eggs in a large bowl. Add the milk, salt and pepper. Combine thoroughly.
Stir in the cheese,chives, onions and potatoes.
Spray a 10″ pie plate with cooking spray.
Pour the egg mixture into the pan.
Bake for 30 minutes until it is completely set on the top and golden brown.