Oatmeal Cranberry White Chocolate Chip Cookies are a great fall cookie that would make a nice addition to a cookie platter for the holiday season. These chewy oatmeal cookies are loaded with dried cranberries and white chocolate chips. If you are a fan of white chocolate, you are going to like these chewy cookies.
A different twist on traditional oatmeal cookies, Oatmeal Cranberry White Chocolate Chip Cookies are perfect for a holiday cookie exchange.
Do you need more cranberry recipes this fall? Check out Cranberry Orange Walnut Bread, Cranberry Orange Muffins,  Cranberry Orange Sauce and Cranberry Chili Glazed Meatballs.
If you are looking for some other holiday cookies for your holiday cookie platter, check out Chocolate Chip Sugar Cookies, Cranberry Orange Kitchen Sink Cookies, Holiday Spritz Cookies, Ginger Crinkle Cookies, Orange Ricotta Cookies, Jam Sandwich Cookies, Cookie Cutter Cookies and Gingerbread Cookies.
If you want to try some other recipes that use both dried and fresh cranberries check out 16 Festive Cranberry Recipes to Brighten Up Your Holiday Meals.
 SOME THINGS TO KNOW:FAQ'S
INGREDIENT TIPS:
Old-fashioned oats give the cookies a chewier texture compared to quick oats. Make sure not to use instant oats as it has different cooking properties .Read about The Difference Between Oats.
Quality white chocolate chips make a difference. Look for chips with a high percentage of cocoa butter for the best flavor and melting properties.
Use pure vanilla extract instead of artificial vanilla flavoring for a richer flavor.
SPECIAL EQUIPMENT NEEDED:
Mixing Bowls: You will need two bowls. A medium bowl is needed for combining the dry ingredients. A large mixing bowl is needed for creaming the butter and sugars and mixing the cookie dough.
Electric Mixer: A hand mixer or a stand mixer with a paddle attachment is helpful for creaming the butter and sugars together until light and fluffy and mixing the cookie dough.
Spatulas: A rubber spatula is useful for scraping down the sides of the bowl to ensure all of the  ingredients are well incorporated. A metal spatula is needed to remove the baked cookies from the cookie sheet.
Baking Sheets: You will  need one or two baking sheets to bake the cookies. If you only have one, let it cool between batches.
Parchment Paper or Silicone Baking Mats: These are optional but can used to line the baking sheets and prevent the cookies from sticking. They also make cleanup easier.
Wire Rack: This is used for cooling the cookies after baking, which helps prevent them from becoming soggy.
SUBSTITUTIONS:
If you' are out of light brown sugar, you can use an equal amount of dark brown sugar for a deeper molasses flavor, or make your own by mixing granulated sugar with a tablespoon of molasses.
If you do not have vanilla extract, almond extract or maple syrup can be used as a substitute in a pinch for a different flavor profile.
If you don't have baking soda, use triple the amount of baking powder as a substitute.
Dried cranberries can be substituted with raisins, chopped dried apricots, or dried cherries.
White chocolate chips can be replaced with milk or dark chocolate chips
HOW TO STORE OATMEAL CRANBERRY WHITE CHOCOLATE CHIP COOKIES:
 Properly stored, the cookies will last for about 5 days at room temperature.
Before storing, make sure that the cookies are completely cooled to room temperature. Place the cookies in an airtight container. You can layer them with parchment paper or wax paper to prevent sticking. Store the container in a cool, dry place.
HOW TO FREEZE OATMEAL CRANBERRY WHITE CHOCOLATE CHIP COOKIES:
Oatmeal Cranberry White Chocolate Chip Cookies can be frozen before the baking process. When you scoop a tablespoon of dough, form it into a ball and place on a cookie sheet that has been lined with parchment paper. Place the cookie balls on the baking sheet into the freezer until frozen firm. Remove the frozen dough balls from the cookie sheet and place them in a freezer bag. When you are ready to bake the cookies, remove from the freezer and place on a cookie sheet. Let the cookies defrost and bake as above. These can be kept in the freezer up to 3 months.
To freeze the baked cookies, make sure that the cookies are completely cooled. Place a sheet of parchment paper or wax paper between each layer of cookies in a freezer-safe container. This prevents them from sticking together.They can be stored in the freezer for up to 3 months.
To thaw the cookies, place them onto a wire rack at room temperature. They should defrost within an hour.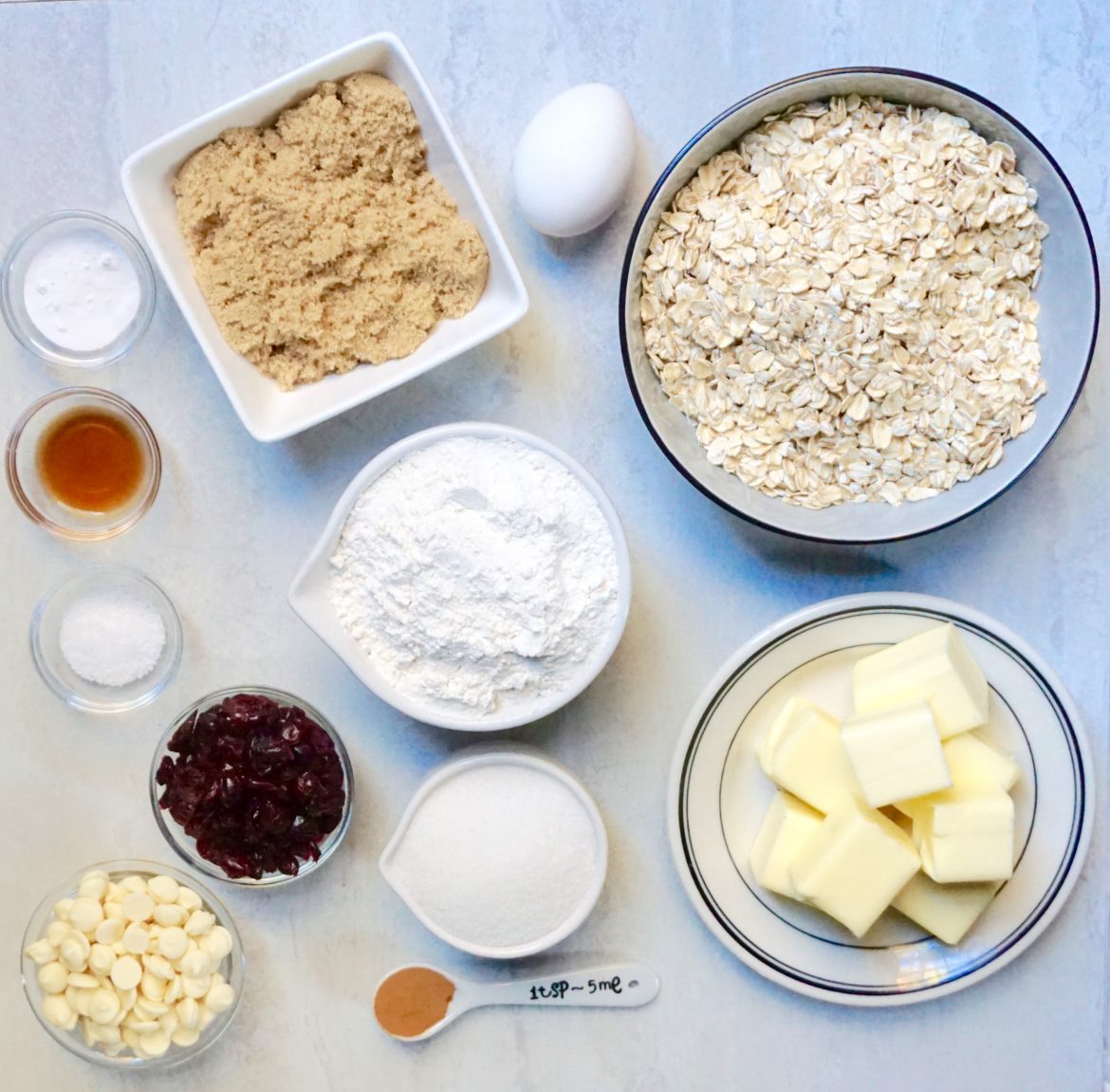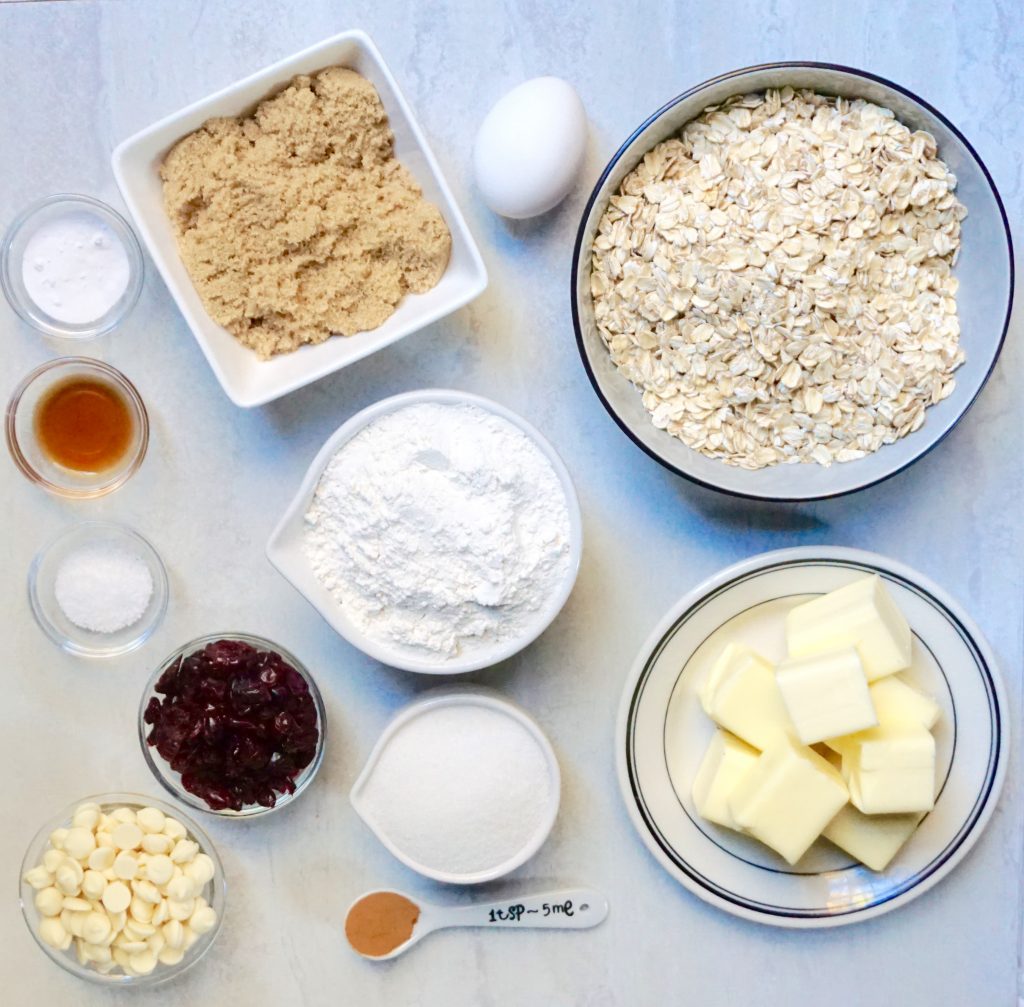 Oatmeal Cranberry White Chocolate Chip Cookies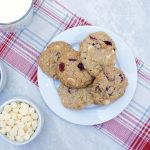 Print This
Ingredients
1 and ¼ cups unsalted butter, at room temperature
¾ cup firmly packed light brown sugar
½ cup granulated sugar
1 large egg
1 teaspoon vanilla extract
1 and ½ cups all purpose flour
1 teaspoon baking soda
1 teaspoon salt
1 teaspoon cinnamon
3 cups Quaker old fashioned oats (not instant oatmeal)
½ cup dried cranberries
½ cup white chocolate chips
Instructions
Preheat oven to 350 degrees
In a large bowl, beat butter with an electric mixer until fluffy. Add the brown sugar and granulated sugar and beat until they are well mixed in.
Beat in the egg and vanilla extract, mixing the wet ingredients in well.
In a medium bowl, combine the flour, baking soda, salt and cinnamon.Make sure to mix the flour mixture well.
Add the dry ingredients to the butter mixture and beat until combined.
On low speed, mix in the oatmeal. Combine the oats in thoroughly.
Stir in the dried cranberries and white chocolate chips.
Drop the cookies by the level tablespoons of dough onto ungreased cookie sheets two inches apart. You can also  line the baking sheets with parchment paper for easy clean up,
Bake cookies for 8 to 10 minutes. Checking for when the cookie is lightly browned.
*Oven temperatures vary. Turn the cookie sheets at least twice while baking to ensure they brown evenly. You want the cookie to be set and golden brown. Do not over bake the cookies or you will lose the chewy texture.
Let the cookies sit on the baking sheet for a couple minutes. Use a metal spatula to remove them to a cooling rack.