Cranberry Orange Kitchen Sink Cookies are chewy cookies that you could bake anytime of the year and make a wonderful addition to a holiday cookie platter.
Cranberry Orange Kitchen Sink Cookies have a lot of flavor. These delicious cookies are full of dried cranberries, fresh orange zest, shredded coconut and chopped walnuts. Cinnamon gives them a touch of warmth.
These cookies are freezer friendly either baked or unbaked. You can easily swap out some of the ingredients in the recipe to add your favorite mix-ins. Whether is be crushed potato chips, toffee bits, chocolate chunks, peanut butter chips or pretzel pieces, this is the perfect cookie to experiment with.
Another oatmeal cookie you may want to try is Oatmeal Cranberry White Chocolate Chip Cookies.  You also might want to check out Kitchen Sink Blondies made with butterscotch chips for your holiday baking or Whole Grain Kitchen Sink Muffins for a healthy breakfast.
SOME THINGS TO KNOW:FAQ'S
INGREDIENT TIPS:
Make sure your butter is at room temperature to ensure it creams well with the sugars. This creates a smooth texture and helps to leaven the cookies as they bake.
Eggs should also be at room temperature for better incorporation into the batter. They provide structure and richness to the cookies.Read Do You Really Need to Bake With Room Temperature Eggs?
Old-fashioned oats provide a chewy texture. Avoid quick oats as they can change the texture of the cookie.
Feel free to add in nuts like pecans or walnuts for added texture, or white chocolate chips for a sweeter contrast to the tangy cranberries.
SPECIAL EQUIPMENT NEEDED:
Mixing Bowls: You' will need  two bowls, one for mixing the wet ingredients and one for the dry ingredients.
Electric Mixer: A stand mixer or a handheld electric mixer will make creaming the butter and sugar much easier, although you can do this by hand with a bit of extra effort.
Spatula: A rubber spatula is great for scraping down the sides of the bowl as you mix the batter and for folding in the oats, cranberries, and other add-ins.
Baking Sheets: Sturdy baking sheets are needed to bake the cookies. Make sure they are flat for even baking.
Parchment Paper or Silicone Baking Mat: Lining the baking sheets with parchment paper or a silicone baking mat prevents sticking and makes cleanup easier.
Zester or Microplane: For adding the fresh orange zest, a zester or microplane grater is the best tool for the job.
Cooling Rack: Once the cookies are baked, you will need a cooling rack to allow air to circulate around the cookies, cooling them quickly and preventing sogginess.
SUBSTITUTIONS:
You can use whole wheat flour in place of the all purpose flour for a healthier twist, but this may make the cookies denser.
If you are out of baking soda, you can use triple the amount of baking powder as a leavening agent.
If you are not a fan of cinnamon or simply out of it, you can try nutmeg or allspice as a substitute for a different warm spice note.
Raisins, or chopped dried cherries can be used as a direct substitute for dried cranberries.
Coconut sugar is a good alternative to granulated white sugar with a lower glycemic index.You could also use light brown sugar.
HOW TO STORE CRANBERRY ORANGE KITCHEN SINK COOKIES:
Store the cookies in an airtight container to keep them fresh. You can layer them with parchment paper or wax paper to prevent sticking.
After baking, allow your cookies to cool completely on a wire rack. This prevents condensation from forming in the storage container, which could make the cookies soggy. Keep the container at room temperature in a cool, dry place.This can usually keep your cookies fresh for up to a week.
HOW TO FREEZE CRANBERRY ORANGE KITCHEN SINK COOKIES:
The baked cookies can be frozen for up to 3 months. Make sure that the cookies are completely cool before freezing to prevent ice crystals from forming.
Place the cookies in a single layer on a baking sheet and freeze them for about an hour. This initial freeze prevents the cookies from sticking together later on.
Transfer the pre-frozen cookies to an airtight container or a freezer bag. If you are using a container, you can layer the cookies between sheets of parchment paper.
Let the cookies thaw at room temperature on a wire rack.
You can also freeze the cookies unbaked. Place the rounded cookies (dough) onto a baking sheet and freeze them. Once they are frozen, removed them to an airtight freezer container. When you are ready to bake them, place them on a baking sheet frozen and place into a 350 degree preheated oven. Allow a couple extra minutes of baking time since they are frozen. Bake until lightly browned.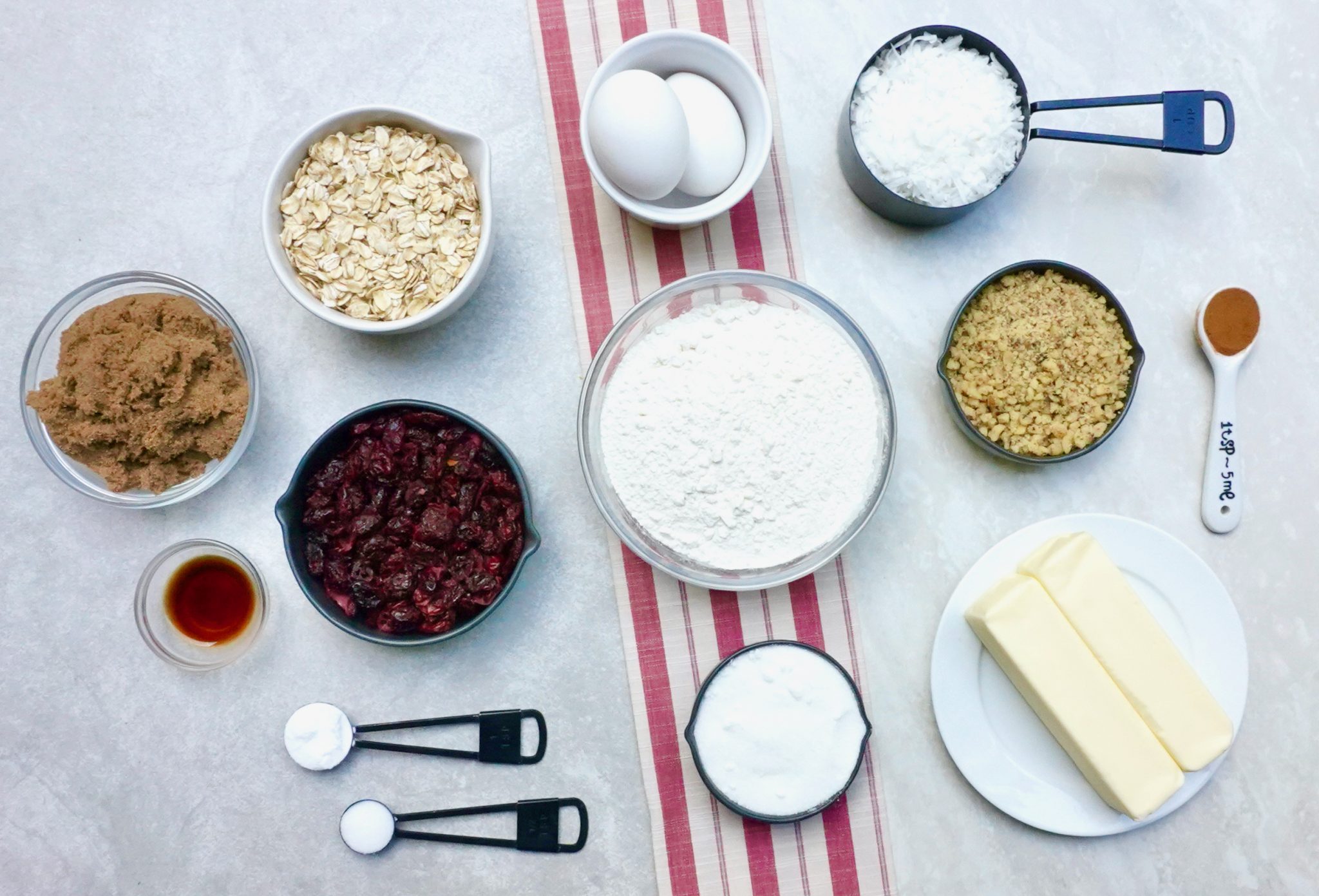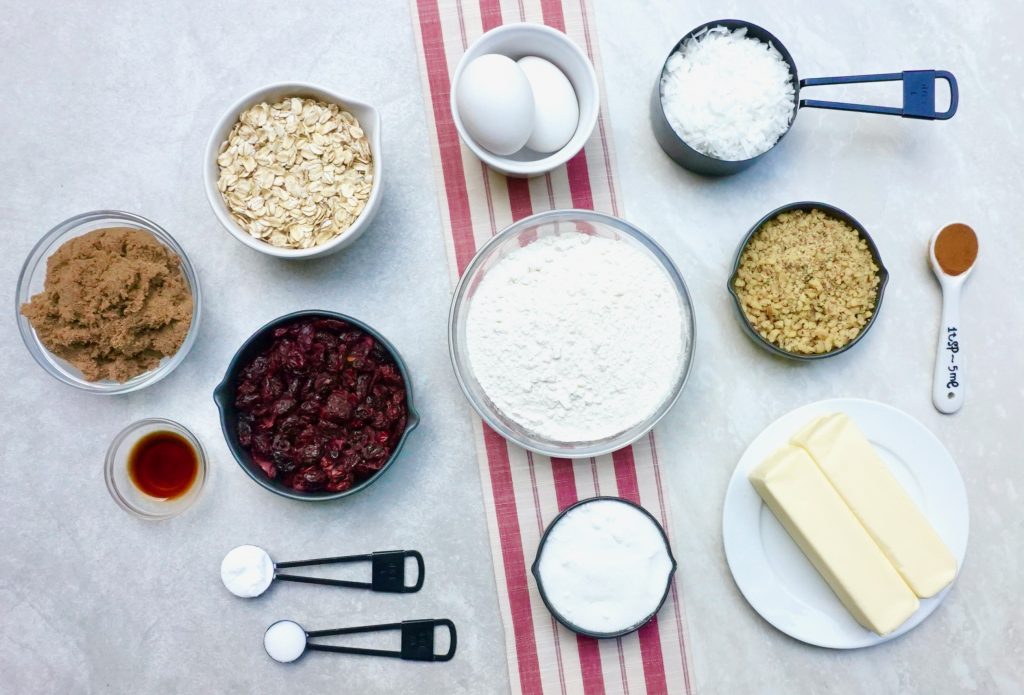 Cranberry Orange Kitchen Sink Cookies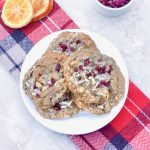 Print This
Ingredients
2 sticks unsalted butter at room temperature (8 ounces)

¾ cup light brown sugar

⅓ cup granulated sugar

2 large eggs

1 teaspoon vanilla extract

1 ¼ cups all purpose flour

1 teaspoon baking soda

½ teaspoon iodized salt

1 teaspoon ground cinnamon

1 cup old fashioned oats

1 cup dried cranberries

2 teaspoons orange zest

1 cup dried, shredded coconut

½ cup walnuts, finely chopped
Instructions
Preheat oven to 350 degrees
Beat the butter in a large bowl with an electric mixer or in the bowl of a stand mixer with a paddle attachment until fluffy. Add the brown sugar and granulated sugar and beat until they are well mixed in.
Beat in the eggs and vanilla extract, mixing well.
In a medium bowl, combine the flour, baking soda, salt and cinnamon. Add the dry ingredients to the butter mixture and beat until combined.
On low speed, mix in the oatmeal.
Stir in the dried cranberries, orange zest, coconut and walnuts.
Drop the cookies by the rounded tablespoon onto a non greased cookie sheet two inches apart. Make sure to leave room as they will spread.
Bake cookies for 10 to 12 minutes. Check to see that the cookies are golden brown.
*Oven temperatures vary. I turn the cookies at least twice while baking to ensure they brown evenly. You want the cookie to be set and lightly brown but not too browned so it will be soft and chewy.
Cool the baked cookies on a wire rack.