Kitchen Sink Blondies are easy cookie bars with lots of flavor. The name says it all! Just like the kitchen sink, this easy blondie recipe contains a little bit of everything.
These blonde brownies have a rich buttery texture and lots of sweetness with chocolate, butterscotch, white chocolate chips, and the tartness of dried cranberries. This one-bowl recipe blondies are a perfect balance of flavors for this time of year.
Bar cookies are an easy way to bake for a crowd fast. Unlike cookies, these Kitchen Sink  Blondies do not need to be cut, shaped or rolled into balls. The cookie dough batter is spread into a pan, bakes all at once with a baking time of 25 minutes and is then cut into squares.
There are times when you need something nice without a lot of effort.Kitchen Sink Blondies are pretty and seasonal and will make a nice platter to bring to a holiday event.
If you want to try another blondie recipe, check out Strawberry Blondies. If you like the idea of "kitchen sink" recipes, check out Whole Grain Kitchen Sink Muffins and Cranberry Orange Kitchen Sink Cookies.
If you have leftover chocolate chips bake some Chocolate Chip Cookies or Oatmeal Cranberry White Chocolate Chip Cookies. If you prefer chocolate chunks check out Chunky Chocolate Chip Cookies.
SOME THINGS TO KNOW:FAQ'S
INGREDIENT TIPS:
Make sure your butter is softened to room temperature for easier mixing and a smoother texture.
The type of brown sugar used can affect the flavor. Light brown sugar will give a milder flavor, while dark brown sugar has more molasses and gives a deeper, caramel flavor.Read Light Sugar Versus Dark Brown Sugar.
Look for dried cranberries that are plump and soft.
SPECIAL EQUIPMENT NEEDED:
Mixing Bowl: You will need a large mixing bowl to mix the batter.
Electric Mixer: A hand mixer or a stand mixer is good for creaming the butter and sugars together until light and fluffy. It can also be used to thoroughly mix in the eggs and vanilla.
Spatula: A rubber spatula is useful for scraping down the sides of the bowl as you mix and for folding in the chips and dried cranberries.
Baking Pan: 9″ x 13″  inch baking pan is needed for these blondies.
Cooling Rack: A wire rack ensures even cooling of the blondies and prevents the bottom from getting soggy.
SUBSTITUTIONS:
If you don't have brown sugar, you can make your own by mixing 1 cup of granulated sugar with 1 tablespoon of molasses.
If you do not have vanilla extract you can leave it out without a huge impact on the overall flavor or substitute it with almond extract.
Whole wheat flour can be used for a healthier twist, but it will make the blondies denser.
You could substitute peanut butter chips for any of the other types of chips.
Any dried fruit like raisins, chopped dates, or dried cherries can be used in place of dried cranberries.
If you don't have baking soda, you can use triple the amount of baking powder as a substitute.
HOW TO STORE KITCHEN SINK BLONDIES:
The blondies can be kept at room temperature for about 3-5 days.Place the blondies in an airtight container. You can stack them with parchment paper or wax paper between the layers to prevent sticking.
You can also refrigerate the blondies in an airtight container. They will keep up to a week in the fridge.
HOW TO FREEZE KITCHEN SINK BLONDIES:
Blondies can be frozen for up to 3 months. Wrap each blondie individually in plastic wrap or aluminum foil. This helps to prevent freezer burn and also makes it easy to grab a single serving.
Place the wrapped blondies in a freezer bag or an airtight container. If using a bag, try to remove as much air as possible before sealing.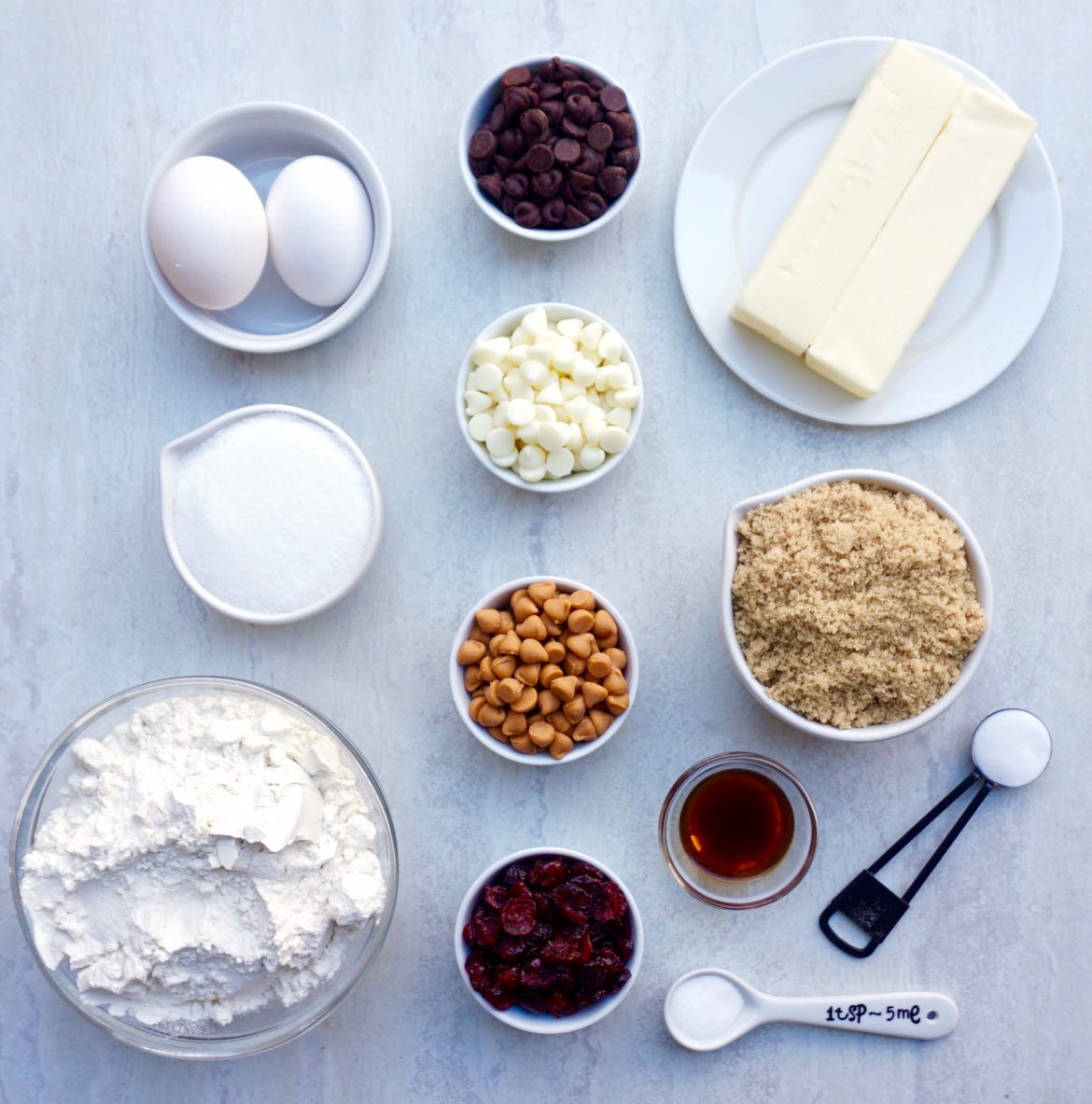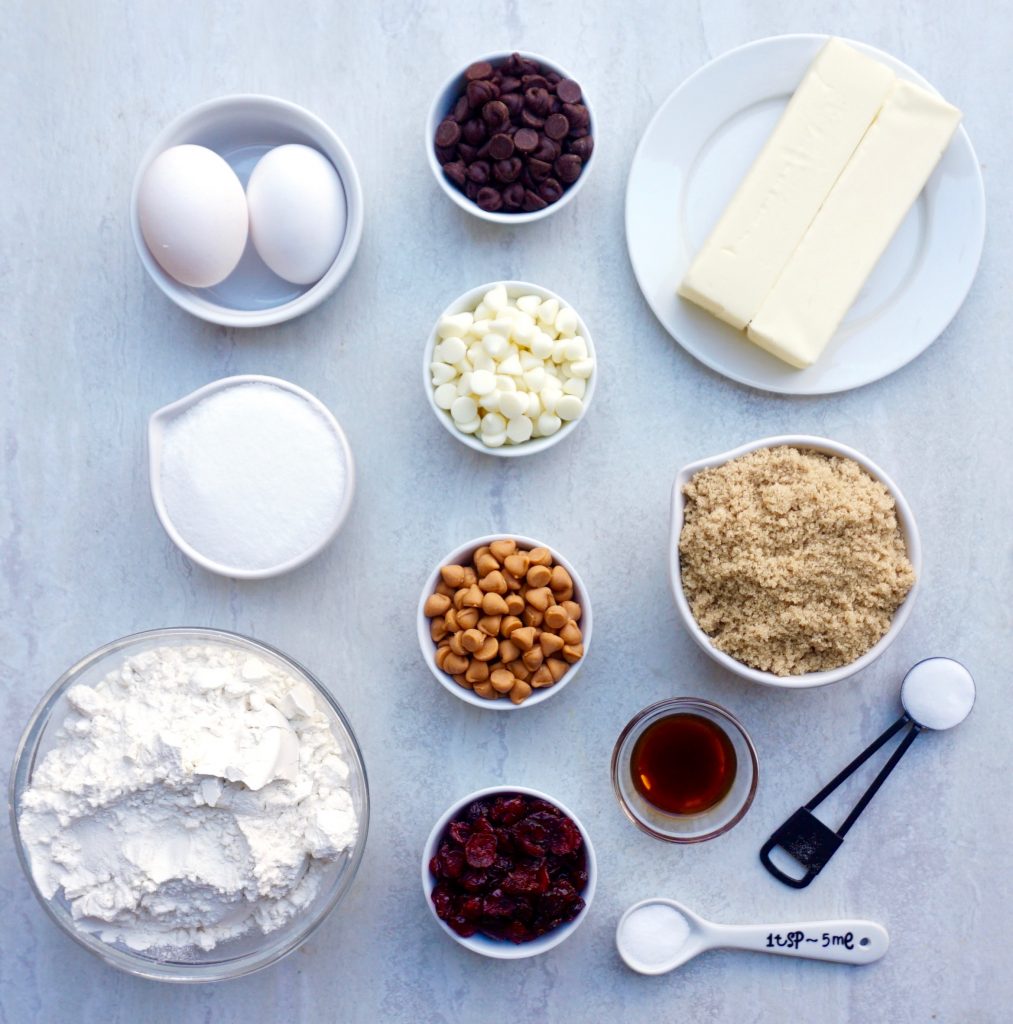 Kitchen Sink Blondies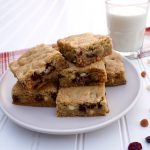 Print This
Ingredients
1 cup butter, softened to room temperature ( 2 sticks)

1 cup dark brown sugar, firmly packed

½ cup granulated sugar

2 large eggs

1 teaspoon vanilla extract

2 ¼ cups all- purpose flour

1 teaspoon baking soda

1 teaspoon salt

½ cup chocolate chips (milk chocolate, semi-sweet chocolate or dark chocolate chips)

½ cups butterscotch chips

½ cups white chocolate chips

½ cup dried cranberries
Instructions
Preheat your oven temperature to 350 degrees
Grease a 9 x 13 baking pan.
In a large bowl, beat the butter until it is fluffy. Add the brown sugar and granulated sugar. Mix well.
Add the eggs, one at a time, beating well after each addition. Add the vanilla extract.
Add the flour, baking soda and salt. Mix in thoroughly with the wet ingredients.
Stir in the chocolate chips, butterscotch chips, white chocolate chips and dried cranberries.
Spoon into the prepared pan and smooth evenly with a rubber spatula.
Place the pan into the preheated oven and bake for 25 minutes until completely set and golden brown.
Notes
Servings will depend on the size you cut your bars.