There is that old phrase that cooking is an art but baking is a science. I really found this out first hand when I started searching around for the secret behind Levain cookies in NYC. If you are not familiar with them, they bake monster size cookies that are crispy brown on the top while remaining moist and chewy on the inside. They have lines outside their door all day long!
I think the secret is using cold butter. I have never before used cold butter in a cookie recipe. It really makes a difference. The cookie does not flatten while baking. This cookie is also baked at 400 degrees for a relatively short time so the top is nice and brown while the center is very moist with soft chocolate.
It is amazing how the simple change in butter temperature creates a totally different cookie experience!
Chunky Chocolate Chip Cookies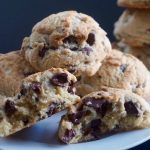 Print This
Ingredients
2 sticks of cold butter, cut into small cubes

1/2 cup granulated sugar

1 cup light brown sugar, firmly packed

2 large eggs

1 teaspoon vanilla extract

1 and 1/2 cup all purpose flour

1 and 1/2 cups cake flour (see note)

1 teaspoon baking soda

3/4 teaspoon salt

1 cup chocolate chunks

2 cups semi sweet chocolate chips
Instructions
Preheat oven to 400 degrees
With an electric mixer, in a large bowl, beat the cold butter with the granulated sugar and brown sugar until it is creamy. This should take 2-3 minutes.
Add the vanilla extract and the eggs, one a time, mixing well after each addition.
In another bowl, combine the cake flour,  all purpose flour, baking soda and salt. Add all at once to the butter mixture. Mix until just combined.
Stir in the chocolate chunks and chocolate chips.
Using an ice cream scoop, scoop level balls and place on an  non greased cookie sheet at least two inches apart.
Bake for 8 minutes until the tops are golden brown , turning the cookie sheet halfway through.
Remove from the oven and let the cookies sit on the baking sheet for several minutes to slightly cool and set.
Remove to a wire rack to cool completely.
Notes
If you do not want to purchase cake flour you can make your own. Measure out a level cup of all purpose flour. Remove two tablespoons of flour from the cup and add 2 tablespoons of cornstarch in it's place. Sift the flour to mix. If you need to make 1/2 cup, remove 1 tablespoon flour and add 1 tablespoon cornstarch.