Next week is the Fourth of July and there will be cookouts going on all across the country. Watermelon is always a big part of summer parties. How many times have you seen a watermelon carved out and used as a fruit basket or a platter of watermelon slices on a tray at a summer event? But have you ever thought of watermelon as a savory dish? This Watermelon Salad will show you how good it can be!
In this Watermelon Salad, we are combining cucumbers, mint leaves, shallots and feta cheese with fresh watermelon chunks. The dressing is a little sweet as well as tart by using honey and lime juice. The result is a refreshing salad that will go well with any grilled chicken or fish. The added bonus to this is that it will only take you a few minutes to make!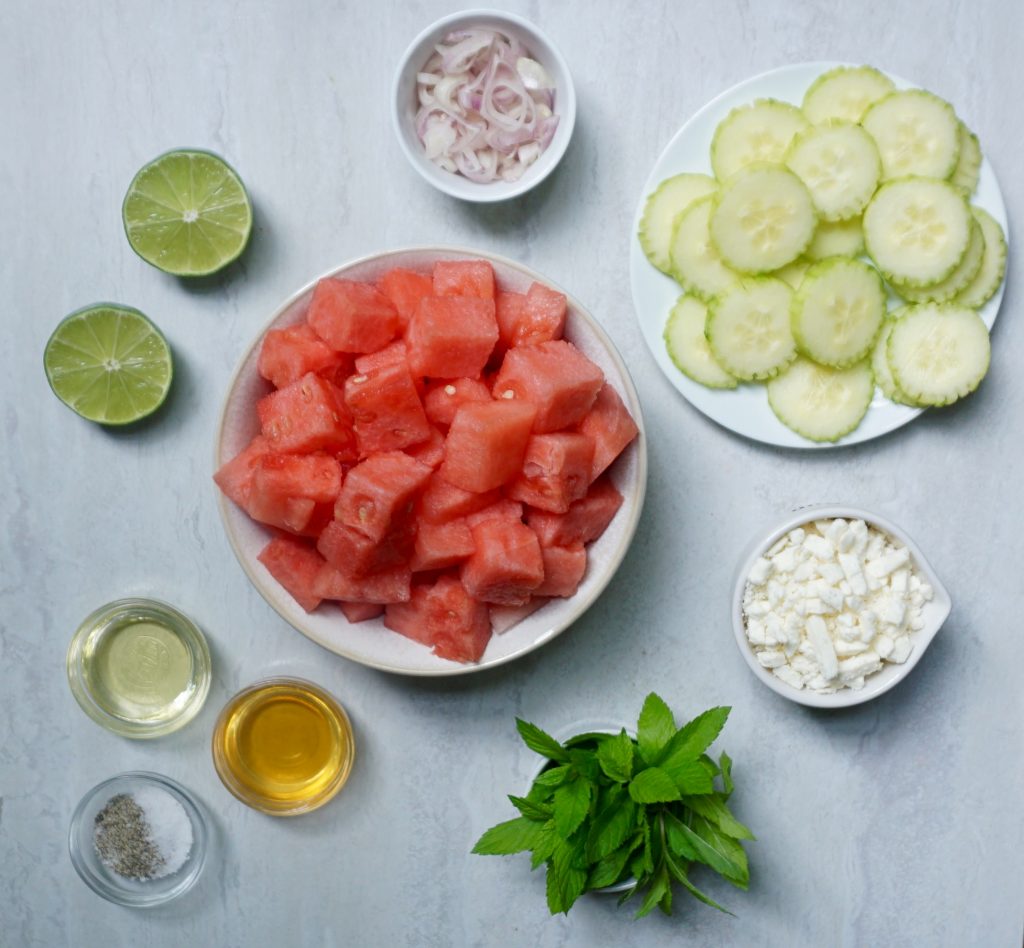 Watermelon Salad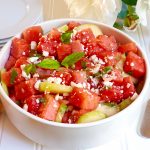 Print This
Ingredients
4 cups seedless watermelon, cut into cubes

1/2 english cucumber, sliced *see note

1/2 cup feta cheese, crumbled

1 large shallot,sliced

1/2 cup mint leaves

2 tablespoons fresh lime juice

2 tablespoons olive oil

1 tablespoon honey

salt and pepper to taste
Instructions
Place the watermelon cubes into a large bowl. Add the mint leaves, cucumber slices and shallots and mix together.
In a small bowl, whisk together the olive oil, lime juice and honey. Add a pinch of salt and pepper to the dressing if desired.
When you are ready to serve the salad, add 1/2 of the feta cheese and the dressing to the watermelon mixture. Combine.
Remove to a serving bowl and sprinkle the rest of the feta cheese over the top of the salad.
Notes
English Cucumbers are longer and thinner than regular cucumbers. They have very tiny seeds and are sometimes labeled as seedless cucumbers. The tiny seeds make them less bitter and perfect for salads. You will usually find them wrapped in plastic at the store.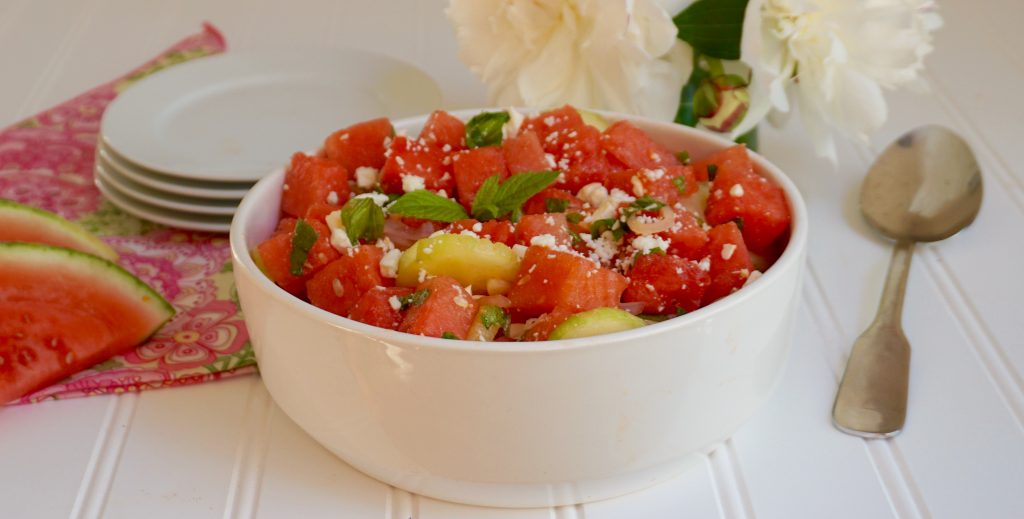 If you love Watermelon you might also like this Watermelon Cooler recipe.