Baked Buttermilk Donuts are moist, tender cake donuts with the wonderful flavors of vanilla and cinnamon. This is an easy recipe and the batter can be made in one large bowl, with no mixer required. Making baked donuts at home is economical and so easy. Skip the donut shop and make them yourself! This is a great recipe for Sunday morning baking. Homemade donuts are such a treat!
This donut has similar ingredients to an old- fashioned donut but is softer as it is baked not fried. Baking donuts is so much easier and the result is amazing. The donuts have a vanilla glaze and are sprinkled with cinnamon sugar. If you prefer to eat them warm from the oven, with out the glaze they will be delicious with just a sprinkle of the cinnamon sugar.
You need special equipment to make these Baked Buttermilk Donuts.  You will need some pans to create the donut shape. Donut pans come several ways and are readily available. I have silicon pans which are a 6-cavity donut pan I love as the donuts pop right out of them so easily when lightly coated with non- stick spray. If you make the investment in donut pans you might also want to try these other baked donut recipes. Bailey's Glazed Chocolate Donuts, Orange Olive Oil Donuts, and Pumpkin Baked Donuts are all simple to make and delicious.
SOME THINGS TO KNOW:
SUBSTITUTIONS:
If you do not want to purchase real buttermilk for this recipe, you can make it yourself. Simply add 1 tablespoon of white vinegar to a cup of whole milk. Stir it and let it sit for 15 minutes before using it. For this recipe you would add a tablespoon plus 1½ teaspoons of the vinegar to the 1½ cups of whole milk.
You can replace the canola oil with vegetable oil. A light olive oil would also work.
If you want to add some nutritional value, you can substitute whole wheat flour for some or all of the all purpose flour. If you want to try this, check out How to Substitute Whole Wheat Flour for All Purpose Flour.
STORAGE:
You can keep any leftover  Baked Buttermilk Donuts in an airtight container at room temperature for a day or two. You could also cover them with plastic wrap on a plate.
You can freeze the donuts in an air tight freezer container for 2-3 months. Place the donuts onto a baking sheet and place them into the freezer. Once they are frozen,  remove them from the baking sheet and place them into your freezer container.
HOW TO DEFROST:
Place the frozen donuts on a wire rack to defrost.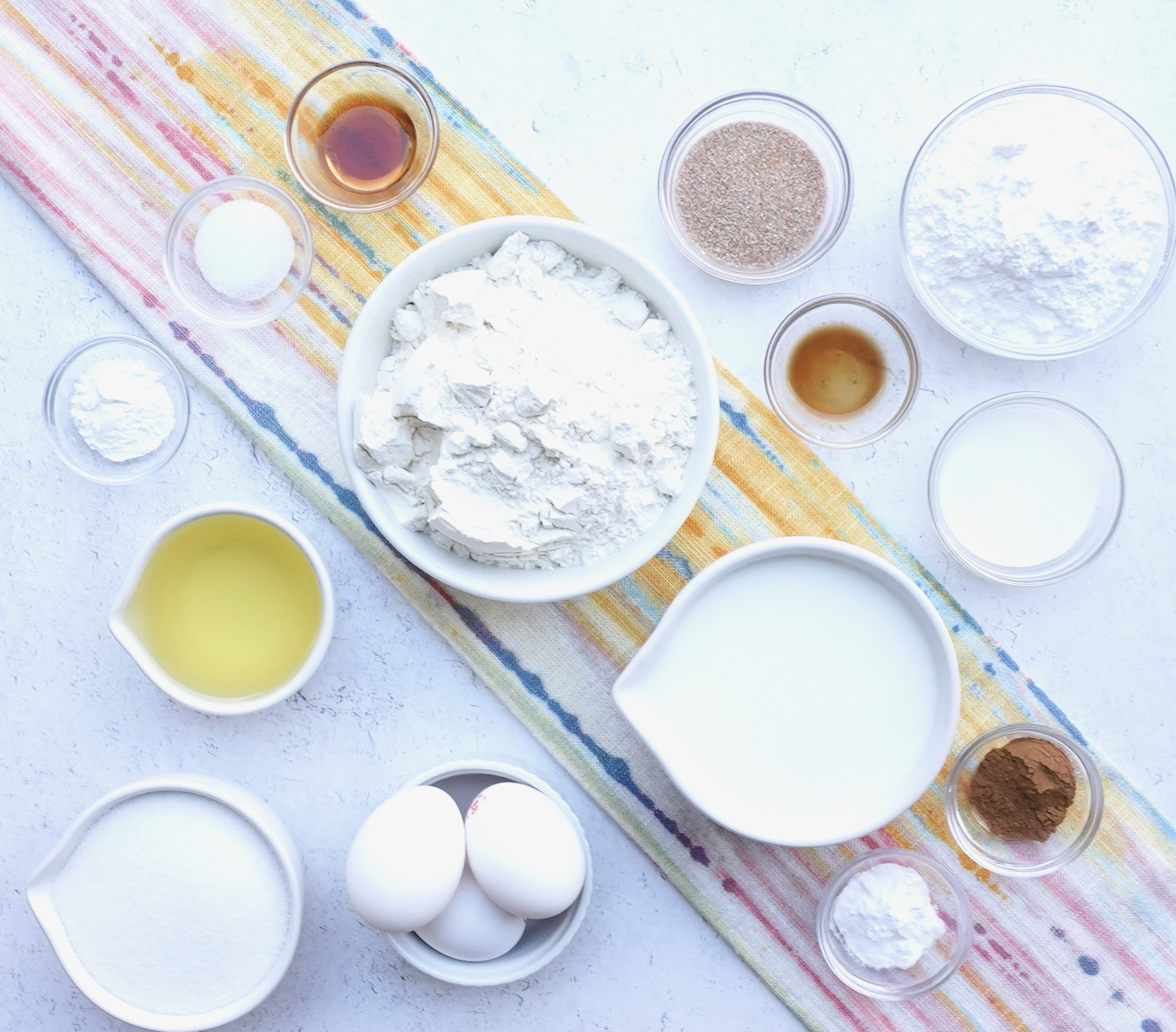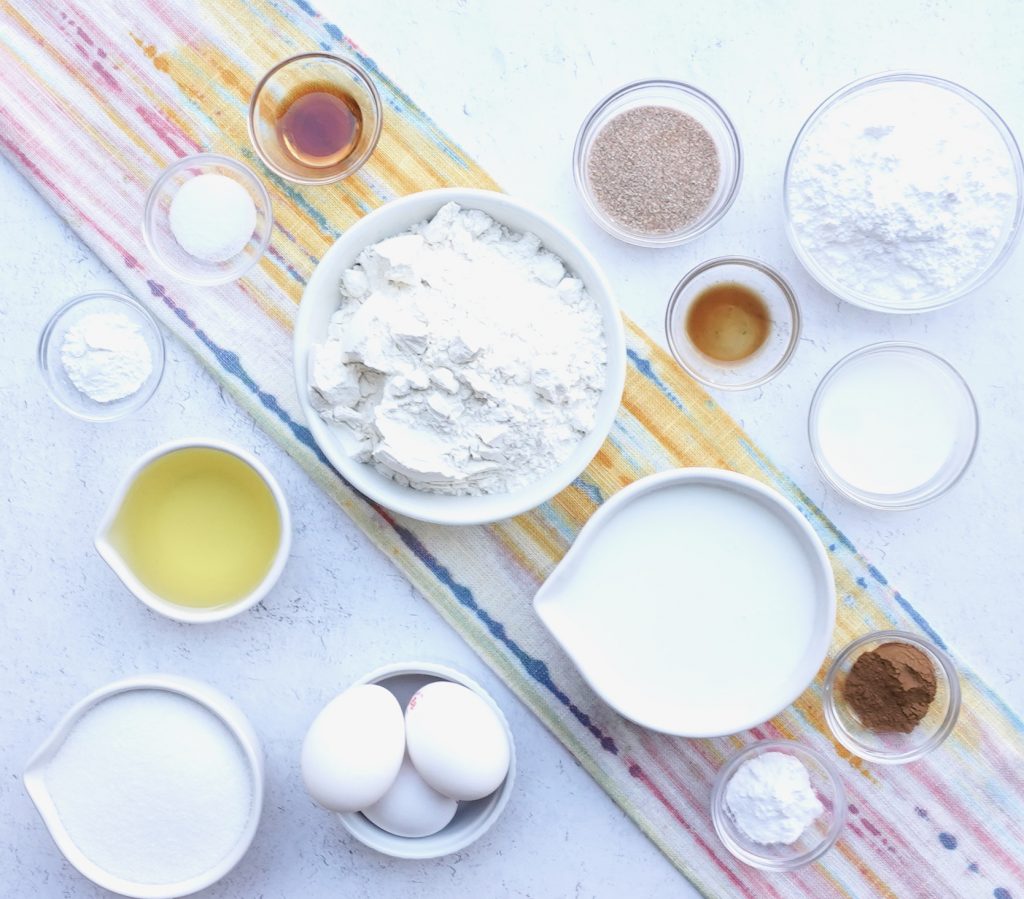 Buttermilk Baked Donuts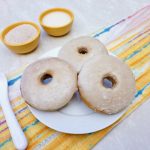 Print This
Ingredients
DONUTS:

3 large eggs

½ cup canola oil

1 ½ cup buttermilk

2 teaspoons vanilla extract

1 cup granulated sugar

2 cups all purpose flour

1 teaspoon baking powder

1 teaspoon baking soda

1 teaspoon iodized salt

1 teaspoon ground cinnamon

* cooking spray for pans

* donut baking pans

GLAZE:

1 cup confectioners' sugar

1 teaspoon vanilla extract

2-3 tablespoons buttermilk

OPTIONAL TOPPING:

2 tablespoons granulated or white sanding sugar

1 teaspoon ground cinnamon
Instructions
DONUTS:
Preheat the oven to 350 degrees
Whisk the eggs in a large bowl. Add the canola oil, buttermilk and vanilla extract. Combine well.
Add the sugar to the bowl and whisk it into the wet ingredients.
Add the flour, baking powder, baking soda, salt and cinnamon  to the bowl.
Whisk the flour mixture dry ingredients into the wet ingredients. Continue until the ingredients are completely mixed in and the batter is free of any lumps.
Spray your donut molds with cooking spray.
Spoon batter into the molds evenly so they are ¾ full. This should be about a ¼ cup of donut batter for a 3 inch donut mold.If you will need to bake the donuts in batches, place the batter into the refrigerator until the first batch is completed.
Bake the donuts for 15-16 minutes on a rack placed at the top of the oven. Make sure that the tops are completely dry and lightly browned. Oven temperatures do vary. Start checking in on the donuts at 14 minutes.
Let them cool in the pans for 5 minutes then remove them to a cooling rack to cool to room temperature.
GLAZE:
Combine the powdered sugar and 2 tablespoons of the buttermilk in a medium bowl. Stir it well. If it is too thick, add the additional tablespoon of buttermilk, a little at a time. You want a thick glaze that is easily pourable andnot runny.
Use a spoon to drizzle the glaze over the tops of the cooled donuts. This is done by slightly turning the spoon down and moving your hand back and forth over the donut letting the glaze drizzle down.
If you are making the sugar topping, combine the sugar and cinnamon. Sprinkle the sugar lightly over the glaze.
These donuts can be frozen for 2- 3 months. Place them into the freezer on a baking sheet to freeze. Once they are frozen, place them into an airtight freezer container.