Pumpkin Baked Donuts are a perfect fall breakfast. This is an easy recipe made in one bowl, no mixer required. You will need to have donut forms to bake them in. You can find them reasonably priced online.
The pumpkin makes the donuts very moist and fluffy. You could eat the warm donuts straight from the oven either plain or with a sprinkle of powdered sugar. I have also given you the ingredients to make a glaze if you want to decorate them. This would be a perfect donut to serve on Halloween or Thanksgiving morning for breakfast with a cup of coffee or a sweet treat for any time of the day.
Pumpkin baked goods are flavorful and filled with warm spices. If you would like some other recipe options for this time of year, check out Cream Cheese Pumpkin Bread, Pumpkin Olive Oil Cake, Pumpkin Crumble Muffins, Pumpkin Spice Ricotta Cookies and Pumpkin Bread. They are all good pumpkin recipes to enjoy during the fall season.
If you like the pumpkin baked donuts and want to try some other homemade donut recipes, check out Bailey's Glazed Chocolate Donuts, Orange Olive Oil Donuts and Baked Buttermilk Donuts.
SOME THINGS TO KNOW:FAQ'S
INGREDIENT TIPS:
Making your own pumpkin puree is easy and can be richer in flavor. Roast a pumpkin, scoop out the flesh, and blend until smooth.
If you are using canned pumpkin, make sure you choose real pumpkin puree. This is pure pumpkin. Pumpkin pie filling has additional sweeteners and spices. The cans look similar.
Always go for pure vanilla extract over imitation. The flavor is vastly superior.
If you're out of powdered sugar, blend granulated sugar in a blender until it's a fine powder.
SPECIAL EQUIPMENT NEEDED TO MAKE BAKED PUMPKIN DONUTS:
Donut Pans: These are essential for giving the batter its classic donut shape. They come in various sizes, so choose according to your preference for donut size.
Wire Rack: This is useful for cooling the donuts after baking and allowing the glaze to set without the donuts sitting in excess drippings.
Large Mixing Bowl: Needed to mix the donut batter. You will also need a medium bowl to mix the glaze.
Whisk: Handy for both the donut batter (to mix wet ingredients smoothly) and for making the glaze.
Spatula: Helps in scraping and folding the batter, ensuring that everything is well combined.
Toothpick or Skewer: Useful for testing the doneness of the donuts. When inserted into a donut, it should come out clean if the donut is done baking
SUBSTITUTIONS:
If you don't have cooking spray, you can use melted butter or oil with a pastry brush to grease the donut pans.
If you're out of canola oil, you can substitute it with other neutral oils like vegetable oil or sunflower oil without significantly changing the flavor.
Sweet potato puree or butternut squash puree can mimic the texture and flavor of pumpkin puree in many recipes.
Maple syrup can be used in a pinch to provide sweetness and flavor if you do not have vanilla extract. Use the same amount.
Cane sugar or coconut sugar can be substituted for the granulated sugar.
Dark brown sugar can be used in place of the light brown sugar.
Whole wheat flour can be used in place of the all purpose flour. This will give a denser texture. You can do a half-and-half mix to maintain some lightness.
HOW TO STORE BAKED PUMPKIN DONUTS:
The donuts should remain fresh for 1-2 days at room temperature.Keep in mind that the glaze may soften over time. Once your donuts have cooled completely, you can store them in an airtight container in a single layer.
If you want to extend their freshness a bit longer, place the donuts in an airtight container and refrigerate. This can extend the life of your donuts to about 5 days. Remember to let them come to room temperature before serving,
If you anticipate freezing the donuts, it's best to freeze them without the glaze, as the glaze can become sticky or watery once thawed.
After the pumpkin baked donuts have completely cooled, place them on a baking sheet in a single layer and freeze for about 1-2 hours or until they're solid. Once solid, transfer the donuts to a freezer bag or container. Make sure there is as little air as possible in the bag/container to prevent freezer burn.
When you're ready to enjoy your frozen donuts, take them out of the freezer and let them thaw at room temperature on a wire rack. It usually takes a couple of hours.
Pumpkin Baked Donuts

Print This

Ingredients

DONUTS:

3 large eggs

½ cup canola oil

15 ounce can pumpkin puree (not the pie filling)

1 teaspoon vanilla extract

1 cup granulated sugar

½ cup light brown sugar

2 cups all purpose flour

1 teaspoon baking powder

1 teaspoon baking soda

1 teaspoon salt

1 teaspoon cinnamon

½ teaspoon nutmeg

½ teaspoon ginger

Cooking spray for donut pans

GLAZE:

1 cup powdered sugar

1 tablespoon light corn syrup

2-3 tablespoons whole milk.

Instructions

DONUTS:

Preheat the oven to 350 degrees

Whisk the eggs in a large bowl. Add the canola oil, pumpkin and vanilla extract. Combine well. You could also use an electric mixer to do this.

Add the granulated sugar and brown sugar to the bowl and whisk them into the wet ingredients.

Add the flour, baking powder, baking soda, salt, cinnamon, nutmeg and ginger to the bowl.

Whisk the dry ingredients into the wet ingredients. Continue until the ingredients are completely mixed in and the batter is free of any lumps.

Spray your donut molds with cooking spray.

Spoon the donut batter into the molds evenly so they are ¾ full. Each mold should take around ¼ cup of batter. If you will need to bake the donuts in batches, place the batter into the refrigerator until the first batch is completed.

Bake the donuts for 16-17 minutes on a rack placed at the top of the oven. Make sure that the tops are completely dry and golden brown.

Cool donuts in the molds for a few minutes then remove them and place them on a wire cooling rack to cool completely.

GLAZE:

Combine the powdered sugar, corn syrup and 2 tablespoons of the whole milk. Stir it well. If it is too thick, add the additional tablespoon of milk, a little at a time. You want the glaze to be easily spreadable but not runny.

Use a knife to spread the glaze on the tops of the cooled donuts. You could also use a piping bag to drizzle the glaze.

Optional toppings are sprinkle and chopped nuts.

Enjoy your homemade baked pumpkin donuts!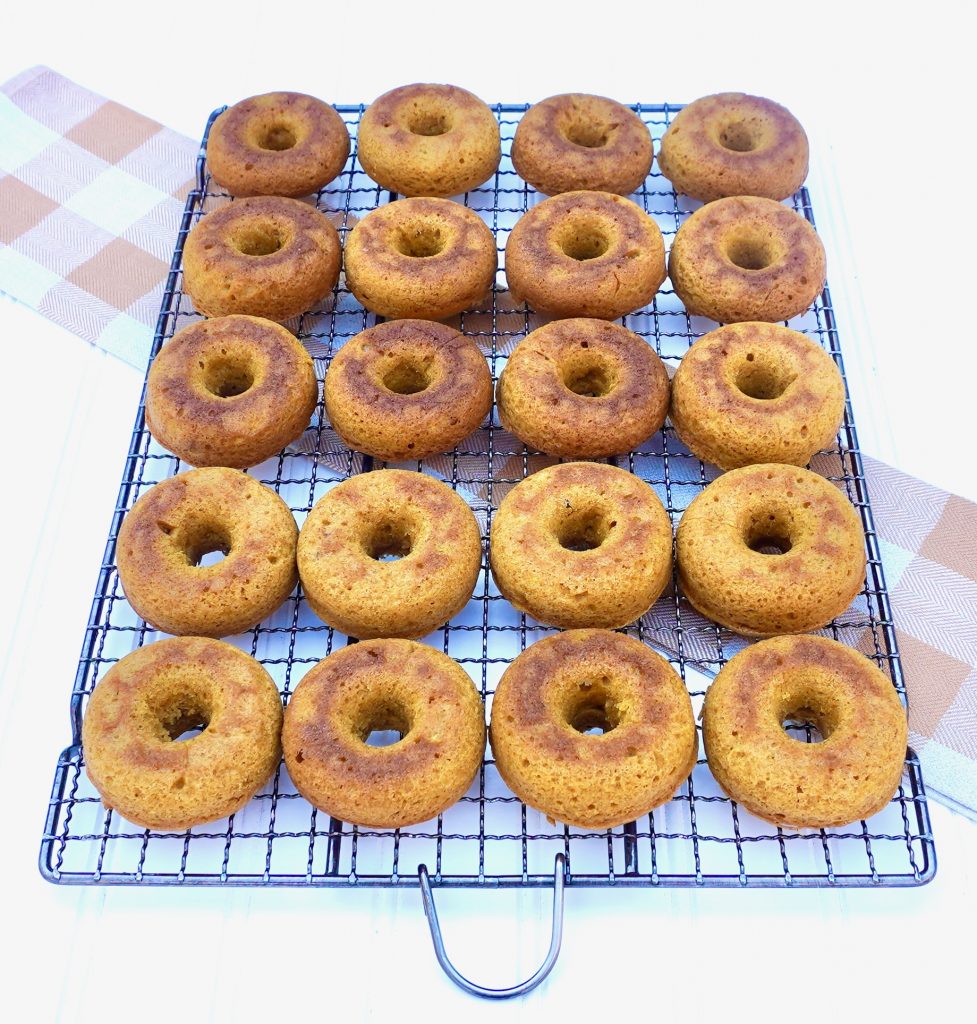 Pumpkin Baked Donuts are great warm from the oven. They can be eaten plain or lightly sprinkled with powdered sugar.