Pumpkin Baked Donuts are a perfect fall breakfast. They are easily made in one bowl, no mixer required. You will need to have donut forms to bake them in. You can find them reasonably priced online.
The pumpkin makes the donuts very moist and fluffy. They would be great eaten warm straight from the over either plain or with a sprinkle of powdered sugar. I have also given you the ingredients to make a glaze if you want to decorate them. 
Pumpkin baked goods are flavorful and filled with warm spices. If you would like some other options check out Cream Cheese Pumpkin Bread, Pumpkin Olive Oil Cake, Pumpkin Crumble Muffins, Pumpkin Spice Ricotta Cookies and Pumpkin Bread.
If you like homemade donuts, check out Bailey's Glazed Chocolate Donuts and Orange Olive Oil Donuts.
Pumpkin Baked Donuts

Print This

Ingredients

DONUTS:

3 large eggs

½ cup canola oil

15 ounce can pumpkin puree (not the pie filling)

1 teaspoon vanilla extract

1 cup granulated sugar

½ cup light brown sugar

2 cups all purpose flour

1 teaspoon baking powder

1 teaspoon baking soda

1 teaspoon salt

1 teaspoon cinnamon

½ teaspoon nutmeg

½ teaspoon ginger

Cooking spray for donut pans

GLAZE:

1 cup powdered sugar

1 tablespoon light corn syrup

2-3 tablespoons whole milk.

Instructions

Preheat the oven to 350 degrees

Whisk the eggs in a large bowl. Add the canola oil, pumpkin and vanilla extract. Combine well.

Add the granulated sugar and brown sugar to the bowl and whisk them into the wet ingredients.

Add the flour, baking powder, baking soda, salt, cinnamon, nutmeg and ginger to the bowl.

Whisk the dry ingredients into the wet ingredients. Continue until the ingredients are completely mixed in and the batter is free of any lumps.

Spray your donut molds with cooking spray.

Spoon the batter into the molds evenly so they are ¾ full. If you will need to bake the donuts in batches, place the batter into the refrigerator until the first batch is completed. 

Baked the donuts for 16-17 minutes on a rack placed at the top of the oven. Make sure that the tops are completely dry and lightly browned.

GLAZE:

Combine the powdered sugar, corn syrup and 2 tablespoons of the whole milk. Stir it well. If it is too thick, add the additional tablespoon of milk, a little at a time. You want the glaze to be easily spreadable but not runny. 

Use a knife to spread the glaze on the tops of the cooled donuts.

Optional toppings are sprinkle and chopped nuts.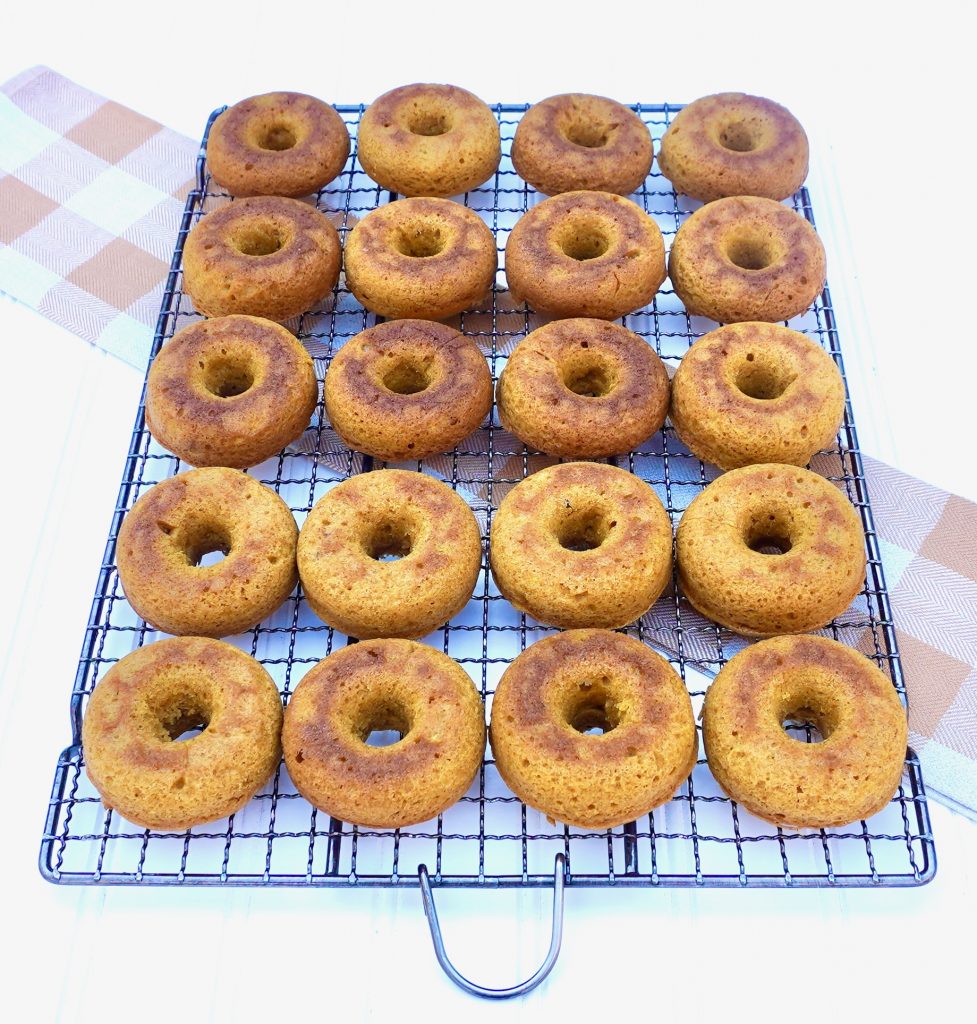 Pumpkin Baked Donuts are great warm from the oven. They can be eaten plain or lightly sprinkled with powdered sugar.