Pasta Primavera is a delicious way to eat your summer vegetables and a nice spring and summer pasta. This fettuccini classic pasta dish has a creamy sauce that is full of fresh vegetables.
There is a bit of prep work involved to make this but the cooking time is fairly short. In the time that it takes for you to boil the water and cook the fettuccini the sauce will be finished. This recipe is for all of you veggie lovers out there!
Pasta Primavera is a great meal or side dish for any time of the year but it is really nice in the spring when the fresh asparagus appears and if you are lucky, fresh peas as well. It would make a pretty first course for Easter dinner or a wonderful Meatless Monday dinner.
If you would like to see a couple other primavera spring pasta options, check out Green Vegetable Fettuccine which is made with only green vegetables and Creamy Vegetable Farfalle which is made with fresh veggies and ricotta cheese. They are both great options to make with the bright spring vegetables.
Check out The Best Wines to Serve with Pasta to find a white wine to serve with this.
SOME THINGS TO KNOW: FAQ'S
RECIPE TIPS:
If you want to make this partially ahead of time, you can make the sauce up to a day ahead. If you are planning on doing this, for the best results, decrease the original cooking time slightly so the vegetables are still a bit firm. They will continue to cook during the reheating process. Store the sauce covered in the refrigerator. Reheat the sauce over low heat, stirring often until it is heated through. Cook the pasta while you are reheating the sauce and combine them when you are ready to serve them.
Read The Ultimate Guide to Picking Only The Best Produce  so you are starting off with the best ingredients.
SPECIAL EQUIPMENT NEEDED:
Large pot to cook the pasta
Large Skillet
Large bowl for serving
SUBSTITUTIONS:
You can substitute olive oil for half of the butter in the pasta primavera recipe.
You can replace the frozen green peas with snap peas or snow peas. You could also use green beans.
If you prefer a shorter type pasta, you could use penne pasta, bowtie pasta or ziti. If you prefer a thinner pasta type than fettuccini, substitute linguini, spaghetti or angel hair.
You can replace the vegetable stock with chicken broth.
If you do not have dried basil, you can use Italian seasoning. Fresh herbs can also be used if you have fresh basil.
HOW TO STORE LEFTOVER PASTA PRIMAVERA:
You can keep any leftovers covered in the refrigerator or in an airtight container for 2-3 days.
Sauces with cream tend to become grainy if frozen and soft vegetables like zucchini and yellow squash can become soggy. I do not recommend freezing this.
HOW TO REHEAT LEFTOVER PASTA PRIMAVERA:
You can reheat the pasta covered in the microwave on a microwave safe plate. Cook at intervals of 1-2 minutes, stirring in between until the pasta is heated through.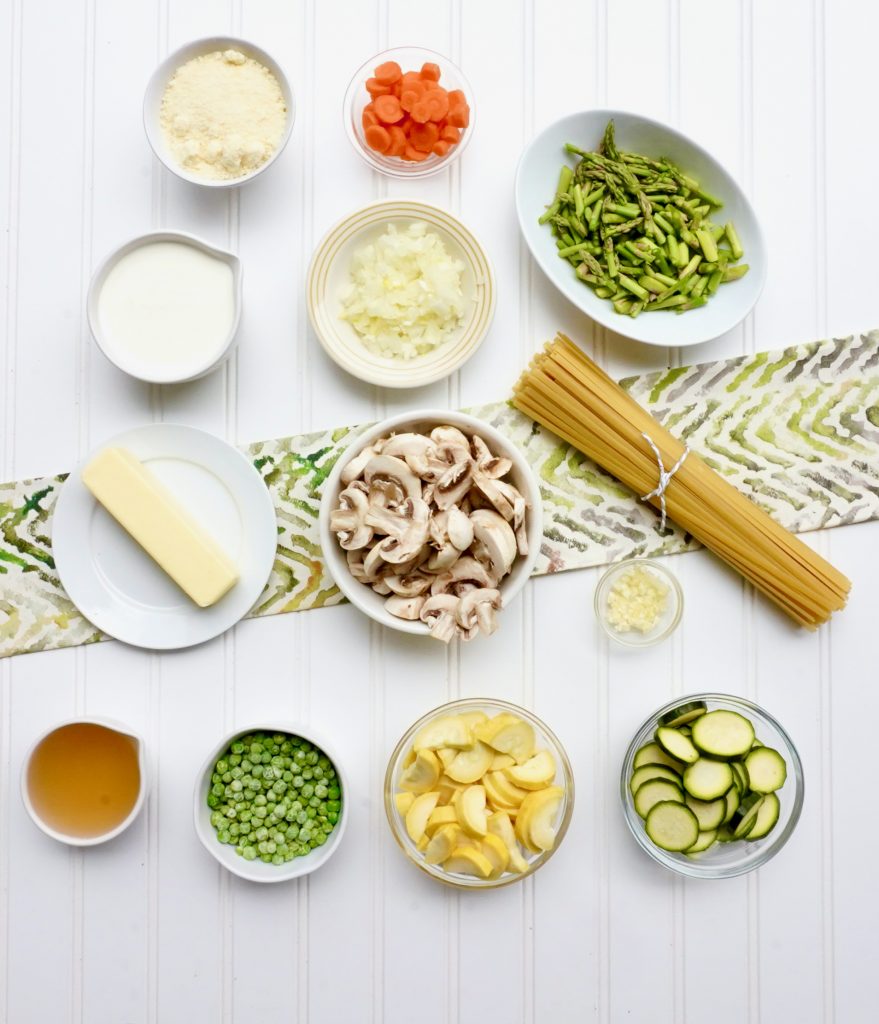 Pasta Primavera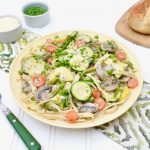 Print This
Ingredients
1 stick salted butter

1 medium onion, chopped

1 large garlic clove, minced

1 pound thin asparagus spears, ends trimmed and sliced into 1 inch pieces

1⁄2 pound white mushrooms, sliced

1 medium zucchini squash, sliced into 1/4 inch rounds

1 medium yellow squash, sliced into 1/4 inch rounds

1 large carrot cut into 1/8 inch slices

1⁄2 cup vegetable stock

1 cup heavy cream

2 teaspoons dried basil (not pictured)

1 cup frozen peas

1 cup freshly grated parmesan cheese

1 pound fettuccine pasta
Instructions
Set a large pot of salted water over  medium-high heat to cook your fettuccini . Cook pasta according to the directions on the box for al dente. The time it takes to heat the water and cook the fettuccine should be about the same amount of time as it takes to make the sauce. Reserve a cup of the pasta water if you will be reheating the pasta at a later time. It can be added as needed to bring back the sauce.
In a very large skillet, melt the butter over medium heat. Add the asparagus, carrots and mushrooms and cook for 2-3 minutes, until the mushrooms render their liquids and the carrots begin to become tender.
Add to the skillet the onions, garlic, zucchini squash and yellow squash and cook for an additional 3 minutes, or until the squash is just tender.
Add the cream, vegetable broth, and basil. Increase the heat to medium high and allow the pasta primavera sauce to come to a slight boil. Reduce to a simmer on low heat.
Stir in the peas and cook for 1 minute.
Add the cooked, drained fettuccini to the skillet and add the parmesan cheese. Taste the pasta and add salt and black pepper to taste. Heat through and serve.