I have served Pasta Primavera as my first course at Easter dinner for as many years as I can remember. This is originally my mom's recipe and I clearly remember it at my childhood Easter dinners. To this day it remains one of my favorite parts of the holiday meal.
I have thought many times over the years about cutting back the amount of butter in the recipe but I could never bring myself to do it. The recipe is perfect the way it is and despite the generous amount of butter, the vegetable broth and abundance of fresh veggies still allows for a light and delicious dish.
Pasta Primavera  is also pretty to serve. It is colorful and fresh and what I consider to be a classically great recipe.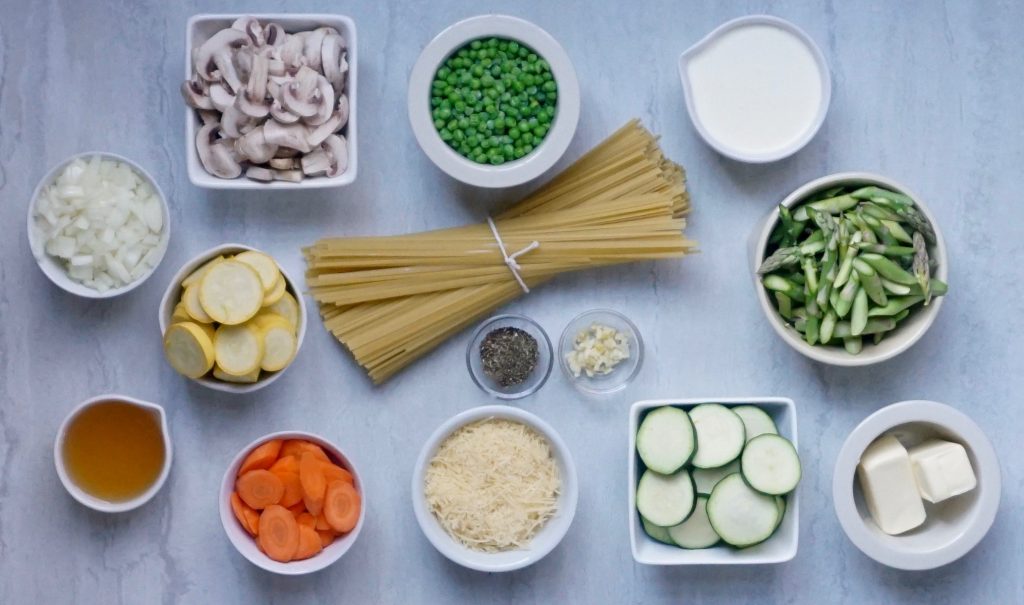 Pasta Primavera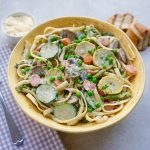 Print This
Ingredients
1 stick salted butter

1 medium onion, chopped

1 large garlic clove, minced

1 pound thin asparagus spears, ends trimmed and sliced into 1 inch pieces

1/2 pound white mushrooms, sliced

1 medium zucchini squash, sliced into 1/4 inch rounds

1 medium yellow squash, sliced into 1/4 inch rounds

1 large carrot cut into 1/8 inch slices

1/2 cup vegetable stock

1 cup heavy cream

2 teaspoons dried basil

1 cup frozen peas

1 cup freshly grated parmesan cheese

1 pound fettuccine pasta
Instructions
Set a large stock pot full of water over high heat to cook your fettuccini . Cook the fettuccini according to the direction on the box for the doneness you prefer. The time it takes to heat the water and cook the fettuccine should be about the same amount of time as it takes to make the sauce.
In a very large skillet, melt the butter over medium low heat. Add the asparagus, carrots and mushrooms and cook for 3-5 minutes, until the mushrooms render their liquids and the carrots begin to become tender.
Add to the skillet the onions, garlic, zucchini squash and yellow squash and cook for an additional 3 minutes, or until the squash is just tender.
Add the cream, vegetable broth, and basil. Increase the heat to medium high and allow the sauce to come to a slight boil. Reduce to a simmer on low heat.
Stir in the peas and cook for 1 minute.
Add the cooked, drained fettuccini to the skillet and add the parmesan cheese. Heat through and serve.