Green Vegetable Fettuccine is a delicious meal to make in the spring. It features two of the favorite spring vegetables, asparagus and leeks with some fresh green beans added and fresh herbs. It is a creamy pasta dish that is very easy to make.
This is a quick fix meal. By the time you heat a pot of water and cook the fettuccini, the sauce will be ready. This recipe is completed from start to finish in 25 minutes. You could easily make this for a vegetarian weeknight meal or as a side dish.
This recipe is a variation of my mom's Pasta Primavera.  It is a great first course for Easter dinner.  If you want some other ideas for using spring asparagus, check out Asparagus Quiche Cups, One Pot Asparagus Gnocchi, Asparagus Quiche, and Lemon Asparagus Quinoa.
SOME THINGS TO KNOW:FAQ'S
INGREDIENT TIPS:
SPECIAL EQUIPMENT NEEDED:
Large pot to cook the fettuccine.
Large Skillet
SUBSTITUTIONS:
If you cannot find fresh asparagus, frozen asparagus can be substituted. You could also use broccoli, peas or zucchini in its place.
If you cannot find leeks at your grocery store, shallots, sweet onions and green onions would be good substitutes.
If you prefer a thinner pasta than fettuccine, linguini and spaghetti are good choices.
Two good substitutes for Parmesan cheese are Asiago or Romano Cheese.
You can replace the olive oil with canola oil or vegetable oil.
If you do not have fresh parsley and chives, you can use equal amounts of the fresh herbs that you have on hand or 1 teaspoon each of dried parsley flakes and dried chives.
HOW TO STORE LEFTOVER GREEN VEGETABLE FETTUCCINE:
You can store the leftover fettuccine in an airtight container in the refrigerator for 2-3 days.
The heavy cream that the sauce is made with can separate and change consistency if it is frozen. Freezing the leftovers is not recommended.
HOW TO REHEAT LEFTOVER GREEN VEGETABLE FETTUCCINE:
You can reheat the fettuccine covered in the microwave oven on a microwave safe plate. Cook at 1-2 minute intervals, stirring in between until the fettuccine is heated through.
You can also reheat the fettuccine in a large saucepan on the stovetop over medium low heat.  If you have reserved some of the pasta cooking water as suggested in the instructions, add a few tablespoons or more as needed to help add some moisture to the creamy sauce while reheating.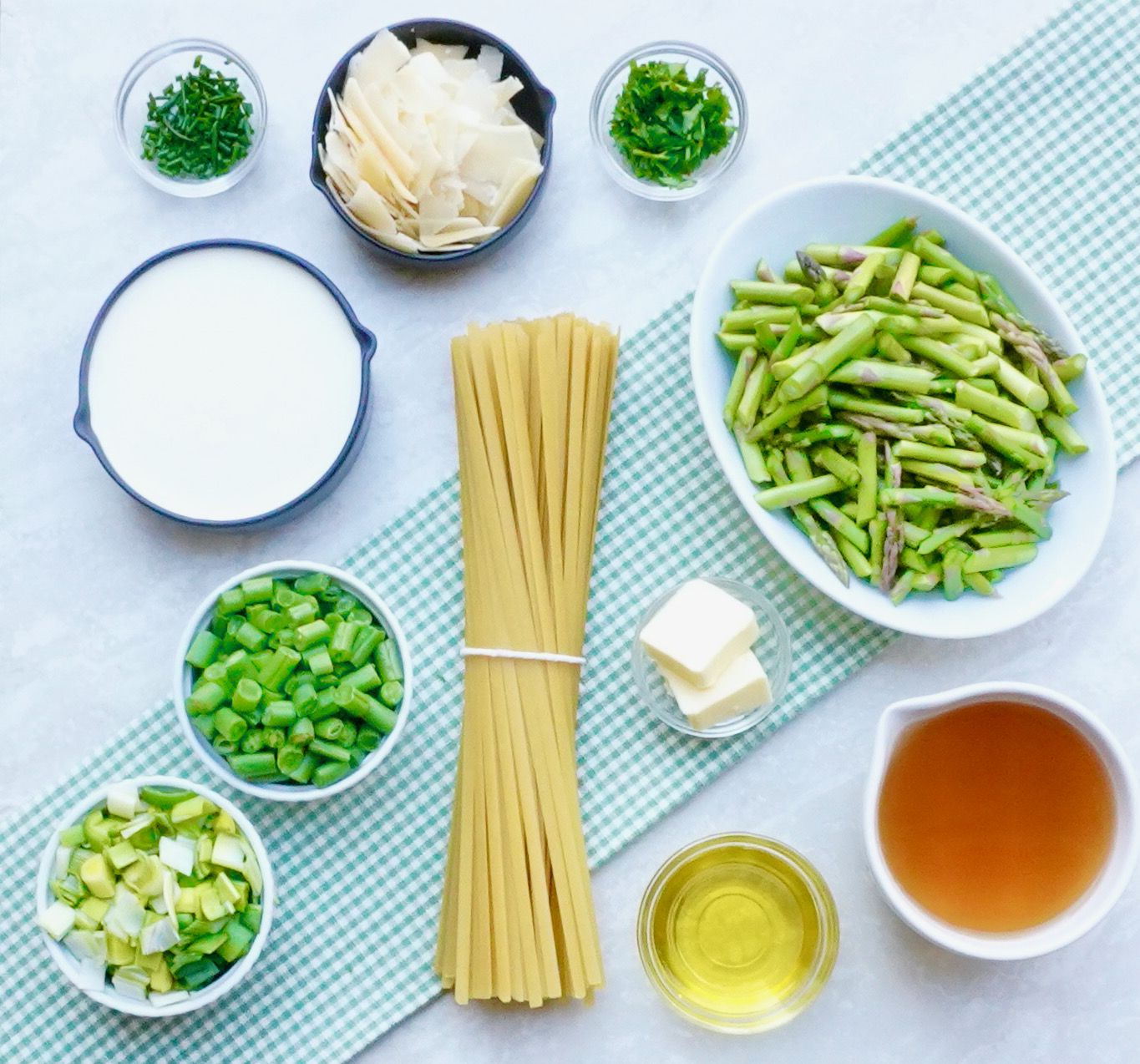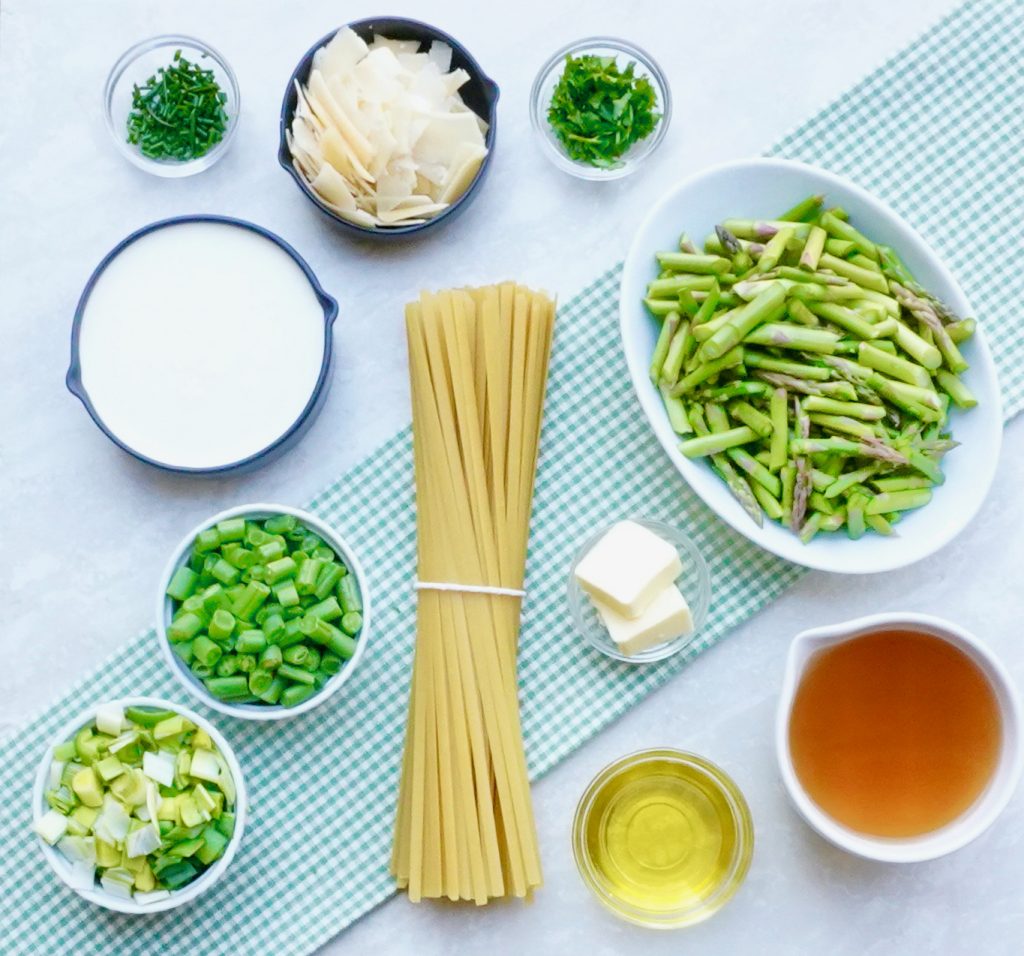 Green Vegetable Pasta Primavera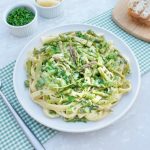 Print This
Ingredients
12 ounces fettuccine pasta

2 tablespoons butter

2 tablespoons olive oil

1 cup leeks. chopped (2 leeks)

1 cup fresh green beens, cut into 1⁄2 inch pieces

2 cups fresh asparagus, cut into 1 inch pieces

1 cup vegetable broth

1 cup heavy cream

1⁄2 cup fresh parmesan cheese, shaved or grated

2 tablespoons fresh herbs chopped ( parsley and chives)
Instructions
Set a large pot full of cold lightly salted water over medium-high heat to cook your fettuccini .
Cook the fettuccini according to the package instructions for the doneness you prefer.
If you plan on reheating the fettuccini later on the stovetop, reserve a cup of the pasta cooking water. Drain the fettuccini and set aside.
In the time it takes to heat the water and cook the fettuccine should be about the same amount of time as it takes to make the sauce.
In a large skillet, melt the butter with the olive oil over medium low heat.
Add the leeks, green beans and asparagus. Cook for 3 minutes, stirring occasionally until they begin to become tender.
Add the vegetable broth and cream. Increase the heat to medium high and allow the sauce to come to a slight boil.
Reduce to a simmer on low heat until it begins to thicken. This will take about 5 minutes.
Stir in the parmesan cheese and herbs. Cook for 1 minute until the sauce becomes very thick.
Add the cooked, drained fettuccini to the skillet. Heat over medium low heat, stirring occasionally until it is heated through.
Serve in a large bowl with additional  parmesan cheese on the side.