Mexican Corn Cakes are versatile little pancakes that you can use in any number of ways. They are made with fresh corn kernels, red bell pepper and green onions so they are flavorful on their own. You can top then with some sour cream and salsa and just serve them as a side dish.
Mexican Corn Cakes can also be used in place of the traditional tortilla used at a Mexican restaurant for a Mexican meal. If you are serving a dish like Mexican Pulled Chicken, they make a perfect base for you to layer on! Fresh sweet corn pieces and bell peppers add so much more flavor than a tortilla and make a great addition to a taco.
My favorite way to eat these is for a delicious breakfast or brunch, topped with an egg. These savory little pancakes are perfect for this!
As it is with most recipes, if you use fresh ingredients the recipe will be at its best. This is a favorite recipe to make in the summer with the fresh local vegetables.
If you like Mexican crema, you might want to top the Mexican corn cake with Avocado Crema. It is an easy recipe that will add a lot of flavor.
If you have some extra corn and would like to try some other fresh Mexican corn recipes, check out Mexican Street Corn Pasta Salad and Mexican Street Corn Fritters. If you like corn tortillas, check out Corn Tortilla Quesadilla.
Check out 35 Simple Cinco de Mayo Recipes for some other easy ideas for Mexican food.
SOME THINGS TO KNOW: FAQ'S 
INGREDIENT TIPS:
SPECIAL EQUIPMENT NEEDED:
Sharp paring knife or chef's knife to remove the corn kernels from the cob.
Food processor to chop the vegetables (optional)
Griddle or large skillet
SUBSTITUTIONS:
The cornmeal can  be substituted with Masa Harina corn flour.
Any color bell pepper can be used to replace the red bell pepper.
The all purpose flour can be replaced with unbleached or whole wheat flour.
If you do not have whole milk, use half and half or heavy cream.
The green onions can be replaced with yellow or red onions.
HOW TO STORE LEFTOVER MEXICAN CORN CAKES:
Cool the corn cakes to room temperature on a wire rack and place them into the refrigerator in an airtight container for 2-3 days.
To freeze the corn cakes, place them into the freezer on a baking sheet lined with aluminum foil or wax paper in a single layer. Once they are frozen, place them into a freezer bag or airtight freezer container and return them to the freezer. They can be frozen for 2-3 months.
HOW TO REHEAT LEFTOVER MEXICAN CORN CAKES:
You can reheat the corn cakes in a baking sheet in a 350 degree pre-heated oven. Place them onto the sheet in a single layer. Bake for 5-10 minutes until heated through.
You can reheat the corn cakes in an air fryer set at 350 degrees. Let them cook for 2-3 minutes until heated through.
They can also be reheated covered on a microwave safe plate in the microwave for 1-2 minutes.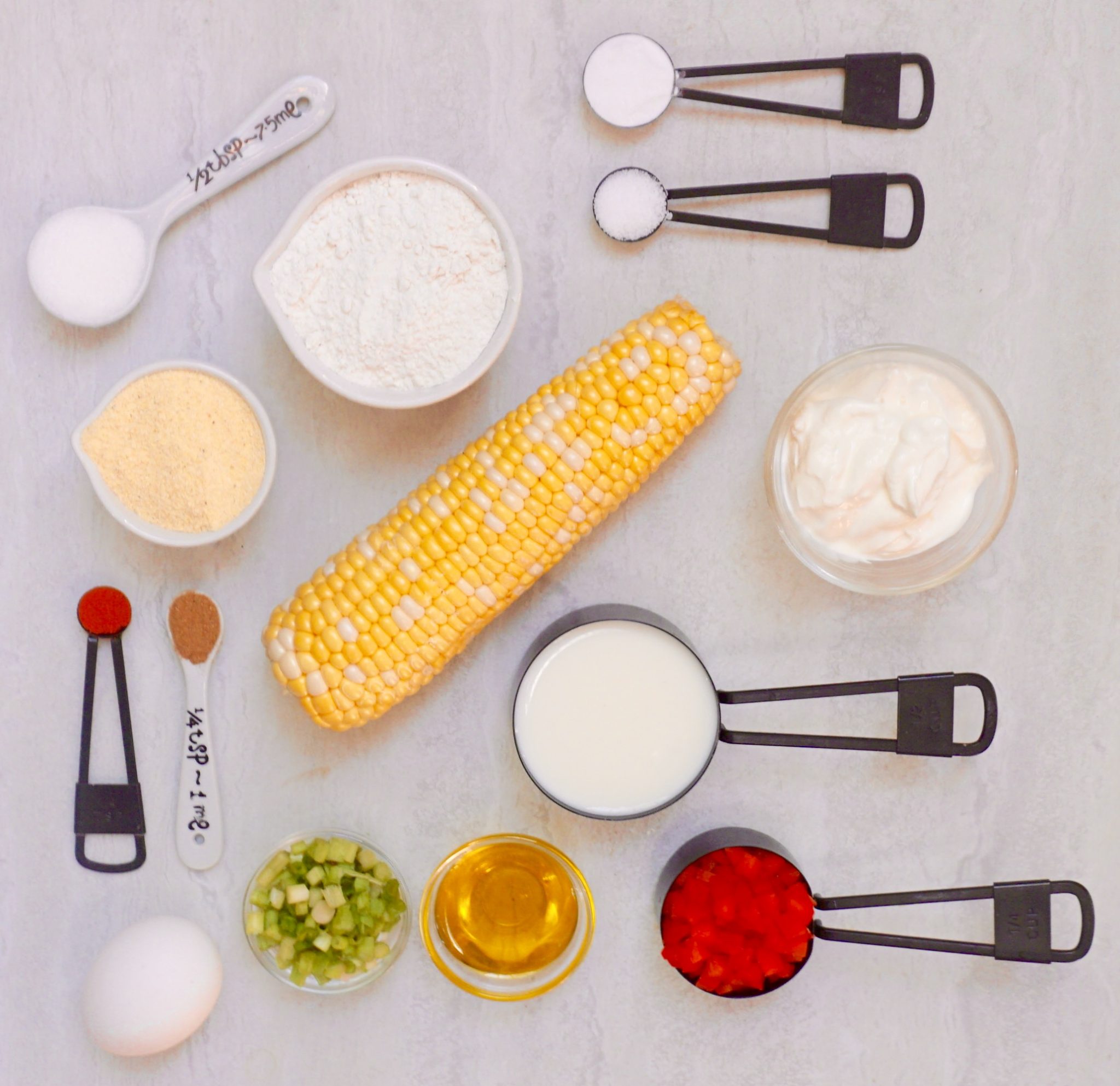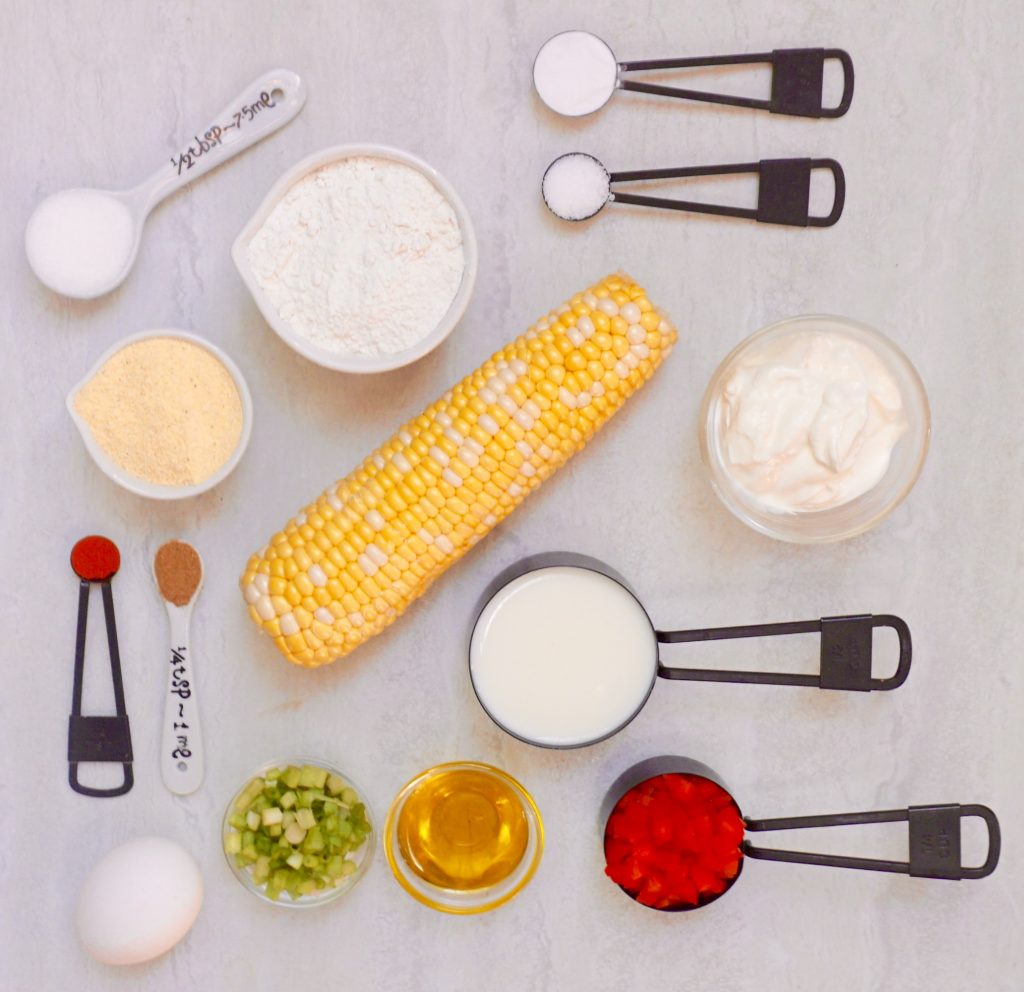 : 
Mexican Corn Cakes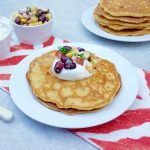 Print This
Ingredients
3 tablespoons olive oil, divided
½ cup whole kernel corn, fresh off the cob or frozen (yellow or white corn)
¼ cup red bell pepper, diced
2 tablespoons green onions, chopped
½ cup yellow cornmeal
½ cup all purpose flour
1 teaspoon baking soda
½ teaspoon salt
1 teaspoon sugar
¼ teaspoon cumin
Dash cayenne pepper, or to taste
1 large egg
½ cup whole milk
½ cup sour cream
Vegetable cooking spray
Option garnish: sour cream, fresh salsa, avocado
Instructions
If you will be cooking the corn cakes in batches. Preheat the oven to 200 degrees.
Add 1 tablespoon of the olive oil to an iron skillet and heat over medium low heat. Add the corn kernels, red bell pepper and green onions. Cook for 3 minutes until they are just beginning to become tender.
In a large bowl combine the cornmeal, flour, baking soda, salt, sugar, cumin and cayenne if you are using it. Make sure the flour mixture is stirred together well.
Whisk together the egg, milk, sour cream and the remaining 2 tablespoons of olive oil .
Add the wet ingredients to the dry ingredients. Stir until just combined. There may be a few lumps. Stir in the corn, pepper and green onion mixture. Combine well.
Heat either a griddle or a skillet over medium heat. Spray with vegetable spray to coat. Measure a ¼ cup of the batter and pour batter onto the hot griddle or skillet. Continue until you have used all of the batter.
Cook the pancakes for 2-3 minutes on each side. You will see bubbles rise on the first side. That is when it is time to flip the pancake. They should be golden brown and cooked through.
If you are cooking the corn cakes in batches. Place the cooked cakes onto a baking sheet into the preheated oven to keep them warm until you finish cooking the remainder of the corn cakes.
Garnish and serve with a small bowl sour cream, salsa and avocado is optional.