Sausage Pasta Frittata is a versatile dish  that could be eaten at any time of the day. It is hearty and flavorful and has a bottom crust of nicely browned and crispy pasta.
Frittatas are perfect fur using up leftovers. If you have leftover pasta you could add it to make the crust. You can also vary the add ins or add more things to it. It really is a very flexible dish.
This would make a great breakfast or brunch dish. Paired with a side salad it would make a great dinner. The sausage and cheeses make it very hearty.
Frittatas are easy to make and delicious. Check out the other frittata recipes. Potato Cheddar Frittata, Vegetable Frittata, Zucchini Herb Frittata, Mushroom Asparagus Frittata, Chorizo Frittata, and Mini Frittatas are some other options.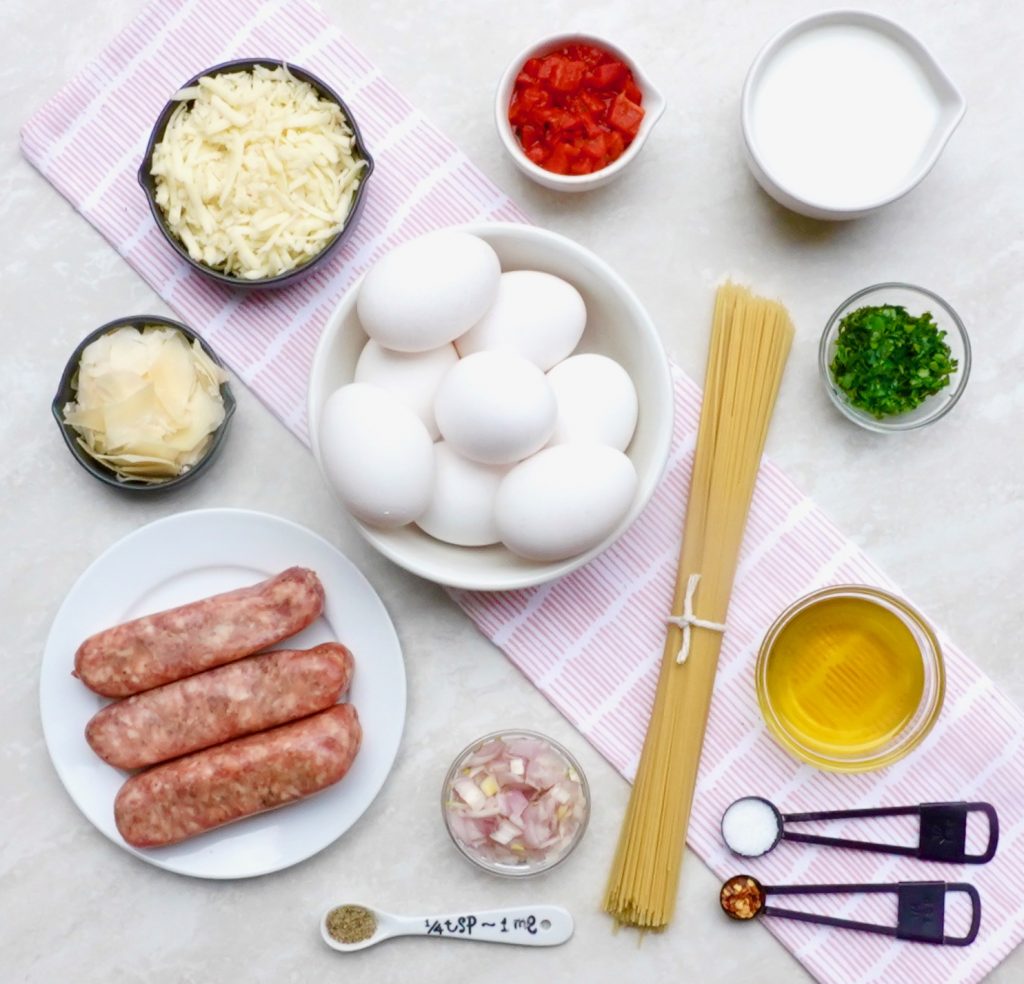 Sausage Pasta Frittata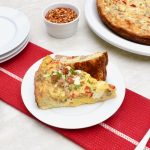 Print This
Ingredients
4 ounces dry angel hair pasta

3 tablespoons olive oil, divided

8 ounces Italian sausage, removed from the casings (3 links)

1 small shallot minced

8 large eggs

½ cup whole milk

½ cup shredded mozzarella cheese

¼ grated parmesan cheese

¼ cup jar roasted red peppers, diced

½ teaspoon kosher salt

¼ teaspoon black pepper

¼ teaspoon crushed red pepper

2 tablespoons fresh parsley, chopped
Instructions
Preheat the oven to 350 degrees
Heat a large pot of water to boiling. Add the angel hair pasta and cook it for 2 minutes. Drain and set aside.
Add 1 tablespoon of the olive oil to a 10″ non stick skillet that is oven safe. Heat it over medium low heat.
Add the sausage to the skillet and cook for 3 minutes, stirring occasionally and breaking the sausage up with a spatula into small chunks.
Add the shallot to the skillet and cook for an additional minute.
The sausage should be cooked through at this point. Remove it to a plate. Wipe down the skillet.
In a large bowl, whisk the eggs and milk together. Combine well.
Stir in the mozzarella cheese, parmesan cheese, red peppers, kosher salt, black pepper, crushed red pepper and parsley. Combine well.
Add the remaining 2 tablespoons of olive oil to the skillet over medium heat. Add the pasta and press it evenly over the entire bottom of the pan. Cook it for 3 minutes.
Pour the egg mixture into the skillet and let it cook for an additional 3 minutes to brown the pasta crust.
Place the skillet into the oven and bake for 25-30 minutes until the top is set and browned.